Planning an Andalucia road trip? So good news for you! I have prepared an unforgettable Andalusia 10 days road trip (or Andalucia as it's written in Spanish) as it is in Spain to help you explore this beautiful Spain region such as Seville, Cordoba, Granada, Malaga and Ronda.
How to get to Andalusia
In most cases, the easiest way to reach Andalucia is to take a flight to Seville, the Andalucia capital, or to Malaga International airport. Both cities offer connections from the airport to the city center every 10-20 minutes. In this case, we will assume that your starting point is Seville, but if you are starting from Malaga, you can easily follow the proposed itinerary with just a little adjustment.
Use an airport transfer service for a delightful trip to your accommodation. I suggest Welcome Pickups! A local driver will pick you up at the gate and introduce you to the city. Don't worry about getting a taxi at the airport, paying high prices, or the language barrier. All the drivers are fluent in English. Click the link below and learn more!
Other recommendations for your travel to Andalusia are:
DISCOUNTS AND RECOMMENDATIONS FOR YOUR TRIP

✈️ Find the cheapest flights, train or bus tickets here.

🛏️ Get up to 15% discount on your hotel by booking here.

🏛️ Book the best tours and activities here.

🚗 Compare and rent a car at the best price here or hire your transfer here.

📖 Get your Spain travel guide here.

💚 Book your travel insurance here.
Moving around Andalusia
You have plenty of transportation choices for your Andalusia road trip.
Car rental: If you can afford to get a car, of course, this is the best option for you. Get a rental car right in the airport, as the prices are normally lower than in the city and there is much more availability. Extra tips: Get the car only on the morning of the next part of your trip. Normally, I use Rentalcars and until now, I never had a problem with them 🙂
But if you can't or don't want to drive, don't worry! You have plenty of other options:
Shared car: share a ride using Blablacar.com. It's completely safe! I have personally used it so many times and never had a problem.
So now that you know how to get to Andalucia and the transportation options you have, let's start!
---
"THE" itinerary for your 7 – 10 days Andalusia Road Trip
---
➤ 1st Stop: Seville for 2 days
Have you ever fallen in love with a place even before visiting it? That is going to happen to you with Seville, one of the most famous cities in Andalusia. Combining the traditional and modern lifestyle, it's a must-see city, that can be also visited during a weekend getaway if you come from Europe.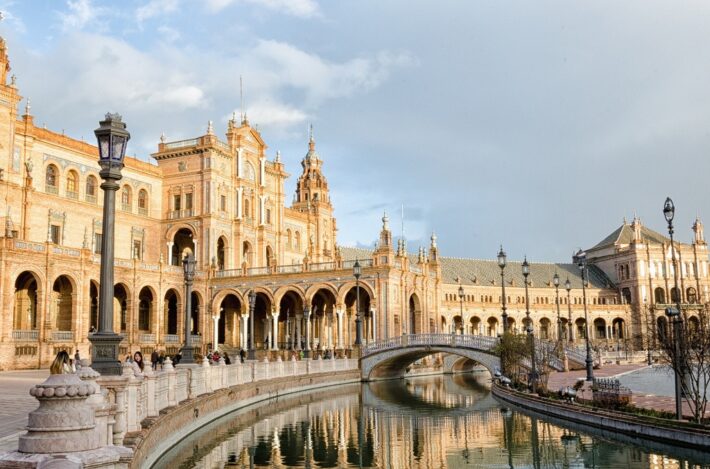 WHAT TO DO IN SEVILLE IN 2 DAYS
1️⃣ – First day in Sevilla: Visit the city's most emblematic monuments – Cathedral, Giralda and Plaza de España
Seville Cathedral is the largest Gothic cathedral in the world and a UNESCO World Heritage Site. Its size and intricate architectural details are so incredibly impressive that you need a moment to take it all in.
You can also visit the Giralda which is the cathedral's bell tower and enjoy the views over the city. Fun fact about the Giralda: when it was first built in the middle ages, it was the tallest tower in the world! Skip the lines and get your tickets in advance here or book a guided tour.
After you exit the Cathedral, I recommend planning your day as follows:
Pass by the General Archive of the Indies which is located right next to the cathedral. The entrance is free and the inside of the building is worth a look.
Take a walk in the Santa Cruz neighborhood which was known as Seville's Jewish quarter and home to a thriving Jewish community. Currently, it's a colorful maze of narrow streets and alleys you have to get lost in.
Lunch break in the same area. I assure you that you are going to find plenty of food choices.
Discover the stunning Plaza de España I can promise you that this is the most stunning public square you'll ever see in your life. t includes towers, bridges, a fountain, and even a canal.
Go for a stroll in Maria Luisa Park which is located next to Plaza de España.
At the end of the first day, you could go to enjoy some tapas and sangria!
2️⃣ – Second day in Sevilla: Alcazar, Torre del Oro and Triana
Visit the Alcazar of Seville which is the oldest royal palace still in use in Europe. There is usually a long waiting line there as well, so you should book your skip-the-line tickets in advance.
Take a stroll in Seville, around the Guadalquivir River, the Torre de Oro and Triana district for example.
At the end of the second day, you should go to visit the Metropol Parasol and enjoy the sunset view.
Wondering where to stay in Sevilla? Find the perfect hotel or apartment for you here:
➤ 2nd Stop of your Andalusia Road Trip? Cordoba, for 1 day
It's another city with both Moorish and Christian history, but the highlight for me was exploring its Jewish history. Cordoba was home to a large, thriving Jewish community, and it was incredible to see its preserved heritage.
WHAT TO DO IN CORDOBA IN 1 DAY?
 Visit Mosque-Cathedral showcasing spectacular Islamic architecture, the Mezquita is such a unique building to see. To avoid waiting in line, you can get your tickets directly at the automatic machines at the entrance or book a guided tour. If you want to go up the minaret, you will need to pay an extra 2€.
Time for lunch! I suggest going to one of the 2 biggest Plazas that the city has: la Plaza de las Tendillas and la Plaza Corredera.
Stroll along the Guadalquivir River. There are the Puerta del Puente and the Roman bridge, as well as the Calahorra tower. It is quite worthily to go to see the scenic view over the mosque and the Alcazar.
Last but not least, end your day by visiting Alcazar de Los Reyes Cristianos. Enjoy the stunning shaded gardens, flowered alleys, splendid flower beds, and fountains. If you ask me I found them way more beautiful than the ones in Seville.
➤ 3rd stop: Granada for 2-3 days
In Granada, You can feel in every corner the Moorish and Christian influence together, which is exactly what makes Granada so fascinating. I have lived there for 7 years and can tell you that you will never forget its magic.
WHAT TO DO IN GRANADA IN 2 DAYS
1️⃣ – First day in Granada: Cathedral, Albaicín and amazing sunset from San Miguel Alto viewpoint
Visit the Basilica of San Juan de Dios and its impressive golden interior.
Explore the cathedral and the royal chapel which is actually the burial place of the Catholic Monarchs that asked to be buried there specifically.
Take a break for lunch in Plaza Bib Rambla
Go to the Alcaiceria market This is the place to experience some of Granada's Arabic history and do some shopping.
Stop by "El Bañuelo", the ancient Arab baths. The ones in Granada are the best preserved of Andalucia. 
• Go up the Mirador de San Cristobal or the Mirador de San Miguel Alto to watch the sunset. 
2️⃣ – Second day in Granada? Visit the Alhambra Palace!
Let's start with the obvious. Alhambra, of course, it's best to go there as early as possible. Plan the whole morning for the visit, and make sure you get your tickets in advance! Don't know how? Check out our "Things to know before visiting Granada" blogpost!
On your Alhambra visit, you can access three areas:
Alcazaba: A military fortress and one of Alhambra's oldest parts.
Nasrid Palaces: A complex of three palaces that was the residence of the kings of Granada.
Generalife: A palace and gardens that served as a recreational area.
Extra tip: Book the general ticket as it gives you access to all 3 areas.
Time for lunch heading to the gypsy neighborhood which is called Sacromonte district. In this area, you will find several troglodyte homes also called "Cuevas".
At the end of the day you should go watch the sunset from San Nicolas miradors it is the most well-known sunset spot.
This was only a quick guide to spending your 2-3 days in Granada, but if you want to get into more detail later, you can always take a look at my other Granada posts:
Plan your perfect getaway with these 10 things to know before visiting Granada
The ultimate guide to make the most of your only day in Granada
Some inspiration? Check my 40 favourite things to do!
➤ 4th stop of your Andalusian road trip? Malaga for 2 days
WHAT TO DO IN MALAGA IN 2 DAYS
1️⃣ – First day in Malaga: Moorish castles, Roman theatre and finally…some beach!
Start your day at the castle of Gibralfaro. 
Then, go down to the Alcazaba, the second main tourist attraction in Malaga.
After your exit from Alcazaba, you'll come across the Roman theater located right next to it. The entrance is free so why not check it out?
Lunch Break people!
Discover Malaga's museums as there are a lot.
At the end of the day, you should go to Malagueta beach, the closest to Malaga's city center
And, why not? Now that you are in Malaga, you can join one of my tours and experiences to discover the local culture! I am sure there is one that suits you: City Highlights, Flamenco, Tapas and Wine tour, Spanish and Urban Drawing lessons or even a Professional Photo Session, to take home the best of memories of your one-week Andalusia Road Trip.
2️⃣ – Second day in Malaga already? Street Art, Market visit and local bites or…Excursion to Caminito del Rey!
Visit Malaga Cathedral in the morning to see its interior and enjoy the 360° scenic view.
Go to the Atarazanas market to taste local delicacies.
Lunchtime, of course, you should go for tapas!
Take a walk in the Soho neighborhood to discover the street art on the walls and facades.
At the end of the afternoon, head to the Botanical Garden, one of the largest tropical and subtropical gardens in Spain and even Europe.
Now, if you don't want to stay for your second day in Malaga city, you could go to explore the spectacular Caminito del Rey path, just an hour away from Malaga. Make sure to book your ticket in advance. Here you go, the official Caminito del Rey web to get your tickets
Again, this was only a quick guide to spending your 2 days in Granada, but if you want to know much more about Malaga take a look at my other Malaga posts: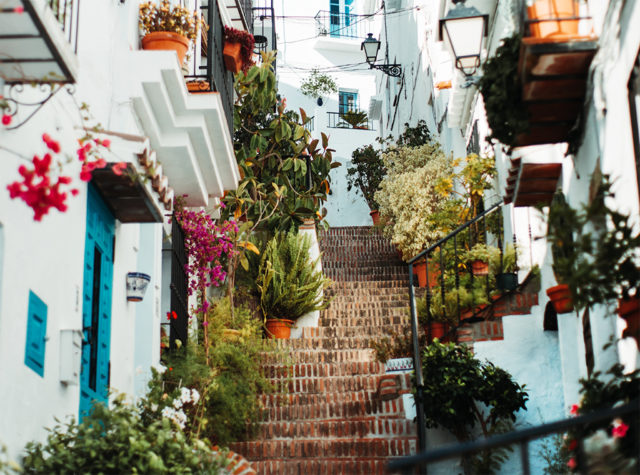 There are many spectacular places near Malaga, check out my favourites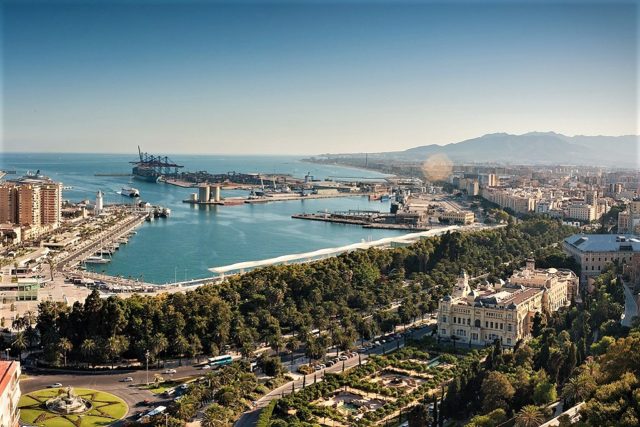 Top 10 ideas on what to do in Malaga without spending one Euro!
If you have only 24 hours in Malaga, check this and find what you can't miss
– Wondering where to stay in Granada? Find the perfect hotel or apartment for you here:
➤ 5th & LAST stop: Ronda / Arcos de la Frontera for 2 days
WHITE VILLAGES AND RONDA IN ONE DAY
Ronda offers numerous scenic views over the surroundings. The most famous is for sure the spectacular view on the very photogenic bridge above the river that connects the old and the new parts of the village.
Visit the romantic Ronda Old Town and its famous bridge at "El Tajo"
Take the car and drive among the White Villages of Andalucia road, which connects Ronda to Arcos de la Frontera.
Stop by in Zahara de la Sierra, one of the most beautiful villages.
From Zahara, allow another hour of driving to reach Arcos de la Frontera. You'll sleep there for the next 2 nights
GRAZALEMA and ARCOS DE LA FRONTERA – Last stop 😢
For the last day of your Andalusia road trip, let's go to the Sierra de Grazalema Natural Park, only 30min away from Arcos. The park offers several hiking paths of different difficulty levels.
Head to "El Bosque" village and choose the "El Rio Majaceite" hike, especially enjoyable if coming with children. It is a very easy 4 hours round trip hike through the forest and along the river, where you can even freshen up! 
After this easy hike, turn back to Arcos and take a last view on the fantastic Andalusian panorama from the city. Wander around its beautiful white houses full of flowers and try not to think that the next day you will have to head to Sevilla or Malaga to fly back home.
---
Did you like my 7 – 10 days Andalusia road trip itinerary?
Hope you did! Keep in mind that this is just a sample itinerary that can be adapted from one week to around 10 days, by adding or removing some days in any city. In general, my advice if you don't have that much time is to save the 5th stop, Ronda and Arcos de la Frontera, for your Andalusia Road Trip Number II.
If you have some questions or want to share your experience, leave a comment below. Stay tunned and keep reading my blog for more Andalusia Travel Tips
Don't hesitate to contact me if you need some help with planning your Andalusian trip or need a tour guide for it!
Have a wonderful stay in my beloved Andalusia!