Malaga City has so much to offer: multicultural history, impressive architecture, great beaches, and delicious cuisine. But if you have time for a day trip around Costa del Sol, then you shouldn't miss the top 10 best places to visit near Malaga. Here you will find everything, from charming white-washed Andalusian villages to breathtaking landscapes, caves, hiking routes, and even the Smurfs' Village!
1. Caminito del Rey ♕ – World's most dangerous path!
Caminito del Rey is a mystical path in the mountains that attracts visitors from all over the World. This adventurous path located in an impressive gorge in the Malaga mountains was built between 1901 and 1905 by sailors and prisoners. The path was used to get workers between two hydroelectric power stations.
Caminito del Rey literally means King's Little Pathway, as it was named after King Alfonso the 13th who walked the path himself. At first, Caminito del Rey was a narrow concrete path supported by metal hammered into the rock. Over time, the path was abandoned and started to fall apart.
Then, the news about the dangerous Caminito del Rey spread on the Internet. The path instantly became an attraction for adventurers. People were risking their lives for the thrill of hiking the most dangerous path in the World. Unfortunately, five people fell to their deaths. After the incidents, Caminito del Rey path was closed to prevent more incidents and improve its safety.
So, in 2015 Caminito del Rey was restored and opened to the public. The new path was built on top of the dangerous old one. If you're not afraid of heights, Caminito del Rey is a perfectly safe, must-see site near Malaga. Enjoy the breathtaking views!
Nowadays, it's the most visited attraction in Costa del Sol, so hurry up and get your tickets:
2. Nerja Old Town – the best day trip from Malaga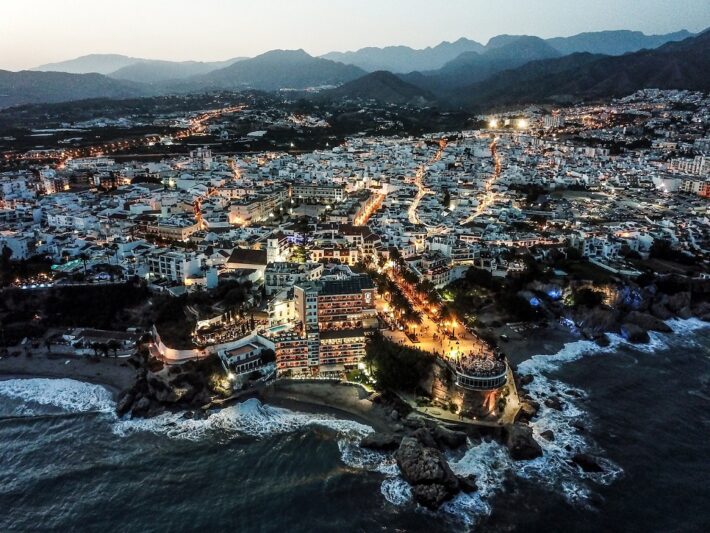 Nerja is a beautiful coastal town near Malaga. It is beloved by locals and tourists for its traditional Andalusian architecture and turquoise waters. There are so many things to do and see in Nerja and its surroundings that we would like to leave you here some tips, and a little guide on what to do and what to see in Nerja 🙂
You can start your visit to Nerja by walking around the cozy Old Town narrow streets, going to the Plaza de España and the charming little church of El Salvador.
Then, continue to the Balcony of Europe, the most famous landmark in Nerja. Once you get there, you will understand why "Balcón de Europa" is so famous: 270 degrees of breathtaking views of the sea and Sierra Almijara mountains. The viewpoint is located on a rocky headland in the same spot where the watchtower of a Moorish fortress was built to protect the town from pirates and smugglers. In the early 19th century, the tower was destroyed by the British, and later on, the remains of the tower were damaged during a strong earthquake.
When King Alfonso XII visited Nerja to see the damages of this earthquake, he was astonished by the beautiful view from "Balcon de Europa". The King said, "this is the Balcony of Europe" and that gave name to this viewpoint. Now, you can find a life-size sculpture of King Alfonso XII looking at the amazing view. Take a selfie with the King and enjoy the spectacular Andalusian landscape! Nerja is a perfect day trip from Malaga because it has so much to offer and it's very well connected by public transport (1 bus almost every hour from Malaga to Nerja)
3. Nerja Caves – the largest stalactite in the World ⇨
Another must-see place near Malaga is Nerja Caves, only 5 mins away from Nerja Downtown. The Nerja Caves are a complex of two caves 4 kilometers long and 35 kilometers wide, with spectacular rock formations, stalactites, and stalagmites. In fact, these limestone caves are house to the longest and largest stalactite in the world with a height of 33 meters and a base of 13 × 7 meters!
The caves were discovered in 1959 by a group of boys who were bat hunting. One of the boys discovered the cave when he stepped into a hole. Then, the boys found a hollow space and a human skeleton!
Studies suggest that people were living in Nerja Caves around 40,000 years ago. The Cave is famous for prehistoric art and archaeological findings from Neanderthal life. After your 45 min excursion in the Caves (buy the tickets in advance), visit the Nerja Caves museum in Nerja downtown, where you will find more information about the Caves and the lives of prehistoric people.
4. Frigiliana – one of the most beautiful whitewashed towns in Spain
Frigiliana is considered to be one of the most beautiful towns in Spain! It is only 6 kilometers from Nerja, so it is a perfect day trip from Malaga and Nerja. Frigiliana is an authentic white-washed Andalusian village, located on a hill, with Nerja at its feet. There are plenty of viewpoints from which you can enjoy one of the best sceneries in Andalusia.
In August, Frigiliana holds the Festival of the Three Cultures – a celebration of the Christian, Jewish, and Moorish cultures that shaped the history and traditions of the village. The Medieval festival offers lots of music, Andalusian tapas, and a traditional handmade crafts market.
5. Ronda – one of my favorite places to visit near Malaga! A real must
Another place to visit near Malaga is Ronda – the birthplace of modern bullfighting. It can be visited on a day trip from Malaga or spending a night in the city. Ronda is not only famous for bullfighting but also for its bridge "Puente Nuevo" and the magnificent scenery of the El Tajo gorge. The New Bridge connects the old Moorish town and the modern neighborhood of El Mercadillo. Puente Nuevo is great for enjoying the view of the river Guadalevin and the Serrania de Ronda mountains.
The old Moorish town is the legacy of the Cordoba Caliphate of the 12th century. Here, you can visit Mondragón Palace which was built for Moorish King Abomelik and later became the residence of Queen Isabella and King Ferdinand, the famous Spanish Catholic Monarchs. Now, the palace is Ronda's municipal museum where you can learn more about Ronda and relax in its gorgeous gardens.
All in all, if you are looking for a romantic city, with a perfect mix of Renaissance, Moorish and traditional architecture, come to Ronda! The perfect getaway from Malaga's busy life 🙂
And, if you are looking for some tips for your day trip from Malaga, then don't miss this:
DISCOUNTS AND RECOMMENDATIONS FOR YOUR TRIP

✈️ Find the cheapest flights, train or bus tickets here.

🛏️ Get up to 15% discount on your hotel by booking here.

🏛️ Book the best tours and activities here.

🚗 Compare and rent a car at the best price here or hire your transfer here.

📖 Get your Spain travel guide here.

💚 Book your travel insurance here.
6. Mijas Pueblo: not only donkey taxis ➨ A magical village to visit near Malaga
Mijas village, near Malaga, became first famous for its donkey taxis. In the late 50s, workers rode donkeys from the fields on their way home. Surprisingly, the donkeys fascinated the first tourists that arrived in Andalusia and wanted to take pictures with them. That's how the tradition became a popular tourist attraction and for many years, offering a ride on a donkey was the main business in town.
Nowadays, donkey taxis are a bit more difficult to find, thanks to the modern animal rights conscience. But still, Mijas village is charming for its traditional white architecture and colorful flower pots on the walls. If you are looking for the "Typical Andalusian" postcard view and you only have half a day, choose Mijas for your day trip from Malaga.Visit the Ermita de la Virgen de la Peña Monastery, Plaza de Toros bullring, and the castle. Mijas is a great out-of-town excursion, only half an hour's drive from Malaga!
7. El Torcal Nature Reserve – a rockie wonder!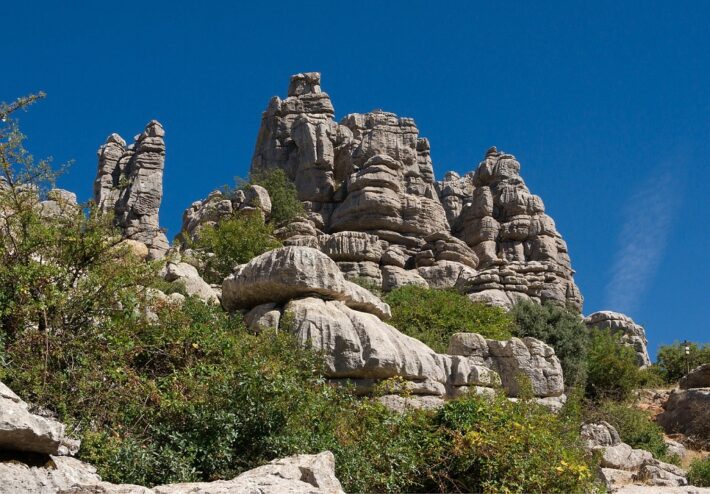 El Torcal de Antequera nature reserve is an astonishing place to visit near Malaga, one of the most privileged natural places in the area, just half an hour's drive from Malaga. The natural park holds unusual limestone formations, rich flora (there are 30 varieties of orchids growing in the area!), and fauna. The perfect place for a hike in the heart of Andalusia 🙂
El Torcal nature reserve has three hiking routes: green, the easiest one – only 1.5 km; yellow or intermediate 2.5 km with breathtaking views of the valley of Malaga; and lastly, the red route! This one is the most difficult, 4.5 kilometers long but totally worth it: you'll even get to see the African Coastline. So, if you like spending time in nature and hiking, El Torcal Nature reserve is a must-see place near Malaga!
8. Genalguacil – the village-museum
Genalguacil has become a village museum because of its famous Meetings of the Art event. During this event, many artists come to the village to exchange ideas, get inspired, and display their works on the streets. So, the village becomes a living open-air museum full of original art.
Other highlights are the Church of San Pedro Martyr of Verona, which was demolished in Moorish times and rebuilt later, and the amazing traditional Andalusian gastronomy. Definitely one of the best places to visit near Malaga if you want to feel like a local!
9. Cliffs of Maro-Cerro Gordo – picturesque coastline and crystal clear waters
Another great place to visit near Malaga for nature lovers is the cliffs of Maro-Cerro Gordo: the coastline between Nerja and Granada. It is a protected natural site because its waters host endemic species of marine plants, responsible for the turquoise paradise beaches.
This coastline has sheer cliffs and beautiful clean beaches. It is a very popular place among locals for summer sports like kayaking, paddle surfing, or snorkeling. It's a perfect place if you want to take a break from the city chaos, and enjoy the beautiful nature very close to Malaga!
10. And finally…Juzcar – the blue village of the Smurfs!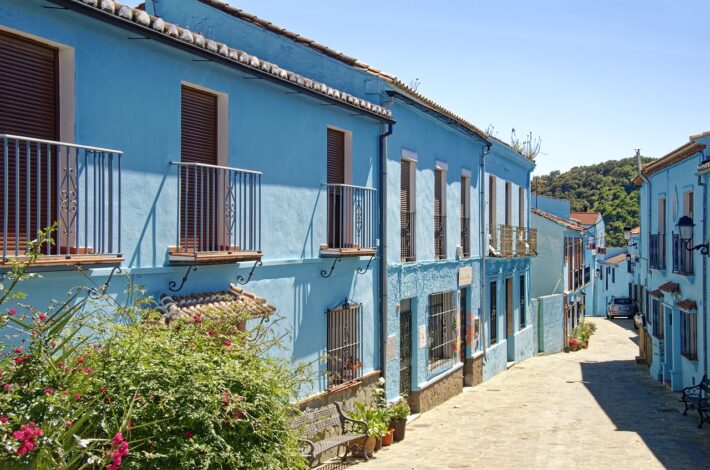 Last, but not least, on the list of the top best places to visit near Malaga is the lovely blue village of Juzcar. Before 2011, Juzcar was like any other small Andalusian town, with white-washed houses, narrow cobbled streets, and a traditional atmosphere.
But in 2011, something happened! Juzcar inhabitants agreed to paint every single building in blue. Why? It was all part of the campaign promoting the Smurf 3D movie. That's how Juzcar became the official Smurfs village! Now, Juzcar attracts travelers from all over the World and it is one of the most famous villages in Spain.
The citizens of the village liked the new blue look and the growing number of tourists, therefore they decided to leave the blue paint on, even though Sony Pictures had offered to whitewash the whole town after the campaign. You can still visit this charming small village and feel like in a fairy tale ☆
---
These are the top best 10 places to visit near Malaga! Which is your favorite one? Tell us! We are really looking forward to hearing from you. For more tips on what to do in Malaga read our blog!
Besides, we would like to invite you to discover Malaga like a local with us! Check out our tours and creative experiences, go sightseeing with our amazing guides and find new flavors in Andalusian cuisine with our Traditional Tapas and Wine Tour + Flamenco show!