If you are visiting Malaga and you are vegetarian or vegan, you might have noticed that finding good options for plant-based eaters can be a bit difficult. That is why we have created this ultimate guide with the best vegetarian and vegan restaurants in Malaga, as well as some traditional vegetarian-friendly dishes you can find in most bars and other tips for eating plant-based in Malaga.
Have a look at the different vegetarian restaurants and vegan tapas bars in Malaga and enjoy your meal!
Best Vegetarian and Vegan Restaurants in Malaga
Some of the best vegetarian restaurants and vegan places in Malaga are:
MIMO Vegan Bistro
Mimo Vegan Bistro is the first recommendation on this list for vegans and vegetarians in Malaga. It is situated in the Soho area, which is conveniently close to the city's historic center.
This eatery specializes in plant-based dishes that prioritize local and organic ingredients. Don't miss the opportunity to try their signature dishes, including the chili jackfruit stuffed potato, raw rainbow pad thai, and a selection of tempting cakes. They normally change the menu according to the season to always use fresh products and the service is great!
Each bite is infused with the love and care put into their preparation, ensuring a truly delightful dining experience.
📍Address: Avenida de Manuel Agustín Heredia, 20, 29001 Málaga
El Vegetariano de la Alcazabilla
El Vegetariano de la Alcazabilla is a popular vegetarian restaurant located in the heart of Malaga's historic center. The menu is entirely vegetarian and mostly vegan, with plenty of gluten-free options as well.
Moreover, this restaurant is known for its fresh, healthy dishes made with local, organic ingredients. Some of the standout dishes include the quinoa salad, vegan lasagna, and falafel.
📍Address: C. Pozo del Rey, 5, 29015 Málaga
Meet Vegano
This vibrant and cozy restaurant serves a range of vegan creative dishes, made with fresh and seasonal ingredients. The atmosphere is welcoming and the staff is friendly, making it the perfect spot for a delicious and ethical meal.
📍Address: C. Marín García, 6, 29005 Málaga
Restaurante Vegetariano Cañadú
Located in Malaga's old town, this welcoming vegetarian restaurant offers a delicious and diverse menu. The dishes are creatively crafted, using only the freshest ingredients, and with plenty of vegan and vegetarian options to choose from. Don't miss their incredible hummus or their mouth-watering plant-based burgers.
📍Address: Pl. de la Merced, 21, 29012 Málaga
Vegetariano El Calafate
Vegetariano El Calafate in Malaga is a must-visit for veggie lovers. Everything is really homemade and bursting with flavor. Whether you're in the mood for a hearty vegetable paella, a flavorful lentil burger, or a refreshing green juice, Vegetariano El Calafate has got you covered. Don't forget to try their signature vegan cheesecake – it's simply heavenly!
📍Address: C. Andrés Pérez, 6, 29008 Málaga
TIP: If you want to discover more about Spanish food for vegetarians, have a look at our Traditional Tapas and Wine tour or the Flamenco, Tapas and Wine Tour to find out more about Malaga's delicious cuisine, wines and culture! We have different vegetarian options and lovely wines!
Vegan-friendy & Vegetarian-friendly restaurants in Malaga
Although not completely vegan or vegetarian, have a look at these vegan-friendly and vegetarian-friendly restaurants, bars and cafes in Malaga:
Byoko
Byoko restaurant offers a fresh and unique take on plant-based cuisine. Their dishes are not only delicious but also visually stunning, making them perfect for foodies who love to snap pictures.
Their menu is full of mouthwatering options that cater to all dietary requirements, so whether you're a vegan, vegetarian, or simply looking for a healthy meal, you're sure to find something to satisfy your cravings.
📍Address:  Pl. de la Merced, 22, 29012 Málaga
Taperia Organica Astrid
Tapería Organica Astrid in Malaga offers a wide variety of organic and locally-sourced dishes. From savory tapas to refreshing salads, there's something for everyone. Their vegan paella is a must-try, bursting with flavors and colors.
Don't forget to indulge in their homemade desserts, which are as delicious as they are guilt-free. With its warm ambiance and friendly staff, Tapería Organica Astrid is perfect for a casual lunch or dinner with friends and family.
📍Address:  C. Calderón de la Barca, 6, 29005 Málaga
La Tranca
La Tranca is a popular tapas bar in Malaga that offers a range of vegetarian and vegan options. The bar has a rustic, traditional feel and is appreciated for its friendly service and lively atmosphere. Some of the standout dishes include vegan croquettes, mushroom skewers, and roasted peppers.
📍Address:  C. Carretería, 92, 29008 Málaga
La Deriva
La Deriva is an upscale, vegetarian-friendly restaurant located in the trendy Soho district of Malaga. The menu features a range of vegetarian and vegan dishes, as well as meat and seafood options.
Some of the standout dishes include vegan ceviche, grilled tofu, and vegetarian paella. The restaurant has a stylish, modern interior and a lively atmosphere.
📍Address:  Alameda de Colón, 7, 29001 Málaga
La Bella Julieta
La Bella Julieta is a trendy café in the Soho district of Malaga. The café has a relaxed, bohemian vibe and serves a variety of vegan dishes and drinks, including smoothie bowls, sandwiches, and vegan pastries. Additionally, they have a small shop area where you can purchase vegan snacks and ingredients to take home.
📍Address:  C. Prta del Mar, 20, 29005 Málaga
Traditional Vegetarian Dishes to Try in Malaga
Even when you are not in a strict vegetarian or vegan restaurant, there are some traditional dishes that you can order as a vegetarian in most tapas bars in Malaga:
Salmorejo (porra)
Salmorejo, also called porra in Malaga, is a refreshing and delicious Andalusian dish. Made from ripe tomatoes, bread crumbs, olive oil and garlic, this cold soup is perfect for hot summer days. The creamy texture and rich flavor make of salmorejo a must-try dish when visiting Spain.
TIP: Since the most common topping for this dish is Iberian ham, remember to ask the staff for the vegan version, which could consist of salmorejo served plain or with apple slices on top.
Tortilla de Patatas
Tortilla de patatas, or Spanish omelet, is a classic dish in Spain. The dish is typically made with eggs, potatoes, and onions, but it's easy to find a vegan version here in Malaga. Some restaurants use chickpea flour or tofu as a substitute for eggs. Tortilla de patatas, or Spanish omelet, is a classic dish in Spain.
The dish is typically made with eggs, potatoes, and onions, but vegan versions can easily be found in Malaga. Some restaurants use chickpea flour or tofu as a substitute for eggs, but those variations are difficult to find.
Berenjenas con Miel
Berenjenas con Miel, or eggplant with sugar cane honey, is a popular dish in Malaga. It is made by slicing eggplant and deep-frying it until crispy, then drizzling it with sugarcane honey. It may sound like an unusual combination, but the sweet and savory flavors work together surprisingly well.
TIP: If you are vegan, make sure to ask if the dish is vegan-friendly, as some versions may add a bit of egg to the eggplant slices before frying.
Pisto
Pisto is a Spanish dish that is similar to ratatouille. The main ingredients are sautéed vegetables, including tomatoes, peppers, zucchini, and eggplant. While pisto is typically a side dish, it can also be served as a main course with rice or bread.
TIP: Sometimes, pisto is served with a fried egg on top, but if you are vegan, simply remind to tell the waiter not to add it.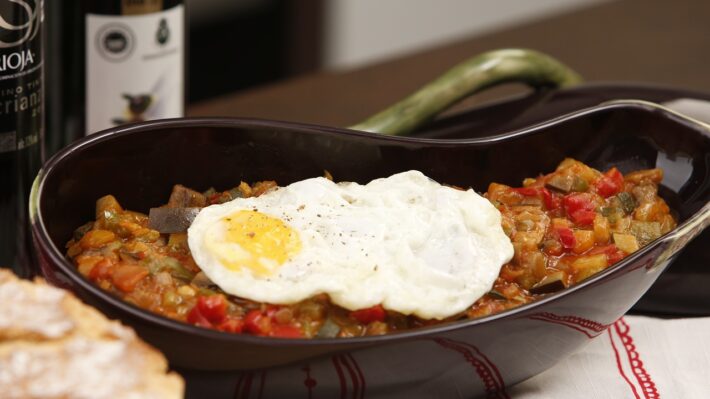 Vegetarian croquettes
The croquettes, or croquetas, are one of the most popular tapas in Spain. Traditionally filled with ham or chicken, vegetarians can enjoy a variety of versions with ingredients like mushrooms, spinach, béchamel sauce and cheese.
The creamy and crispy croquettes are perfect for sharing, and you can find them in most tapas bars and restaurants throughout Spain.
Tips for Eating Plant-Based in Malaga
Learn some basic Spanish phrases
While many restaurants in Malaga have English menus and staff that speak English, it can still be helpful to learn some basic Spanish phrases for ordering food. This will make it easier to communicate any dietary restrictions or preferences to the staff.
Order traditional Spanish dishes with modifications
Many traditional Spanish dishes can be made vegetarian or vegan by omitting or substituting animal products. For example, many restaurants and tapas bars have a version of paella without meat or seafood available.
Explore the local markets
Malaga has many local markets where you can find a variety of fresh fruits, vegetables, and other plant-based foods. You can buy ingredients to make your own meals or enjoy some of the ready-made options.
TIP: Book our Atarazanas Market tour to find out more about Malaga's most important food market.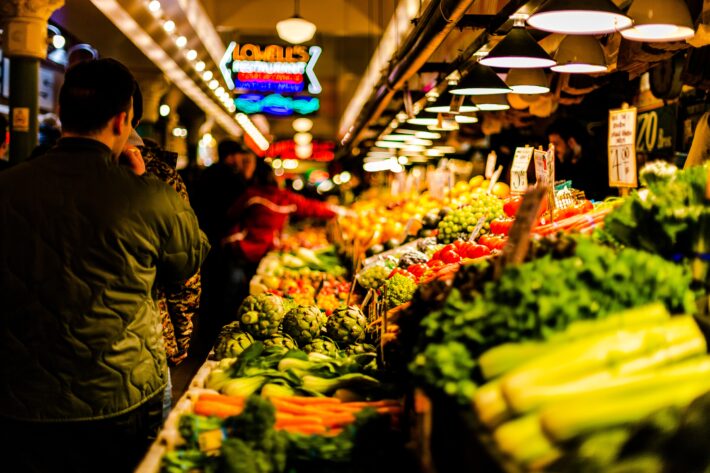 Double-check the ingredients
Even if a dish is labeled as vegetarian or vegan, it's always a good idea to double-check the ingredients with the staff to ensure that there are no hidden animal products.
Be open to trying new things
One of the best things about traveling is trying new foods and experiencing different culinary cultures. Don't be afraid to try vegetarian and vegan dishes you might not be familiar with. You might just discover your new favorite food.
---
As you can see, Malaga can be a wonderful destination for vegetarians and vegans, with many delicious plant-based options to choose from.
Whether you're looking for a hearty vegan meal or a light vegetarian snack, you can be sure to find something satisfying for your taste buds in this vibrant city. Happy eating!
Por último, si planeas viajar por Málaga y el resto de España, echa un vistazo a estos consejos y obtén descuentos en tus reservas:
DISCOUNTS AND RECOMMENDATIONS FOR YOUR TRIP

✈️ Find the cheapest flights, train or bus tickets here.

🛏️ Get up to 15% discount on your hotel by booking here.

🏛️ Book the best tours and activities here.

🚗 Compare and rent a car at the best price here or hire your transfer here.

📖 Get your Spain travel guide here.

💚 Book your travel insurance here.