Have you ever been to the Malaga Fair? If you haven't yet, you definitely should come and discover what Malaga Fair is in 2024.
La Feria de Malaga is the biggest summer festival in town: flamenco, sweet wine, and streets full of people dancing!
If you want to know everything about Malaga's big festival and live the Feria of Malaga like a local, here you go, the ultimate guide to what, where, and when is Feria de Malaga 2024 taking place.
Enjoy! 💃
What is the Feria de Malaga about? Basic facts:
Discover the Malaga Fair Origins
La Feria de Malaga (Malaga Fair) is one of the most important and popular Andalusian summer fairs. Its origins date back to the 15th century and it commemorates the reconquering of Málaga by the Catholic Monarchs that took place on the 19th of August 1487.
So year after year, from that time, we celebrate "la Feria" of Malaga for at least 8 days in the second half of August.
Check the 2024 Malaga Fair Duration and Dates
The Malaga Fair 2024 takes place from the 17th to the 24th of August 2024.
The fair normally begins just before midnight on a Friday and runs 9 nights and 8 days, ending on a Saturday night.
Learn about How to Look Like a Local…
You may not have the Flamenco outfit ready for the Feria, but make sure you wear a flower in your hair, if you are a woman or a Cordovan hat if you are male. Get a hand fan as soon as you arrive here, as it is the most effective way to fight against the hot temperatures.
And last, but not least, bring some comfortable shoes for the Day Fair in the Old Town.
…and about what Locals Eat and Drink during Malaga's Fair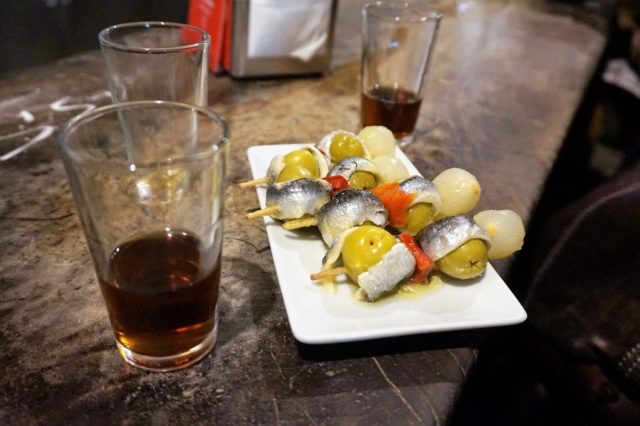 Eating and drinking are two of the main things to do at Feria of Malaga, of course!
Once you get to the city, you will notice that there are pink wine barrels everywhere. Why? Well, they belong to a local sweet wine brand called Cartojal which is, by far, the most popular drink in Malaga Fair! It is made with Moscatel grapes and, unlike the rest of Malaga's Wines, this is not dark but light pale yellow.
You can also try the Rebujito, a traditional Andalusian cocktail to drink during Feria Time.
As for food, cold or hot tapas like fried eggplants, peppers, Spanish omelets, salmorejo or fried fish can be found almost everywhere, but don't expect to get the best quality during these days at touristy spots. IN FACT:
If you really want to discover everything about Malaga's Wines and Traditional Tapas you can't miss our amazing Tapas and Wine Tour! You can book it by clicking HERE!
I assure you there is no better way to start a good Fair Day than with us taking you around the best local wineries and taverns that are still hidden gems for tourists! I am sure you will love it! 😀
So now you are ready to come and enjoy the show! Everybody is welcome!
This Malaga festival welcomes everyone without any need to possess a ticket or invitation letter, as it is a public celebration. Here, you will have the chance to attend at various events, concerts, and traditional Flamenco dancing and singing!
The sounds of flamenco and copla are everywhere, along with less traditional music when the night is approaching.
During Feria de Málaga, you can still watch bullfights in the recently restored Malagueta Bullring. The most famous Spanish bullfighters gather together during these days, as it is only during the Feria time that you can find bullfighting in Malaga.
Where and What is going on at Malaga Fair 2024?
Feria de Día: Festival during daytime in Malaga city center
I am sure you do not want to miss a thing! If you are staying in Malaga city center, you will find people celebrating the Feria and drinking the famous Malaga sweet wine everywhere in the Old Town. You can enjoy this Feria de Día or Feria del Centro every day from 12:30 to 18:00.
This is the perfect spot to find some authentic Malaga's traditional music, at the Verdiales Festival, where men in white shirts and black pants with flowery hats and bows sing a kind of fandango (a regional kind of Flamenco) accompanied by guitars and tambourines while women dance to the music dressed in peasant-like skirts.
Feria de Noche: Festival during nighttime in Malaga "El Real"
A wide range of activities such as competitions, performances, and concerts, are held in the fairground of "Cortijo de Torres" also known as "El Real", or the place to go for Feria de Noche to continue the party after dark.
One of the most exciting things to see at El Real is the Inauguration of the Artistic Lightning of the Real de la Feria, which happens on the night of the Fair's first Saturday.
Here you will find a lot of different casetas (huge tents used for eating, drinking, and dancing) and the amusement park, the kids' favorite, where you can have some sweet snacks while watching the lights and hearing the sound of the tombola (Spanish Fairs' lottery game).
Other Feria de Malaga 2024 Events
But there are also other venues throughout the city that host a variety of different events. For example, the port is the site of a fireworks display; and the Plaza de la Marina square hosts various different kinds of concerts.
The program of bullfights for the Malaga Fair 2024 features a novillada (bullfight with young bulls) with picadors and a mounted bullfight, as well as regular bullfights in the La Malagueta bullring.
How to get to Malaga Fair in 2024?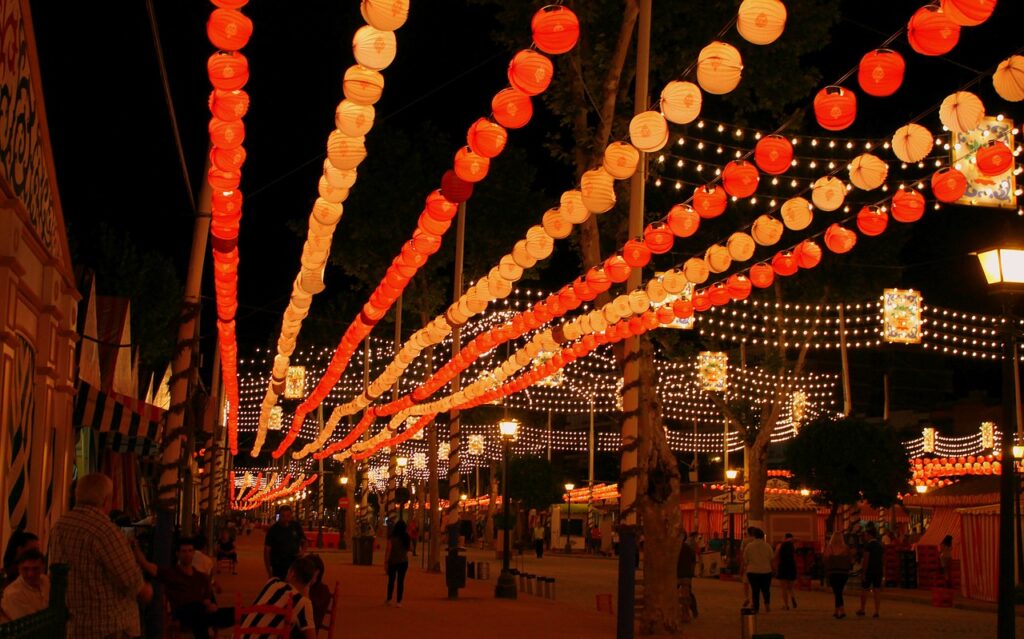 As La Feria de Malaga 2024 is such an important summer event in Andalusia and locals, tourists and people from all over the region want to enjoy this amazing festival, it is better to rely on public transportation like trains or buses.
Getting to the Feria by train
The national train company, Renfe, rides along the Cercanías C1 route, which stops at Victoria Kent station, practically located at the fairground. Every 20 minutes there is a train going from the city center to the fairground.
This is also the most convenient transportation if you want to reach Malaga Fair from nearby towns located along the Costa del Sol, like Torremolinos, Benalmádena or Fuengirola.
Going to Malaga's Fair by bus:
In the city of Málaga, there are special buses that go to the fair at all hours from any part of the city (Line F operates 24 hours a day) for less than 2 euros. It is one of the best ways to move back and forth.
By taxi:
You can just grab a local taxi on the street, or get an Uber or Cabify through their respective apps. Be ready to wait for at least 20 minutes, especially during the night.
Subway in Malaga:
The subway will extend its schedule until 1.30 am during the Feria time, and on the night of the fireworks, it will operate until 2.30 am. The subway service starts at 6.30 am, except for public holidays which start at 7.00 am as usual.
By car:
If you are brave enough to drive your car to Malaga Fair, then check the following car parks:
Car parks near Day Fair: "Central" (Plaza de la Marina, 5), "San Juan" (at Calle Compositor Lehmberg Ruiz, 18), "Alcazaba" (at Plaza Jesús el Rico, 1), "Camas" (at Calle Camas, 20), Avenida Andalucía (at Calle Nazareno del Paso; this parking is also adapted for electric cars).
Car parks near Night Fair or "El Real" Fairground: Palacio de Ferias, Los Prados, Huerta del Correo, Teatinos, Pierrot/Centro Comercial.
Accommodation in Malaga City Center in August
Well, this is one of the most difficult parts! Malaga is a trendy city with lots of visitors during the summer, especially during the Feria time.
If you decide to come and discover our wonderful city festival, start looking for accommodation early and book ahead of time. Have a look at our deals here:
DISCOUNTS AND RECOMMENDATIONS FOR YOUR TRIP

✈️ Find the cheapest flights, train or bus tickets here.

🛏️ Get up to 15% discount on your hotel by booking here.

🏛️ Book the best tours and activities here.

🚗 Compare and rent a car at the best price here or hire your transfer here.

📖 Get your Spain travel guide here.

💚 Book your travel insurance here.
All in all, don't miss Malaga's biggest summer festival!
Do not miss the chance to come and discover Málaga during one of the most special times of the year. Just book your flights, find your accommodation early and start listening to some Flamenco music to get in the mood!
Remember! Apart from drinking, eating and dancing at the Feria, you will have time to walk around the city, visit some monuments or, why not, have a photo session with your family or even take some drawing classes! Check HERE all the unforgettable Experiences we offer in Malaga and live the city like a local with us 🙂
If you want to learn more tips, tricks, and local facts about Spain and Andalusia, don't forget to subscribe to our newsletter to keep you updated!
Enjoy!