Are you looking for a good food market in Malaga? Then, visiting the Atarazanas Market should be on your Malaga to-do list! This market is considered to be one of the 10 most beautiful markets in the world, according to The Guardian newspaper!
This bustling market has been a hub of commerce and culinary culture for centuries, and today it remains a must-visit destination for anyone interested in experiencing the authentic flavors and atmosphere of Andalusia.
To help you get the most out of your visit, we've created this guide with all the information you need to explore the central market and sample some of its delicious offerings.
However, the best way to discover the market and its stories is with a local guide so, if you are visiting Malaga, be sure to add our Atarazanas Market Tour to your itinerary and prepare to be swept away by the sights, sounds, and flavors of this incredible marketplace!
Atarazanas Market: a complete guide to the best food market in Malaga
– Where is the Atarazanas Market located?
The address of the market's main entrance is Calle Atarazanas, 10, 29005 Málaga
– How to get to Atarazanas Market in Malaga?
Atarazanas Market is located in the heart of Malaga's historic district, just a short walk from many of the city's top monuments. To get to Atarazanas Market, you can take the metro or bus to the Alameda Principal station, which is located just a few blocks from the market.
– What are the Atarazanas Market opening hours?
The market is open from Monday to Saturday, from 8 am to 3 pm. The busiest day tends to be Saturday.
– What is the history of the market building?
Once you arrive at Atarazanas Market, you'll be greeted by a vibrant and colorful marketplace that's bursting with energy and activity. The market takes place in a beautiful 19th-century building that was originally a shipyard, and its interior features soaring vaulted ceilings and stunning stained-glass windows that bathe the space in light.
– How to move inside? Atarazanas Market map with food stands:
The market is divided into three different sections, each offering its unique selection of products. Here you have the map showing where the different food stands are:
– Main market areas or departments in Atarazanas:
Let's have a closer look at the different food stall areas in the Atarazanas market and the products you can find:
Fish Department
The central area is dominated by a massive fish market, where you can find everything from fresh sardines and octopus to giant tuna and swordfish. The seafood here is some of the freshest you'll find anywhere in the city, and it's a real treat to see the local fishmongers expertly preparing the catch of the day.
TIP: Bear in mind that many of these fish stalls will be closed on Mondays because there is no fresh fish that day. Sunday is a free day for most people, and also for fishermen!
Fruit and Vegetables Department
Did you know that Spain is the biggest vegetable exporter in Europe, and that's why Southern Spain is often called "Europe's vegetable garden"?
Most of the fruits and vegetables you can find here are grown in the local villages of Malaga. Among them, you will see many tropical products like avocados or mangoes that come from the Axarquia region in Malaga.
Apart from fresh veggies, you will also find a huge selection of pickled and dry fruits.
Meat Department
At the meat department, you can have a taste of one of the identity signatures of Spain and Malaga – Iberian ham. The so-called chestnut ham from Malaga, made with meat from pigs that have been fed with chestnuts, is one of the most exclusive products.
Besides Iberian ham, you will find many other meat products such as salchichón, chorizo, and black pudding.
In this area of the market, there are also some food stalls that sell prepared dishes, ready to take away.
Local Tips for Visiting the Atarazanas Market in Malaga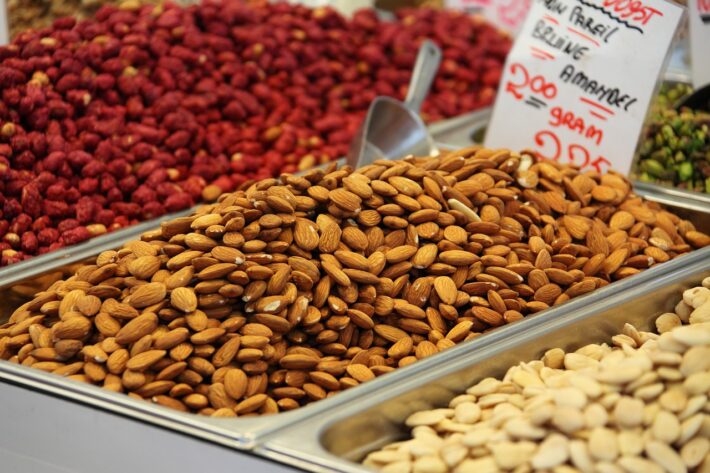 If you're planning a visit to Atarazanas Market, here are a few local tips to help you make the most of your experience:
Go early
It is best to go early in the day. You will find fewer people and the freshest produce and seafood still available.
Engage with the vendors
The vendors at Atarazanas Market are friendly and passionate about their products, so don't be afraid to strike up a conversation and ask for their recommendations. They may even offer you a taste of their products!
Try the local specialties
The Atarazanas Food Market is famous for its seafood and fried fish, so be sure to try some while you're there. You can also find a variety of local cheeses, cured meats, and other delicacies that are worth sampling.
Bring some cash
While many vendors may accept credit cards, some still prefer cash, so it's a good idea to bring a bit of cash with you.
Explore the surrounding area
The Atarazanas Market is located in the heart of Malaga's historic district, so there's plenty to see and do in the surrounding area.
After you've finished exploring the market, take a stroll through the charming streets and squares nearby, or visit one of the many museums and galleries in the area. Check out our blog posts about Malaga to discover more things to do or join one of our tours!
---
All in all, the Atarazanas Food Market is a true gem of Malaga and a must-visit destination for anyone interested in experiencing the authentic flavors and vibrant atmosphere of Andalusia.
With its bustling energy, fresh produce, and delicious local specialties, this market is a feast for the senses that you won't soon forget. But if you want to enjoy the full experience, take a look at our Atarazanas Market guided tour, in which we explain all the secrets and wonders of this food market and taste many of the local delicacies!