If you are wondering about where to eat a good paella in Malaga, this post is your place to go! Discover the Best Paella in Malaga City with our culinary guide: From traditional eateries to trendy restaurants, we'll take you on a journey to savor the most authentic and delicious paella dishes.
Whether you're a local or a visitor, get ready to satisfy your taste buds with the Best Paella in Malaga!
1. El Gastronauta: best paella in Malaga city center
El Gastronauta is a must-visit restaurant for those in search of the best paella in Malaga. Situated in the heart of the city, this cozy eatery offers a delightful array of traditional Spanish dishes, with the iconic rice-based dish taking center stage. Paella is a beloved staple in the region, and at El Gastronauta, the skilled chefs devote meticulous attention to preparing it to perfection.
The key to their outstanding paella lies in their unwavering commitment to sourcing the freshest and highest quality ingredients available. Incorporating locally sourced seafood, fresh vegetables, and aromatic spices, the chefs expertly craft the dish, allowing it to simmer slowly over an open flame, resulting in a harmonious blend of flavors.
📍Address: C. Echegaray, 3, local 2, 29015 Málaga
2. Restaurante María: one the best paella places in Malaga
Escape the hustle and bustle of the city center and venture to Restaurante María. This charming eatery specializes in traditional Andalusian cuisine with a Mediterranean touch.
Their paella, made fresh every day, is a true highlight, probably the best paella in Malaga. Whether you opt for the shrimp paella or the spinach-infused variation, each bite will transport you to flavor paradise. Don't miss the opportunity to savor their roasted suckling lamb, a succulent dish that epitomizes Spanish gastronomy.
📍Address: Avenida Pintor Joaquin Sorolla 45, 29016 Málaga
TIP: If you're in Malaga and, besides paella, you want to learn much more about our typical dishes, don't miss out on our Traditional Tapas and Wine Tour in Malaga. It's a unique opportunity to taste the finest wines of the region and try the specialties of Andalusian cuisine.
3. Los Mellizos: perfect for seafood paella
Mesón Los Mellizos is a popular restaurant chain with several locations throughout Malaga. This family-owned restaurant has been serving up delicious Spanish cuisine for over 20 years and has become a go-to spot for locals and visitors alike.
The restaurant's menu features a wide range of traditional Spanish dishes, including their famous seafood paella, which is made with fresh ingredients and cooked to perfection. The paella is a must-try dish at Mesón Los Mellizos and is often praised for its good service, its traditional flavors and generous portions.
📍Address: C. Sancha de Lara, 7, 29015 Málaga
4. Buenavista Gastrobar & Tapas: a cozy choice!
Buenavista Gastrobar & Tapas is a fantastic restaurant in Malaga that is known for its delicious Spanish cuisine, including the best paella in town. Located in the heart of the city, this charming restaurant offers a cozy and inviting atmosphere, perfect for a night out with friends or a romantic dinner with your loved one.
The paella at Buenavista Gastrobar & Tapas is a must-try dish. It is made with the freshest ingredients, including saffron, locally sourced seafood, and perfectly cooked rice. The result is a flavorful and aromatic dish that is sure to leave you wanting more.
One of the unique features of this restaurant is the open kitchen, where you can watch the chefs prepare the dishes right in front of you. It adds an extra layer of excitement to the dining experience and lets you see firsthand the care and attention that goes into each dish.
📍Address: C/ Gaona, 8, 29012 Málaga
5. Arrozeando: much more than paella
Arrozeando has emerged as a local favorite since its inception in 2016. This gem offers an extensive menu featuring a plethora of paella varieties. Don't miss their Paella Valenciana, prepared in the traditional Spanish Levante style.
With options like deer paella and mushroom paella, Arrozeando tantalizes taste buds with unique flavors. Vegetarian diners will also find delight in their delectable "Dry paella" packed with fresh, caramelized vegetables and perfectly cooked rice.
📍Address: Av. Juan Sebastián Elcano, 5, 29017 Málaga
6. El Tintero: a fun experience!
One of the most famous places to eat paella in Malaga is Restaurante El Tintero. This unique seafood restaurant is located on the beachfront and offers a lively, bustling atmosphere where the waiters shout out the daily menu as they walk around with trays of freshly cooked dishes.
El Tintero's paella is known for its generous portions and authentic flavors, with a variety of seafood, chicken, and vegetable options to choose from. It's a great place to go with a group of friends or family, as the communal seating and boisterous atmosphere make for a fun and memorable dining experience.
📍 Address: Av. Salvador Allende, 340, 29017 Málaga
7. Restaurante Vino Mío: good paella and music
Continue your paella journey at Restaurante Vino Mío, a lively and vibrant eatery located in the heart of Malaga's historic center. Known for its cozy ambiance and live flamenco music in the evening, this restaurant offers an extensive menu that includes exceptional paella options.
Whether you opt for the traditional Valencian paella or venture into their innovative creations, Restaurante Vino Mío guarantees a delightful culinary experience accompanied by the lively spirit of Malaga.
📍Address: Pl. de Jerónimo Cuervo, 2, 29012 Málaga
8. Beluga: unforgettable paella in the heart of Malaga
For one of the best paella in Malaga, head to Beluga, a hidden gem that combines Mediterranean culinary traditions with a contemporary twist. The tranquil atmosphere and tastefully decorated terrace provide the perfect setting to savor their authentic paellas, served in traditional paella pans.
With a variety of options to choose from, including seafood and vegetarian paellas, every bite at Beluga is a culinary delight. Don't forget to indulge in their heavenly apple cake paired with creamy vanilla ice cream.
📍Address: Plaza de las Flores, 3, 29005 Málaga, Spain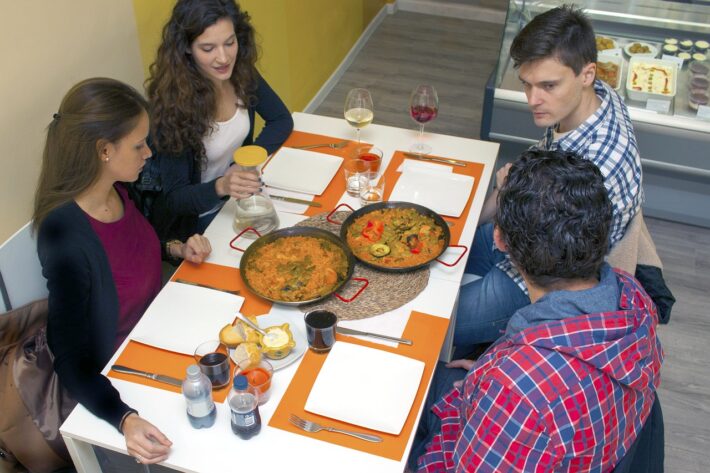 9. El Caleño: best place to enjoy paella in Malaga's beach
For an authentic and diverse selection of paella, venture to the district of Pedregalejo. This old fishing district in the eastern part of Malaga is brimming with exceptional beach bars and terraces. One of them is El Caleño Málaga, an old establishment specializing in fried fish, but that also offers a selection of paellas and soupy rice dishes.
The standout dish is soupy rice with "carabineros" (large red prawns). Pair your meal with a glass of refreshing sangria and soak in the coastal atmosphere.
📍Address: Paseo Marítimo el Pedregal, 49, 29017 Málaga
10. Vicen Playa: a great beachfront paella place in Malaga
Vicen Playa is another traditional beach bar with a rich maritime tradition that specializes in dishes like creamy rice with lobster and seafood paella, along with a wide variety of fresh local fish and seafood sourced from both the Bay of Malaga and Galicia.
Located at the end of the Antonio Banderas promenade, on Sacaba Beach, Vicen Playa boasts a beachfront location with large windows that offer relaxing views of the sea and horizon.
📍Address:  C/ Pacífico, 201, 29004 Málaga
The Best Paella Restaurant in Malaga: Conclusion
Malaga's culinary scene is a true haven for paella enthusiasts, with an array of restaurants that showcase the rich flavors of this iconic Spanish dish.
From Arrozeando's diverse paella varieties to the artistic fusion at El Gastronauta and the traditional charm of Restaurante María, each of these establishments offers a unique take on paella. Los Mellizos, Buenavista Gastrobar & Tapas, Beluga, and Restaurante Vino Mío add their own distinct flavors and ambiance to the mix. Choose El Tintero, El Caleño, or Vicen Playa for a perfect paella lunch with a sea view.
Embark on a gastronomic adventure and savor the finest paella that Malaga has to offer!
DISCOUNTS AND RECOMMENDATIONS FOR YOUR TRIP

✈️ Find the cheapest flights, train or bus tickets here.

🛏️ Get up to 15% discount on your hotel by booking here.

🏛️ Book the best tours and activities here.

🚗 Compare and rent a car at the best price here or hire your transfer here.

📖 Get your Spain travel guide here.

💚 Book your travel insurance here.