Whether you're a beer enthusiast or you would simply like to taste some of the most popular Spanish beers, you have come to the right place! In this article, we'll uncover the most famous beer brands in Spain and what makes them special.
Due to the warm temperatures in Spain, having a beer to refresh and enjoy with friends is part of the culture. Spain's beer culture is also deeply intertwined with its culinary traditions, and beer is often enjoyed alongside tapas and other local delicacies.
So now that you are probably ready to enjoy some traditional Spanish tapas with a beer, let's find out which is the best beer in Spain for you!
What beer do Spaniards drink?
Spain's favorite beer is definitely a light lager: it's the top choice for Spaniards. This brew captures the essence of everyday relaxation – the perfect pick-me-up after a hard, sweaty day. It's not common to see white or dark beers in traditional Spanish bars, as they tend to be a bit less refreshing.
Which are the most popular Spanish beers? What is a good Spanish beer?
Let's have a look at the most popular beers in Spain, the ones that you can find almost everywhere. At Oh My Good Guide, we have created a list of the top 8 most famous Spanish beers. Check it out!
1. Mahou: the most popular Spanish beer by far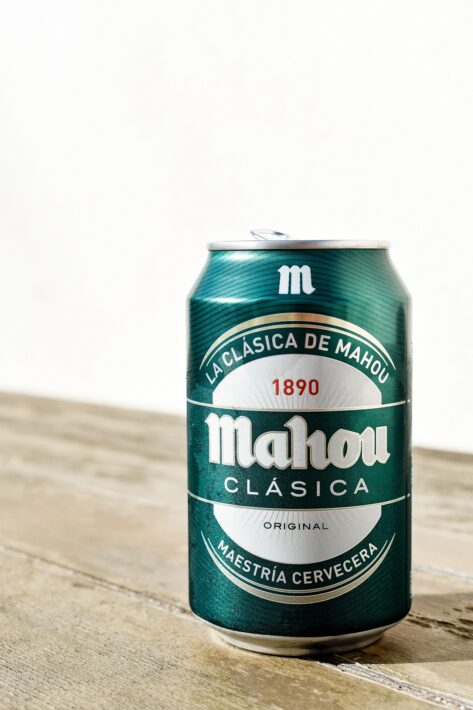 One of the most popular and widely recognized Spanish beer brands is "Mahou". It's the main beer you could get when you ask for "a cerveza" in Madrid. This beer brand was created in Madrid in 1890.
Throughout the years, this beer brand was gaining a reputation and was presented with a variety of awards like the gold medal in international recognition for its quality at the Brussels Industry Convention in 1897.
Within this brand, different varieties of beer are distinguished:
Classic one: released in 1890, it's characterized by golden and bright color, a light texture, and a certain fruity flavor. Its alcoholic content is 4,58° vol.
Cinco Estrellas: characterized by a low fermentation, it's made with the best varieties of hops and yeast which provides an unmistakable intense flavor. Its alcoholic content is 5.5° vol.
Sin: This is an alcohol-free beer, produced in 1990, made with a mixture of hops and unique Mahou yeast that give this beer a mildly bitter taste.
Tostada: is the second most famous beer of the Mahou brand. During the production phase, malts are roasted to give them a brown color. It has a 5.5° alcohol content. You can also find the Tostada 0.0, which is the alcohol-free version!
Mixta: it is a beer with lemon with a low alcohol content (0.9°). Its aroma is fruity with strong citrus notes.
Maestra: contains twice as many hops giving it a more intense flavor
2. Estrella Damm: a famous beer from Barcelona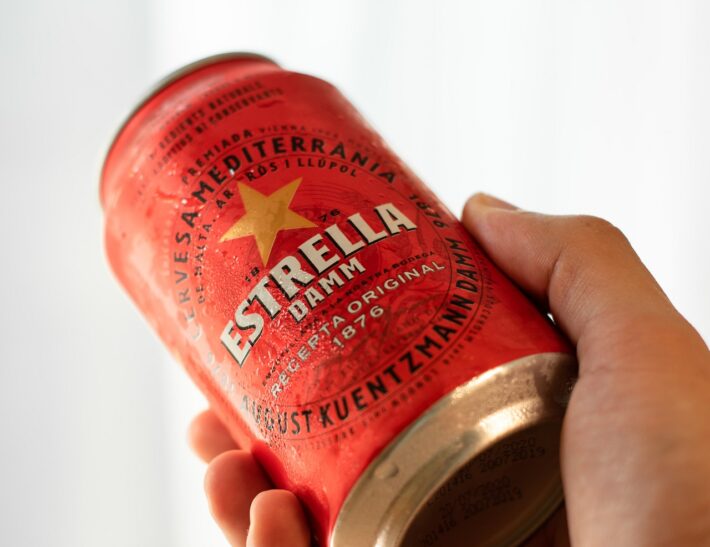 Estrella Damm is still a refreshing and flavourful beer originally from Barcelona. This brand was founded in 1876, making it the oldest in Spain.
Golden with amber tones and some greenish reflections, it's made with barley malt, rice, and hops, following the original recipe. It has an alcohol grade of 5.4% and is recommended to consume between 5º and 7 °C.
Estrella Damm has received various awards throughout its history, and in the most prestigious international beer competitions and championships. It was recognized as the "best Spanish beer of the year" in 2015 by the New York International Beer Competition jury, winning the Spain Brewery Awards
3. Estrella Galicia: the best quality Spanish beer brand for many
Estrella Galicia is one of the most popular beer brands in the Iberian Peninsula. Created around 1906, nowadays this brand produces 100 billion liters per year. A beer with a bright golden color based on a selection of particularly bitter malts and hops, and its fermentation, and maturation process takes more than 20 days.
TIP: If you would like to travel to Spain and taste all the most popular beers here, then check these links to get discounted prices on your bookings:
DISCOUNTS AND RECOMMENDATIONS FOR YOUR TRIP

✈️ Find the cheapest flights, train or bus tickets here.

🛏️ Get up to 15% discount on your hotel by booking here.

🏛️ Book the best tours and activities here.

🚗 Compare and rent a car at the best price here or hire your transfer here.

📖 Get your Spain travel guide here.

💚 Book your travel insurance here.
4. Alhambra Beer: one of the most popular Spanish beers from Granada
It's a pale lager beer born in Granada in 1925, in the south of Spain, and takes its name from the Moorish Fortress "Alhambra". Alhambra beer is often associated with Granada's rich history and cultural significance. It has become a symbol of the city and is frequently enjoyed by locals and visitors
One of Alhambra's most popular and iconic offerings is the "Alhambra Reserva 1925." This beer is an amber lager with a smooth and rich taste. It has a well-balanced flavor profile with hints of caramel and malt sweetness, along with a subtle bitterness.
5. Cruzcampo: the most popular beer in Southern Spain
Cruzcampo is another popular Spanish beer brand, and it holds a prominent place in the country's beer history. It's a Pilsen-type beer with a graduation of 4.8%. You can find it almost in any bar, especially in Southern Spain.
Let's have a look at the different beer types they offer:
Cruzcampo Pilsen: It is the basic one, with 4,8% vol. It has a mild taste, a slight aromatic touch and a moderate bitterness, thanks to the exclusive yeast used in its manufacture
Cruzcampo Especial: The brewery's best-seller at the moment, inspired by the recipe from 1904 and with 5,6% vol.
Cruzcampo Light or Tremenda – it has half graduation (2.4% vol.) and 30% fewer calories than Pilsen, so It's low in calories.
Cruzcampo Radler – It's a refreshing beer because it's made with natural lemon juice.
Cruzcampo Gran Reserva – An intense and balanced beer, born of a long and slow rest in the cellar
Cruzcampo Gran Reserva 0,0 – Same as the one above but alcohol-free!
TIP: Cruzcampo beer is from Seville so it's especially beloved there. If you want to the enjoy the real Cruzcampo experience, check out our tapas tour in Seville.
6. San Miguel: the most international and world-famous Spanish beer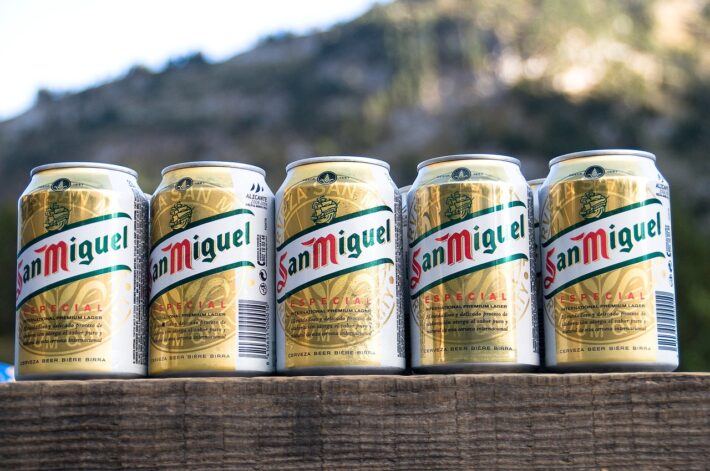 San Miguel is another popular Spanish beer brand with a rich history that dates back to 1890. It is one of the oldest breweries in Spain and has gained international recognition for its quality beers.
It has a golden yellow color and has a fruit and floral aroma. Its alcohol grade is 5.4%. It contains an ingredient that makes it different: corn.
7. Victoria: the best beer from Málaga
Following with the list of the most popular beers from Spain, we have to mention Victoria beer from Malaga, a refreshing and balanced beer in body and aroma. It's characterized by a pale yellow color and its foam bubbles fine, white, and bright. Victoria beer is made with the traditional process of slow maturation and contains 4,8% of alcohol.
TIP: If you want to try the Victoria beer and you are visiting Malaga, join our traditional tapas tour. You won't regret it!
8. Ambar: the flavor of tradition
Ambar Beer, also known as Cervezas Ambar, is a well-known Spanish beer brand with a rich history and a strong presence in the Spanish beer market. It is one of the oldest and most renowned breweries in Spain.
Cervezas Ambar was founded in 1900 in the city of Zaragoza, Aragon, Spain. The brewery takes its name from the Spanish word for amber, which refers to the color of the beer. Over the years, Ambar has become synonymous with high-quality and traditional Spanish beer.
BONUS TIP: How to order beer in Spain?
Ordering beer in Spain is a delightful experience that's part of the country's rich culture. Here's a simple guide on how to do it:
Choose the Type of Beer: In Spain, you'll typically find two main types of beer: "cerveza" (regular beer) and "cerveza sin" (non-alcoholic beer). If you're looking for a specific type or brand, you can mention it too.
Size Matters: Beers in Spain are often served in different sizes. The most common are "caña" (small glass), "mediana" (medium glass), and "jarra" (large glass). You can also find "tercio" (a 33cl bottle) or "quinto" (a 20cl bottle).
Ask for It: When you're ready to order, simply get the server's attention and say "Una cerveza, por favor" (One beer, please). If you're ordering a specific size, you can say, for example, "Una caña, por favor." (one small beer, please)
Cheers! Or "Salud!": Once your beer arrives, it's common to raise your glass and say "¡Salud!" which means "Cheers!" It's a friendly gesture to toast with your companions before taking your first sip
---
Now you know everything you should about Spanish beer brands and the most famous beers to try. So, as we raise our glasses to the 8 most popular Spanish beers, remember that the world of Spanish brewing is ever-evolving. Beyond these celebrated classics, a realm of innovation awaits, crafted by passionate artisans in small breweries.
So, here's to tradition, to exploration, and to the exciting journey ahead in the discovery of Spanish brewing. Let us know in the comments below which beer is your favorite!
Cheers! ¡Salud!