Barcelona or Malaga, Costa del Sol or Costa Brava – Dorada? Pan Tumaca or Salmorejo? Flamenco or Sardana? ANDALUSIA OR CATALUÑA ❓ You cannot decide? Then check the differences and similarities: Catalonia vs Andalusia here! 👇
Spain is a country full of beauty and hidden stories. We have 17 different regions, divided in 50 different provinces. Each one of this Spanish territories, has its own unique identity in culture, food, art and traditions.
Curious? Let's have a deeper look at the differences and similarities between two of the best known areas of Spain: Andalucia and Catalonia. Start reading and check your Spanish, Andalusian and Catalonian knowledge!
But first, if you are visiting Spain soon and you want some tips to organize your travel to Catalonia or Andalucia, have a look:
DISCOUNTS AND RECOMMENDATIONS FOR YOUR TRIP

✈️ Find the cheapest flights, train or bus tickets here.

🛏️ Get up to 15% discount on your hotel by booking here.

🏛️ Book the best tours and activities here.

🚗 Compare and rent a car at the best price here or hire your transfer here.

📖 Get your Spain travel guide here.

💚 Book your travel insurance here.
---
1. Catalonia vs Andalusia – Language: Andaluz, a Spanish dialect, Catalan a language itself
I am sure you already know that the official language for the whole of Spain, including Andalusia, is Castilian Spanish. But did you know that there are other co-official languages spoken in some regions of Spain? Catalan, Basque and Galician, spoken in the territories of Catalonia, Basque Country and Galicia respectively.
After the Spanish Civil War, during Francoist dictatorship, a dark period of Spanish history that lasted from the 1939 till the 1975, the use of these co-official languages was forbidden, and Castilian was the only language allowed.
Many things have changed since them, and now Spain is proud of its linguistic richness. Catalan is a Romance language itself. Catalan as a language is a bit closer to French and Italian than to Spanish or Portuguese.
On the other hand, we, Andalusians, speak our own local dialect of Castilian. A main feature of Andalusian Spanish is the tendency for speakers to cut off the final "s" sounds in words. If coming to Andalusia, better check my private Spanish lessons, where you will have the opportunity of discovering much more and learn about the Andalusian lovely accent!
2. Catalonia versus Andalusia: Typical food – Salmorejo vs Pan Tumaca
Tomatoes are the ingredient when it comes to Spanish cooking. Andalusia and Catalonia are not an exception. In fact, two of their best known local dishes are tomato-based.
Starting with Andalusian gastronomy…oh, there is so much to say! But let's keep it simple: Have you ever heard about Salmorejo? Not really? What about Gazpacho? If you have already tasted this famous Spanish tomato cold soup, then you know the flavour of Salmorejo. Salmorejo is a delicious fresh tomato cream that originates in Andalucia, made with stale bread, a bit of garlic and olive oil. It is as simple as delicious. Salmorejo is normally served with hard boiled egg and diced serrano ham on top.
If you want to learn how to make gazpacho and other easy but super tasty Andalusian recipes, check our article: Spanish Cuisine for Dummies: 7 Simple Traditional Andalusian Dishes (with Recipes!)
On the other side, Catalonian gastronomy is very well known for specialities like butifarra, a cinnamon pork sausage; fideuas, a kind of noodles cooked in a crockpot; or calçots, spring onions. But when it comes to tomatoes, they are the masters of marketing.
Why do I say so? Well, they claim to be the creators of "Pan Tumaca" or " Pa amb tomàquet", But what is that? It is a simple toast of bread with a bit of olive oil and garlic, and grated tomato on top. Well, this has become an icon in Catalonia and now, as good marketers, they are exporting the idea.
They have the original name, but the truth is that the most typical Andalusian breakfast is also a toast with tomato and extra virgin olive oil. I guess we are not that different after all 😛
3. Andalusia vs Catalonia: Old Traditions – Flamenco, Sardana and bullfights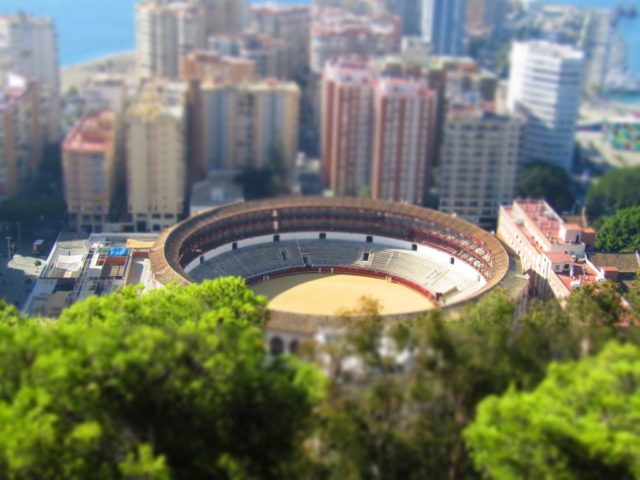 Speaking about traditional Spanish music and dance, the first thing that comes to your mind is Flamenco 💃 Flamenco art was developed through the cross-cultural interchange between native Andalusians, Romani, Castilians, Moors and Sephardi Jews. Flamenco is pure Spanish passion, that UNESCO declared to be one of the Masterpieces of the Oral and Intangible Heritage of Humanity ❤️ You want to know more? 👉 Check my blog post: Everything You Need to Know About FLAMENCO: music, dance, amazing dress and Spanish soul!
[ I am a flamenco fan, so if you happen to come to Andalusia, and especially to Malaga or Granada, contact me for a good Flamenco Show advice and check out our amazing Malaga Essentials Tour: Flamenco, Tapas and Wine! Best of Malaga in one evening 😀 ]
But what about Catalonia traditional music and dance? A bit more unknown, but extremely interesting is the Sardana! La Sardana is a musical genre typical of Catalan culture and danced in circle following a set of steps. Men and women join together in a circle by holding hands and facing inwards, jumping and alternating steps. This dance stands out from others because it allows people to join a public dance circle at any time.
To end with this traditions overview, I would like to make you understand a bit more the differences and similarities between Andalusian and Catalonian culture regarding bullfights. Although practiced for centuries all over Spain, and then exported to Latin America, the traditional corrida (bullfight), originates in Andalusia.
It is difficult to find a bullring operating during your holiday, but you can always have a look at these original structures. If you are an architecture lover, I advise you to visit the bullrings or "plazas de toros" of Málaga, Ronda, Córdoba, Seville or Jerez de la Frontera.
In Catalonia, bullfighting was banned in 2010 and last bullfight took place in Barcelona in September 2011.
4. Catalonia versus Andalusia: Art and Architecture. Some differences, but many things in common !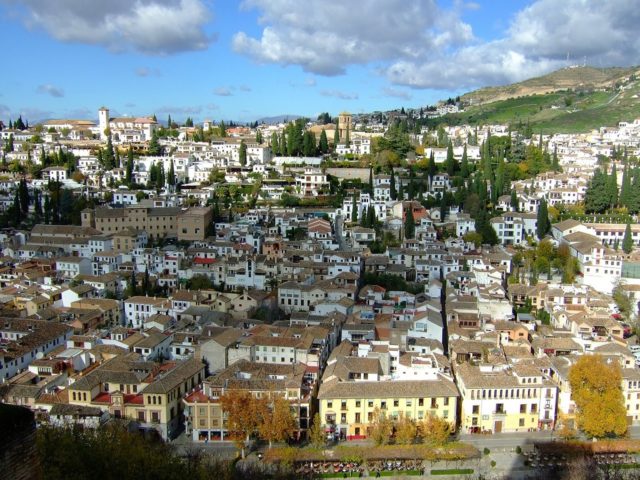 Spain has always been an artist's mecca with amazing architectural designs and gorgeous art. Even from the very beginning! The Roman architecture have left its mark in both Andalucia and Cataluña. Prove of this common past are the magnificent Roman Theatre in Malaga and the ancient city of Italica in Sevilla, in Andalusia, or the remains of the old Tarraco in Catalonia.
Later on, when the Iberian Peninsula was under the Moorish rule, from 711 till 1492, the delicate and sophisticated Arab art spread all over, but it was especially relevant in Andalusia, where we can still visit the famous Alhambra Palace, another UNESCO site located in Granada. [Coming to Granada? – Check our posts about Granada city and discover a hidden world]
However, nowadays Catalonia is quite ahead in the modern architecture and art battle, but this is not a new thing. The Catalonian collection of Art Nouveau is amazing! You can breathe this bohemian stylish kind of art and architecture as you walk in the streets of the major cities in Catalonia, especially in Barcelona.
Catalonia vs Andalusia's art: both are artists' lands. Two of the most famous and world-renowned Spanish artists of the last centuries were Catalans: Antoni Gaudí, the architect of La Sagrada Familia, Casa Battló, La Pedrera, Park Güell, among others, and Salvador Dali, the surrealist master. But don't forget about out talented Picasso, born in Málaga! [Want to know more about him? Check out our Picasso Tour! ]
5. Andalusia or Catalonia: Weather – Sun, beach and snow in both of them!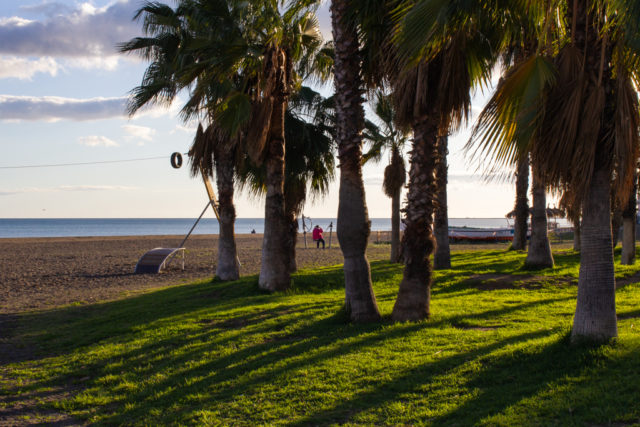 When it comes to the weather in Spain, your location can play a big part in the forecastt – it doesn't just depend on the time of year. Generally speaking, the north is home to milder summers and wet, chilly winters, while down south it's the opposite.
Andalusia is home to the hottest and driest summers in Spain. If you love sun, this is the right place for you!  
As Catalonia is located in the northeast of Spain, it is a bit more rainy and humid than Andalusia, but nothing compared to the north and northwest areas of Spain. This is thanks to the Mediterranean sea. If visiting Catalonia in winter, bear in mind that it can be cold because of the high level of humidity if you are close to the sea, and bring some good winter jacket for the mountains!
So…What about the snow? In our battle Catalonia vs Andalusia, snow is a similarity! Incredible, isn't it? Well, actually you can go skiing both in the beautiful Catalonian Pyrenees and in Sierra Nevada, the highest mountain in the Iberian Peninsula, located in Granada, Andalusia. Another aspect in common is that these mountains are both really close to the sea, so you can actually see the sea while skiing!
6. Andalusia vs Catalonia: Independence history and development
Catalonia, as Andalusia, is an autonomous region in Spain. In order to make you understand the origins, differences and similarities of Catalonian independence movement and Andalusian nationalism, have a close look here.
So…Andalusia vs Catalonia's Independence – Long story short:
✔️ Catalonian Independence: the simple truth
– Origins of Catalonia Independence movement
The organized Catalan independence movement began in 1922, when Francesc Macià founded the political party Estat Català (Catalan State). He proclaimed a Catalan Republic in 1931, that was abolished by Franco in 1938. Following Franco's death in 1975, Catalan political parties concentrated on autonomy rather than independence.
– Recent history and facts of modern Catalonia Independence
The modern independence movement began in 2010 when the Constitutional Court of Spain ruled that some of the articles of the 2006 Catalonia Statute of Autonomy were illegal. Popular protest against the decision quickly turned into demands for independence.
Although deemed illegal by the Spanish government and Constitutional Court, the referendum was held on 1 October 2017. Based on this referendum result, with very low participation, on 27 October 2017 the Parliament of Catalonia approved a resolution creating an independent Republic unilaterally.
You may have seen some demonstrations or protests in Barcelona lately, October 2019. This is because the Spain's Supreme Court has sentenced nine Catalan politicians and activists to jail. Some people call them political prisoners, others just think the sentence is fair. What is your opinion?
✔️ Andalusian Independence: the unknown truth
– Origins of Andalusian Independence movement
So Catalonia still goes ahead in its way to independence… But what about Andalusia? Are there any similarities between Andalusia and Catalonia in this aspect?
Well, the answer is yes! The predecessor of Andalusian nationalism is the peasant anarchism which was quite active during the 19th century. Blas Infante, a Georgist idealist and founder of modern Andalusian nationalism, writing an Andalusian Constitution and adopting the current Andalusia flag and emblem as "national symbols"
– Recent history and facts of modern Andalusian Independence
After dictator Francisco Franco's death, the new (and current) Spanish Constitution of 1978 established the right of "regions and nationalities" to self-government and in 1981 Andalucia finally got its Statute of Autonomy.
A proposal for the reform of the Statute of Autonomy for Andalusia was finalised by the Andalusian Parliament on May 2006. In this amendment, Andalusia was defined as a "Nacionalidad" (Historic Nationality). This has led to severe criticism for falling short of the steps taken in the 2006 Statute of Autonomy of Catalonia, where this territory defined itself as a Nation.
– Catalonia versus Andalusia Independence: Conclusions
After all, you can see that there are lots of similarities between these independence movements, especially if you pay attention to the dates. The Andalusian independence movement has lost support, as nowadays, we are quite happy with our Statute of Autonomy. On the other hand, regarding Catalans' Independence, people are still fighting for it. As some of the articles of the 2006 Statute of Autonomy of Catalonia were later declared illegal, Independentist people got angry. Of course, it is always difficult to get your privileges removed after you have obtained them.
As I said at the beginning of the article, Spain is formed by 17 autonomous regions, with different traditions, art, history and even languages. Our cultural richness is an amazing achievement that should bring us together, instead of apart, as we have many things to learn and share with each other 🙂
---
After this extensive article, I am sure you know a bit better the differences and similarities between Andalusia and Catalonia.
It is difficult to decide between Catalonia and Andalusia, so I highly recommend you to visit both! If you need some more advice, don't hesitate to contact me for more local tips, especially when coming to Andalucia
But if you still have some doubts and can't decide between Malaga or Barcelona, there you already know my answer! Come to Malaga and you will have a wonderful time with Oh My Good Guide!
Check out all the experiences and tours we offer in Malaga by clicking HERE! Traditional Tapas and Wine Tours, Authentic gypsy Flamenco Shows, private City Walks, hiking to the best Sunset, and much more!
Join us! We are looking forward to showing you everything we know about Malaga and our wonderful Andalusia!