Tapas are an essential part of Spanish cuisine. For Spanish people, tapas are a snack before dinner and time to socialise over a glass of wine or beer. It is common to order lots of tapas and share them with your friends. If you're thinking about having a Spanish theme party, think no more! Make delicious meals with our Spanish tapas recipes and have fun.
There are lots of easy tapas recipes, in fact, anything in a small portion is a tapa. So, it could be anything from seafood to olives. Start with the simple recipes first and then look for more advanced dishes. Let's get cooking!
1. Tortilla de Patatas: Traditional Spanish Potato Omelette Recipe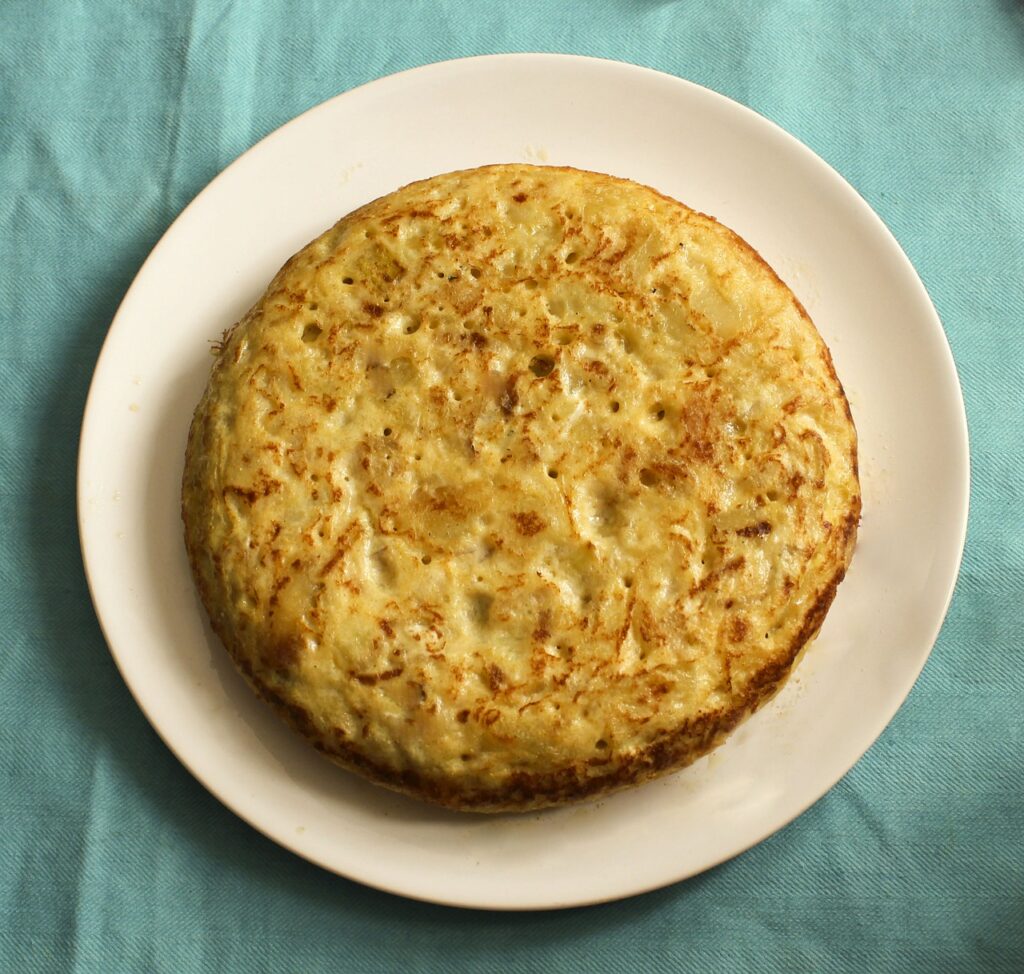 Let's start Spanish tapas recipes with the most famous one – tortilla. Every household in Spain has its tricks on how to make the best tortilla. Try it yourself, the recipe is very simple! Also, you can easily find all the ingredients in your kitchen. So, it's a great dish for unexpected guests or a quick meal.
Spanish Tortilla ingredients:
8 eggs
400g of potatoes
1 large onion
6 garlic cloves
A handful of flat-leaf parsley
Easy and quick Spanish Omelette Recipe:
Slice an onion and cook it in the oil and butter on low heat until soft. It should take about 15 min. Then, add the potatoes, stir so everything fries evenly. When the potatoes are nice and soft, crush 2 garlic cloves and add the beaten eggs. Stir again, put the lid on and let it cook for about 20 min. When the edges of tortilla are set and golden, turn it over with two plates and finish cooking. Serve tortilla hot or cold with some parsley.
2. Croquetas Recipe: Iberian Ham Croquettes, a Spanish Tapas must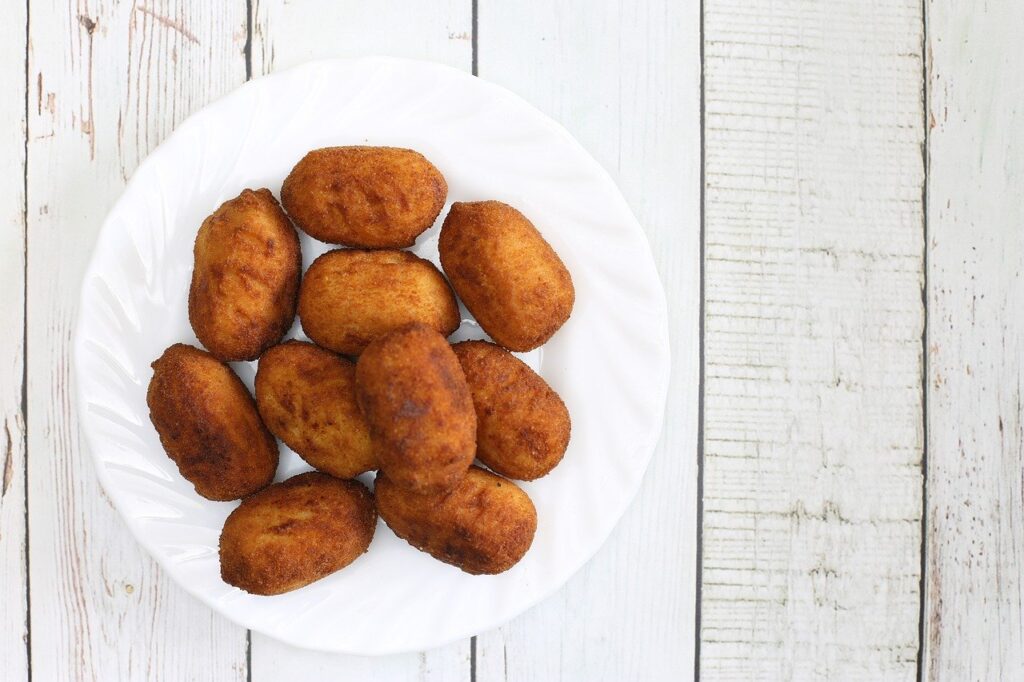 Croquettes are breadcrumbed and fried roll of food leftovers, usually bound with bechamel sauce or mashed potatoes. In Spain, there are different croquettes variations: Ham, Pulled Chicken, Mushroom and even Oxtail Croquettes! Try them all when visiting Spain and practice at home when you return with this delicious recipe:
Croquetas de Jamon ingredients…
~ 60 grams/4 T unsalted butter
~ 60 grams/1/4 C olive oil
A bit less than 1 C of flour (120 grams)
One medium onion very finely diced
1 Liter (~1/4 gallon) whole milk at room temperature
A pinch of nutmeg
1 packet (250 grams) of jamón Serrano diced into small pieces
Flour for breading
2 beaten eggs
Bread crumbs
…and my mother's recipe for this Top Spanish Tapas!
Melt the butter and warm the oil in a medium size pan over medium-high heat. Add the onion and sauté for a few minutes until it just starts to brown. Add a pinch of salt and the nutmeg. Add the diced ham and sauté for 30 seconds more. Add the flour and stir continually, until the flour turns a light brown color.
When the flour changes color, add the milk little by little, always stirring until you incorporate the entire amount. It should take about 20 minutes to add it all. Turn off the heat and let the dough cool a bit.
Butter the sides of a large bowl or plastic wrap and wrap the croquette dough inside, covered directly with plastic wrap. Refrigerate a minimum of 4 hours but preferably overnight.
To make the ham croquettes shape them into little logs. Next, while heating a pan full of olive oil on the stove, pass the croquettes through the breading process. First, cover them in flour, then in egg, and, finally, in the breadcrumbs. Fry the ham croquettes in the hot oil and let them cool a few minutes before enjoying!
3. Ensaladilla Rusa: Spanish version of Russian Salad Tapas Recipe
Ensaladilla Rusa is one of the most popular tapas in Spain. Surprisingly, the dish originates from Moscow! The salad was invented by a Belgian chef Lucien Oliver who worked at a prestigious Hermitage Restaurant. The chef experimented with a classic potato salad recipe and came up with his sophisticated version of the potato salad. No one knows what exactly was on the recipe, but here in Spain, we have made from this dish one of our top tapas dishes. So here you go, the traditional Spanish Russian recipe and ingredients!
Ensaladilla Rusa ingredients:
500g of potatoes
250g of carrots
250g of green beans
125g of peas
125g of beats
1/2 tablespoon of capers
Some mayonnaise
Salt and pepper
Optional: Canned tuna or shrimp
Russian Salad in Spain recipe
First, wash the potatoes and boil them until they are tender. Leave them to cool and then remove the skin and dice the potatoes. Also, boil the beets for about an hour. Afterwards, rinse the beets in cold water and remove the skin. Then, peel the carrots and boil them, do not overcook! All the vegetables should be tender but should not fall apart.
Boil the beets for about an hour, then rinse them under cold water and remove the skin. Also, boil the beans and peas. Dice potatoes, carrots, beets and green beans. Add all the ingredients together, mixed them with your favourite mayonnaise and season with some salt and pepper. Decorate with capers and enjoy your Russian salad 🙂
---
Are you planning to visit Spain and would like to taste all these delicious tapas? Join our Traditional Wine and Tapas Tours in Andalusia where we will explore the oldest wineries and taverns in town and discover all about Traditional Spanish Tapas and Wine Culture!
4. Habas con Jamón – Lima (or Broad) Beans with Ham: an original tapas recipe to surprise everyone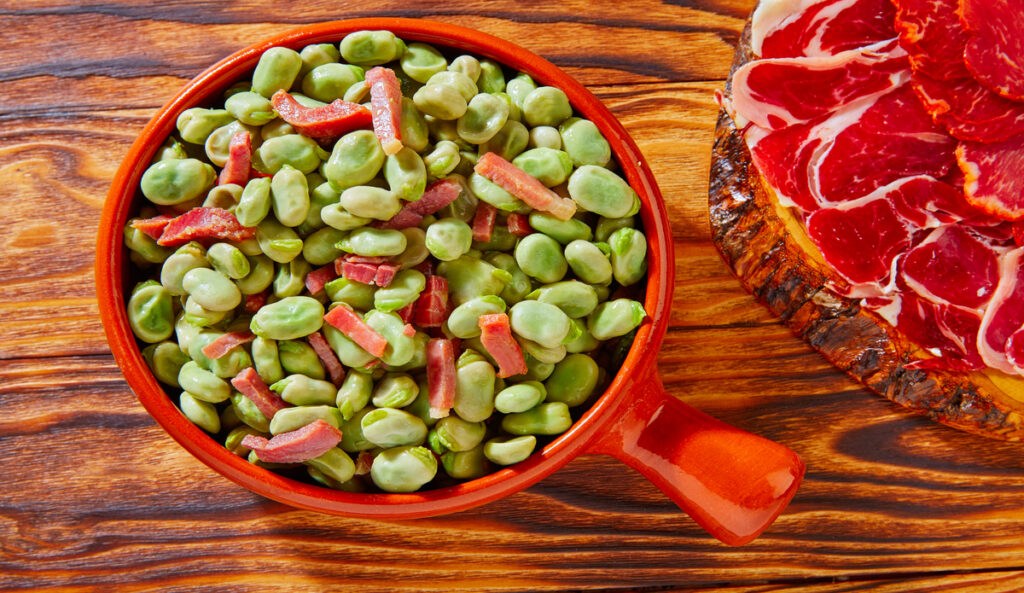 Another easy Spanish tapas recipe is broad beans with Serrano ham. It's a good way to get proteins and fibre from the broad beans and enjoy a great taste of Serrano ham. The Iberian ham has a very important place in Spanish cuisine, so don't wait any more! Make one of the many tapas with the Serrano ham now.
Habas con jamon ingredients:
1kg of broad beans
50g of chopped Serrano ham
1 finely chopped onion
Olive oil
Salt
Traditional Lima Beans with Serrano Ham recipe:
Fry chopped onion and garlic on medium heat until soft. Add traditional Spanish Serrano ham and fry for 5 min. Then, add broad beans and cook for several minutes. Put a lid on, lower the heat and cook everything until beans are nice and soft. Season with salt according to your taste.
5. Albóndigas con Tomate: Best Meatballs in Tomato Sauce Tapa recipe!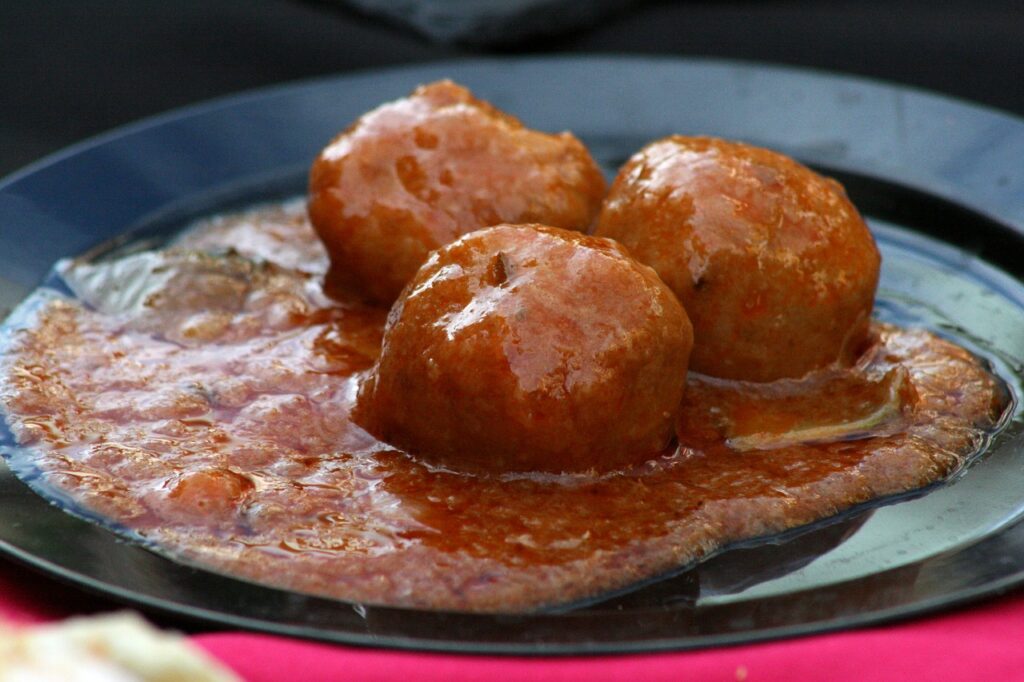 Another must-try Spanish tapas recipe is meatballs in tomato sauce. Meatballs with a Spanish twist on a tomato sauce: with some smoked paprika, cayenne pepper and honey. It's a perfect combination of flavours. Prepare small meatballs and serve them as a snack or make bigger ones and enjoy as a main dish. The meatballs are great with some pasta, potatoes, bread or you can enjoy them alone. Also, if you made more albondigas that you can eat, freeze them and eat later. 🙂
Albondigas con tomate ingredients:
For meatballs:
250g of ground beef
250g of ground pork
4 cloves of garlic
1 chopped onion
1 slice of bread soaked in milk
1 beaten egg
Some breadcrumbs
Salt and pepper
Some parsley
For sauce:
4 big tomatoes
1 teaspoon of smoked paprika
0.5 cup of tomato paste
2 dried cayenne chilli peppers
2 cloves of garlic
1 tablespoon of honey
Some olive oil
Some dried thyme
Salt and pepper
Spanish meatballs in tomato sauce recipe:
First, make the meatballs. Add all the ingredients (except for breadcrumbs) and mixed them well. Refrigerate the meat for at least half an hour. Then, roll the meat into balls. If you like more crunchy meatballs, cover the balls in breadcrumbs. Then, fry the meatballs in a pan with olive oil until brown on all sides. Put them aside on a paper towel to soak the oil.
Add some olive oil and the minced garlic to a hot pan. Cook until the garlic is soft. Add the peeled and diced tomatoes. Simmer the sauce, then smoothen it with a blender. Add the remaining ingredients according to your taste. Finally, add the meatballs to the sauce and cook on a low heat for about 10 minutes. Serve with some bread, pasta or alone.
6. Carrillada en Salsa – Braised Pork Cheeks recipe: one of my favourites Spanish Tapas!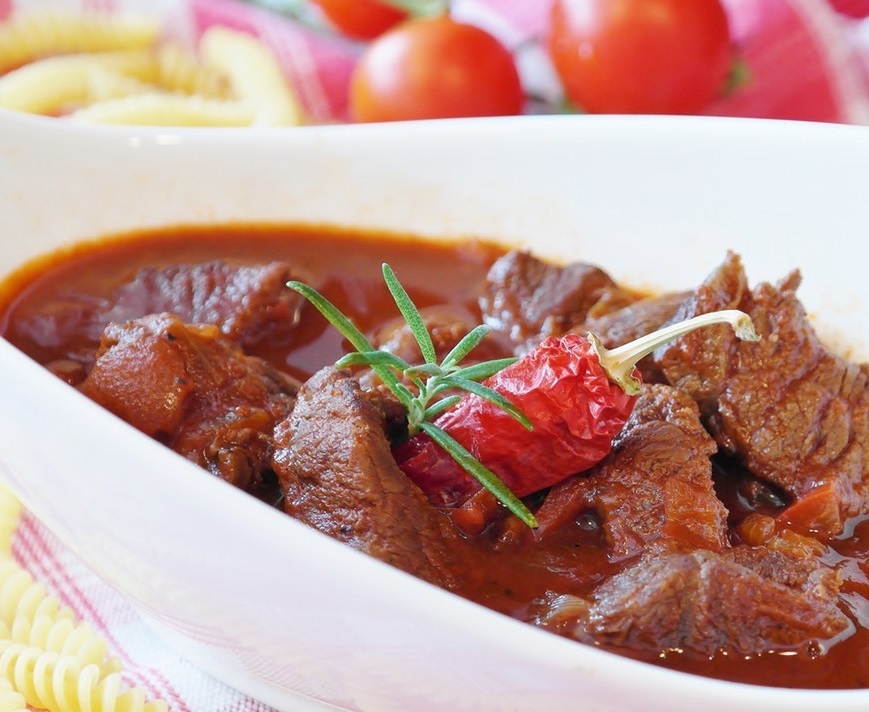 Slow-cooked pork cheeks are the star of tapas. This Spanish recipe is easy to make and very tasty. The pork cheek meat is tender and full of the flavour of red wine, beef stock and spices. It takes some to prepare the dish but is worth it!
Carrillada en salsa ingredients:
700g of pork cheeks
1 large onion
3 crushed garlic cloves
1 tablespoon of flour
0.5 tablespoon of ground cumin
1 tablespoon of sweet smoked paprika
1 cinnamon stick
0.5 cup of dry red wine
2 cups of beef stock
Some olive oil
Spanish Carrillada recipe:
Fry the chopped onion on medium heat until soft and remove from the pan. Then, toss the pork cheeks in flour, add some salt and pepper. Add more olive oil to the pan and increase the heat. Fry the cheeks until brown on all sides and set them aside. Repeat until all the cheeks are done. Then, lower the heat, add onions and pork to the pan. Also, add the garlic and the seasoning. Cook for about a minute and pour in the wine. Simmer the mix and pour in the beef stock. Cook for about 2 hours until the pork cheeks are tender. Serve with bread or mashed potatoes.
7. Caramelized Onion and Goat Cheese Toast: the easiest Spanish tapas recipe of our choice!
Goat cheese is a delicious taste of rural Spain. The goat is well-suited to Spain as it is accustomed to the hot, dry climate Mediterranean climate.  As a result, numerous breeds and cross-breeds of goat are found virtually all over Spain. To enjoy this amazing Spanish bite, follow this quick and easy recipe to make the perfect goat cheese toast.
Ingredients:
1 1/2 tbsp Olive Oil plus some for drizzling
1 Red Onion, roughly sliced
1 tbsp Balsamic Vinegar
1 1/2 tbsp Brown Sugar
100g Goat Cheese, crumbled
6-8 Thick slices of Fresh Bread (white or brown), toasted
And the recipe for your delicious Spanish Cheese snack:
Heat the oil in a pan on a low heat, then add the onions. Continue to cook on a low heat for 5 minutes or so, until the onions are starting to soften. Add the vinegar and sugar and cook (still on a low heat) for another 5-10 minutes, stirring occasionally.
Meanwhile, toast your bread in a toaster or under the grill, then drizzle with olive oil. When the onions are done, spread evenly on the toast then crumble the cheese over each slice and serve with side salad.
Final TOP tip: Make your own Spanish Vermouth to drink with your homemade tapas!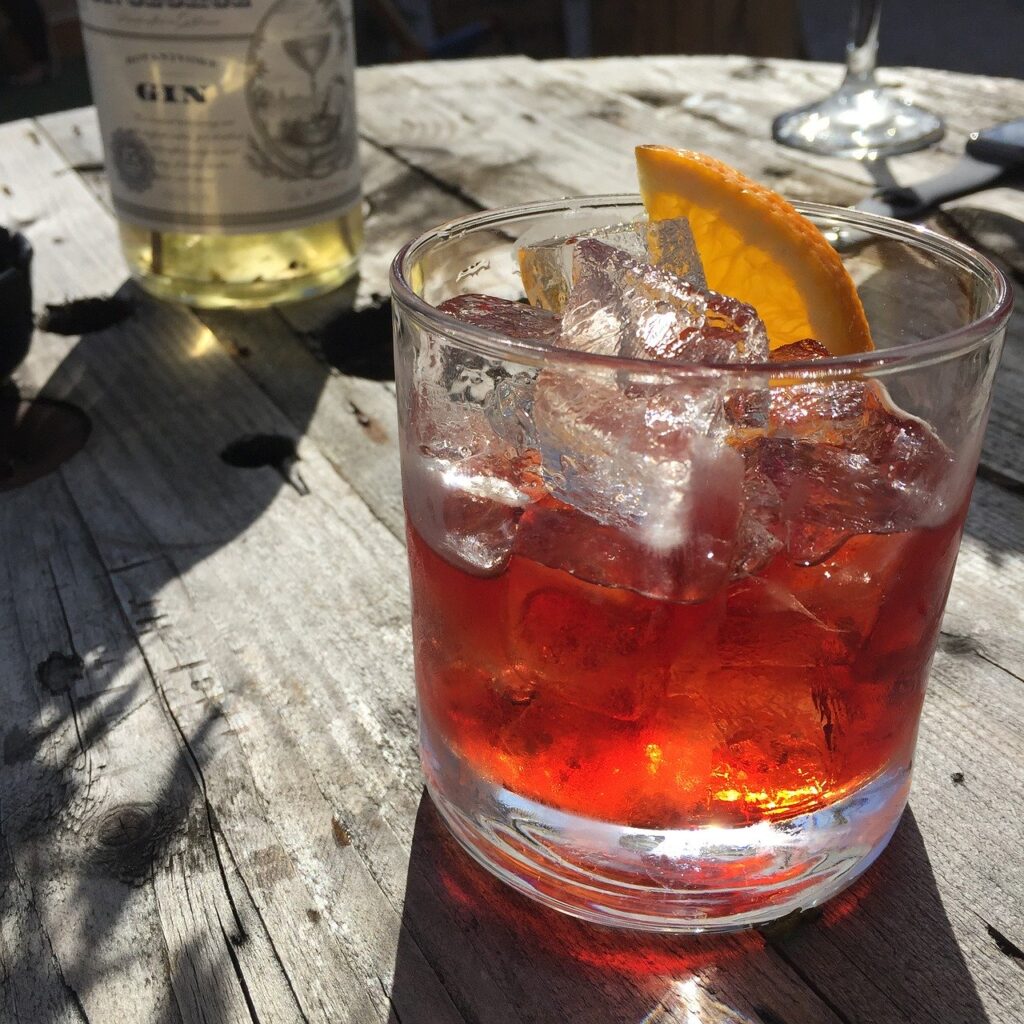 A true Spanish fiesta should have a nice drink, of course. There are lots of good wines from Spain, or you even think about making sangria. That's all good but let's try something new! The last of the Spanish tapas recipes is vermouth. It's an alcoholic drink made of wine, sherry, brandy and spices. Since you're making it yourself, feel free to improvise and add your favourite spices. Make your home-made vermouth and let me know how was it!
Spanish Vermouth ingredients:
3 cups of dry white wine
1 cup of brandy
1 cup of dry sherry
1 orange peel
1 grapefruit peel
1 lemon peel
1 cinnamon stick
6 cardamom pods
4 cloves
1 sprig of thyme
1 sprig of rosemary
1 sprig of tarragon
1 tablespoon of anise
1 cup of sugar
Spanish Vermouth recipe:
First, pour half of the wine into a pot, add the fruit peels and spices. Turn up the heat to medium and wait until the wine starts to boil. Then, remove the pot from heat. Pour the other half of the wine and the sherry. Put the pot in a refrigerator, so the flavours of the spices can unfold. The more intense flavour you want, the longer you should keep the pot in the refrigerator. For a subtle flavour – from 3 to 4 hours, for stronger flavours leave the mix to cool overnight. Then, strain the mix.
Next, prepare a caramel. Add the sugar to a small pot on medium heat. Stir it often, until the sugar is golden brown. Remove from the heat and let it cool. Then, put the pot back on a low heat and pour the brandy to the caramel. Gently stir the mix.
Lastly, mix the caramel with the wine. Bottle your home-made vermouth and keep it in the refrigerator up to 30 days. Or invite your friends and surprise them with a delicious Spanish drink.
---
I hope that you got inspired with all these delicious Spanish tapas recipes. Now you are ready to play some Spanish music, prepare some tapas and enjoy your Spanish fiesta!
If you want to try cooking some more dishes, check out our Easy Andalusian Dishes blog post here!
BUT…Again, if you are visiting Andalusia, try our Traditional Wine and Tapas Tour where we will explore the oldest wineries and taverns in the heart of Malaga and taste most of the tapas in this post!
We are looking forward to meeting you and showing you around the best of our gastronomy, wines and vermouths. Come and enjoy 😉