Food, festivals, flamenco or bullfighting are just some of the Top 10 things Andalusia is famous or known for ➞ Keep reading this post until the end to discover everything you should know about Andalusia and its musts!
1. First of all… What is Andalusia and where is it? Map of Andalusia
Andalusia is one of the 17 autonomous regions that make up Spain. If you look at the map of Spain you will see that Andalusia is the second largest region of Spain with more than 87,000 km², and the most populated, with more than 8 million inhabitants (18% of the Spanish population!)
Andalusia is the southernmost region of the Peninsula and is divided into eight provinces: Almeria, Cadiz, Cordoba, Granada, Huelva, Jaen, Malaga and Seville. Do you know where each of them is?
We make it easy for you with this map of Andalusia. Then, you will be ready to discover all the elements that make Andalusia so well known and famous!
1. Best climate in Spain! What is the best time to travel to Andalusia?
Andalusia is known for its warm climate, which makes it a great getaway if you are living in a cold place and you are dying for some sun. The best time to travel and explore the cities of Andalusia and their attractions is from March to May and from September to October when most tourists have gone home, there is no maddening heat, and the peninsula is still warm and sunny.
2. Ancient history: A brief overview of Andalusia's history
Andalusia is famous for its great multicultural heritage. Why so? Different tribes, monarchies, and nations have been replaced with astonishing frequency. The barbarians in 411, the Vestogs in 458 or the Arabs in 711 are just some examples of this.
One thing that makes Andalusia region unique within Spain and Europe is the Arab domination. For centuries, Andalusia has been dependent on Arab civilization. Starting with linguistic terms, science, art and ending with agricultural methods. They have introduced many innovations. Starting from water pumps, windmills, paper, to a whole world of smells and tastes unknown to Europeans.
Only in 1492, the last stronghold of the Arabs in Europe – Granada was conquered by the Catholic Kings.
3. Charming towns, amazing nature & beaches: the perfect combination
3.1. Andalusia TOP beach holiday destinations
Andalusia is well-known for being a paradise for tourists. It receives 30 million tourists annually. Its geographic location and climate made international tourists looking for a cheap, sunny destination by the beach arrive in Malaga or "Costa del Sol" already in the 60s. Since then, the Southern Spain coastline became worldwide famous.
If you are more into off-the-beaten-path summer holidays and want to enjoy some days by the beach, you should go discover the Cadiz coastline or Cabo de Gata in Almeria.
3.2. Andalusia TOP nature holiday destinations
But Andalusia is not known only for the sun and beach, you can also enjoy the snow! In Sierra Nevada, located in Granada, you can go skiing or snowboarding at the highest peak in the Iberian peninsula.
If you are into nature tourism and you are looking for the perfect rural holidays in Spain, then you will love Sierra de Cazorla or Grazalema Natural Parks.
3.3. Andalusia TOP attractions & historical monuments you can't miss
The Mosque in Cordoba, the Alhambra in Granada, and the Giralda in Seville are just a small part of the rich historical and architectural heritage that has been preserved in this Southern Spain region. Andalusia is famous and known for its amazing white villages and Moorish architecture. So, let's see some examples and discover Andalusia's Top attractions you can't miss!
Alhambra Palace, Generalife and Albaicin Quarter in Granada
The Alhambra Palace in Granada is the most famous sight in Andalusia and the most visited monument in Spain! Built in the 14th century, the size and beauty of this architectural masterpiece will impress any visitor which is, undoubtedly, a unique example of the Moorish rule, around 600 years ago!
The Alhambra, which means "red castle", is located on a hill, which is located near the banks of the Darro River, so that the castle towers epic over the territory of the city.
Cordoba Great Mosque & Old Town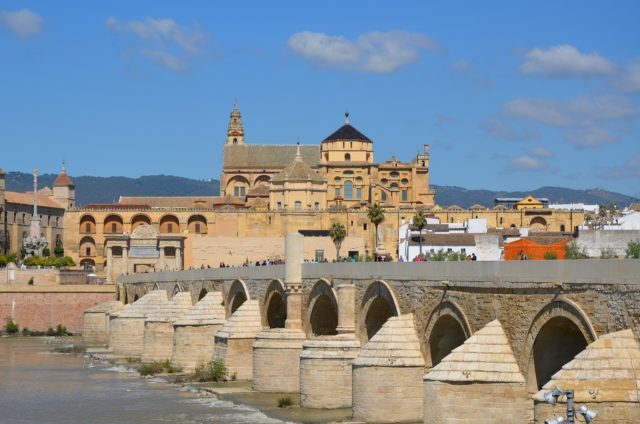 In the distant 13th century, one of the largest mosques in the world scale at the time. A huge number of interesting historical facts are associates with this place so it's a perfect sight to know more about Andalusia's history.
Seville Alcazar Palace, Giralda Tower & Plaza de España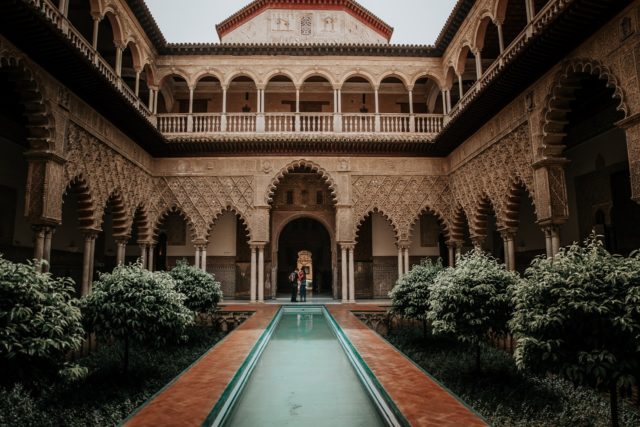 Andalusia is famous for its Moorish architecture, unique in Western Europe. Having visited the Alhambra, the next step to discovering everything about the Arabic domination in Spain is to visit Seville's Alcazar Palace.
After that, head to La Giralda Tower and Plaza de España to enjoy Seville's top attractions. End your day with a relaxing walk by the river and a pure Flamenco show!
Ronda's "Grand Canyon"
Another destination Andalusia is known for. Sitting proudly on a rocky plateau high in the mountains, Ronda tops the list of white villages in Andalusia. The main attraction of this place is the Puente Nuevo Bridge, which stretches over the deep El Tajo gorge, nicknamed the "Grand Canyon of Spain".
Andalusia White Villages
Another thing Andalusia is famous for is its white villages. If you are thinking about making a road trip to Andalucia, then you need to include some of them in your itinerary! But why "white" villages? Easy! They are named after the prevailing color of their buildings, which are painted white to reflect the heat.
Andalusian white villages are normally located in mountainous areas with forest vegetation. Good examples of them are the towns of Ronda, Setenil de las Bodegas, Grazalema, Arcos de la Frontera and Zahara de la Sierra.
If you are visiting Andalusia or any other part of Spain, have a look at these tips to make your trip more convenient:
DISCOUNTS AND RECOMMENDATIONS FOR YOUR TRIP

✈️ Find the cheapest flights, train or bus tickets here.

🛏️ Get up to 15% discount on your hotel by booking here.

🏛️ Book the best tours and activities here.

🚗 Compare and rent a car at the best price here or hire your transfer here.

📖 Get your Spain travel guide here.

💚 Book your travel insurance here.
4. What is Andalusia famous for? Flamenco dance & music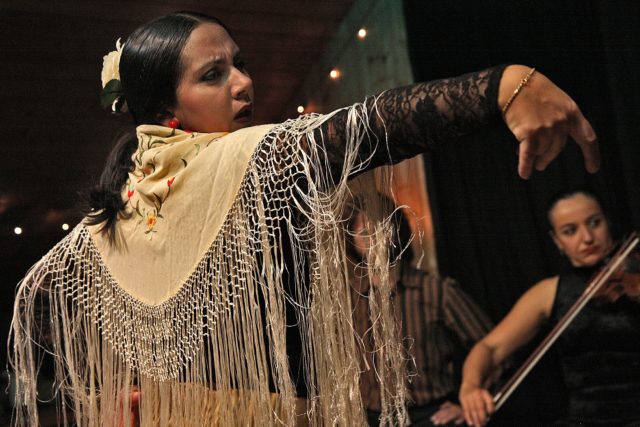 Flamenco is not only a dance, it's a complete form of art. Flamenco's also about singing and playing with passion. Check out our "All about flamenco" post, where you can find everything you need to know about Flamenco in Andalusia.
Andalusia is known for being the birthplace of Flamenco art. Officially, the birthplace of flamenco is Seville – the capital of the southern territories of Spain and one of the most popular tourist centers. If you are visiting Andalusia soon and want to discover what real flamenco is, you can't miss our Flamenco experiences!
5. Bullfighting or "La Corrida": a controversial celebration Andalusia is famous for
It so happened that joyful and sunny Andalusia became known as the birthplace of two unique phenomena: bullfighting and flamenco. Despite their cardinal dissimilarity, they have spread widely throughout Spain, becoming its national symbols and a kind of visiting card.
Corrida is nowhere in Spain more popular than in Andalusia. No fair can do without this event. Initially, only the Spanish nobility could conduct bullfighting. It was something like a knightly tournament.
At the end of the 17th century, a fashion appeared to put on the costumes of ordinary people, and also send commoners to fight on foot with bulls. For this, they even began to build arenas, came up with rules and a manual for the conduct of battle was published.
All these traditions have survived to this day, although now it's a controversial celebration that is constantly losing followers.
6. Fairs & Traditional Festivals: Andalusian people's essence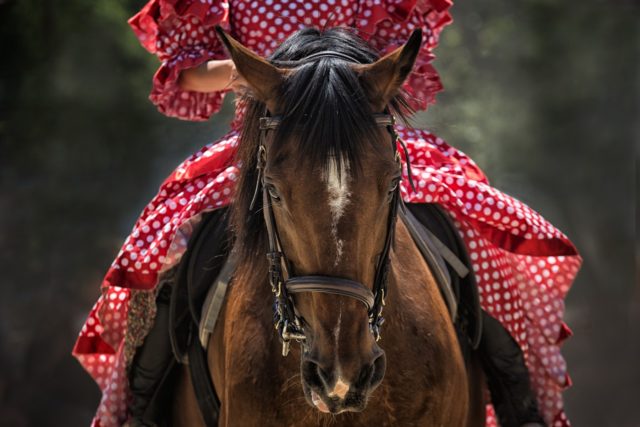 Andalusia is also famous or known for its fairs and city festivals. For the inhabitants of Andalusia, traditions and religion are of particular importance. There are numerous traditional festivals and events throughout the year. With regional and local festivals regularly held in addition to national ones, Andalusia is known for having the most varied and colorful fairs in Spain.
The population strolls the streets until late at night, communicating with relatives, friends, and acquaintances. Most of the festivities culminate in a festive theatrical procession and fireworks.
The andalusian region is known for the "noisy" atmosphere of its fairs and festivals. Here are some of the most spectacular ones:
Feria de Sevilla or Feria de Abril
Without any doubt, Feria de Sevilla (La Feria de Abril, April fair) is the most important festival Andalusia is famous for. This fair lasts more than one week and it's not only interesting for locals, but also for tourists as you can watch lots of people in traditional costumes, old horse carriages, traditional music and dancing…
If you are visiting Seville during Feria time, make sure not to miss "Paseo de Caballos", the daily parade of horses and carriages.
August Fair in Malaga
The Feria de Agosto or Feria de Málaga takes place every August in the city of Malaga. During the fair in Malaga, similar to April's Fair in Sevilla, there is entertainment for both adults and children: performances, music, dancing and more.
You can even choose between Day Fair and Night Fair. As there are many things happening during this festival, we advise you to read our Malaga Fair Guide if you want to discover them all!
Festival de los Patios Cordobeses
It is a traditional Patio Competition during springtime in Cordoba. The owners decorate their courtyards with flowers in pots, bouquets, hedges, elements of natural design and folk crafts, and invite everyone to take a look at their decoration.
Traditionally, the courtyards of the oldest districts of the city take part in the competition, funny performances and musical performances take place right there.
7. Holy Week in Andalusia: A different way to celebrate Easter
Holy Week is the last week of Lent and it celebrates the Passion of Jesus Christ. During this period, many processions are held by brotherhoods (cofradías) all along the city; they carry wooden sculptures and extravagant thrones (tronos or pasos) representing the events of the Passion of Christ.
Christian brotherhoods parade through the streets of every city or little town during the last week of Lent and Easter. This is a very popular cultural and religious event that attracts many tourists to Malaga, Granada or Seville, among others. Have a look at our dedicated posts to discover everything about Holy Week celebrations in Malaga or Holy Week in Granada.
8. Famous Natural Parks in Andalusia
The nature of Andalusia is rich and diverse in flora and fauna. No wonder about 20% of its territory is protected. There are 150 protected areas, among which we can find 3 National Parks: Sierra Nevada with the highest peak in the Iberian Peninsula and a wonderful ski resort, and Doñana, the paradise of the Iberian lynx and Sierra de las Nieves, the only place where you can find the "pinsapo" trees.
9. Gastronomy: Food Andalusia is famous or known for
Andalusia is famous or known for its unique cuisine. The modern cuisine of Andalusia is a centuries-old evolution of ancient recipes, many of which have Arabic roots.
Each town has its own typical dish, sweet or delicacy: you could travel all over Andalusia trying new dishes, so it's impossible to summarize Andalusia's famous gastronomy in a few lines. But let's see the most relevant dishes you must order when visiting this region:
Gazpacho
The most famous Spanish cold soup comes from Andalusia. Initially, it was the food of commoners who used what was available: water, vinegar, stale bread, olive oil and garlic. With the discovery of America, they started adding tomatoes and cucumbers, and now it has become a national dish.
Surprise your beloved ones with a refreshing glass of gazpacho and bring the taste of Andalusia home. You will find the super-easy gazpacho recipe and other Andalusian dishes in our 7 simple Andalusian recipes post!
Salmorejo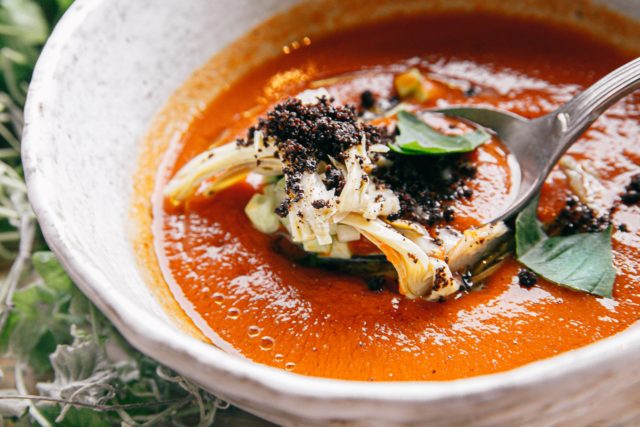 The "brother" or solid version of gazpacho, salmorejo, is from Cordoba. It is also a cold tomato puree soup with bread. You can prepare this dish from the same ingredients, only served with slices of ham and boiled eggs. It's delicious!
Flamenquin
Another dish from Cordoba is flamenquin. This food is definitely not for dieters! Flamenquin is the following: a slice of ham and cheese wrapped in pork fillet (sometimes ham instead), rolled in breadcrumbs and deep-fried. So tasty!
Pescaito frito
Another typical Andalusian dish is pescaito frito, especially in Malaga and Costa del Sol. This whole plateau of deep-fried seafood, flavored with lemon juice – tastes amazing!
Jamon – Spanish National dish
Jamon – the national dish of Spain, dry-cured pork leg. For ham, only the pig's hind legs are used, which are dried whole. And where is the best Spanish Ham? In Andalusia, of course. Try the "Jabugo Ham" and you will never forget the taste of a good Jamon!
The classic combination is Jamon with melon, which can be found in almost all restaurants. In Spain itself, Jamon is served in three ways:
As a separate dish, as an appetizer for dry, red wine, sherry, or beer.
As part of a cold snack: in sandwiches, with vegetables and fruits. It goes well with olives, herbs, cheeses, tomatoes, eggplant, zucchini, beans and cauliflower, zucchini, potatoes, and pasta.
You can also use Jamon in salads, soups, hot and stewed dishes, and usually, it is added just before serving. So the fat melts slightly, but the original taste is preserved.
Tapas – a snack for all occasions
Any appetizer for wine or beer in Andalusia calls tapas. And Andalusia region is known for this as well. Small portions of tapas may find free of charge in respectable bars. But…what exactly are "Tapas"? Find all about them in our dedicated Easy Spanish tapas with recipes post
10. What is Andalusia famous for? Sweet wines!
The wines of Andalusia are something special. The main wines in this region are fortified whites with high sugar content. You may also find dry desserts here, but not in such large volumes. So, let's have a look at the main wines Andalusia is famous for:
– Jerez DO (Sherry Wine)
Fortified wine is made from white grapes, produced in the area of the city of Cadiz, where Phoenicians invented it even before our era.
Sherry is normally prepared with the addition of sugar and the help of special sherry yeast, which floats up in the barrel forming a protective film, under it the drink reaches its condition. The strength of sherry reaches from 15 to 22% so be careful when drinking, you can get tipsy very quickly!
– Malaga DO
Malaga is not only a city but also a dessert wine, loved all over the world. It has a coffee-chocolate flavor with hints of prunes.
Traditional sweet dessert wines in the DO Málaga are made from the Pedro Ximénez and Moscatel white grape varieties. But there are many different kinds of Malaga wine depending on the taste, sweetness, alcohol or aging.
So, if you are thinking to visit Malaga during your wine holidays in Spain, join our Traditional Tapas and Wine tour in Malaga: You'll experience our amazing food and wine culture like a local!
---
Summing up: Andalusia is famous or known for…
Unforgettable cuisine, hot flamenco dances, wine straight from the barrel, architectural structures built many millennia ago, joyful people and wonderful weather – this is what this beautiful region has prepared for you. Well, don't miss your chance to visit this place and let us show you the best of Malaga, Seville or Granada in one of our experiences!
Share your thoughts in the comment section below. And of course, don't forget to subscribe to our newsletter if you want to stay tuned!
Salud! Cheers! ✌️