Andalusian traditional cuisine has so much to offer and now you can try it from the comfort of your home with our simple Andalusian dishes recipes: from fresh crunchy Mediterranean fish to delicious cold tomato creams, a wide variety of vegetables, ham and Iberian pork meat.
The cuisine in Andalusia is an important part of the popular cuisine of Spain. A good example of the Mediterranean diet with the influence of the diverse cultures that have passed through our lands, such as the Roman or the Arabs.
Some dishes like Salmorejo or Gazpacho have become a Spanish national dish and now can be found together with Spanish Tortilla or Paella in almost any restaurant. So if you are planning to come to Spain to discover the amazing Spanish cuisine, have a look at our recommendations:
DISCOUNTS AND RECOMMENDATIONS FOR YOUR TRIP

✈️ Find the cheapest flights, train or bus tickets here.

🛏️ Get up to 15% discount on your hotel by booking here.

🏛️ Book the best tours and activities here.

🚗 Compare and rent a car at the best price here or hire your transfer here.

📖 Get your Spain travel guide here.

💚 Book your travel insurance here.
But, if you are at home and would like to cook the typical Andalusian dishes, then you are in the right place. Keep on reading and try making some of the 7 simple Andalusian dishes' recipes to impress anybody:
1. The True Andalusian Gazpacho Recipe! 
This refreshing and nutritious cold tomato soup is one of the most famous Spanish dishes.
The origins of gazpacho can be found in the Ancient Roman empire. The Romans enjoyed a pasta dish with olive oil, garlic, salt, bread, and vinegar, the main ingredients of our beloved tomato cold soup/drink.
There are many interpretations of this classic Andalusian dish – nowadays, you can even find gazpacho with watermelon or mango! But still, most Spaniards and every Andalusian, agree that the best gazpacho is the original recipe. So here you go!
– Traditional Andalusian Gazpacho Recipe
1kg tomatoes
1/4 cucumber
1 green pepper
1 red pepper
1 clove of garlic
1/2 onion
100g bread
80ml extra virgin olive oil
30ml vinegar
250ml water
Salt
Pepper
Chop red and green peppers, tomatoes, cucumber, onion and bread. Then, put all the ingredients into the blender. Serve with some fried bread and garnish with olive oil. Enjoy your refreshing Andalusian dish 🙂
Fun fact: December 6th is National Gazpacho day in the US!
2. Malaga Salad: the Andalusian Foodies secret recipe
Orange and fish? Believe it or not, it works! Ensalada Malagueña is the perfect mix of vegetables, fruits and fish. It may sound odd but the ingredients complement each other perfectly. Malaga-style salad is a typical dish of the Malaga province. If you are thinking to come and enjoy your holiday in Costa del Sol, you can start getting ready with this easy recipe:
– Malaga Salad Recipe
1kg potatoes
1kg oranges
250g salted cod
5 spring onions
Olives (preferably Aloreña olives)
Extra virgin olive oil
Salt
Soak the cod in cold water for 24 hours. Change the water several times to desalt the cod. Boil the potatoes and wait till they cool down to peel and slice them. Slice the spring onions, the cod and the oranges, removing the white part of the orange skin. Finally, mix potatoes, oranges, olives, spring onions and cod. Finally, add some salt and extra virgin olive oil. You will be amazed by this Andalusian dish flavour combination!
3. Andalusian dishes recipes: Fried fish or "Pescaito Frito"
Pescaito frito is a must on the Mediterranean coast of Andalucia. The tradition of frying fish has been inherited from Jews in Spain who cooked deep-fried fish to be later served cold on the Shabbat. In any Andalusian chiringuito, our typical restaurants on the beach, you will find deep-fry sardines, anchovies, calamari, prawns or cuttlefish. But till you come here, buy some olive oil and practice at home with these really simple instructions:
– Pescaito Frito Recipe
400g fish/prawns/calamari
Some flour
Salt
Olive oil (of course!)
Prepare the batter by mixing flour and a pinch of salt. Clean the fish of your choice, toss in the batter and fry for 3 minutes in very hot olive oil. Serve with some lemon. Your pescaito frito is ready, enjoy!
4. Flamenco Eggs | Andalusian dishes' recipes – Olé!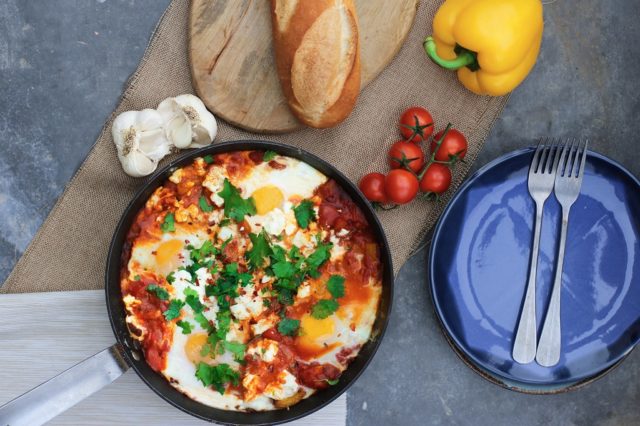 Flamenca Eggs or "Huevos a la Flamenca" is a simple tomato, ham (Spanish jamon serrano or iberico, even better!), chorizo and eggs dish. Huevos a la flamenca is traditionally cooked in a clay pot, which preserves the heat and somehow, gives this dish a special flavor and touch. This traditional Andalusian dish finds its origin in Seville, one of the Flamenco hotspots. In fact, it is said that the dish is called flamenca because of its colorful pallet that resembles a flamenco costume.
– Andalusian dishes recipes: Flamenca Eggs
3 eggs
1 can of fried tomatoes
100g fresh peas
50g diced ham (jamon serrano)
5 slices chorizo
1 clove of garlic
Salt
Pepper
Boil fresh peas for approximately 15 minutes. Then, put fried tomatoes into a cooking pot, add slices of ham, chorizo, and boiled peas and break the eggs on top. Season with salt and pepper. Finally, preheat the oven to 200ºC and bake for 12-15 minutes. That's it!
5. Poor Man's Potatoes / Patatas a lo pobre: you won't eat French Fries anymore
Fan of French Fries? You will forget them after you try this typical Andalusian dish: Patatas a lo Pobre. This "potatoes in poor's style" is an Andalusian potato dish recipe that can be served as a main meal or a side dish with some meat. During the difficult post-war years, people ate very simply, cheap food. So, potatoes with peppers, garlic and olive were a popular meal that could feed an entire family.
– Poor Man's Potatoes recipe
3 potatoes
1 green bell pepper
1/2 onion
2 garlic cloves 
Salt
Olive oil
Chop the onion and cook for 5 minutes at a medium-low temperature in olive oil. Add finely sliced potatoes, crushed garlic and a pinch of salt to potatoes. Let it cook for about 10 minutes and then, add chopped green pepper. Cook for 5-10 more minutes and enjoy your poor food 😛
6. Another delicious "poor's" Andalusian dish recipe: Migas!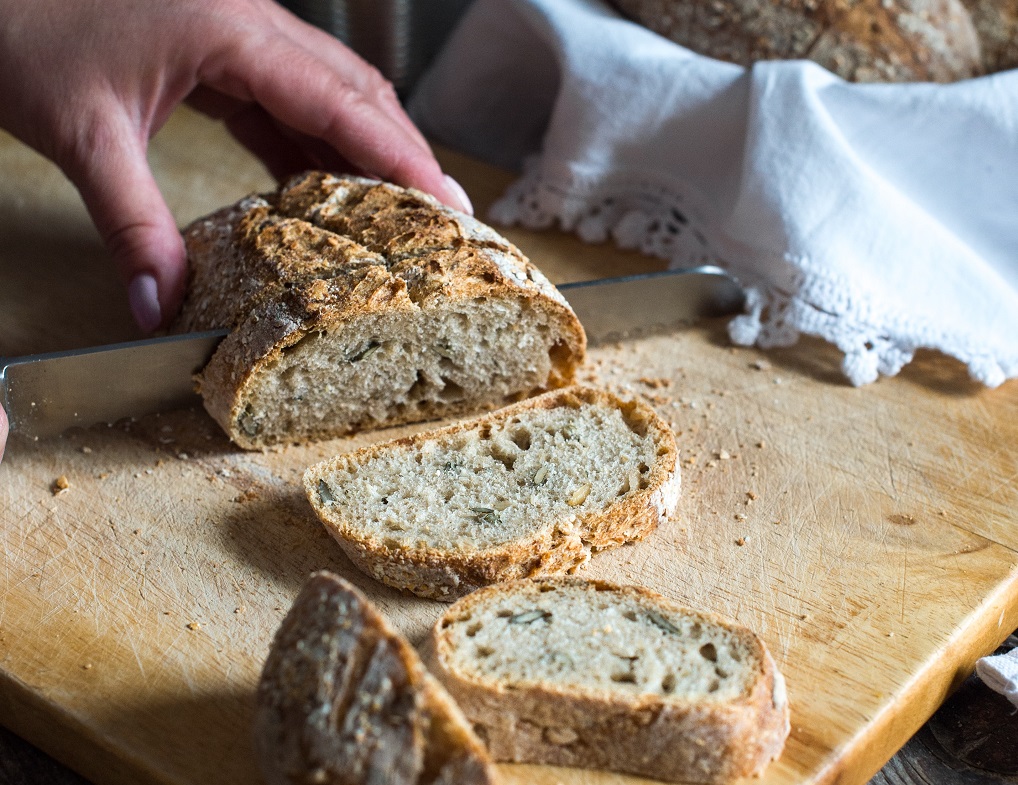 Another of our top Andalusian dishes recipe is Migas. Are you wondering what to do with the stale bread? I will tell you why in Andalusia we do not throw away any bread: we use it for Migas!
Give your bread another chance and try this delicious Andalusian meal with bread crumbs, chorizo sausages and garlic. Migas used to be the shepherds' main dish on cold days in the mountains. Now it is a highly appreciated dish that can be sometimes difficult to find in modern restaurants, so go back to the origins and spend that cold rainy morning cooking this delicious dish:
– Andalusian dishes recipes: Migas!
1 loaf of stale bread
1 tablespoon sweet paprika
5 cloths of garlic
2-3 peppers
4-5 fresh chorizo sausages
Some water
Olive oil
Salt
Splash some water on bread pieces and let them soak the moisture. Then, fry garlic until it becomes golden brown. Take the garlic out of the oil and fry the peppers together with the chorizo sausages. Take them out and fry the bread crumbs for about 20 minutes, adding some salt, a bit of water and sweet paprika. Serve together with the delicious chorizo, the peppers and garlic.
7. An Andalusian Dessert: Poleá Pudding
Finally, something for all of you sweet-tooth people. Poleá pudding is a typical dessert from Andalusian cuisine. Similarly to Poor Man's potatoes, Poleá pudding origins date from economically difficult times in Spain. This Sevillian version of Poleá is easy to make, cheap and very tasty.
– Poleá recipe
Milk
3 tablespoons of flour
4-5 tablespoons of sugar
Some lemon zest
Ground and stick cinnamon
2 tablespoons of anise
Olive oil
Bread
Add quite a lot of olive oil to a frying pan to carefully roast anis and lemon zest. Filtrate oil from ground anise. Then, lower the heat to medium. Add milk, sugar, and flour to clean oil and stir constantly. When Poleá is thick turn off the heat. Serve with ground cinnamon.
And that's it again!
---
I hope this quick introduction to Andalusia's cuisine and my simple Andalusian dishes recipes was simple enough to awake the cook you have inside and try preparing some of these delicious typical Andalusian dishes.
But! If you don't feel the cooking call, just relax, start planning your next trip to Malaga, and join OUR AMAZING TAPAS AND WINE TOUR!! You won't regret it!
We will visit 3 different wineries and make you try 6-7 different varieties of homemade tapas. You won't find this anywhere else, so come with me to discover the locals' hidden gems of Málaga!
PS: For the brave ones that tried cooking some of the dishes explained here, let me know how it went!