Malaga City Council will apply traffic rules to scooters by considering them as vehicles, as the new local mobility law that comes into effect on November 2020 states. If you are wondering where you are allowed to ride, park and the rules that you must follow if you ride your own scooter or a rental one, this post is for you! We will also cover the kind of fines you can get, so keep reading if you don't want to pay up to 500 €.
Up until recently there was a lot of confusion regarding the rules that govern these types of vehicles but the Malaga City Council has finally made an official regulation regarding them so here it is what you are allowed to do and what not:
1. Where in Malaga can I ride my electric scooter?
The scooters will not be allowed to circulate on pavements, promenades and other areas intended for pedestrians. Differentiated traffic regulations are established according to the type of road.
Are there restricted areas for scooter riding in Malaga?
If you are riding a rental scooter, it might get deactivated automatically when entering traffic-restricted areas, such as Malaga Old Town, where they are not allowed. However, if you ride your own private e-scooter, you are allowed to go across Malaga Historical Centre, as long as you respect pedestrian priority and don't exceed 20 km/h speed.
Also, during the celebration of sport, cultural or religious events, like Holy Week or Malaga's Fair, electric scooter riding can be temporarily forbidden in the event area.
2. What are the traffic rules for electric scooters in Malaga?
General traffic regulations and prohibited conducts for electric scooters in Malaga are regulated in the same way as for other vehicles. Why? Easy, they are now considered as vehicles, and therefore the traffic regulations will apply to them. Failure to comply with the new regulations will result in a fine ranging from 60 to 500 euros.
Why are electric scooters considered as vehicles in Malaga?
Electric scooters in Malaga are considered as vehicles or "Personal Mobility Vehicles" as a response to the modification of the General Vehicle Regulations, in accordance with Regulation (EU) No. 168/2013 of the European Parliament and of the Council, of 15 January 2013, relating to the type-approval of two or three-wheeled vehicles and quadricycles.
Is it compulsory to wear a helmet when driving an electric scooter in Malaga?
It includes new road safety measures for users of Personal Mobility Vehicles, both active and passive, which are mandatory for users of this type of vehicle:
Use of helmets and waistcoats when driving on the road.
It may only be used by one person.
It is forbidden to move animals or any kind of object.
Front and rear lights by day and night, bell, reflective elements and/or reflectors are obligatory and the vehicles must have a braking system.
What is the minimum age for driving an electric scooter in Malaga?
The minimum age of use for electric scooters in Malaga is 16.
How many people can ride a single electric scooter in Malaga?
Just 1!
3. Where to park an electric scooter in Malaga? Allowed parking areas
Always park your scooter in an area designated to such functions. Never where it can block the path to other users or near traffic lights, trees, benches or areas reserved for other users of the road.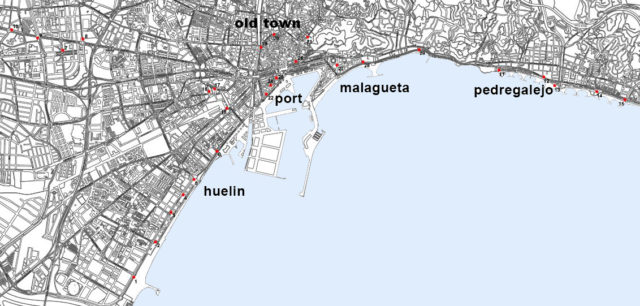 Parking of electric scooters outside of the designated areas is prohibited. The exact adresses of the areas where you are allowed to park a rental electric scooter in Malaga are:
Calle Pacífico, nº 85
Calle Pacífico, nº 55 (Glorieta Primero de Mayo)
Calle Pacífico, nº 33 (Plaza José Martín Rando)
Calle Pacífico, nº 15, in front of Tabacalera Building)
Calle Pacífico, esquina Glorieta Antonio Molina
Paseo Antonio Machado, in front of Huelin Park
Av. Gregorio Prieto with Bulevar Louis Pasteur
Av. Jorge Luis Borges, with Plaza Pintor Sandro Boticelli
Av. Doctor Manu el Domínguez, with Plaza Willy Brandt
Av. Plutarco, nº 75, with calle Eolo
Calle Varadero, nº 13
Calle Bolivia, nº 155, with Paseo de los Acacias
Paseo Marítimo El Pedregal, with calle Almirante Enriquez
Calle Banda del Mar, nº 1, with calle Mar
Calle Banda del Mar, nº 139, with Avenida Salvador Allende
Calle Mauricio Moro Pareto, with Paseo de los Tilos
Av. de las Américas, nº 7 with Plaza de la Solidaridad
Calle Héroe de Sostoa, nº 1, with calle Ingeniero José María Garnica
Calle Carretería, with calle Puerta Nueva
Calle Carretería, with calle Nosquera
Calle Victoria, nº 20
Av. Manuel Agustín Heredia, with calle San Lorenzo
Calle Martínez Campos, with calle Tomás Heredia
Calle Vendeja, with Plaza Poeta Alfonso Canales
Calle Cortina del Muelle
Calle Cervantes, nº 8, with calle Maestranza
Paseo Marítimo Pablo Ruíz Picasso, nº 15, with calle Gutenberg
Paseo Marítimo Pablo Ruíz Picasso, nº 64, esquina calle Pérez Galdos
4. Do I need to get liability insurance for driving my E scooter in Malaga?
If you own a private electric scooter or any other personal mobility vehicle, you don't need an insurance to ride it in Malaga, although it is recommended. However, for e-scooter rental companies in Malaga, the insurance is compulsory and of course, they cannot operate without it.
5. Fines electric scooters riders can get in Malaga: from 60 to 500€
There are 36 obligatory and punishable conducts, ranging from minor (60 euros), serious (200 euros) and very serious (500 euros).
Example of minor faults for E-scooters riders (60 € fine)
Riding an electric scooter without the lights on at any time of day.
Circulating on the road without wearing helmet and/or a reflective waistcoat.
Example of serious faults for scooter riding in Malaga (200 € fine)
Negligent driving of a Personal Mobility Vehicle
Commercially operating E scooters without liability insurance
Driving a scooter using headset receivers or sound players
Example of very serious fault (500 € fine)
Driving an electric scooter in Malaga recklessly
Driving a scooter under the influence of alcoholic beverages
Commercially exploiting Personal Mobility Vehicles without prior authorization with regard to traffic and parking conditions
---
So now that you know everything about E scooter riding in Malaga, let's go for it! So start planning your trip to Malaga to feel the sea breeze while riding a rental scooter by the port!
If you finally come to Malaga, don't hesitate to join one of Oh My Good Guide tours. Try our traditional tapas and wine tour, watch a flamenco show or enjoy a 3 h private tour. But not only! we also offer off-the-beaten-path activities in Malaga, like urban drawing classes, street art tour, Spanish lessons or amazing photoshoots! Book now and pay on arrival 😀
For more useful information about Andalusia and Malaga, check our blog and subscribe to our newsletter if you want to stay tuned! 
PS: Have a look at our tips for a more convenient holiday in Spain!
DISCOUNTS AND RECOMMENDATIONS FOR YOUR TRIP

✈️ Find the cheapest flights, train or bus tickets here.

🛏️ Get up to 15% discount on your hotel by booking here.

🏛️ Book the best tours and activities here.

🚗 Compare and rent a car at the best price here or hire your transfer here.

📖 Get your Spain travel guide here.

💚 Book your travel insurance here.