Looking for new ways to survive COVID19 Lockdown boredom? There are numerous online classes, e-learning and training programs about everything to help you overcome the quarantine period. From prestigious universities such as Harvard, Berkeley or MIT, virtual events platforms to small business that have evolved to offer new virtual experiences.
Keep reading until the end to discover the best online lessons and activities, both paid and for free! Ready to discover a whole new online world? Let's go for it!
1. Online Learning: classes, courses & lessons for a productive lockdown
Looking for the best tips and resources to learn a new language during lockdown? Thinking about improving some skills to move up? Without any doubt, online learning is one of the most popular ideas for a productive COVID19 lockdown period.
If you want to learn something new or deepen your knowledge in a specific area, now it's easier than ever! Have a look at the list below with some amazing online education resources:
All of the links above offer many online learning possibilities covering most topics you could ever be interested in. And these are just some examples of the huge amount of online learning platforms you have at your fingertips!
So, what are you waiting for? Now that you have the time, start with your online classes to make the most of this Coronavirus Lockdown period.
2. Online Training in Lockdown: best activities to stay fit & healthy
The next in our Online Classes, Learning & Training: Activities to survive Lockdown list goes for well-being. If you are more into online training and interactive activities to do alone, with your family or couple during Coronavirus lockdown, we also have the right thing for you!
We already wrote a specific post about keeping mentally and physically healthy when in Lockdown, but here we are focusing in the most relevant (and mostly free!) online training programs you can find on the internet. These amazing online training routines and workouts will help you stay fit exercising from home and include some other healthy habits in your daily life. Have a look!
● Free Online Training Programs & Workouts at home
If you can't go to your gym anymore because of the lockdown and you want to stay in shay during COVID19 Quarantine or Lockdown period, you can go for online training classes to keep working out with professional trainers.
There are plenty of free online training programs that will allow you to exercise at home without equipment. Check out the virtual training list below and join some of the most famous free online workouts from the comfort of your home:
● Virtual Sports Academies & Online Coaches
No need to stop training and enjoying the sports you love during Lockdown, even if they are team sports like basketball, football or volleyball! Nowadays, you can find many Online or Virtual Sport Academies that teach you how to get better at your favourite team sport. Let's see some examples!
WAYA Virtual Basketball Academy: Multi-day per week live interactive training program with on-demand training videos and real-time feedback for each participant. It would be good if you have a plastic hoop at home, but not mandatory since you can always find a way to make it work.
Coachtube: The biggest online platform offering "learn on-demand" from the greatest coaches in the world. Baseball, Football, Basketball, Lacrosse, Tennis, Track & Field, Soccer, Hockey and even Golf online lessons to master any sport you like. Perfect to improve your technique and surprise your friends once it's possible to play all together.
● Online Cooking Lessons for Healthy Eating during Lockdown
Eating healthy is an essential part of any offline or online training program. If you are running out of ideas and you want to have fun in the kitchen learning new recipes to surprise your beloved ones, have a look at Viator Food & Drink Online LIVE classes. For a really small fee, you can join daily events from chefs all over the world that will broaden your foodie horizons while having fun in the kitchen with your family.
If you are more traditional and prefer to have the written recipe in front of you, check our foodie posts and try cooking some traditional Spanish tapas recipes!
3. Online Events & Virtual Meetings: stay connected even in quarantine
The world of virtual events is every time getting bigger, especially during COVID19 lockdown. It's easy to find something interesting to do anytime, meeting people from different cultures who share the same ideas. Have a look at the list of online events, activities and virtual meetings taking place right now, I'm sure you will find some amazing stuff to do and fight quarantine boredom!
● Online Live Music Events (free and paid)
For those who are missing concerts and live music during coronavirus lockdown, don't worry, we got you covered! There are many online music festivals and artist playing live on different online platforms, from Instagram to Eventbrite. Have a look at the next online music events and get ready for the fun!
● Virtual Travelling around the World
For people who like to travel around the world and now are stuck at home, there is a solution: virtual travelling and sightseeing. Join an online live event local guides and let them show you their city's hidden gems and local culture.
● Live Museums Virtual Tours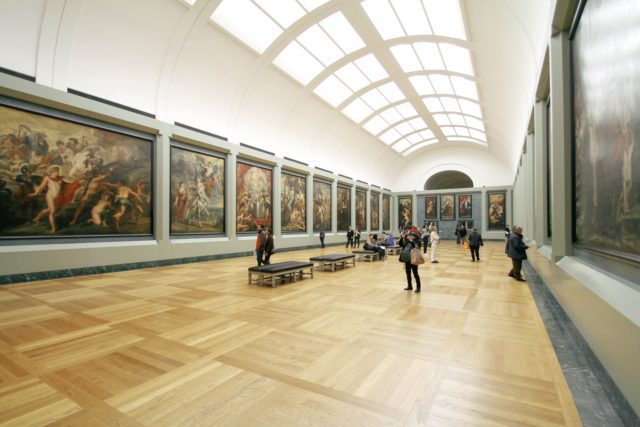 The next in our Online Classes, Learning & Training: Activities to survive Lockdown list is for museum fans. If you are a culture lover and can't wait anymore to go back and visit the most important museums from all over the world, we have something for you. Most museums offer now free virtual visits but if you want to enjoy a guided visit, you can join one of the following live museum virtual tours with experts
● Online Art Classes & Workshops
Drawing, painting, handcrafting, DIY… are some of the best and most entertaining things to do in lockdown. favourite lockdown activities. Awaken the artist inside you by joining an online art workshops and relax while developing your skils.
● TEDx talks & meetings from home
If you are a curious person interested in online events to get and share new ideas, you have to join one TEDx event. They are now available online and the topics are wide: are health, science, art, poetry, psychology, technology or innovation among others. Here is an overview of what you can find, enjoy!
● Online games coaching: Go to the next level!
The world of online games is huge! We already wrote an article about the best online games to play with your family during the Coronavirus quarantine. Do you think you are already a master of gaming? Maybe not! Did you know there are online coaches for gamers who can teach you all their secrets?
If you really want to become a pro gamer during this lockdown, have a look at Gamersensei. There you will find the perfect online gaming coach for you to improve and go to the next level!
---
We hope you have liked our post about online lessons and activities to do during the lockdown. Bookmark this post to keep this Online Classes, Learning and Training resources handy. Tell us in the comments below if you have ever joined an online class, workshop or workout and let us know about your personal experience with virtual events and meetings.
If you are still seeking for new ideas and activities to fight lockdown boredom, have a look at our successful post for productive things to do during Coronavirus quarantine period! Also, remember to subscribe to our newsletter for more amazing content.
Thanks!