This long Coronavirus quarantine can drive us crazy or make our body go rusty if we don't handle it well, so let's do something about it! Stay mentally and physically healthy during quarantine with Oh My Good Guide tips! From self-care and psychological well-being tips to easy exercises to do at home or healthy snacks: a complete Healthy Quarantine Survival Guide.
"Mens Sana In Corpore Sano"

Juvenal
A quote has never been so true! "Mens sana in corpore sano", usually translated as "a healthy mind in a healthy body", is a Latin quote that highlights physical exercise as an essential part of mental and psychological well-being and vice versa.
After trying many different quarantine activities like doing some productive and fun things at home, playing some board games with your family, or even trying to learn a new language, now it's time to think a bit more about your physical and mental health.
Take advantage of all this free time to build "the best You". Here are our tips on how to do it!
How to Stay Mentally Healthy during Quarantine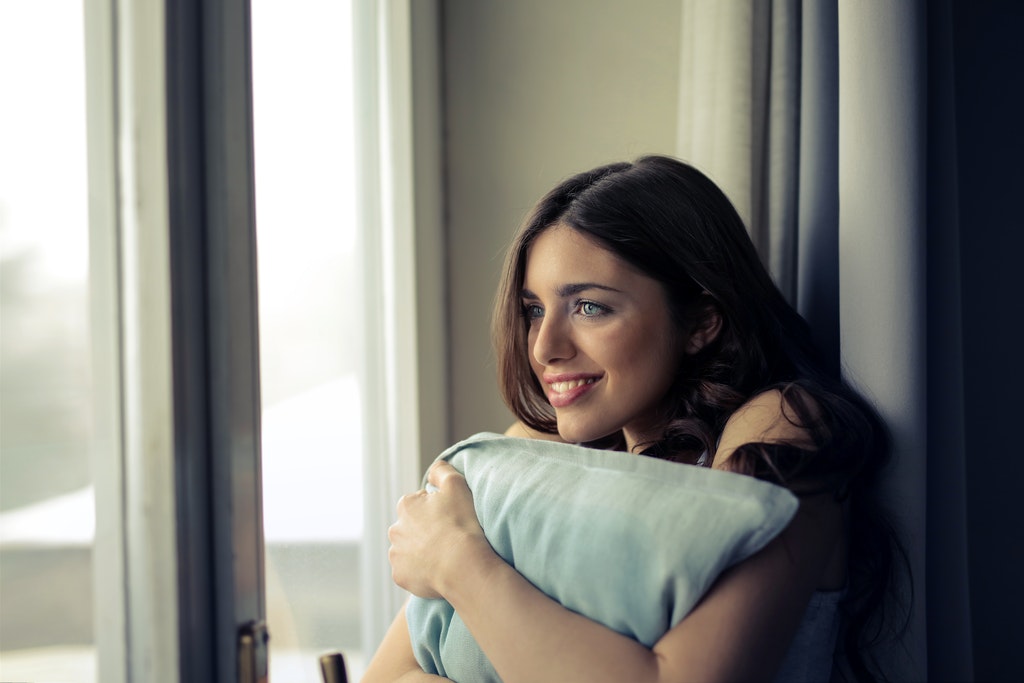 Not just your body! One of the most important things is to protect your mental health during this Coronavirus Quarantine. It's tough, but we must do our part to stay mentally healthy and avoid getting depressed, bored or anxious.
So let's go for it! Below you will find some very important tips to avoid having a psychological collapse and help your mind deal with the quarantine feelings:
– Manage your expectations and goals for the Quarantine period
The first advice on how to stay mentally healthy during quarantine is to manage your own expectations. As we settle into this new rhythm of remote work and isolation, we need to be realistic in the goals we set. Quarantine might bring unprecedented productivity, but they also might not.
Do not underestimate the cognitive and emotional load that this Coronavirus pandemic brings.
Difficulty concentrating, low motivation and a state of distraction are to be expected.
Adaptation will take time. Go easy on yourself.
– Protect your mental health going on with your routine
Routine is probably the most useful tool to keep you mentally healthy during quarantine. It helps to manage anxiety and will help you to adapt more quickly to this current reality.
Create clear distinctions between work and non-work time, ideally in both your physical workspace and your headspace.
Working in short bursts with clear breaks will help to maintain your clarity of thought.
Find something to do that is not work or virus-related that brings you joy and make it part of your routine.
Get dressed! Don't spend your day in pyjamas.
– Take care of yourself and your community
Taking care of yourself, your friends, and your family can help you cope with stress. Also, helping others cope with their stress will create a stronger sense of community and will help all of you stay mentally healthy but also physically healthy during Quarantine.
Connect with others. Talk with people you trust about your concerns and how you are feeling.
Make time to unwind. Try to do some other activities you enjoy.
Take breaks from watching, reading, or listening to news stories, including social media. Hearing about the pandemic repeatedly can be upsetting.
– Make a plan for the day to stay mentally healthy
Thinking about your plan for the day is one of the most important things to keep you physically and mentally healthy during Quarantine. Check the following health experts' tips to make your day worth it, even on self-isolation!
Write a list of activities and times for carrying them out: cleaning your home, paying bills, making calls, yoga time or preparing a new recipe.
Keep eating your meals at your usual times.
Try to make days different one to the next: plan a slightly new activity for each day of the week or keep your weekends rituals! You can do fun and new activities during lockdown, like joining an online experience or activity with people from all over the world.
– Improve your mental health during quarantine by finding ways to help
Making yourself available to everyone is always a good opportunity to improve your mental health during quarantine. It will keep you physically active as well and it will for sure lift your spirit during this long Coronavirus quarantine.
Call someone who is alone or greet a neighbour from your window.
You could also provide a service online. For example, if you are a teacher, you could offer online homework help to friends who must now home-school their children.
Keep a check on your own feelings. If you experience psychological difficulties during quarantine, ask for help yourself. Contact a health care provider, a community organization or an emergency hotline number.
How to Keep Physically Healthy during Quarantine: Exercise!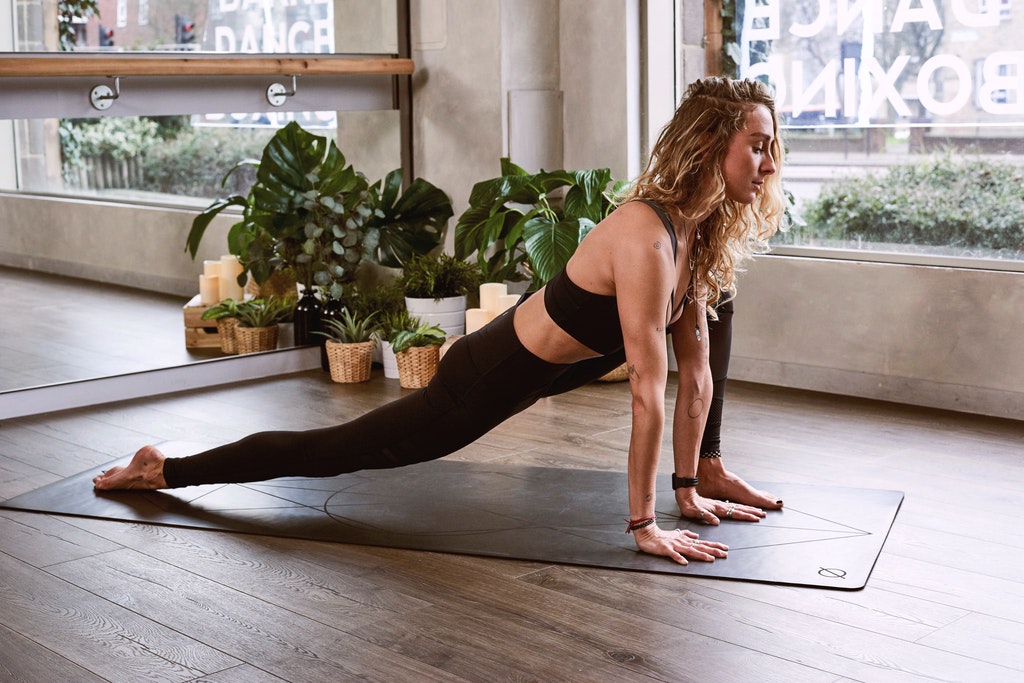 During the Quarantine, we need to have time for our mind and our body as well! That is the only way we can stay both Physically and Mentally Healthy during self-isolation.
But… how to take care of your body if you are only allowed to stay at home? Healthy diet and exercise! There are many different recipes and healthy snacks for quarantine and many ways to exercise and work out from the comfort of your home without any high-tech equipment.
– Best exercises at home to stay physically healthy during quarantine
So let's start with exercise! Here are the best exercises to do at home that most personal trainers recommend, from burpees to broomstick squats, yoga, pilates or even jump rope. They will help you Stay Physically, but also Mentally Healthy during Quarantine!
• Online yoga classes: the best way to stay physically and Mentally Healthy during Quarantine!
If you have never done yoga before, now it's the perfect time to try! It's really the best way to stay physically and Mentally Healthy during Quarantine, that is why it's on top of this list.
There are plenty of online yoga classes, both free and paid. Some Youtube channels even offer complete playlists for beginners so this is a great time to start something new. There are many yoga variations that differ in intensity, so find the one that better adapts to your needs and start practising today!
• Pilates online lessons: shape your body also during Quarantine
Pilates is another very popular home exercise with plenty of online resources available. This form of exercise focuses on creating flexibility, balance and a better posture by strengthening muscles.
Again, there are many variations to pilates and sometimes it is difficult to differentiate between pilates and general aerobics and fitness exercises, but they are all
• Jump rope: some cardio to keep your body active on self-isolation
There is a reason why boxers incorporate jump rope into their routine exercise. It is great cardio exercise, strengthens muscles in the legs and arms and is also good for developing focus. 
• Best bodyweight exercises to practice at home during Quarantine
Burpees are the king of at-home exercises, according to experts. Shape your body also during Quarantine! While a home workout can't replace an intense bodybuilding session of pumping iron, there are plenty of ways to work up a sweat in your living room.
Push-ups and squats. In fact, if you hate burpees or just want some variety, other bodyweight movements can work other areas of the body, and offer varying degrees of difficulty.
Do you like our tips and proposals to stay physically and mentally healthy during quarantine? Bookmark this post or PIN IT! And keep on reading, we have more ideas to share with you!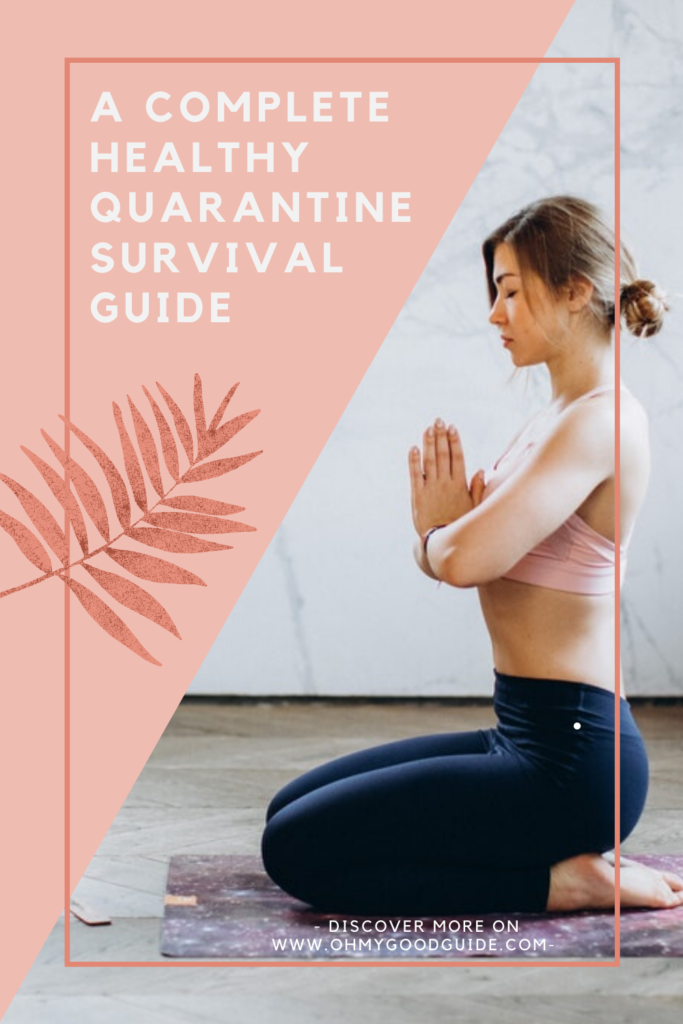 How to Stay Physically and Mentally Healthy During Quarantine Tips: Healthy Diet!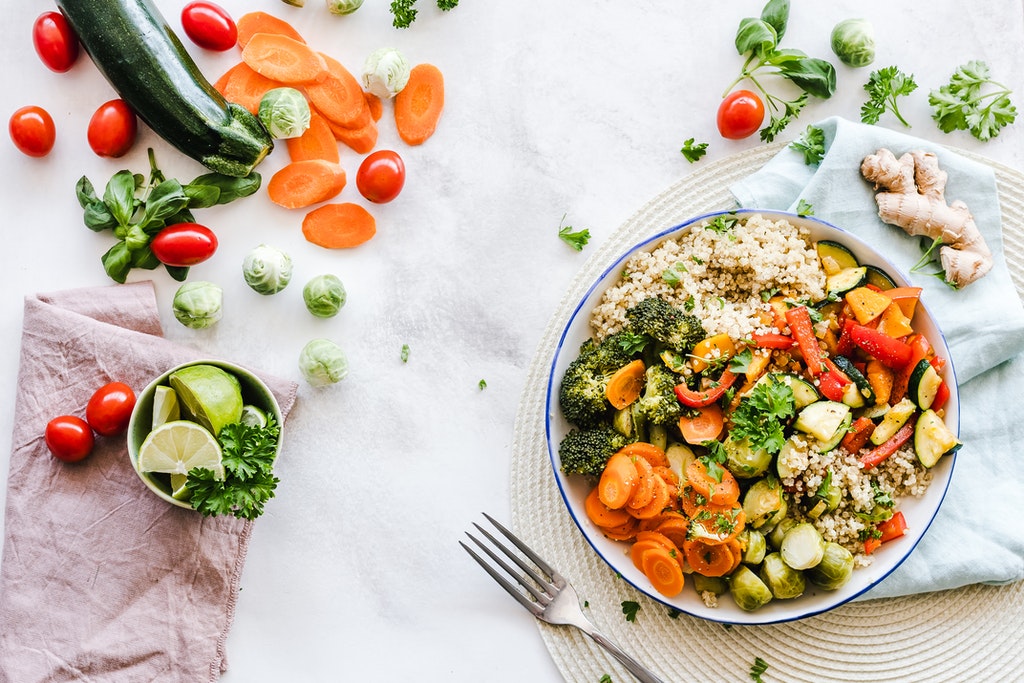 Of course, it's not all about exercise! Following a healthy diet will help you stay Physically and Mentally Healthy During Quarantine. Here is a list of healthy foods and healthy eating tips to make you feel good even on self-isolation:
– Healthy Eating Tips for Coronavirus Quarantine days
These 3 practical tips cover the basics of healthy eating and can help you make healthier choices.
The key to a healthy diet is to eat the right amount of calories for how active you are so you balance the energy you consume with the energy you use.
Also, if you eat or drink more than your body needs, you'll put on weight because the energy you do not use is stored as fat. If you eat and drink too little, you'll lose weight.
In fact, you should also eat a wide range of foods to make sure you're getting a balanced diet and your body is receiving all the nutrients it needs.
It's recommended that men have around 2,500 calories a day (10,500 kilojoules). Women should have around 2,000 calories a day (8,400 kilojoules).
Here the 3 important tips.
1. Base your meals on higher fibre starchy carbohydrates.
Starchy carbohydatres should make up just over a third of the food you eat. They include potatoes, bread, rice, pasta and cereals.
Choose higher fibre or whole grain varieties, such as wholewheat pasta, brown rice or potatoes with their skins on. They contain more fibre than white or refined starchy carbohydrates and can help you feel full for longer. Try to include at least 1 starchy food with each main meal.
2. Eat more fish, including a portion of oily fish.
Fish is a good source of protein and contains many vitamins and minerals. Aim to eat at least 2 portions of fish a week, including at least 1 portion of oily fish.
Oily fish are high in omega-3 fats, which may help prevent heart disease. Oily fish include: salmon, trout, herring.
3. Eat lots of fruit and veg to stay healthy during quarantine.
It's recommended that you eat at least 5 portions of a variety of fruit and veg every day. They can be fresh, frozen, canned, dried or juiced.
Getting your 5 a day is easier than it sounds. Why not chop a banana over your breakfast cereal, or swap your usual mid-morning snack for a piece of fresh fruit? A portion of fresh, canned or frozen fruit and vegetables is 80g. A portion of dried fruit (which should be kept to mealtimes) is 30g.
A 150ml glass of fruit juice, vegetable juice or smoothie also counts as 1 portion, but limit the amount you have to no more than 1 glass a day as these drinks are sugary.
– Healthy Snacks Ideas to stop eating chocolate during Quarantine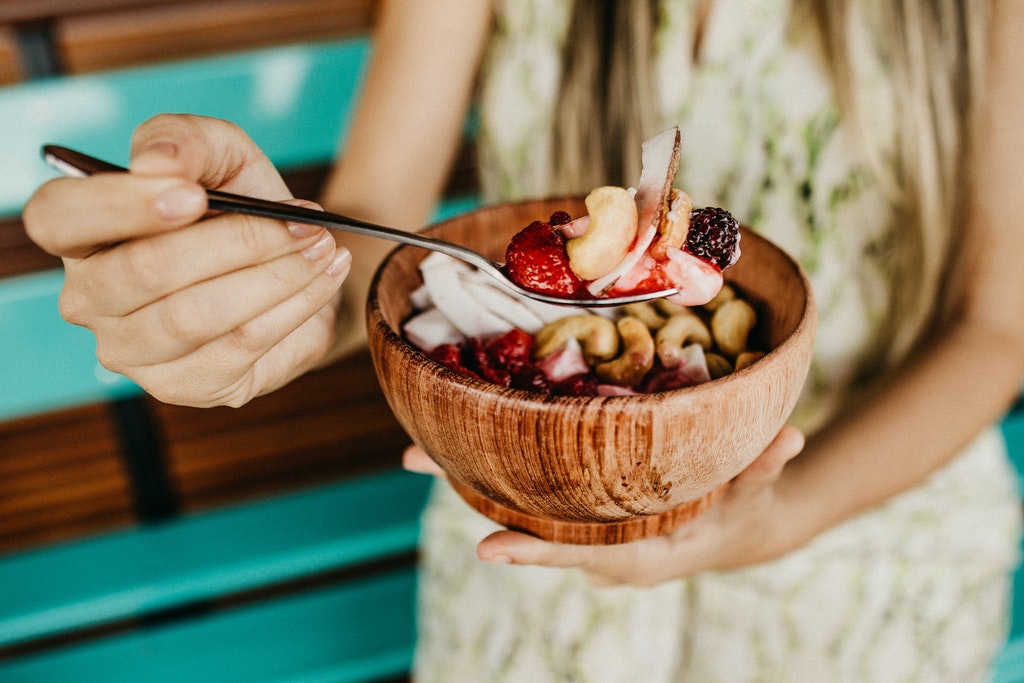 We all know that on Coronavirus Quarantine boring days, we tend to eat more snacks between meals and visit our fridge more frequently. But that shouldn't be a bad thing if you know how to handle it. Actually, eating five or six smaller meals a day has been shown to be great for stimulating your metabolism.
So, try to aim for smaller, more frequent meals. If you're really bored, take the time to make tiny portions of a bunch of appetizing dishes. You'll stay entertained and get some tasty snacks. The key is portion size.
Here some healthy snacks you can easily do at home that will help you keep your body and mind in shape during Quarantine:
1. Mixed nuts
Nuts are an ideal nutritious snack. They're linked to a reduced risk of heart disease and may help prevent certain cancers, depression, and other illnesses. Nuts provide the perfect balance of healthy fat, protein, and fiber. They contain 180 calories in a 1-ounce (28-gram) serving, on average.
2. Greek yogurt and mixed berries
Plain Greek yogurt and berries make a delicious, nutrient-dense snack. In addition to being a great source of calcium and potassium, Greek yogurt is also high in protein.
Berries are one of the best sources of antioxidants around. Eat a mixture of differently colored berries to get an array of these powerful compounds. Combining 3.5 ounces (100 grams) of plain, full-fat Greek yogurt with 1/2 cup (50 grams) of mixed berries provides about 10 grams of protein and under 150 calories.
3. Cherry tomatoes with mozzarella (caprese)
Tomatoes and mozzarella cheese are a flavor match made in heaven and they're healthy, too.
Tomatoes are rich in vitamin C, potassium, and lycopene, an antioxidant that may reduce your risk of cancer and heart disease. Mozzarella is high in protein, calcium and vitamin B12. It may also decrease heart disease risk by raising your levels of HDL (good) cholesterol.
One cup (149 grams) of cherry tomatoes paired with 2 ounces (60 grams) of mozzarella cheese has under 200 calories.
---
Hope you have enjoyed our Healthy Quarantine Survival guide with the best tips on how to stay physically and mentally healthy during quarantine! Now it's your turn, start putting our tips into practice and tell us about the result 🙂