Interested in Spanish Cuisine? Want to try to cook some Spanish dishes on your own? Great idea! Oh My Good Guide is here to share with you some traditional easy Spanish spring food and tapas recipes!
We are going to make a quick overview of the best Spanish Food & Tapas Recipes in Spring. Here you will find some starters, vegan and vegetarian dishes, fish, meat and desserts! Train to become the best Spanish cook in town with our easy and fun Spanish food recipes.
➤ Spanish Tapas recipes to welcome Spring: Quick and Easy Starters
The origins are disputed but the word "tapa" means "cover", suggesting a cover for drinks' glasses, perhaps to keep the flies off in the sun. So, you might be wondering how to make Tapas. Tapas is not a kind of food, actually, it can be any kind of Spanish food served in a small portion, meant to be shared with your group. Tapas are, in my opinion, a way of eating and an authentic Spanish way of socializing.
It is a good idea to learn some new Spanish tapas recipes to share with our family at home, or to impress our friends. Take note of the following Spanish Spring Food & Tapas Recipes and become an amazing Spanish chef!
If you really want to learn first-hand how to cook some delicious Spanish tapas, you definitely have to join this virtual Spanish cooking class!
• Iberian Ham with Melon recipe (Melón con jamón)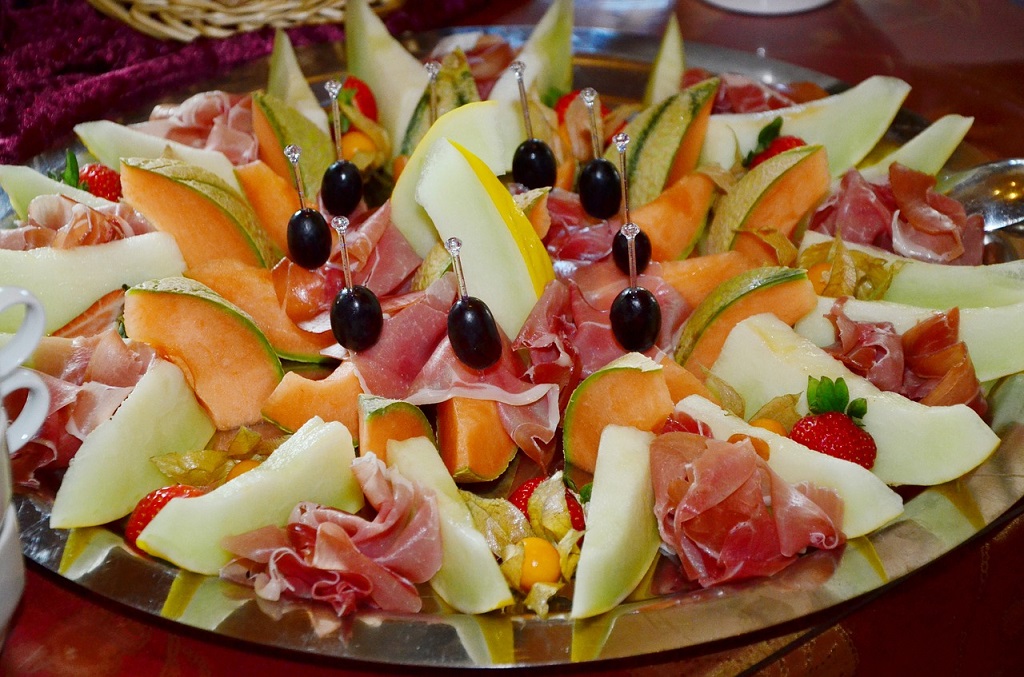 A very simple and yet, really delicious dish is melon with Iberian cured ham, mostly known as melon con jamon. From the beginning of Spring, most bars and restaurants offer it on their menus, but if you can't come to Spain, you can easily prepare it at home.
The combination of the salty and full of flavor ham makes an excellent contrast with sweet, juicy honeydew melon and if you don't feel like going out to taste it and you'd prefer a quick, tasty snack at home, it only takes about 5 to 10 minutes to prepare and requires no cooking.
• Spanish Spring Toasts: the easiest Tapas to impress everyone
Here you go, some really easy examples of how to prepare some Spanish Spring Tapas recipes. Discover new flavours with these original toasts:
– Quince jam with Manchego cheese toast recipe
Toasted bread
Quince jam
Manchego cheese
– Smoked cod with dried tomato and truffle oil toast recipe
Toasted bread
Smoked cod
Dried tomato, hydrated with truffle oil
oregano
– Iberian Spreads toasts
Traditional and artisanal spreadable savories, cremas are made from local produce like jamon Serrano, lomo and salchichón salami, fresh and local cured cheeses and pâtés. This has no cooking secrets, you just need to find the Iberian product spreads in a specialized market and enjoy it with good bread and a glass of wine.
Another Spanish pâté worth noting is the zurrapa, pork loin fried in lard with garlic, oregano, paprika and other spices, a very typical product from Malaga, in the Ronda mountain area. With a spreadable consistency similar to pâté, zurrapa is more fibrous than other creams, due to strands of delicious pulled pork included in the mixture.
Note: These Spanish Tapas recipes are just some of my favourite Spring Tapas but if you want to know more about the most traditional Spanish Tapas recipes, no matter the season, then check my post ⇨ 7+1 Must-try Spanish Tapas Recipes: Quick, Easy and Delicious ✔
➤ Typical Spanish Vegan and Vegetarian recipes in Spring
Adding spring fruits and vegetables, like strawberries, cherries, asparagus, carrots or lima beans, to our diet ensures a good dose, especially of vitamins, antioxidants and fiber. Definitely, the best option is to take care of our health, especially during Coronavirus Quarantine. Take note of the following Spanish Food Recipes for vegetarians and vegan people, perfect for the Spring!
• Vegan Paella recipe: a Spanish Veggie must!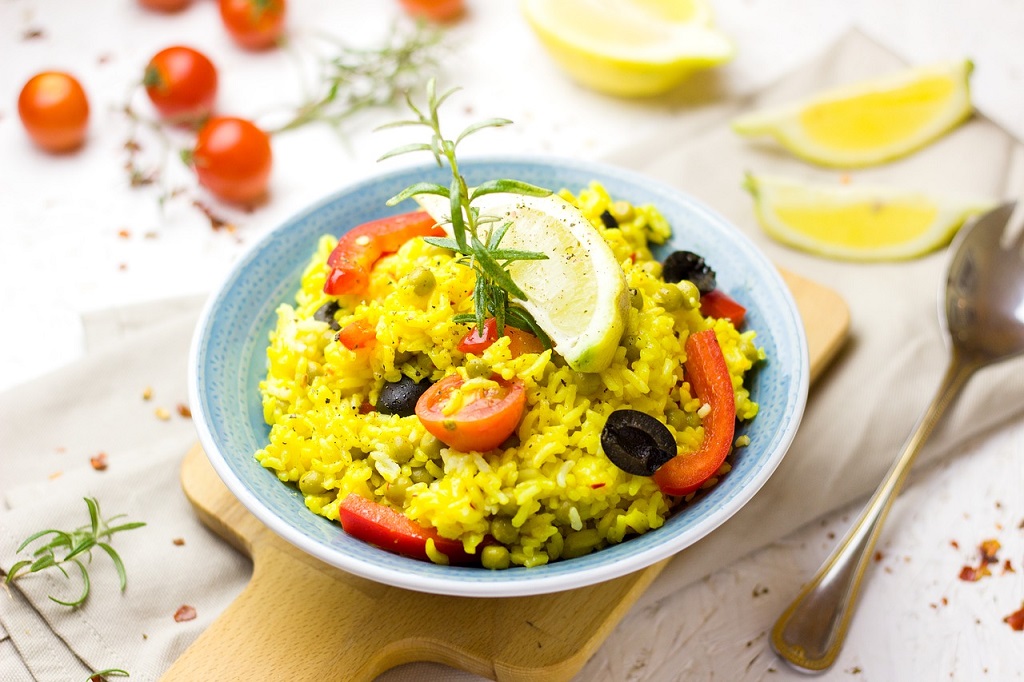 Paella is one of the most popular and famous Spanish dishes, that was created in Valencia. Paella was originally farmers' and farm labourers' food, cooked by the workers over a wood fire for the lunchtime meal.  It was made with rice, plus whatever was to hand around the rice fields and countryside: tomatoes, onions and snails, with a few beans added for flavour and texture. Defining exactly what paella contains is almost impossible. That is why there are so many variations of paella.
But today we are going to concentrate on one of the purest versions, the Vegan Paella! Only rice and fresh spring vegetables. Take a look!
Ingredients for your tasty Vegan Paella (2 people)
round grain rice (150 gr.)
garlic (1 clove)
onion (a quarter)
green pepper (one quarter)
red pepper (one quarter)
tomatoes (2 pcs.)
artichokes (2 hearts)
peas (25 gr.)
green beans (25 gr.)
green or wild asparagus (2 pcs.)
zucchini (a piece)
mushroom (25 gr.)
vegetable broth (double volume than rice)
saffron (a few strands)
turmeric
virgin olive oil
black pepper
How to cook a delicious vegan paella:
Peel and chop the garlic and onion. Grate the tomatoes. Wash the asparagus, mushrooms, zucchini, and beans and cut them into medium dice. Wash and clean the peppers and chop them. Lastly, cut the artichoke hearts into quarters.
Heat the broth and add the saffron threads, black pepper and turmeric. Correct the salt point. While the broth is heating, turn on the oven and regulate the temperature to 205 °
Put a paella pan with a splash of oil over the fire and brown the minced garlic. When it begins to take color, add the onion and peppers and let them cook over low heat. When they are lightly poached, add the tomato and sauté for a few minutes. Then add the zucchini, beans, peas, artichokes, asparagus, and mushrooms. Sauté all the vegetables lightly and then add the rice. Lightly fry it.
Then add all the broth, which will already be hot, at once. Stir everything well and let it boil over high heat. Boil for 5 minutes … after that time, put it in the oven for 15 minutes.
Take your paella out of the garden from the oven and cover it with a cloth. Allow 5 minutes before start serving.
Finally, your Vegan Paella is done! Serve your paella in its container, the special paella pan, in the center of the table. Ah! And if the weather is good and you serve this paella in the garden or on the terrace… it will taste even better!
• Gazpacho recipe! A nutritious Spanish tomato cold soup
Gazpacho is an Andalusian cold soup made with completely raw ingredients like tomatoes, cucumber, peppers, and onion mixed in a blender, along with some crusty bread. You can either serve gazpacho soup in a bowl or mug, garnished with your desired toppings, like olive oil, fresh herbs, cream or Andalusian ham.
Do not miss this great combination that, apart from cooling you off, it leaves the best taste in your mouth and it's one of the best Spanish Spring Food Recipes with a bunch of vitamins. I already wrote another post with the traditional Spanish Gazpacho recipe so you can check it here:【 Spanish Cuisine for Dummies 】7 Simple Traditional Andalusian Dishes (with Recipes!)
• Pipirrana recipe: the real taste of our vegetable gardens!
Pipirrana is a refreshing and nutritious salad, very tasty and easy and quick to prepare, a must-try dish from Jaén, in northern Andalusia. It is based on 4 ingredients: tomatoes, peppers, egg, and garlic. It is served cold and usually serves as a base to add seafood such as octopus or tuna. This is one of the most typical Spanish recipes, that can be also served as a tapa:
Ingredients for Pipirrana (2 people)
4 tomatoes
1 green pepper
1 Egg
Canned tuna
Extra Virgin Olive Oil
Garlic
Salt
Preparation
Peel and cut the tomatoes. Cut the green pepper and add it to the tomato.
Boil an egg and then separate the yolk from the white. Cut and add the white to the tomato and green pepper.
Add salt and crush the yolk with a little piece of green pepper and a garlic clove. Add extra virgin olive oil and make it emulsify.
Mix everything very well and keep in the refrigerator until serving time, so that it cools down and the flavors mix. Add tuna or boiled octopus and mix again before serving.
This particular salad has multiple variations depending on the region it is made, so when you get to come to Spain, be ready to try many different versions of this healthy Spanish dish recipe.
• Scrambled eggs with wild asparagus, young garlic and prawns recipe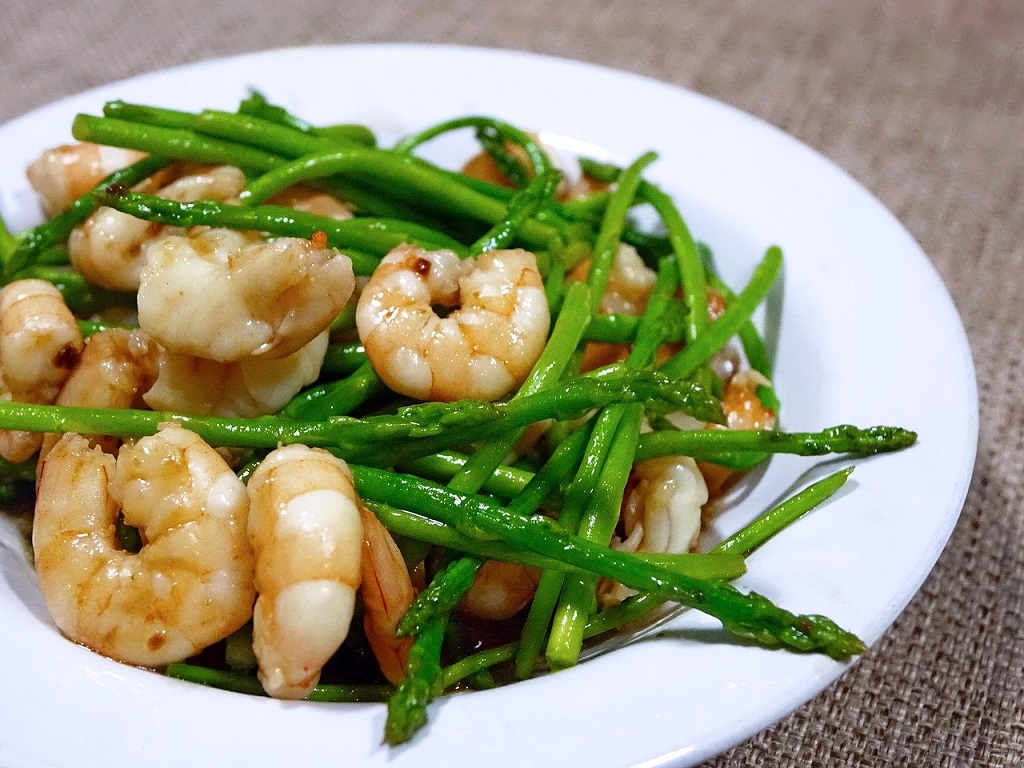 Probably nowadays, you can find green or wild asparagus all year round, but its local season is spring. They are delicious sauteed with different products, such as ham, foie gras, mushrooms … Or also in pizzas, creams or as a garnish to many dishes.
But without any doubt, scrambled eggs with wild asparagus and young garlic are a Spring seasonal classic that is impossible to miss. It can be prepared in record time and it is one of the easiest Spanish Spring Food & Tapas Recipes on this list to impress your family. To make it vegetarian-friendly, just remove the prawns.
Ingredients (per person)
150 g wild asparagus
100 g tender garlic
1 egg
5 prawns
Instructions for preparation:
Cut the asparagus with your hands towards the end of the stem, and chop them into three or four parts, depending on how long they are.
Cut the garlic into pieces of about 3 cm and brown everything but the tips of the asparagus in a pan with a little oil.
Add the asparagus almost at the end of cooking, put the prawns and turn for 15 seconds.
Put the whole egg and remove from the heat: with the residual heat the white will be cooked – stir it – and, if you can, serve with the hot yolk, but still whole. Salt, pepper and enjoy.
➤ Traditional Spanish Fish Recipes to Cook in Springtime
Spring and summer are the ideal seasons to consume blue fish in season. It is the time for tuna, anchovies, mackerel, sardines, horse mackerel… We can also enjoy fresh cod, hake, sole, monkfish, or conger eel. As for seafood, we will be able to enjoy the end of the season during the first weeks of spring. Enjoy our Spanish Fish Recipes:
• Anchovies Marinated in Vinegar recipe (Boquerones en vinagre)
This delicious little fish is served cold after being cured in vinegar and chopped garlic with a dash of olive oil. Its flavor is unmistakable and represents one of the most popular dishes of Andalusia when the sun is beating down. The flavor is intense and it pairs perfectly with a chilled glass of Spanish white wine (like a Verdejo).
Ingredients:
1 kg of anchovies
200 ml of vinegar
Water (proportion 80% vinegar, 20% water)
Salt to taste
4 cloves of garlic
Fresh parsley
Extra virgin olive oil
How to make homemade pickled anchovies:
For the anchovies to be white, the important thing is cleanliness. For this, the head, the gut and the thorn must be removed. Pass them under a stream of cold water and clean them well. When they are clean, take them to a bowl with ice and water and leave them for two to three hours.
Next, place the anchovies side by side with the skin down and cover them with salt, vinegar and water. They will cook with the acids of the vinegar. Let them marinate overnight so that they finish whitening.
Then the loins are drained, placed in an airtight container and covered with oil. Cover the container and take to the freezer for 48 hours. This procedure is important to avoid the risk of homemade anisakis.
After time, defrost the anchovies and remove the oil.
Chop the garlic very small, mix it with the parsley, 4 tablespoons of olive oil and 2 tablespoons of vinegar.
Place the anchovies neatly on a plate and cover them with the freshly prepared vinaigrette. Sprinkle with fresh parsley and serve. Stored in the hermetically sealed refrigerator, they can be reserved for a week.
Homemade anchovies in vinegar are an excellent option to serve a delicious homemade snack. Dare to follow these simple steps and the result will be better than those ordered in a bar. A really good recipe to tempt and surprise your guests!
• Cod and Orange Salad recipe
This orange and cod salad is typical of Granada, where it is known as "remojón". Now that the cod is in season and we can still find some oranges in the market, it is the best time to enjoy it. Let's see what we need to prepare this quick and easy Spanish seasonal food recipe to prepare with the family.
Ingredients (per person)
100 gr of dried or desalted cod in crumbs
Fresh chives
Half orange
Black olives
Extra virgin olive oil
Vinegar
Sweet paprika (optional)
How to make this extremely easy cod and orange salad:
We soak the cod (if it is salted) a few hours until it is well desalted. If it is desalted cod, we use it directly.
Peel the orange removing all the white, cut it into slices and put them on a platter.
Add the crumbled cod and the chopped chives and season the salad. The point of salt should be given by the cod, but if it is very desalted, perhaps a little must be added.
Typical Spanish Meat recipes in Spring
If we talk about meat, the truth is that availability is usually continuous throughout the year. And this is so because the majority of livestock farms are intensive.
However, we must bear in mind that there are hunting closures throughout the country that mark the season of hunting products, such as the hare, quail, wild rabbit, or wild boar, for example.
Also, in spring we can consume the last pieces of fresh suckling pig meat known as "cochinillo", which is typical from Segovia, in the north of Madrid.
I am aware these Spanish seasonal meat products can be a bit difficult to find in our home country, so I wanted to leave you here some other traditional Spanish meat recipes you can try cooking. There you will find how to cook our famous albóndigas or meatballs, croquettes, pork cheek and broad beans with ham! Enjoy!
➤Typical Spanish Dessert recipes in Spring
• Macerated strawberries with lemon juice or vinegar recipe with lots of Vitamin C!
We are in the middle of the strawberry season, so let's take advantage of this now that they are tastier and cheaper! They have more vitamin C than oranges and kiwis and are low in calories and low in sugar (less than apples!), so diabetics can also enjoy them as long as they don't add any. This is another quick and easy Spanish seasonal dessert recipe to prepare with the family and have a bit of fun.
Ingredients
Vinegar (2 tablespoons) or lime, lemon or orange juice.
Sugar (4 tablespoons), or a bit of honey
How to prepare macerated strawberries
Wash the strawberries under running cold water.
Cut them into slices or cubes.
We put them in a deep bowl, sprinkle them with vinegar or natural lemon juice so that it is distributed well, and add the sugar.
Mix everything well with the help of a spoon and let it rest for half an hour in the fridge. We can also leave them overnight if you prefer a more juicy result: the longer the strawberries are macerating, the biggest amount of juice they will release.
• Rice with milk pudding recipe (Arroz con Leche)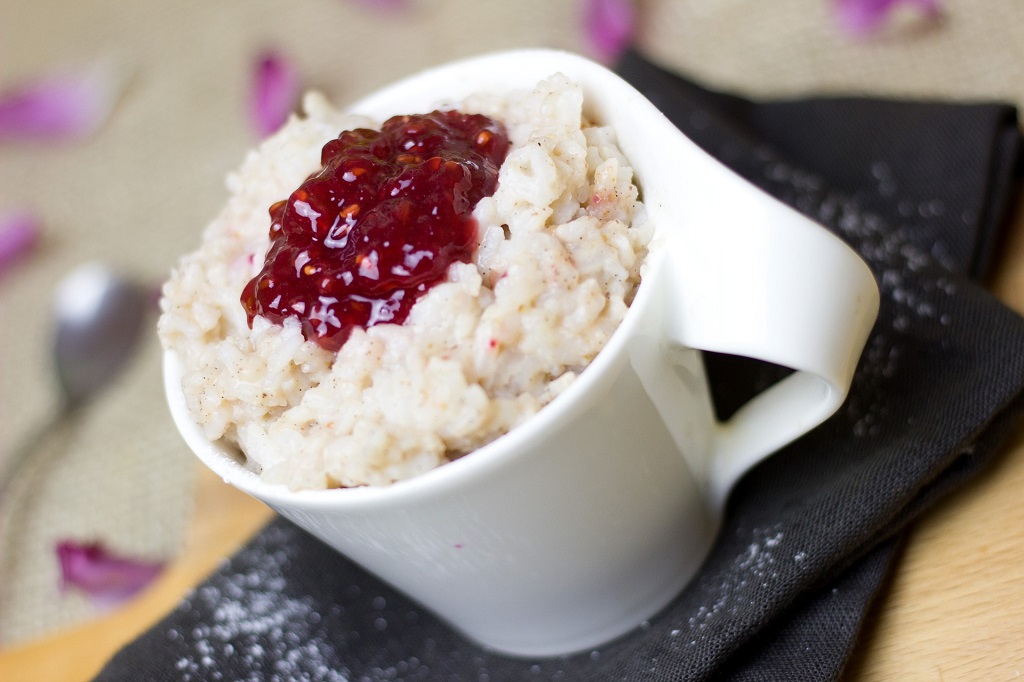 Ingredients
2 liters of fresh milk
380 grams of bomba rice
The peel of a lemon
2 large cinnamon sticks
250 grams of white sugar
50 grams of butter
Cinnamon powder
Waffles (optional)
How to make Spanish rice with milk dessert
Remove the lemon peel, taking care not to put the white part because it is bitter. Use a sharp knife or a peeler.
Wash the rice in cold water. With this step what we achieve is that the rice loses the starch.
Put it in a saucepan the fresh milk together with the cinnamon sticks and the lemon skin, and bring to a boil over medium-high heat. Take care that the milk does not stick to the bottom of the saucepan. It is very common that sometimes the milk sticks and spoils the dessert
Add the sugar and mix very well.
Once it all boils, lower the heat and add the washed rice.
We let cook over medium-low heat for about 40-50 minutes, move frequently!
Once the cooking is finished, remove the cinnamon sticks and the lemon skins. Add the butter and mix. This will make a very creamy rice pudding. Let it cool down and serve in cups with ground cinnamon on top
These are my favourite Spanish Spring Food & Tapas Recipes that will fill you up with the necessary nutrients and vitamins to stay strong! Remember, I am waiting for you in Spain to join one of our Foodie Tours and try many of the recipes here. Check them out:
If you are a real Spanish food lover, you should also check our other Spanish traditional food articles here:
BUT WAIT!! One more thing:
In order to make from this your one-stop post for trying new culinary experiences, and seeing that the popularity of making and baking bread at home increased during the Coronavirus lockdown and quarantine days, we have decided to include an EXTRA BONUS: The easiest recipe to make and bake bread at home for an excellent artisanal result! This way you will have a really full meal ready to be cooked and all the ideas to impress your beloved ones!
➤ How to make and bake bread at home: EASY BREAD RECIPE!
There are many kinds of bread and different recipes you can make and bake at home during this Coronavirus quarantine. But if you are a bread-baking beginner, like me, let's just focus on the easiest recipe to make bread at home we could find No-Knead Bread!
Why do we say it's the easiest? Well, you basically throw everything into a bowl and mix it up, then sit around, let the yeast do its work, and bake it. But it's not just bread for beginners — those of us who bake frequently also really love this bread. The slow rise gives this bread great flavor, and the baking method gives it an awesome crispy crust. It's artisan quality with very little effort — that's why this recipe is so popular!
Ingredients to bake your own bread at home
To make 1 loaf:
1 pound all-purpose flour (about 3 cups) plus more for sprinkling
2 teaspoons salt
3/4 teaspoon active dry yeast
1 1/2 cups lukewarm water
Equipment needed for baking bread at home
Plastic wrap or kitchen towel
Large Dutch oven with ovensafe lid
Instructions for your No-Knead Bread recipe!
Make a wet, shaggy dough. Place the flour, salt, and yeast in a large bowl and whisk to combine. Make a well in the center, and add the water into the well. Stir until it forms a shaggy dough.
Cover the dough bowl and let rise for 6 to 8 hours. Cover the bowl with plastic wrap or a kitchen towel. Set aside in a warm place to rise until doubled in size and bubbly, 6 to 8 hours.
Shape the dough and rise for another hour. Lightly flour a piece of parchment paper. Turn the dough out onto it, folding it over on itself at least once while you do so. Quickly shape the dough into a round ball. Cover with a kitchen towel and let rise for 1 hour more.
Preheat the oven and the Dutch oven. About 30 minutes before the hour is up, arrange a rack in the middle of the oven. Place a large Dutch oven with its lid on the rack. Heat the oven to 450°F.
Transfer the loaf to the preheated Dutch oven. The shaped dough will have risen and nearly doubled in size. Using the parchment paper as a sling, carefully transfer the loaf, still on the paper, to the Dutch oven. If desired, make a slash or shallow cut on the top of the dough with kitchen shears or a sharp knife so that the bread can expand while baking.
Cover and bake for 30 minutes. Place the lid on the pot and put it in the oven. (Be careful, the lid is hot!) Bake covered for 30 minutes.
Uncover and bake for 15 minutes more. Remove the lid and bake for 15 minutes more. You can be extra sure that the bread is done when an instant-read thermometer inserted in the top or side registers 210°F.
Cool and slice the bread. Remove the Dutch oven from the oven and use the parchment paper to transfer the bread to a wire rack. Let cool for at least 15 minutes before slicing the bread.
Bread Recipe notes
Storage: Leftover bread can be stored cut-side down at room temperature for up to 3 days. It can also be tightly wrapped in plastic wrap and foil and frozen for up to 3 months.
---
So, this is it! End of the story? NO! Go back to our blog home and look for more recipes. Now tell us…what is your favourite recipe? Have you already tried any of them? Share your experience and leave a comment!
Oh, one more thing…if you want to stay updated, SUBSCRIBE to my newsletter.
Enjoy your meal!