On 31st December 2019, the novel Coronavirus came officially into our lives…and changed them! We did not know that COVID-19 was going to spread across the world, bringing an unprecedented crisis that has set entire countries on lockdown.
Self-isolation, quarantine, not being able to see our beloved ones or go to work. We had to find a new way to understand a whole new reality and stay alone, but together!
At Oh My Good Guide, a small tour company in the South of Spain, we had to stop our tours and experiences…but we started an amazing project: # Diary of a Quarantine!
The aim of this idea? Help people connect and empathise with others in these hard times by collecting and sharing your insights and stories about quarantine life.
We started creating a network to make you feel you are not alone; we are all together in this! Different people from all over the world have joined #DiaryofaQuarantine, sharing their lessons learned, their fears, their dreams and hopes…
So now, it's time for us to share with everyone the lovely and touching outcome of this project. Enjoy and share our "Diary of a Quarantine" final video!
At Oh My Good Guide, we do not have words to THANK all of you enough for taking part in this special project, leaving a wonderful testimonial of a united world!
Remember every day that we are…
one day closer to hug our family,
one day closer to enjoy a beer with friends,
…to travel again,
…to get lost in nature,
…to run free,
…to feel the sea breeze,
one day closer…to be back!
Our collaborative # Diary of a Quarantine project has now come to an end, as we are slowly getting some restrictions easing and finally going towards the "new normal life". We hope to have helped you find the connections you needed to not feel alone: we are all together in this!
💚 Stay safe! Stay strong! 💪 Stay tuned! Subscribe to our newsletter not to miss any updates on this project or any of our new blog posts helping people out of Quarantine!
---
After three weeks of #DiaryofaQuarantine project, we have many interesting testimonials that we have been sharing with you in Episodes I and II, that you can find below. Now, we leave you with our final "Diary of a Quarantine" chapter, Episode III and the recap video with all your best stories.
DIARY OF A QUARANTINE: EPISODE III
Here we are to our final episode! Before we start telling our last testimonials' stories we want to thank all the people who joined this project. It's been inspiring seeing how all of you have been coping with this quarantine and understanding how many stories mirrored the others. Let's check the last ones and then enjoy a recap video of our best moments!
● Andrea & Valentina's Quarantine Story: New Couple Life
A lot of people during this quarantine decided to move in with their soulmates to escape from the loneliness of an empty house. Andrea and Valentina, a young couple from Italy, decided to give it a try.
Andrea is a 28 years old guy, he is from Sicily but has been working in Genoa for two years now; Valentina, also 28, grew up in the countryside around Genoa but she moved to the city only a few years ago, after 6 years spent in London.
"We are living together because of this strange situation and we will see how it goes. We haven't "killed" each other yet: that's already a good start!"

Valentina
Andrea's job hasn't been affected by the pandemic, he is still working, but from home. Unfortunately, Valentina lost her job, but she managed to turn this into an opportunity: she is now a full-time illustrator. She can now manage her time and work on what she always liked: drawing!
"I work from 9 am to 6 pm, so that part of my routine didn't change. After that, we spend our time playing, lying in the garden or watching movies together. Now Valentina's times are more flexible and that helps us to schedule our routine together"

Andrea
Their creative and entertaining personalities found their time to emerge, and so, "thanks to" this quarantine, they also opened a web radio called "Basilico Illegale" (illegal basil), where they talk about music, which is one of Andrea's biggest passion, and interesting news from all over the world.
In their case, this isolation brought them to be more united and express themselves better. Their relationship has levelled up and, maybe in some years, they will remember this period as the real start of their life as a couple.
● Vana's Quarantine Story: Pass the Torch
Vana, a 19 years old greek girl, is a track & field athlete with several Panhellenic distinctions, and a student of Physical Education and Sport Science in Athens.
She heard about the virus from his dad, that urged her to come back home in Aegina. Vana sadly abandoned her university life to come back home, where more than just her family was waiting for her.
"We are a very big family: It's not just me, my sister and my parents, but at home, there are 2 dogs and 32 cats! We can say we are never alone".
Although her house was full of love during Coronavirus quarantine, this was a hard period for Vana, as she is a very social person who likes going out with her friends every day. Of course, sport and some other hobbies helped her to get through bad moments and thoughts, but even when she was feeling low, she knew she could rely on her friends and beloved ones.
"It was my birthday on March 31st and my friends surprised with a video call where they were all singing together! This definitely cheered me up!"
Sometimes we might feel that all the stress weighs on our shoulders, but it's important to remember that we can always ask for help and pass the torch.
These social distancing times have made us understand how fragile we are and how everything can change so quickly. That's why is it's essential to focus on what we have right now and appreciate all the connections that make our life special.
---
DIARY OF A QUARANTINE: EPISODE II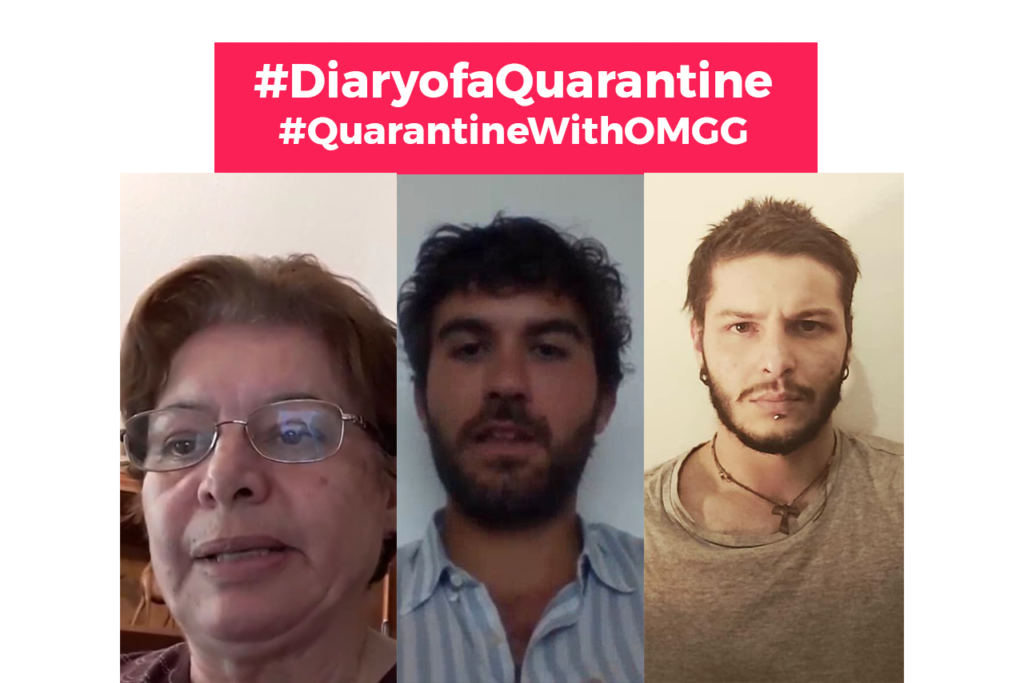 ● Simone's Quarantine Story: Break Free!
Simone is a 23 years old professional dancer, born in a small town in Sicily. He moved to Rome in order to join one of the best dance academies in Italy. In the last three years, he has spent most of his time practising and teaching his passion to the next little generation of dancers.
"When the news about the virus got confirmed, the Academy closed and so did my classes. I found myself with no job in a very expensive city."
The restrictions were too severe for him to return to Sicily and, of course, the risk of getting the virus during travelling was too high. The "easiest" choice was to stay in Rome and wait for things to get better.
Although he is living alone, there's something giving him the strength to go through each day: his passion. He keeps working hard and challenging himself!
"All of us are always complaining about having no time to do what we like, well, we do have now! I dusted off my guitar and I also started doing graffiti, I am still not good at it but now I have time to learn."
Simone's story is the proof that, despite the difficulties, positive attitude always breaks you free from every kind of isolation.
● Varvara's Quarantine Story: Most at Risk
Varvara is a greek woman who moved to Australia in the '80s. She lives in Canberra, close to her 3 daughters and 6 grandchildren. She was used to seeing them every weekend but, due to her age, she put herself in self-isolation since 15th March.
"I used to go on many excursions. I stay home all the time now, but I have fun doing video calls with my family and friends!
Of course, she misses physical interaction and feels a bit lonely but she has hope for the future. In the meantime, she keeps herself busy. Apart from video calls, she loves trying new recipes or reading on her balcony.
"I have learned to appreciate and be pleased with the things I have. Now I know nothing can be taken for granted"
Varvara's story allows us to see this pandemic from the point of view of someone who is at a bigger risk. Her adaptability and courage are a great reference for all of us and show how individual decisions can contribute to stopping the spread of Coronavirus.
● Federico's Quarantine Story: When The World Asks You To Stop
Federico is a 28 years old anthropologist, he was born in Argentina, attended his studies in Italy and now he's been doing a PhD in social anthropology in France. Thanks to his job, but mostly to his passion for travelling, he 's always away in a new country.
When he found out about the virus he was in Mexico, studying some indigenous tribes; luckily his job was done before the lockdown started so he managed to come back in Paris. As he used to live alone, he quickly moved to a friend's house.
The first week in the new house a bit chaotic: new starts always need a celebration and that's what Federico had with his friends, but not completely accident-free.
"One day, one of my friends got burnt and I took him to the hospital, afraid to find it as a war field. However, when we got inside the ER, it was empty! ".
After they realized that quarantine was going to be in their life for a long period, Federico and his friends created their own healthy routine and started learning new things.
"During this quarantine, I am learning a lot from my roomies… I have started playing the guitar and we all dance a lot, which is our fun way to workout'"
For a travel lover as Federico being home 24/7 might be a consistent change from his usual lifestyle, but it also gave him time to realize how sometimes you can just slow down and enjoy the brightness of little things in a familiar place.
---
DIARY OF A QUARANTINE: EPISODE I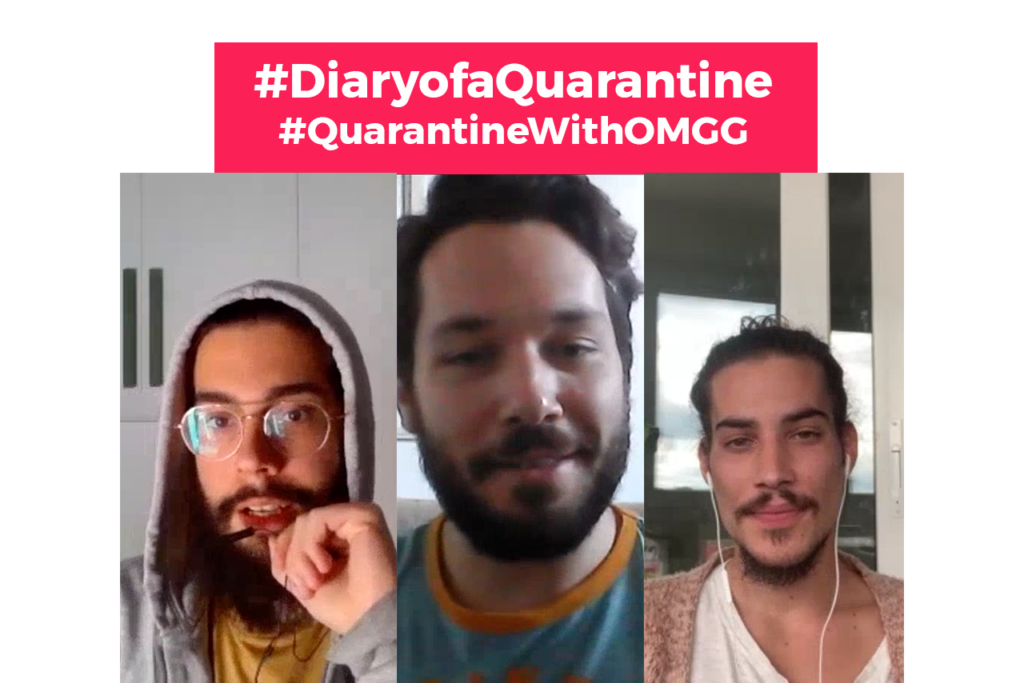 Let's get started with the first stories of our testimonials, enjoy your reading!
● Eli's Quarantine Story: The Reason Why It all Happened
Eli Anai is a 28 years old artist, songwriter, founder and co-founder of "El Despertar De La Paz", a spiritual community which tries to spread its way of living in pacific coexistence with Nature.
Before the virus, his routine was to play music in constant contact with nature and people, and now that quarantine hit our lives, his mission has changed place but not aim.
"The only thing that changed is that now I do at home what I was doing outdoors. As an artist, I try to give people optimism, love and peace, so what I used to do on the street, now I do it from my balcony!
His art seems to be influenced but not affected by this isolation: his songs get their way of telling you what is going on day by day, disseminating awareness of yourself and your surroundings.
He lives with his family in Málaga, Spain, and contrary to any expectations, this quarantine allowed them to get even closer. Being together 24/7 can lead to argues, misunderstandings and general discontent, but "taking care of yourself means you take care of your relations too", so if you are used to paying attention to others' fragility, no situation can unsettle you.
"You can see fear but you can also look at it fearless. We are meant to look at the bright side!"
Everything happens for a reason, but you can actually decide what that reason will be. Eli decided to turn this self-isolation period into an opportunity to grow, listen to himself and find the right words to spread the same peace for you too!
● Giancarlo's Quarantine Story: Education Behind a Screen
Giancarlo is a 28 years old language professor, he was born in Crotia but now he lives in Genoa, where he works for several private schools.
His first reactions about the quarantine were the typical ones: the anxiety of the unknown, doubts on how our life will change, fear for people's health. After two months of Coronavirus quarantine, these negative feelings have been replaced by the optimism of new possibilities!
"I think that as human beings, we are able to adapt to any kind of situation"
As a professor, he managed to keep working doing online teaching. The bound with the students he had created for years helped them feel his lectures didn't change, yet, this innovative approach to teaching might compromise interaction between, not only teachers and students but also new generations with society itself.
"I don't mind working remotely but I do think that children need a teacher who is physically there… kids learn a lot through emotions and non-verbal communication"
Looking at the future of Education there might be consequences in the way lessons are given but, so far, what we can see is a society that has been learning day by day how to cope with the unexpected.
● Alessio's Quarantine Story: A New Reality far from Home
Alessio is an Italian student, he is 22 and his hometown is Messina, a seaside city in Southern Italy. When he first heard about the virus he was home and, as a lot of people did, he didn't take the news of this unknown danger too seriously. By the end of December, he got the offer of an internship in Milan and, some weeks later, he moved to this new city by himself.
On 31 January Italian news announced the first confirmed cases of Coronavirus in Rome, in some days Milan become the most affected city; Alessio, who had started working just a few weeks before, got in quarantine on 25 February.
"I remember how, the day before we got all quarantined, I was in the subway and we were all stuck together. The next day the lockdown started and I felt like all the people in that subway could have caught the virus, so why couldn't I?"
Aside from worrying about his health condition, the first days were the most difficult ones because he had to get used to being the new person in the house, in his job and in that new town so far from home. Fortunately, this feeling of loneliness got filled with the affection and kindness showed by his parents, his friends, his girlfriend and even his new roommates!
"People I live with have been extremely supportive… whenever I feel down I know I can just open the door and talk with them to feel better"
So, even though this quarantine has postponed the great start of Alessio's new life, he is grateful for everything he has learned and the incredible support received!
---
These have been the best stories of our #DiaryofaQuarantine project. Hope you have enjoyed them as much as we have. Stay tuned! Subscribe to our newsletter not to miss any updates on this project or any of our new blog posts helping people out of Quarantine!
---
# Diary of a Quarantine: How it all started
1. Make a short VIDEO (preferred), VOICE record or WRITE to us answering ONE OR MORE of the following questions:
When did you find out about the virus? Where were you? What was your first impression? Did you take it seriously at the beginning?
When did the quarantine get started in your country/city? How many days/weeks has passed since the quarantine started in your place?
How did your life change so far? How has your routine changed?
If you are a student, how did your school/university handle the problems? Are you having problems attending your class? What about your studies?
If you are an employee, was it your first time in smart working? How did your job change?
Do you live alone? How do you deal with being by yourself for all this time? What did you learn of yourself? What do you miss the most? 
If you don't, how many people do you live with? How did your relationship with them change day by day?
What/who is helping you to go through this difficult time?
Tell us something you have done for the first time during the quarantine!
Tell us something you learned since the quarantine started
Tell us some strange episode or funny thing that happened to you since the quarantine started
What's the first thing you want to do when the quarantine will be over? What are your fears? What are your hopes?
Share your positive message with the world: yes, we can!
Remember, if you like, you can answer ALL questions and do the whole interview! We are looking for good comprehensive stories to be featured in this article and make a quality video with the best of them.
IMPORTANT NOTICE: We protect your privacy so we won't share any details you don't want to. Include your name, age and country to make your testimonial more personal 😉 
2. Send your material as a private message to any of our social media channels or a send us an email.
Click the buttons above to contact us! Or if you prefer, you can do your own story/post, tagging OH MY GOOD GUIDE and using BOTH of the project hashtags: #DiaryofaQuarantine #QuarantineWithOMGG
3. Watch the results!
We will share the best testimonials daily in our Instagram and Facebook Stories, but the masterpiece of the project will be this collaborative blog post, that will be growing with the new stories we get and where we will share our final video, best pics, comments and voice records, leaving a wonderful testimonial of a united world.
Stay tuned! Subscribe to our newsletter not to miss any updates on this project or any of our new blog posts helping people out of Quarantine!
💚 Stay safe 💚