Are you still wondering where to spend and celebrate New Year's Eve 2023 in Spain? I have the answer for you!
First of all, wherever you go to spend this New Year, you need to join the original unmissable Spanish tradition for every New Year's Eve: You need to eat 12 grapes just before midnight! To know more about it and other Spanish Christmas traditions, check out our post here!
So, now that you know WHAT to do on New Year's Eve in Spain, I am going to tell you WHERE! Here you go, my personal selection of the best cities to spend an unforgettable New Year's Eve in Spain in 2023 – 2024. Check out these 7 amazing Spanish cities.
Spanish people know how to party and celebrate, so get ready and start reading to plan a great New Year's Eve with my tips!
DISCOUNTS AND RECOMMENDATIONS FOR YOUR TRIP

✈️ Find the cheapest flights, train or bus tickets here.

🛏️ Get up to 15% discount on your hotel by booking here.

🏛️ Book the best tours and activities here.

🚗 Compare and rent a car at the best price here or hire your transfer here.

📖 Get your Spain travel guide here.

💚 Book your travel insurance here.
1. Malaga – our favorite for a special New Year's Eve in Spain for 2023 – 2024!
The first city I recommend to celebrate New Year's Eve in Spain in 2023 is, of course, Malaga. This sunny Andalusian city is famous for its beautiful Christmas decorations, as you can see in the image above.
Before the New Year celebration, watch the Christmas Lights show on Larios Street or the video mapping on the Alcazaba walls. For more things to do in Malaga this Christmas Holiday 2023, read our Christmas in Malaga article.
Greet the New Year in Plaza de la Constitucion, the event starts at 10 pm. You'll get to see a free concert and eat lucky grapes in the most beautiful place in Malaga. Then, if you want to party, head out to El Palacio Club. This club organizes a huge New Year's party. There will be five areas with different styles of music – from reggaeton to flamenco.
But if you choose Malaga and are looking to start 2024 in a more original way, then start it with us, Oh My Good Guide! Book one of our original tours: try sweet wines from Malaga and traditional tapas, discover the city by drawing, become a model in our photoshoot, or mix with the locals with our Survival Spanish lessons!
Don't doubt anymore, book now and pay on arrival!
LOCAL TIP: Christmas Eve celebration in Spain always starts with a big dinner. It usually takes place at home, but every time more Spanish people choose to have dinner with their friends and family in a nice restaurant, so make sure to call and book in advance.
2. Barcelona – Greet the New Year 2024 in Catalonia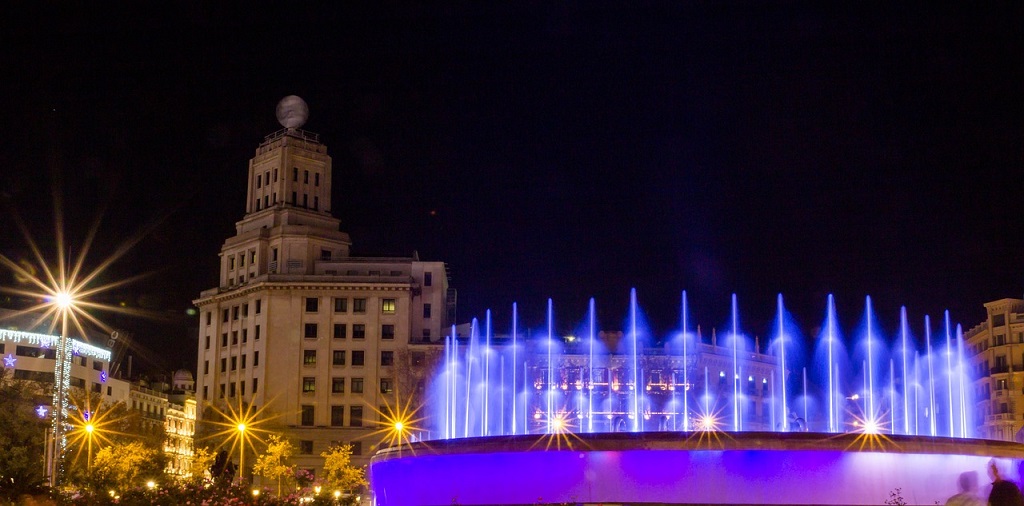 Barcelona is another TOP city to celebrate New Year's Eve 2023 – 2024 in Spain. After exploring the incredible architecture of Antoni Gaudí, plan your New Year's Eve celebration.
The capital of Catalonia offers many events on the 31st of December: from family dinners to wild parties. For the main event, you must go to Plaça Espanya. Thousands of people celebrate New Year's Eve here every year. The pre-show starts around 9.30 pm, with the Magic Fountains lights show. The main celebration, which includes music performances and fireworks starts at 11.45 pm.
Another good place to celebrate New Year's in Barcelona is Plaça Catalunya. Don't forget your grapes and Cava! If you're going to Plaça Catalunya, be aware of the quite dangerous tradition: with the last ring of the clock bell, people throw their Cava bottles to the center of the square!
And, there are plenty of parties on New Year's Eve: Pacha Barcelona and Shoko Club are the most popular clubs. For a more original 2024 welcome party, you can go to Poble Espanyol, an open-air architecture museum, and dance until sunrise.
LOCAL TIP: Beware that Barcelona city is one of the most popular destinations in Europe, so be ready for the crowds. Book your New Years party ahead of time or you will miss the best ones!
3. Madrid – Celebrate the arrival of 2024 in the Capital of Spain
New Year's Eve 2023 in Madrid? Good choice!! The capital of Spain has lots of parties and many original events for this special occasion.
Running enthusiasts should join the San Silvestre Vallecana, a popular 10km race in Madrid that always takes place on the morning of the 31st of December. Running in the city center dressed up is a fun way to see famous places and exercise before the big celebration.
The main event in Madrid, which is even broadcast on Spanish national TV, takes place in the famous Puerta del Sol Square. Here, up to 20,000 people gather to celebrate the New Year in the traditional way: eating the lucky 12 grapes as the clock of Real Casa de Correos counts the last seconds of 2023.
Then, continue the celebration at one of the multiple parties. The most popular clubs like Kapital, Bisou, and Joy Eslava start selling tickets for their New Year's Eve parties early on.
Consider buying a ticket to the club in advance, because you can save quite a lot of money and some clubs get so packed that they don't even sell tickets at the door.
LOCAL TIP: If you're not into partying, try Dinner+Show or Themed Dinners, like the ones offered by Enigmatium or El Templo del Placer.
4. Seville – Flamenco-themed New Year's Eve in Andalusia
Seville is another of the best cities in Spain where to celebrate New Year's Eve 2023 in. Spend the last hours of the year with locals in Plaza Nueva. Like in any other Spanish city, bring your bottle of Cava or Sidra and twelve lucky grapes.
Seville is famous for flamenco, so why not attend a flamenco show on New Year's Eve? El Tablao Palacio Andaluz and Tablao el Arenal are famous flamenco shows that offer a dinner and Flamenco show on the 31st of December. If you are a flamenco fan, this is your option!
Party lovers can go to Discoteca Uthopia with three floors and different music. Other popular clubs are Discoteca Holiday and the small but locals' favorite Bar Rockefeller.
An alternative plan for New Year's Eve in Seville is to meet the New Year on a boat. You can find catamarans that offer dinner, an open bar, and, of course, twelve grapes for your party.
LOCAL TIP: On your way home, have some churros with hot chocolate! This is the most popular way to end the New Year party in Spain. A must!
5. Tenerife – Spend your 2023 New Year's Eve in the exotic Canary Islands
If you're looking for warm weather and beach parties to kiss 2023 goodbye, go to Tenerife. The island is famous for its unique volcanic landscape, delicious cuisine, the amazing Carnival, and parties on New Year's Eve.
As in any of the previous cities, Santa Cruz de Tenerife offers to celebrate New Year at the main square, Plaza de Candelaria. The fireworks and music show start at 11 pm.
Because of the hot climate, one of the best options to enjoy an unforgettable New Year's Eve in Tenerife is to attend a boat party. You can buy tickets to one of these parties through various agencies. Or, you can even rent a boat yourself and throw a party with your friends!
LOCAL TIP: If you're staying in any of the multiple small towns near the beach and want to welcome 2024 in a quieter way, go to the closest beach and enjoy the town party where you will meet many local families
6. Valencia – New Year's Party until the Sunrise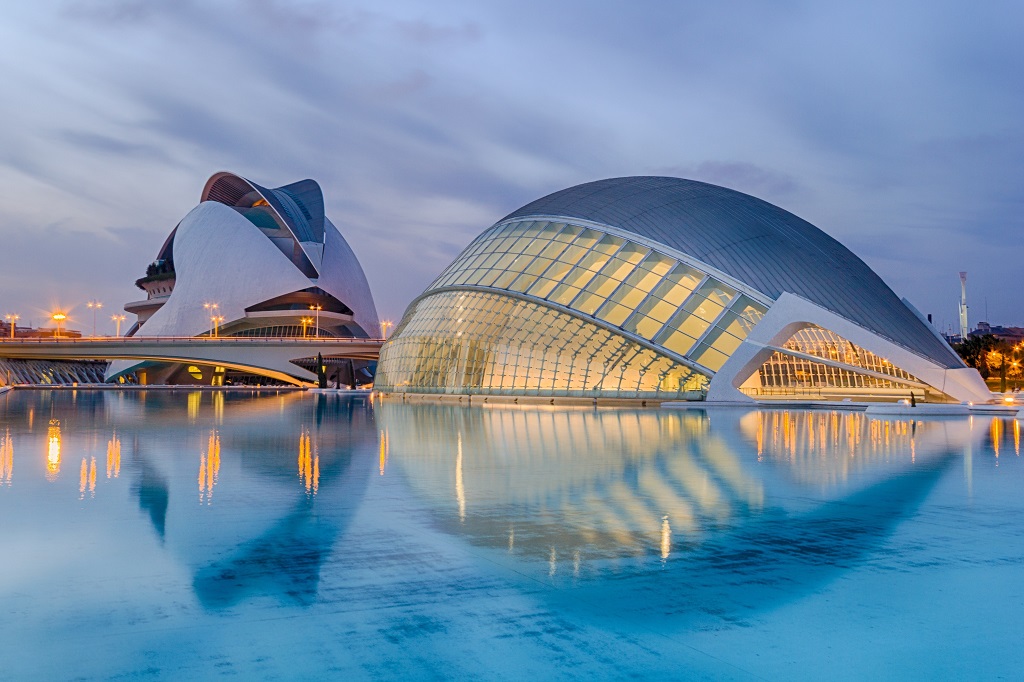 Another great New Year's Eve destination for 2023 in Spain is Valencia. You can start with some tapas in the Carmen neighborhood and then, go to Plaza del Ayuntamiento Square, where the locals celebrate the New Year. The balcony of the City Council transforms into a privileged stage for DJs.
Do not miss one of the biggest fireworks, lights, and music shows in Spain. This local party starts at 10:30 pm and ends at 1:45 am! Not bad!
If you still want to go on and start 2024 dancing in a nightclub, check out these popular places among locals: Olympia Hotel and the City of Arts and Sciences. The latter, which is one of the most famous tourist attractions in Valencia, offers 3 different areas of parties and many artists to keep you up and entertained all night long.
LOCAL TIP: The perfect way to end the party is to watch the sunrise. The best spot to watch the sunrise over the Mediterranean Sea is Malvarossa Beach. It's a magical way to meet the first sunshine of the year 2024.
7. Ibiza – the Party Island! A wild way to spend New Year's Eve 2023 in Spain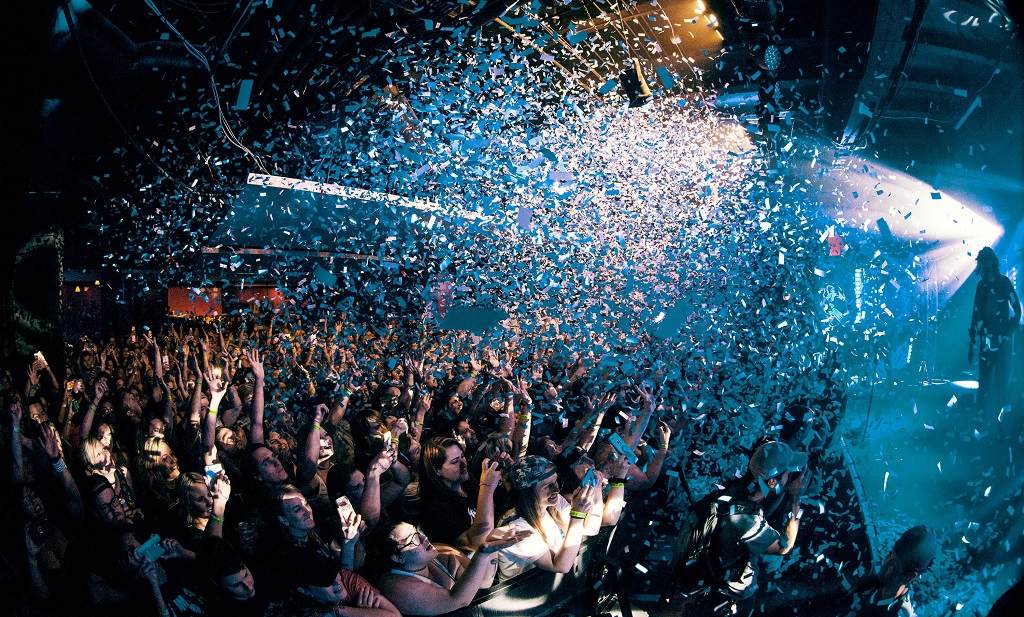 As you already know, Ibiza is the place to party hard in Spain. Greet the New Year 2024 on this Mediterranean island, famous for its nightlife. There are clubs for everyone and every single type of music. Just an example: Heart Ibiza Club invites house music fans to party with Bob Sinclar! Sign and dance hits like World Hold On or Love Generation to start 2024 in the right mood.
There are so many clubs that it is impossible to mention them all, so party lovers have plenty of choices! But what about the rest? Don't worry, you don't need to stay home.
Actually, you can begin the New Year 2024 happily dancing under the stars! Casa Maca Gastro Hotel offers food, drinks, and beautiful views from the hills of Ibiza (the number of tickets is limited, so book in advance).
If you like theme parties, do not miss the 20's party in the Bambuddha Club. Travel back in time one hundred years and enjoy this vintage dinner and a party full of glam!
---
Hope you have enjoyed my tips! Now you just need to pack and come to enjoy sunny Spain for your Christmas and New Year holidays 🙂
Leave a comment telling us where you would spend this 2023 New Year's Eve in Spain. Have a great time on Nochevieja as Spanish people call it ("The Old Night") and celebrate it like a local! Happy New Year!!! 🥳🍾🎊