Planning to visit Spain and looking for a TOP Rural Holiday destination to travel safely after COVID-19? So, le'ts plan rural spain holidays! Head off the beaten track to explore mountains, little coastal towns. Also, countryside hidden gems in some of the best rural destinations Spain has to offer, far away from crowds and COVID-19 risk of contagion.
After the Coronavirus outbreak, it's definitely the time for rural tourism in Spain! Besides, there are lots of places to stay in rural Spain: rural houses, rural hotels, bed and breakfasts and even entire rural villas to rent are waiting for you. So, let's have a look at Spain's best rural places and escapes for a safe post-COVID19 holiday.
Keep reading until the end as we will not only make you discover the top rural destinations in Spain. But, also, some unknown rural areas that are worth a visit!
Catalan Pyrenees: a perfect rural retreat destination in Northern Spain
To start our rural Spain itinerary, you can visit the Aigüestortes i Estany de Sant Maurici National Park. It is the only Spain national park located in the northeastern region of Catalonia. So,this huge nature reserve is a popular area for trekking. Especially in summer, when the park's 10 refuges are open to sleep in. A unique rural area in Spain to enjoy the Pyrenees gorgeous peaks and around 200 lakes! An amazing start for rural Spain holidays.
We think that this can be a good start for your rural Spain vacation this year if you are searching for safe holiday destinations after COVID-19 outbreak
Galicia rural escape: amazing food & landscapes
Galicia breaks all the stereotypes about Spain's sunny and warm climate. This region, to the far northwest of the country, is known for rainfall and lush, green, hilly landscapes. Its countryside and rugged coastline are well worth exploring. So, an amazing city for rural holidays in Spain.
Apart from that, Galicia stands out for its strong Celtic history and for being the endpoint of the Camino de Santiago pilgrimage route. If you want to add some beach time to your rural Spain vacation, you can visit The Cíes island chain home to some of Spain's most beautiful beaches.
Besides, Galicia tends to be a bit cheaper than other regions for a rural getaway and Galician food and fresh seafood are just amazing. Definitely, a perfect rural holiday destination in Spain for your post-COVID19 escape into nature.
Andalusia White Villages: Best Southern Spain rural destination for a roadtrip
Andalusia's 'white towns': a number of villages of whitewashed houses between Málaga and Cádix provinces, mainly set within the awesome Sierra de Grazalema National Park. So, these cities are fantastic for rural spanish holidays.
In fact, the Andalusia "white villages" itinerary, which include towns like Grazalema, Zahara de la Sierra and Benaocaz, is a popular tourist draw. Most of these white towns in Andalucia have small streets and low houses that date back to Moorish times.
Apart from the beauty of their architecture, we must highlight the surrounding mountains: a biosphere reserve since 1977, home to a great number of vultures. Among the top things to do in this part of rural Spain, you can go hiking, climbing or horse riding. Definitely, a perfect rural destination in Southern Spain for a safe rural holiday post-Coronavirus.
Formentera: Top rural Spain holidays by the sea
Formentera is the least-known of Spain's Balearic Islands (that also include Ibiza, Mallorca and Menorca). It is just 19 kilometres (12 miles) long, but you can be sure here every beach you will find is like paradise: white sand, light blue waters.
If you are kind of a hippie inside, this is your place: you will find Formentera is a perfect rural retreat for a safe post Coronavirus vacation.
Bardenas Reales: unexpected desert in Northern Spain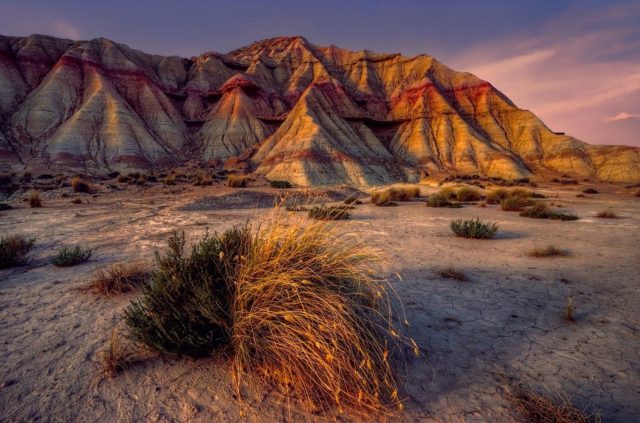 If you like otherworldly landscapes, Bardenas Reales National Park in Navarra is your place to go. This amazing scenery in Northern Spain has been formed over thousands of years of erosion of clay, chalk and sandstone soils. In fact, erosion has resulted in unusual formations, giving the area a lunar look that has made it a go-to filming location
Today is a Unesco Biosphere Reserve, a great stopover in your rural tourism in Northern Spain itinerary. We recommend exploring the area on horseback for a uniquely immersive experience that will make you discover one of the most unknown rural parts of Spain, a good choice when looking for a safe rural vacation in Spain after Coronavirus outbreak.
Lanzarote: a Spain rural retreat for wine lovers in the Canary Islands
If you are looking for an alternative wine holiday, far from the crowds, the Canary Island of Lanzarote could be right up your street. Lanzarote island is home to what must be some of the world's most unusual vineyards.
The grapevines are set in the black volcanic soil, buried in holes and surrounded by protective rocks to keep them safe from Lanzarote's driving winds. In the main wine-making region, La Geria, a protected rural area, you can find lots of small wineries selling their own wines.
Besides, the Canary Islands are one of the regions that has been less hit by the Coronavirus in Spain, so it can be one of the safest places to travel to for your rural vacation.
Basque Country: safe rural holidays in Northern Spain
Although you probably have heard of Basque Country for cities like Bilbao or San Sebastián but the Basque Country countryside is a hidden gem worth a rural post-COVID19 retreat. If you decide to go for a safe rural vacation here, you will be rewarded with stunning, green vistas, dramatic valleys and traditional Basque villages that seem out of a fairytale.
There you will find lots of rural houses in Spain, rural hotels and other rural accommodations, like the baserri – the traditional Basque half-timbered or stone houses that dot the countryside.
If you are more into rural coastal property rental, you can find amazing choices along the rugged coastline, dominated by soaring cliffs, beaches and charming villages. We highly recommend visiting the towns of Laguardia, Elantxobe, Hondarribia, Elciego, Mundaka, Getaria, Balmaseda and Aramaio.
Basque Country is, without any doubt, one of Spain's best rural places and escapes for a safe post-COVID19 holiday.
Picos de Europa: a rural tourism in Spain hotspot
This mountain range, whose name means 'the peaks of Europe': great rural destination for safe holidays post COVID-19. Also, covers the regions of Asturias, Cantabria and Castile and León. Picos de Europa National Park, as the name suggests, is populated by jutting peaks, ideal for hikers and rock climbers.
It is actually said they get their name from the fact that the mountains were the first bit of Europe that sailors arriving from America set eyes on. These mountains are home to a small population of Cantabrian brown bears, as well as wolves, eagles and vultures.
Also, there are lots of active tourism activities waiting for you in this area, which could be a great addition to your rural Spain holidays.
Sierra Nevada: Safe rural holidays in Southern Spain…with snow!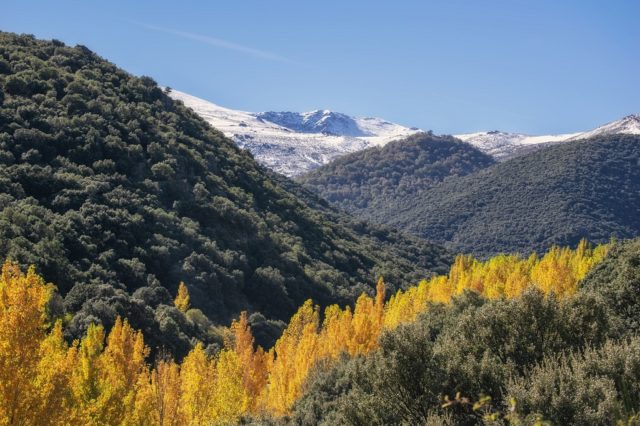 A stop we couldn't miss in our Southern Spain top rural itinerary is Sierra Nevada National Park. Home to Europe's most southerly ski resort, Sierra Nevada in the province of Granada, Andalusia. So, it is home to the highest point in mainland Spain, Mulhacén, that rises to 3,478 metres (11,411 feet).
In fact, because of the peak's altitude, Sierra Nevada is known for its long ski season. But, this Biosphere Nature Reserve by UNESCO is not only for winter holidays. In fact, you can plan your visit in any season as there are several amazing hikes to do in the area.
Apart from active tourism activities, you can also visit Las Alpujarras rural area. In fact, where you will find lots of small white villages and will experience the real rural life in Spain. Also, don't forget to visit the white town of Trevélez for the best Iberian Ham in Spain. Or, also, the stunning Moorish complex of Alhambra Palace in Granada, just half an hour drive from Sierra Nevada
All in all, Sierra Nevada is one of Spain's best rural destinations in Spain for a fun, cultural and safe rural spanish holidays after Coronavirus outbreak.
Las Médulas: a remote Spain rural area to get lost in
Another amazing rural destination for safe holidays after COVID-19 in our top rural tourism in Spain list is Las Médulas. This stunning landscape near the town of Ponferrada, northwest Spain. It is actually what was left of the largest and most important gold mine in the entire Roman Empire.
Indeed, the area is made up of jutting burnt orange peaks formed by the Roman method of hydraulic mining that used water to break up the rock. Today, traces of Roman engineering can still be spotted throughout the area. Go to Mirador de Orellán for the best panorama of this amazing rural area.
Las Médulas are mix of nature and history that could be a great stop in your rural Spain itinerary. If you are seeking a safe rural spanish holiday post COVID-19.
Tabernas Desert: an original rural retreat in Southern Spain
An original stop in our top rural Spain itinerary is The Tabernas Desert, one of the few Europe's deserts. A vast, sandy landscape punctuated by sandstone hills located in the province of Almería. Also, a rural Southern Spain must for Westerns lovers! Why?
This nature reserve was the set location for hundreds of films and television shows. In fact, most notably the Spaghetti Westerns of the 1960s and 70s. For example, Sergio Leone shot his Three Dollars trilogy, starring Clint Eastwood, in Tabernas Desert.
Nowadays, you can still feel the Westerns spirit by visiting the Tabernas Mini Hollywood theme park. You will get a very different and fun approach to rural tourism in Spain that will make your day!
---
Now it's your turn! We have made the list of best and safest rural holiday destinations in Spain to travel to after Coronavirus. But you have to choose 🙂 Search for your rural accommodation (a nice rural house to rent, a cosy rural hotel or villa off the beaten track) and immerse in Spain rural life, traditions and peace.
Here you can find some more tips to enjoy your stay in Spain:
DISCOUNTS AND RECOMMENDATIONS FOR YOUR TRIP

✈️ Find the cheapest flights, train or bus tickets here.

🛏️ Get up to 15% discount on your hotel by booking here.

🏛️ Book the best tours and activities here.

🚗 Compare and rent a car at the best price here or hire your transfer here.

📖 Get your Spain travel guide here.

💚 Book your travel insurance here.
Don't forget to subscribe to our monthly newsletter or visit our Spain travel blog if you want to discover more fun stuff, interesting facts and tips to travel around Spain like a local!