Looking for a safe post-COVID-19 Summer Holiday? Are you dying to see again the dark blue color of the Mediterranean coast? Then go for a road trip along the Spanish coastline and discover the best beaches and coastal towns in Spain. We have plenty of choices, let's find out which is your best fit!
First, we'll learn some basics about Spanish Coastline: length, map, and names. Then, we'll review all of Spain's coastal regions in depth. So, we'll show you the best coastal towns, activities, and things to do in each of them.
Spanish Coastline length
Have you ever wondered how long is Spain's coastline? Did you know that Spain has a Coastline that is 7,661 kilometers (4,760 miles) long?! Spain is basically a peninsula but it has some islands too, so most of Spain is surrounded by water.
In the Spanish Peninsula, we have the Mediterranean Coastline, which covers 1,670 km (1,038 miles), and the Atlantic and Bay of Biscay, which are 2,234 km long (1,388 miles). Apart from that, we have the wonderful Canary and Balearic Islands that complete the list.
Let's have a look at the Spanish coastline map:
Spanish Coastline map and names
Costa del Sol, Costa Brava, Costa Dorada…I am sure these names are familiar to you but there are many more coasts in Spain! Spanish Coastline is divided into different regions, and each of them has a specific name. Let's see the Spain coastline map to have a quick overview:
Spain Coastline areas: which to choose?
Coastline of Spain: which is the right one for you? There are several kinds of beaches, coastal towns and cities in Spain with different vibes. So, we will go in-depth below. But first, we wanted to give you a really summarized version of what you can find in the different Spain Coastal regions. In fact, the Spanish coastline is full of amazing towns.
Enjoy the lively atmosphere, clear waters, and sunshine of the Mediterranean coast on the Costa Brava, Costa Dorada, Costa Blanca, Costa Cálida, and Costa del Sol, for diving or taking a boat trip. Finish your day eating some typical Spanish tapas!
If you prefer the wild waves of the Atlantic, visit the Costa da Morte in Galicia. Continuing on to the spectacular cliffs of the Costa Verde in Asturias and the Costa Vasca on the Bay of Biscay. So, these are only a few of all Spanish coastlines.
Try the real Andalusian life on the Costa de la Luz in Cádiz and Huelva. Do you want to practice water sports? Go to Tarifa and jump on a surfboard and know other Spain coastline towns.
And let's not forget the islands. The volcanic landscape of Tenerife, Lanzarote, and Fuerteventura in the Canary Islands. A contrast with the lush nature of Mallorca, Ibiza, and Menorca, in the Balearic Islands.
Keep "surfing" to find out more about our coasts in Spain. Each section includes the best beaches, accommodations, cultural sights, sports, and much more information.
DISCOUNTS AND RECOMMENDATIONS FOR YOUR TRIP

✈️ Find the cheapest flights, train or bus tickets here.

🛏️ Get up to 15% discount on your hotel by booking here.

🏛️ Book the best tours and activities here.

🚗 Compare and rent a car at the best price here or hire your transfer here.

📖 Get your Spain travel guide here.

💚 Book your travel insurance here.
Coastline of Spain guide: Coastal regions' guide
Southern Spain Coastline: ANDALUCIA
Costa del Sol (Málaga)
The first Spanish coastline cities. So, go for a summer coastal road trip in Southern Spain and enjoy all the beauties of Malaga and its coasts! Located in the south of Spain, Costa del Sol is one of the best-known Spain coastal regions and the preferred summer holiday destination for Europeans coming to Spanish coasts.
And it is not a surprise if we consider everything it offers. 300 kilometers of fantastic sandy beaches, an enviable climate with 3000 hours of sunshine per year. Also, the pleasant and temperate waters of the Mediterranean, an extensive offer of sports and leisure, a relaxed atmosphere, and excellent gastronomy.
These, among others, are the reasons why many choose this coast to spend their vacations. It is also an optimal destination for golf fans. In fact, it concentrates the largest number of Golf courses in all of Europe. In fact, to the point that many call it a joke, it has been renamed "the Golf Coast".
This part of the Spanish Coastline is really easy to reach as Malaga's airport has many international and cheap connections! Besides, the cultural offer of Malaga is amazing and there are lots of fun tours to discover the city and its surroundings. Definitely, Costa del Sol is a perfect choice for everyone, where you can also find some of the most amazing Spain coastal resorts and villas to enjoy your Andalusian summer!
If you happen to come to Malaga, join one of our AMAZING TOURS AND ACTIVITIES to discover the best of Costa del Sol from a local point of view!
Costa de la Luz (Huelva and Cádiz)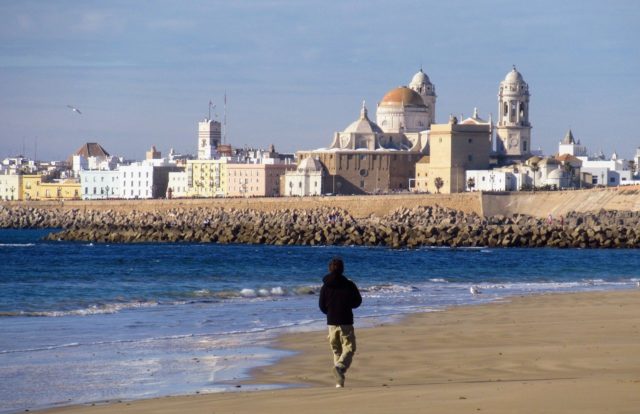 Let's go ahead with our coastal Spain drive and itinerary along the main coasts and Spanish beach cities! Now it's time for Costa de la Luz, located southwest of Andalusia in the provinces of Huelva and Cádiz. So, enjoy these amazing coastline towns in Spain.
The name is given to it by the very bright sunlight which shines here in all seasons and is reflected in a very special way in its clear and immense sandy areas and in its red sunsets.
Wide beaches, with clean and powerful waters from the Atlantic Ocean. Also, endless dunes with the finest and clearest sand on the peninsula. Many of them are located in pristine and quiet photo environments. Others are more lively, equipped with first-class hotel complexes, marinas, and golf courses.
The Costa de la Luz also offers the best conditions for sailing, water sports, surfing, and paragliding thanks to the wind and good weather. If you are a surfer, you cannot miss the coastal town of Tarifa!
Costa Tropical (Granada)
After visiting the Alhambra in Granada, drive half an hour south and you will be on the beach! The Costa Tropical of Granada province consists of particularly picturesque beaches. It's perfect for a small coastal road trip in Spain and it is also far less crowded than its popular neighbor, the Costa del Sol.
The Costa Tropical is made up of the coastline of Granada province, the next province East of Malaga. Interestingly, this stretch of coastline was given its name due to the effects of its subtropical microclimate.
Along much of the Costa Tropical, mountains run right down to the beach, forming a series of stunning headlands and protected coves and beaches. The horseshoe-shaped bay at La Herradura is a lovely unspoiled example.
Due to such a feature, this coastline is very popular among climbers and hikers alike. Not to mention those visiting to turn their hand to one of the many sports and water sports this coast is famous for. In the coves east of Punta de la Mona, water sports and scuba diving are popular, thanks to the variety of sea life and the clarity of the water.
The white village of Salobreña is worth a visit. Here you will be torn between visiting the Moorish castle and the beach. The successful survival of sugar cane plantations here confirms the name Costa Tropical.
Almuñecar is one of the largest towns on Costa Tropical. Also, not surprisingly is host to a number of excellent attractions like the San Miguel Castle.
Costa de Almería (Almería)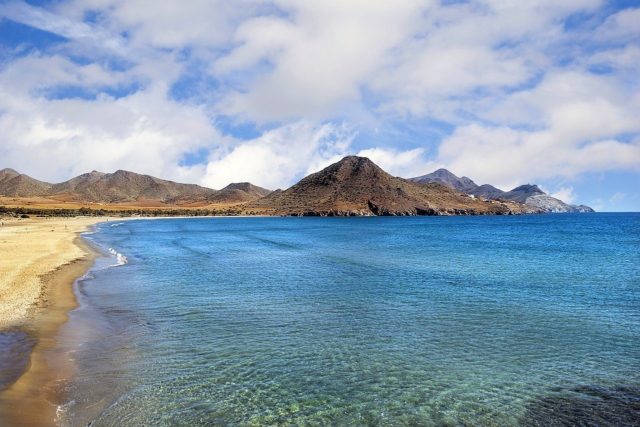 Let's discover more about the main coasts and Spanish beach cities in Southern Spain! "Costa de Almería" or "Golfo de Almería" is the coastal strip of the province of Almería. It covers 217 kilometers and extends through the southeast of Andalusia, between the provinces of Granada and Murcia.
The highlights of this coast are its contrasts, along with extensive sandy beaches we find small coves. Along with extremely arid deserts, and plantations; along with great mountain ranges, plains, and beaches.
Another feature is its clear and bright sky. Almería enjoys more than 3,000 hours of sunshine a year. Its climate is subtropical, Mediterranean, warm and dry. The average annual temperature is 18 / 19º C and its waters in winter are warmer than the air. So, it's an optimal destination throughout the year and with less known but great Southern Spain coastal resorts
On the Costa de Almería, there are still numerous virgin and solitary beaches. In fact, we can mostly find unexplored territories with very little population concentration.
Only some spots have been developed for tourism with great success, like the coastal towns of Adra, Almerimar, Roquetas de Mar, Mojácar, Aguadulce, El Toyo and Vera.
Coastline of Spain: CATALONIA
Costa Brava (Girona)
Costa Brava: one of the most well-known Spanish Coastal regions. The Costa Brava is located in the extreme northeast of Spain, next to the French border. This coastline of 214 km. It is located in the province of Gerona, in Catalonia. It also extends from the border with France to the mouth of the La Tordera River, where the Costa del Maresme begins in the province of Barcelona.
The name "Costa Brava" comes from the abrupt landscape that we find in many sections of this coast, where the waves break wild on the rocks. We find steep cliffs and hidden coves, surrounded by vegetation that can only be accessed by sea or coastal roads. Perfect for a Spain coastal road trip and with some of the best northern Spain coastal resorts!
Until the arrival of tourism, there were small fishing or farming villages. At the beginning of the 20th century, the natural beauty of the region attracted artists and writers, such as Marc Chagall, Picasso, Rusiñol or Dalí.
In 1930, the first vacationers began to arrive, still staying in traditional houses, living with fishermen and farmers. It was from 1950 when European tourists arrived. Also, around 1960 there was great urban development in towns that had sandy beaches, such as Tossa de Mar and Lloret de Mar.
But still, nowadays, you can find other beaches or coastal towns with a more abrupt coast that keep their traditional essence.
Costa Dorada (Tarragona)
As we could see in the "Coastline of Spain Map" in the beginning, Costa Dorada is the Mediterranean coast located in the province of Tarragona. It is located between Costa del Garraf, to the north, and Costa del Azahar, to the south.
The name "gilthead" comes from the color of the sand on its long beaches. Costa Dorada, also, covered this coastal strip south of Barcelona, ​​where the famous Spain coastal town of Sitges is located. It enjoys a Mediterranean climate with mild temperatures in winter (14 ° C on average) and warm summers (between 21º and 29º C) with little rainfall.
Costa Dorada covers a 92 km coastline with beaches of all kinds. Some of the best beaches in Spain's coastal region are:
Mont-Roig del Camp small coves beaches, as "Miami Platja"
Torredembarra Beach, for cliffs lovers
Salou, Calafell, and Vendrell: fine sand and shallow-depth beaches, such as
"Playa del Torn" for a nice naturist beach in Costa Dorada
Coastal Spain: VALENCIA
Costa Blanca (Alicante)
Following the Spain coastal path, we find the Costa Blanca region, a strip of coastline that belongs to the province of Alicante. It is 200 kilometers long and offers wonderful beaches and places of exceptional beauty. Its warm and transparent waters, palm groves, and natural parks immerse those who visit it in an authentic paradise.
The name "Costa Blanca" is not surprising, when we see an aerial photo of this coast. In contrast to the intense blue of the Mediterranean, large white areas stand out, whether from their sandy beaches, clear rocky elevations, or villages with whitewashed houses. The name Costa Blanca was invented by the airline "British European Airways" in 1957 as a "slogan" to promote an air connection between London and Valencia.
The benign climate, with more than 300 sunny days a year and an average annual temperature of 17 ° C, and a quality tourist offer, make the Costa Blanca a privileged Spain coastal destination throughout the year.
The Costa Blanca is a land of contrasts, where the mountains merge with the sea, creating dreamy cliffs and hidden coves with crystalline waters with the rich seabed. Here the beaches of fine golden sand alternate with small coves of boulders, gravel, or rock.
Here, we can find very contrasting tourist destinations and Spain's coastal towns follow each other with their special charm. We highlight the following Spain coastal cities, from north to south:
Denia: a beautiful historical and cultural city
Javea: a small fishing town
Calpe: with its impressive rock and its lively port
Altea: the artists' paradise
Albir: a destination for a wide variety of tastes
Benidorm: the metropolis of leisure (especially for the elderly)
Cala Finestrat and El Campello: best family destinations next to Alicante
Costa del Azahar (Castellón)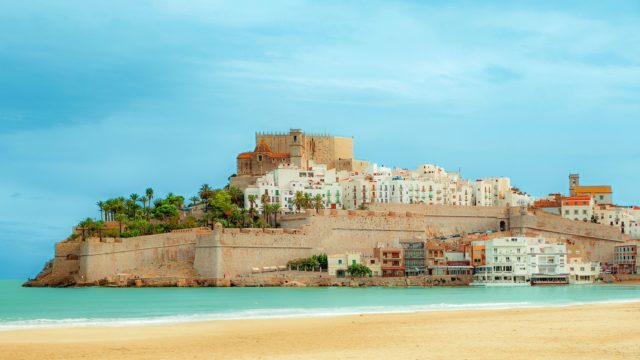 Costa del Azahar, one of the best-known coastal areas of Spain, is located way up north of the Costa Blanca and even further north of the city of Valencia. It's a very lovely coastal region with plenty of cultural sights to see and visit.
The city of Castellon itself and such wonderful surrounding cities like Peniscola or Morella has a combination called Cultural Castellon which includes the theatre and museums, but there are many more fun activities and excursions to do! Some of the most beautiful Spain coastal towns located in Costa del Azahar are:
Peñiscola – located just north of Castellon and has a fantastic castle overlooking the beach which belonged to the Pope known as " Papa Luna".
Torreblanca – also north of Castellon where you can enjoy a relaxing day on the beaches.
Vinaros – has the best fresh seafood like prawns and lobsters to be had while sitting at a restaurant right on the beach and accompanying them with red wine.
Morella – heading inland to a walled-in city surrounded by olive and almond trees. (see picture)
Jerica – to see the Arab 'Mudejar' architecture tower.
Spain Coastal Regions: MURCIA
Costa Cálida (Murcia)
One of the most popular coasts for Spanish people along Spain Coastline is Costa Cálida. It is located in the Murcia region and has a 250-kilometer coastline with beaches of all kinds. The name of Costa Cálida derives from the fact that on this coast we find the warmest waters of the Mediterranean, with an average of 5 ° C more than the rest of the beaches.
This higher temperature comes from being located in the Gulf of Mazarrón, a wide gulf between Cabo de Palos (Murcia) and Cabo de Gata (Almería). It makes the cold currents of the Atlantic Ocean that enter through the Strait of Gibraltar pass without affecting the water temperature.
Right in the center of this bay, a deeper arch is formed called the Mazarrón Bay. And it is here where Mazarrón is located with its warm beaches. Further south, and also in this warm area of ​​the gulf, is El Mar Menor, the largest lagoon or saltwater lagoon in Europe. This great lagoon is separated from the Mediterranean Sea by a 22 km strip of sand, called La Manga del Mar Menor.
It's a perfect choice if you want to have your Spain coastal holidays like a local. There are not so many coastal resorts in this part of Spain, but you can still find some nice apartments and coastal villas for your summer vacation in Southern Spain.
Spanish Coastline: GALICIA
Rías Gallegas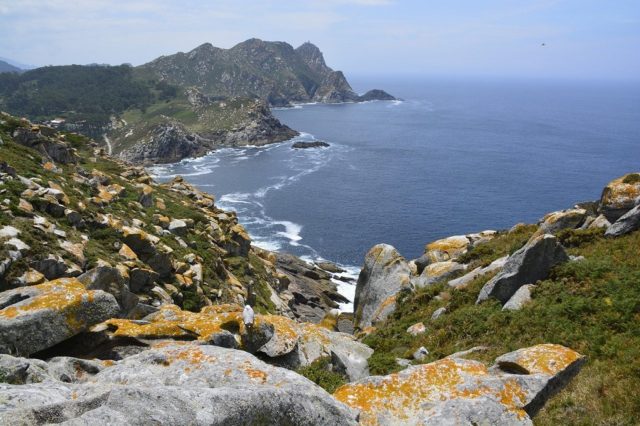 They say that the Galician estuaries, those long arms of the sea that penetrate the earth, are the imprint of the fingers of God who, after creating the world, supported his hand here to rest.
And perhaps it is true because, in the intricate 1,498 km of coastline that goes from Vigo to Ribadeo, the estuaries are a unique phenomenon, a gift from heaven.
From east to west, from north to south, from the Rías Altas to the Rías Baixas, passing through those of the Costa Ártabra and those of A Costa da Morte, each Galician estuary is a refuge that houses a world of natural riches, landscapes with a story to tell.
Cliffs and beaches with calm waters, vineyards and pine forests, fishing villages, marinas, "pazos" with gardens on the edge of the water and what for many is the best of the estuaries, splendid gastronomy with a taste of the sea.
Spain Coastline: PAIS VASCO Y CANTABRIA
Costa de Cantabria y Costa vasca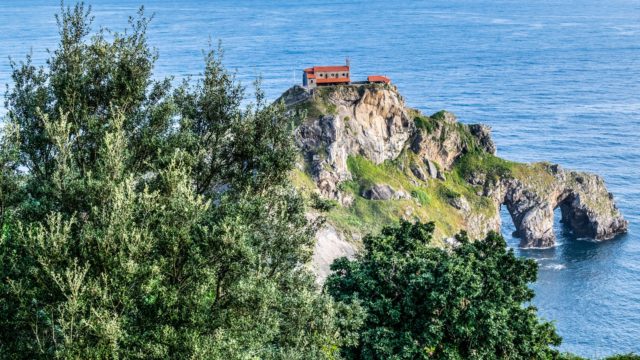 Let's see other Spanish coastline towns. So, Cantabria is an eminently coastal region and the majority of its population lives by the sea. For this reason, it is not surprising that Santander itself is located in a wide bay, that is the largest and safest natural port between Bordeaux and La Coruña. We can also find beautiful coastal towns such as the ancient and noble Santillana de Mar, where it is located the world-famous Altamira Cave.
The Cantabrian coast, like Galicia, has many estuaries, which gives the coastline a convoluted perimeter where wide sandy beaches alternate with mountains and steep cliffs.
Right next to Cantabria beaches, we have the Basque coast which is located in the north of Spain in the Autonomous Community of the Basque Country. This 176 km coastal strip is located on the shores of the Cantabrian Sea next to the French border.
Here the intense blue of the Cantabrian Sea merges with the green of the mountains that descend to the beach, forming a coast dotted with fishing villages, beaches and steep cliffs.
Coastline of Northern Spain: ASTURIAS
Costa Verde (Asturias)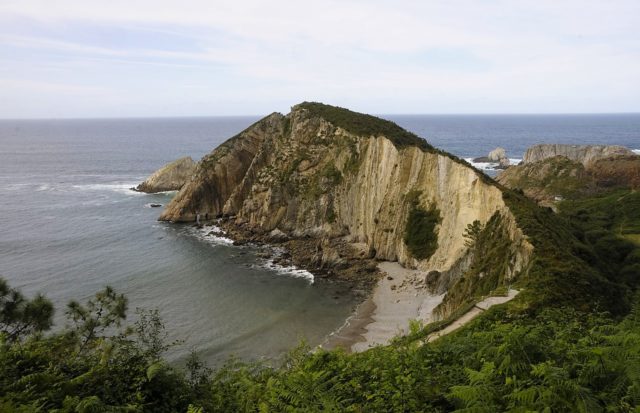 The last, but not least, of Spain's main coastal regions: Costa Verde! The name of Costa Verde does not surprise us when we see the color of this coastline where sandy coves and imposing cliffs follow one another, and sometimes deep estuaries open where picturesque fishing villages seek shelter.
The coast offers many beaches and sandy coves bathed by the cool waters of the Cantabrian Sea. Inside there are green meadows and pine and eucalyptus forests under the protection of the mountains.
Starting our journey in the extreme west, next to Galicia and heading east towards Cantabria, the first thing we find is two beautiful fishing villages: Castropol and Figueras. Make sure not to miss them: I can assure you they are among Spain's best coastal towns!
They occupy the eastern bank of the Ría de Ribadeo, bordering Galicia, and are a quiet summer destination that offers all the comforts and the possibility of practicing water sports. To the east are other picturesque towns such as Tapia de Casariego and Ortigueira, in a rocky cove.
Continuing along the coast we reach the northern Spain coastal town of Luarca, lying on a promontory at the foot of a church with a secluded cemetery. This picturesque town has a beautiful port full of colorful boats. It's a perfect spot for an off-the-beaten-path summer holiday in coastal Spain and other Spanish coastline towns.
---
So…after reading this: which is your favorite Spain coastal region? How many of the above-mentioned Spain coastal towns have you been to? Share with us your insights and let us know about your favorite beaches, coastal areas, and resorts. Also, don't forget to subscribe to our newsletter if you want to stay tuned!