Seville, the capital of Andalusia, is one of Spain's most captivating destinations. Whether you are a first-time visitor or a seasoned traveler, Seville is sure to leave a lasting impression. In just 2 days, you can experience this passionate city's rich culture, history, and gastronomy. To make the most of your trip, follow our guide to enjoy Seville in 2 days.
Here's the perfect itinerary for your 48 hours in Seville together with some important tips to take into account when planning your trip to this wonderful Andalusian city:
Best Time of the Year to Visit Seville
When planning your trip to Seville, it's essential to consider the best time to visit. Seville's high season is not determined by the weather but by two major cultural celebrations – Semana Santa (Holy Week) in March and April, and the Feria de Abril (April's Fair), the most important festival in the city. During these festivities, the city comes alive, but it also means it will be very busy.
May and June offer a good balance between pleasant weather and manageable crowds. Winter is also a good time to visit Seville, as temperatures remain mild compared to other European cities. On the other hand, summer months (July and August) are best avoided, as the city experiences sweltering heat, and many locals leave for their holidays.
How to Get Around Seville
To fully explore Seville in 2 days, you'll need to get around the city efficiently. The historic center is best explored on foot, as many attractions are within walking distance. If you prefer not to walk all day, Seville's public transport system is a convenient option. The bus network is extensive, and you can purchase a rechargeable Tarjeta Multiviaje card or a tourist card for better value than buying single-trip tickets.
The T1 tram line is also useful, as it runs through the heart of Seville, stopping at many of the city's highlights. The metro line, however, is not ideal for sightseeing. To get from Seville airport to the city, you can take the EA Airport Special bus, which takes 35 minutes and costs €4.
Finding Accommodation in Seville
Finding the perfect accommodation for your 2-day stay in Seville is easier than you think. With a variety of options available, from luxury hotels to budget-friendly hostels, you'll find a place to suit your needs and budget.
Located in the heart of the city, Seville's city center is compact and offers easy access to all of the main attractions. Whether you prefer to stay in the busy city center or opt for a more relaxed neighborhood like Triana, you won't be far from all the action.
For those seeking luxury and indulgent comfort, the Hotel Palacio De Villapanés is a must-visit. This beautiful five-star hotel, set inside an 18th-century palace, offers large rooms with boutique styling.
For travelers looking for the best value for money, the Catalonia Giralda is a great option. This reasonably priced four-star hotel offers air-conditioning, comfortable beds, and even a swimming pool.
Backpackers and budget travelers will appreciate the Nomad Hostel. With affordable dorm beds and private rooms, this hostel also offers clean and great common areas such as a rooftop bar.
The Ultimate "2 Days in Seville" Itinerary
Seville is a city that will captivate you in just two days. As one of Spain's most popular tourist destinations, you'll find yourself with a long list of things to do and see. This itinerary covers the must-visit Seville attractions in the city center and extends to the charming neighborhoods of San Bernardo and Triana. With this guide, you'll get a true feel for the city and all its hidden gems.
48 h in Seville: First day
Start your first day in the heart of Seville's historic center and slowly make your way south to San Bernardo.
Get lost in the Real Alcázar of Seville
Begin your visit to Seville with a visit to the magnificent Real Alcazar of Seville. This 11th-century Royal Palace is still in use by the Spanish Royal Family and showcases the extravagant beauty of Spanish architecture. As a UNESCO World Heritage site, the Alcazar is a must-visit on your Seville itinerary. Explore its exquisite rooms, iconic courtyards, and peaceful gardens, including the Patio de las Doncellas, famously used as a setting for one of the worlds in Game of Thrones.
Admire the largest Gothic Cathedral in the World in Seville
Continuing on with your Seville tour, head to the Seville Cathedral, also known as the Catedral de Santa María de la Sede. This is the third-largest church in the world and has an impressive interior, filled with works of art by famous Spanish artists, an awe-inspiring choir, and the tomb of Christopher Columbus. After your visit, take a moment to relax in the Patio de los Naranjos, an idyllic courtyard filled with orange trees and a small fountain.
Climb La Giralda Tower Bell
After exploring the Seville Cathedral, take the opportunity to climb the attached bell tower, La Giralda. This tower was originally a minaret and is unique in that it has ramps instead of stairs. This design allowed animals to carry the men who performed the call to prayer five times a day. The views from the top of La Giralda are breathtaking and well worth the climb. Your entry into the cathedral includes a ticket to climb the tower.
Have a Walk around Santa Cruz Neighborhood
If you're planning a trip to Seville and only have two days to explore, you don't want to miss out on the charming and historic Santa Cruz neighborhood. Located near the iconic Alcázar of Seville, the narrow streets of Santa Cruz are lined with picturesque yellow and white buildings and lush orange trees. Take a stroll through this maze of historic streets and enjoy getting lost in the charm of the area.
Visit The Royal Tobacco Factory
Another of the attractions in Santa Cruz is the Royal Tobacco Factory, now known as the main building of the University of Seville. This grand architectural masterpiece was once responsible for supplying most of Europe's cigarettes in the 19th century and is famous for being the workplace of the title character in the opera Carmen. Be sure to take a walk through the inner courtyards to fully appreciate the beauty of this former factory.
Relax at María Luisa Park and Plaza de España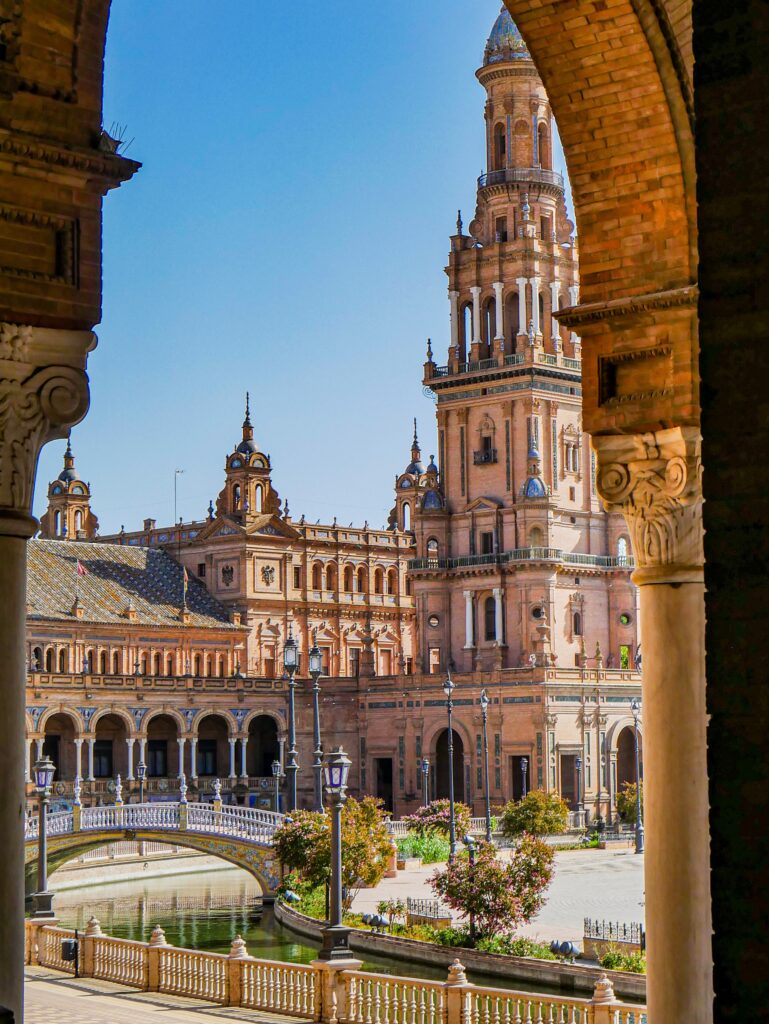 After a busy day exploring the city streets, take a break and head to the beautiful Parque de María Luisa. This large park, located just south of the historic center, is the perfect place to relax and enjoy the serenity of nature. While you're there, be sure to visit the iconic Plaza de España. This huge oval space is surrounded by a moat canal and features a magnificent pavilion with intricate tilework. This is one of Seville's most popular tourist attractions and has been used as a filming location for movies such as Lawrence of Arabia and Star Wars: Attack of the Clones.
Enjoy some Evening Tapas
No trip to Seville is complete without trying the delicious cuisine, including tapas. For an affordable and tasty meal, head to Taberna Coloniales in the heart of Seville. Although the restaurant can get busy, it's worth the wait for dishes such as Huevos de Codorniz con Jamón or their Solomillo.
Day 2 in your Seville route
On your 2 days in Seville, the plan is to continue exploring a new part of the historic center with the El Arenal neighborhood before crossing the river and experiencing life over in Triana. So, let's see the best things to do in Sevilla in 2 days.
Start your day at Metropol Parasol
Kick off your second day in Seville with a visit to Metropol Parasol, one of the city's most iconic attractions. This modern wooden structure boasts a unique design and offers panoramic views from its terraces. For just €3, you can take a stroll along the top and admire the city from a bird's-eye view.
Visit one of Seville's Museums
Seville is a city steeped in culture, and the Museum of Fine Arts is, for me, a must-visit. This museum, housed inside an old convent, showcases works by artists who contributed to the city's Golden Age of painting.
If interested in the city's past, you can choose to visit the Antiquarium museum, located below Metropol Parasol.
Discover the Real Maestranza Bullring
Spain and Andalusia are renowned for their bullfighting traditions, and a visit to Real Maestranza Bullring is a must. Take a guided tour to learn about the history of bullfighting and see the beautiful arena for yourself.
Guadalquivir Riverfront and Torre del Oro
After your visit to the bullring, take a stroll along the peaceful riverfront of the Guadalquivir River. Lined with palm trees and a stone boulevard, it's a tranquil spot to relax and take in views of the Triana neighborhood and the Seville Tower in the distance.
Follow the riverfront south to the historic Toro del Oro. This twelve-sided tower was built by the Moors in the 1200s and served many purposes, including as a watchtower and a prison. Today, it houses a naval museum that you can visit and even climb to the top for river views.
Triana Neighborhood
Visit the bustling district of Triana, which keeps the essence of Seville. You can't miss the Triana Market, where you can shop for local produce and unique items. This market is situated above the remains of the Castle of San Jorge, which used to be the Spanish Inquisition's local seat. Nowadays, you can learn more about that period in Spanish history at the nearby Spanish Inquisition Museum.
Experience the passion of Flamenco
To truly experience the cultural richness of Triana, finish your day by visiting one of its many flamenco bars, or tablaos. Flamenco is more than just a dance; it's a performance that combines music, dance, and singing and is deeply ingrained in Andalusian culture. Some of the best flamenco bars in Triana include Casa Anselma, which opens late at night. For a more traditional flamenco show experience, head back to Santa Cruz and visit the Museo del Baile Flamenco. Whether you choose an intimate bar setting or a more structured show, a flamenco performance is sure to leave a lasting impression on your two-day trip to Seville.
Seville Final Tips
Take into account that Seville is a really popular destination in the South of Spain, so make sure to book your tickets in advance, especially for the UNESCO Heritage sites, like the Alcázar and the Cathedral. You can buy them online and won't have to waste your time waiting in a long queue.
To make it easier for you, here you have some recommended companies we partner with:
DISCOUNTS AND RECOMMENDATIONS FOR YOUR TRIP

✈️ Find the cheapest flights, train or bus tickets here.

🛏️ Get up to 15% discount on your hotel by booking here.

🏛️ Book the best tours and activities here.

🚗 Compare and rent a car at the best price here or hire your transfer here.

📖 Get your Spain travel guide here.

💚 Book your travel insurance here.
---
In conclusion, Seville is a city that overflows with culture, history, and gastronomy, making it a must-visit destination in Spain. With our ultimate guide, you can make the most of your 2 days in Seville and enjoy the best of Andalusia's capital. Don't miss out on this exciting opportunity – book your trip today!