Thinking about visiting Spain in a safe way, far from the crowds? Discover the Basque Country, Cantabria, Asturias and Galicia with the best 2 weeks Northern Spain road trip itinerary!
COVID-19 pandemic has changed travelling as we knew it. We were used to buying tickets months in advance but now last-minute rules. Many people are choosing road trips as one of the safest ways to go on holiday. Also, road-tripping is the best way to discover new, unexpected landscapes and keep your travel flexible.
So, if you are planning to visit Spain after COVID19 and you like nature, good food, hidden gems and remote towns, you should definitely go for a 10 to 15 days road trip in Northern Spain! Keep reading to discover the perfect route not to miss a thing!
2 weeks Northern Spain road trip itinerary – MAP
This route is planned with 10 places to stay overnight and from which you can move to other towns or places to visit. We have started this road trip itinerary in the North of Spain with San Sebastián as the first stop. From there, we will drive along the Cantabric coast until we reach Las Catedrales beach in Galicia, and then back to Cantabria, this time driving inland.
We have decided to end the itinerary at Desfiladero de la Hermida because it's a central spot, well connected with the highway and easy to back home if you are flying from Santander, Bilbao or San Sebastian airports. Remember you can always adapt this itinerary to your preferences, path, taste and available time you have to discover the natural beauty of Northern Spain!
2 weeks Northern Spain road trip itinerary – ROUTE PLANNING
So now, let's start with the detailed day-per-day planning for your perfect "2 weeks in Northern Spain" road trip! But first, we would like to leave you here some good tips for your Spanish route:
DISCOUNTS AND RECOMMENDATIONS FOR YOUR TRIP

✈️ Find the cheapest flights, train or bus tickets here.

🛏️ Get up to 15% discount on your hotel by booking here.

🏛️ Book the best tours and activities here.

🚗 Compare and rent a car at the best price here or hire your transfer here.

📖 Get your Spain travel guide here.

💚 Book your travel insurance here.
Day 1: San Sebastian
San Sebastian (Donostia in Basque) will be the starting point of our 15-day Northern Spain road trip. Here we will spend the first two nights .    
We will start the trip visiting the old town and main tourist attractions, like the famous La Concha beach, where you can take a nice walk and go for your first bath in the Cantabric Sea!    
In the afternoon, you can have a 15-minute drive from Donostia and explore the town of Pasajes.
Day 2: Hondarribia and Zugarramurdi
On the second day of this 2 weeks itinerary in Northern Spain, you can visit Hondarribia and Zugarramurdi: Two traditional Basque little towns that are worth a visit if you want to discover the Basque country essence. In the evening, go back to sleep in San Sebastián and get ready for the next day!
Day 3: Bilbao
The third day of our 15-day Northern Spain road trip itinerary, we will leave San Sebastian to reach our next stop: Bilbao! On the way to Bilbao, you should definitely make a stop to discover the Flysch of Zumaia, an incredible geological formation.   
After enjoying the views, we will drive an hour to Bilbao. Spend your day in Bilbao's vibrant city centre, visit the amazing Guggenheim Museum and try some mouth-watering pintxos for dinner: you will fall in love with the Basque gastronomy.
Sleep in Bilbao and try to have a good rest because the next day will be intense!
Day 4: San Juan de Gaztelugatxe, Castro Urdiales & Laredo
On the fourth day of this great 15-day Northern Spain road trip itinerary, you will head towards San Juan de Gaztelugatxe, or as the fans of 'Game of Thrones' know it: Dragonstone.   
We will undo part of the way to continue with our route to Santander, the capital of Cantabria, which you can use as a base for the next two days. This means we will leave Basque Country behind to start driving around a new region: Cantabria! Along the way, it would be interesting to make a stop in the beautiful towns of Castro Urdiales and Laredo. Alternatively, if you are more into beaches and nature, stop at Langre and Somo beaches.   
Day 5: Santander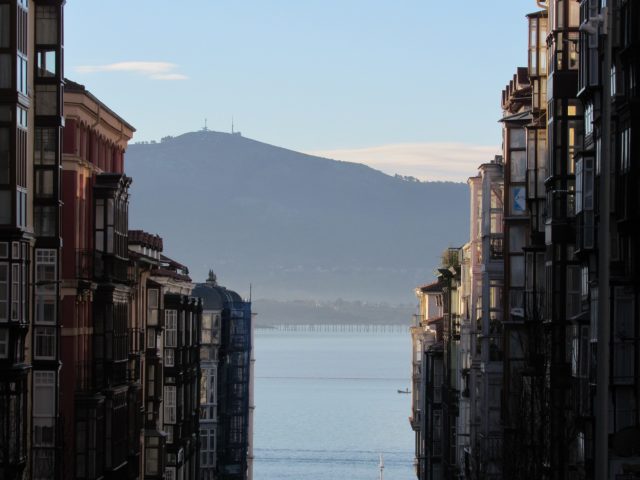 On the fifth day of this amazing 2 weeks road trip itinerary around Northern Spain, we will take a bit of time to rest while discovering Santander. Have a walk in the old town and marvel at the amazing urban beaches the city has, like El Sardinero. Don't forget to visit La Magdalena Palace, located in a huge park, in a Peninsula with great views of the city.
Day 6: Suances, Ubiarco and Liencres beach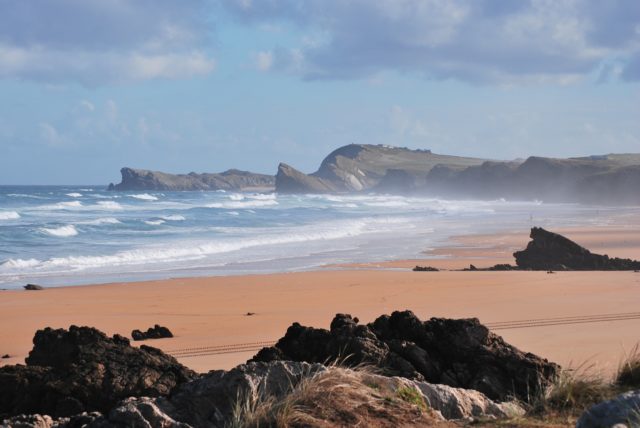 On the 6th day of this Spain roadtrip route, we will go for beaches! First, we will make our way to the Ubiarco beach. There, we will have an amazing view of the Santa Justa hermitage, nestled on a cliff. After this small excursion, we will head towards Suances, where we can go for a walk on top of some cliffs at Los Locos Beach.         
On the return to Santander, it is interesting to stop at Liencres Beach. You will be passing through an impressive pine forest, to reach Natural park sand dunes. This is especially beautiful and romantic at sunset time. 
Day 7: Santillana del Mar & Comillas: 2 weeks Northern Spain road trip itinerary's midpoint
On the seventh day of our 2 weeks Northern Spain road trip, we will leave Santander and head to Santillana del Mar. This town, officially one of the "Most Beautiful towns in Spain", is known as the town of the three lies, because of its own name. In fact, it is neither holy (santa), nor flat (llana), nor is by the sea (mar). This well preserved ancient cobbled town is just 5 minutes away from the Altamira Caves Museum, that you can also consider visiting.    
After lunch, we will drive to Comillas, another cobbled town, famous for its huge historical university and for being home of "El Capricho", a modernist palace by Gaudí. 
Finally, we will drive to the town of Llanes, located in Asturias region, where we will sleep.     
Day 8: Llanes, Gulpiyuri and Torimbia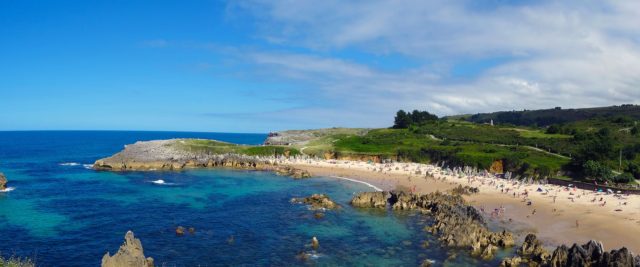 After an intense week road-tripping throughout the North of Spain, we spend our eighth day in a more relaxed way. We will have a walk around Llanes, a gorgeous city where you can find everything from medieval fortresses to Victorian palaces. From there, we will also explore the surrounding beaches of Gulpiyuri, Toró or Torimbia.   
Day 9: Cangas de Onis and Covadonga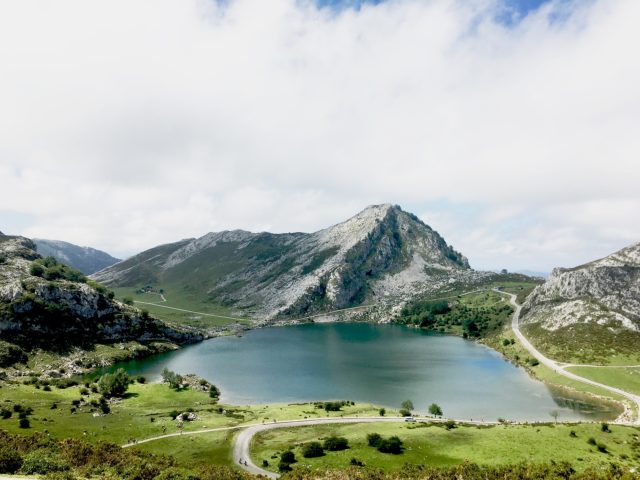 On the 9th day of our 2 weeks Northern Spain itinerary, we will head towards Cangas de Onis, where we can also book some accommodation to spend the night. Have a walk around the old town and take some pics at the Roman bridge over Sella River.
If you are into water sports, you should definitely try the famous "Descenso del Sella", kayaking down the Sella river. It's a really fun activity for everyone, and not much experience is required!
Finally, head towards Covadonga to visit the Sanctuary and take the bus up to the stunning Covadonga lakes.   
Day 10: Gijón and Cudillero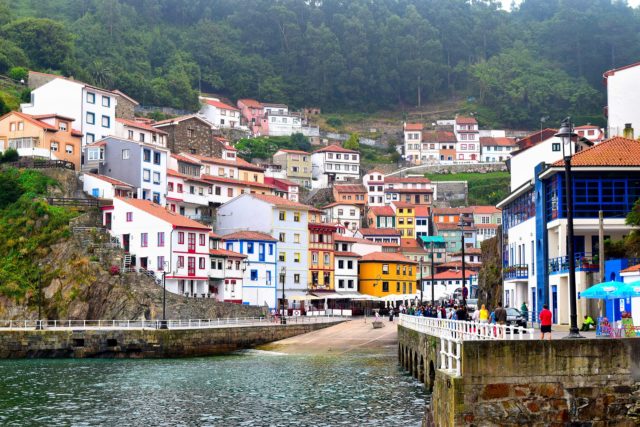 On the 10th day of our 15 days in Northern Spain route, we will head to Gijón and visit all the charms of the second biggest city of Asturias. After lunch, we will go to Cudillero, known as the Spanish "Cinque terre" fishing town, where we can enjoy a delicious seafood dinner before going to sleep in one of its little, coloured cozy hotels.    
Day 11: Cadavedo and Ribadeo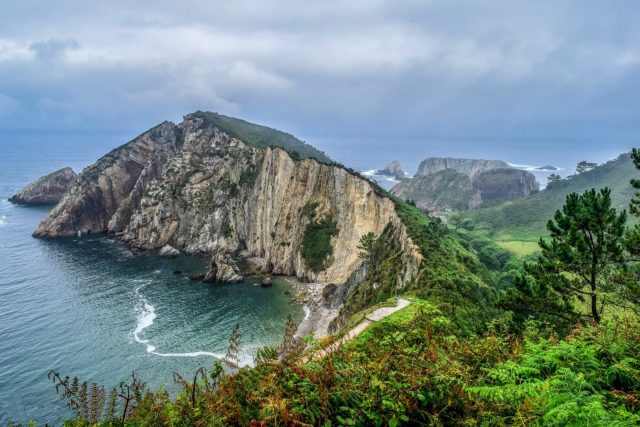 We have been more than 10 days travelling and this is already the 11th day of our 15-day Northern Spain road trip itinerary! We totally deserve some more beautiful beaches, nature and views before reaching Galicia. In the morning, we will stop at Aguilar beach, the Sablón viewpoint, the Silencio beach (so impressive!) and Cadavedo. 
Later, we will continue our drive until we reach Ribadeo, already in Galicia, where we will spend two nights.    
Day 12: Peñarronda, Las Catedrales beach and Taramundi
On the 12th day of our 15-day road trip itinerary along Basque Country, Cantabria, Asturias and Galicia, we will mix beach time with a bit of forgotten towns in the mountain.
First, we will visit the Peñarronda beach, a paradise for surfers. We will continue with the world-famous Las Catedrales beach, where you need to book your visit to make sure you will be allowed to get in, especially in high season. You can book it from the Cathedrals beach official website – It's really easy and completely free!
 From there, we will go up to Taramundi, a forgotten town in the mountains, where you can also have a walk around Salgueira, O de la Valiña stream or As Veigas town.         
Day 13: Oviedo and Campo de Caso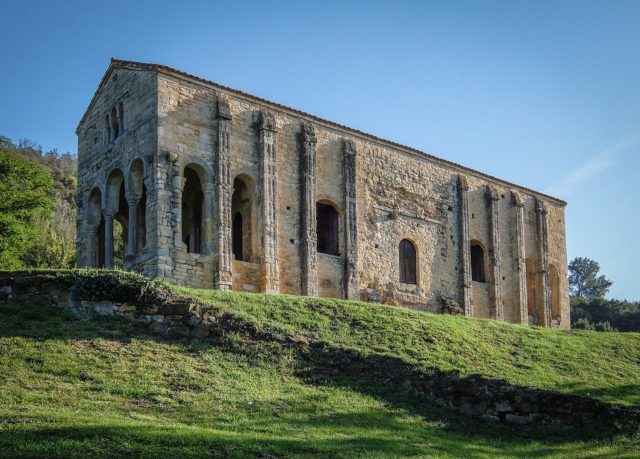 This is the 13th day of our 2 weeks Northern Spain road trip itinerary and the route is nearing its end. Now, we will start driving back, but this time inland, to discover some interesting spots a bit further from the coast.  
We will leave Ribadeo and head towards Oviedo, the Asturian Capital, with an interesting collection of statues all over the city, which represent the city's history and famous personalities. It's impossible to find them all! Later, we will visit the pre-Romanic church of Santa María del Naranjo, one of the best-preserved examples of pre-Romanic art in Spain.    
At the end of the day, we will head towards the small town of Campo de Caso, where we can spend the night. 
Day 14: Fuente Dè – Picos de Europa Mountains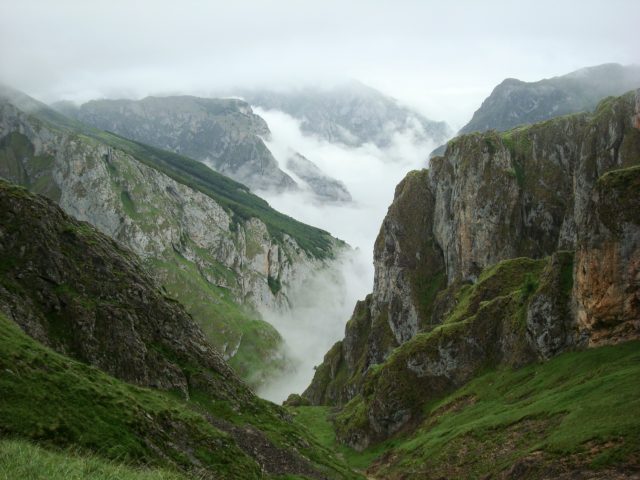 On the 14th day, we will travel to Fuente Dé, which will take us about two and a half hours. Once there, take Fuente Dé's cable car, the easiest way to access the Picos de Europa mountains (literally, Peaks of Europe). There are several hiking routes to discover Picos de Europa starting from the cable car stop, with stunning views to enjoy the panorama and the unique flora and fauna.
Day 15: Potes and Liébana Valley
End your 2 weeks Northern Spain road trip itinerary in the Liébana Valley. Visit Potes, a little town surrounded by spectacular scenery located at the confluence of four valleys and the junction of the Deva and Quiviesa rivers. Don't leave Potes without tasting the typical Orujo liquor, made with local herbs.
Finally, enjoy a general view of the Liébana Valley and Picos de Europa mountains from the viewpoints of Collado de Llesba, Piedrasluengas and Liébana. Drive along Desfiladero de Hermida, the longest gorge of Spain: about 20 kilometres! A stunning end for our amazing 14 – 15 days road trip in Northern Spain.
From there, you can easily reach the highway to start driving back home while you dream about your next Spain road trip, maybe in Southern Spain this time.
---
Hope you have enjoyed the proposed itinerary for this 2 weeks long itinerary throughout the main highlights of Northern Spain. I have personally done it this year, and it is really one of the best summer holidays I could imagine in my own country ❤️
Share your thoughts, proposals or doubts in the comment section below, I am here to help! Also, remember to subscribe to our newsletter to stay tuned.
Have a safe road trip! 🚗