Andalusia is, undoubtedly, one of Europe's most beautiful destinations to visit at Christmas time. Even if you won't have the chance to shake the snow from your boots and put a log on the fire, Christmas celebrations are taken seriously in the south of Spain. So, how do Spanish people celebrate Christmas?
Andalusia at Christmas is unique because of its ancient traditions that have been handed down from generation to generation. Curious about what are the most popular traditions and ways to celebrate Christmas in Andalucia? Let's discover our 10 Top Christmas Traditions that you can't miss.
1. Popular Christmas Decorations in Spain: Christmas Tree or Belen? Christmas Nativity Scenes in Andalusia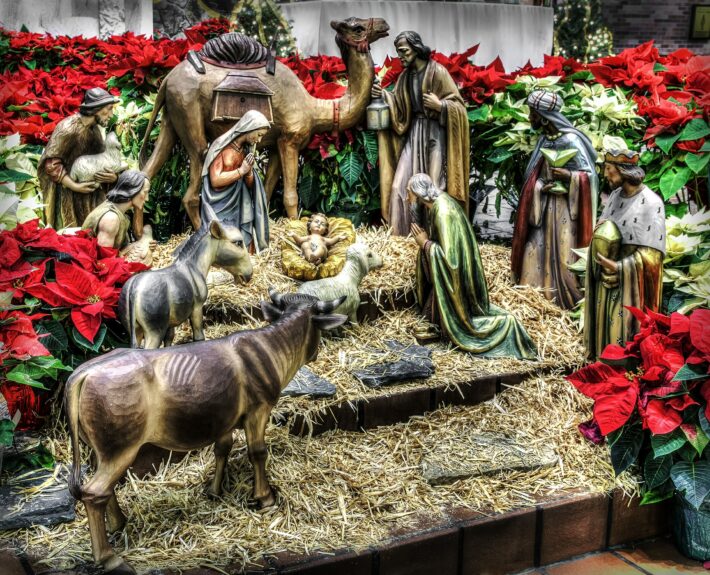 What is it the first thing that indicates Christmas time is here? Christmas decorations of course! The Christmas tree is a new entry in Spanish houses, but especially in Andalusia, where the traditional Christmas decoration had always been the Nativity Scene, called "Belén" (Bethlehem) in Spanish.
The Spanish Belén decoration consists of little statues, houses, rivers and even animals, that recreate the moment Jesus was born.
The nativity is often a surprisingly large collection of pieces that have been lovingly gathered over the years. At Christmas time, these scenes are brought out at homes, schools, and workplaces across the region of Andalucia and assembled with great excitement and care.
It is not uncommon for families, staff at companies, and especially teachers and students to actually build a structure of some kind in order to then set up the entire town of Bethlehem, with the Virgin Mary, Joseph and baby Jesus tucked into their manger scene somewhere amongst the vast, sprawling scenery.
Lastly, it's common to have both the Christmas tree and the Nativity Scene together as a Christmas decoration in Spain, but still, the Nativity Scene is treated with greater tender loving.
2. Mantecados: A delicious Andalusian Christmas Sweet Snack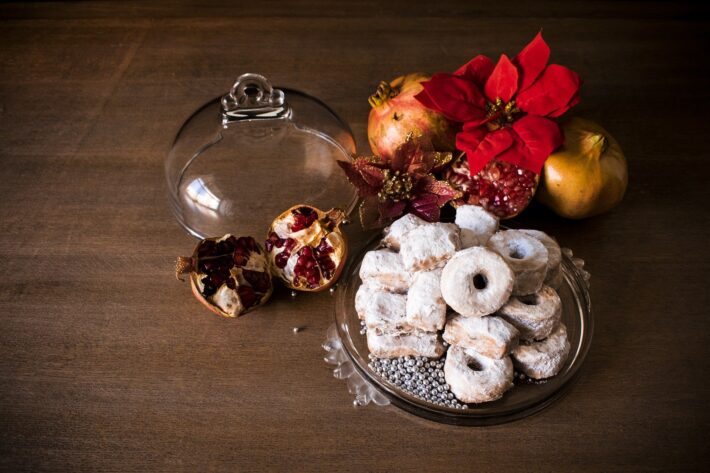 The history of "Mantecados" in Spain started in Andalusia, in the 16th century. Its origin is so fun and simple: Andalusia had an overproduction of lard and corn at that time, so they had to think about new ways to spend all that. And they came up with the mantecado!
Some people say these pastries were born in Antequera, some say in Estepa or Rute – the geographical spot is not clear at all. One thing is for sure, the recipe quickly spread throughout Spain. Estepa, located near Sevilla, concentrates the vast majority of mantecado factories since it was there where the "Mantecado marketing" started in the 19th century.
Today, Estepa city is the mantecado paradise. Here you can even visit the Museum of the Mantecado. During the Christmas season, this museum holds a very tempting chocolate Nativity Scene too.
3. Spanish Christmas Dinner in Andalusia: local delicacies and family joy!
Traditional Christmas Dinner celebration in Andalusia can vary from home to home, but one thing is for sure: we will spend Christmas Eve (Nochebuena in Spanish) and New Years Eve (Nochevieja) with our families.
As for traditional Spanish food for Christmas, there is also one thing that will be in every table: an entire leg of cured ham – jamón! The humblest homes might splurge on a Serrano ham while those with more spending power will very likely opt for a leg of "pata negra", the best Iberian cured ham on Earth.
Jamón is always served in thin slices as appetizer, together with a selection of smoked salmon, pates, cured meats and special cheeses.
Seafood is also high on the list and normally served as a first course. In Andalusia, it is really common to make a delicious seafood soup or prawns cocktail salad, using the famous Andalusian prawns from Huelva
As a main course, we mainly use meat: roast lamb, pork or even turkey, for a good protein overdose.
4. Spanish Christmas Carols and the "Zambomba"
Forget about international Christmas carols and those schmaltzy Frank Sinatra and Dean Martin classical songs. Spanish Christmas songs, known as 'villancicos', are the true soundtrack of Christmas. Some of the most popular ones, like 'Alepun', 'Los peces beben en el río' and 'Pastores venid' have been sung in the same way for centuries.
The lyrics of this traditional Spanish Christmas songs are religious and most of them are about Jesus birth.
They may be performed by a children's choir in the school or even in the church, or adults sitting around a brazier playing traditional instruments like the zambomba (earthenware friction drum), pandereta (tambourine) or improvised with a bottle of anis and a spoon. This tradition is still strong in Andalusia, where we mix villancicos with Flamenco, pure joy!
One last thing you have to know if you want to spend your Christmas in Andalusia: in the build-up to Christmas, children roam the streets, stopping at every door to sing a villancico in return for some yuletide pocket money known as an 'aguinaldo'.
5. Traditional Spanish Christmas Lottery
A Christmas Tradition in Spain that especially strong in Andalusia is the Christmas Lottery! Whether you like a flutter or not, if you live in Andalusia, all your workmates, family and friends will try to convince you to buy a lottery "décimo" – one-tenth of a ticket in the biggest lottery prize in the world.
The "Sorteo Extraordinario de Navidad" is known as "El Gordo" – the fat one – and last year it paid out €2.38 billion, turning entire towns into millionaires overnight. This draw takes place every year on December 22 and it dominates Christmas TV advertising.
If you were not lucky on the 22nd Dec, don't worry: you have another chance on the 6th of January, with the first big lottery draw of the New Year – "El Niño".
6. April Fool's Day on 28th December: Day of the Holy Innocents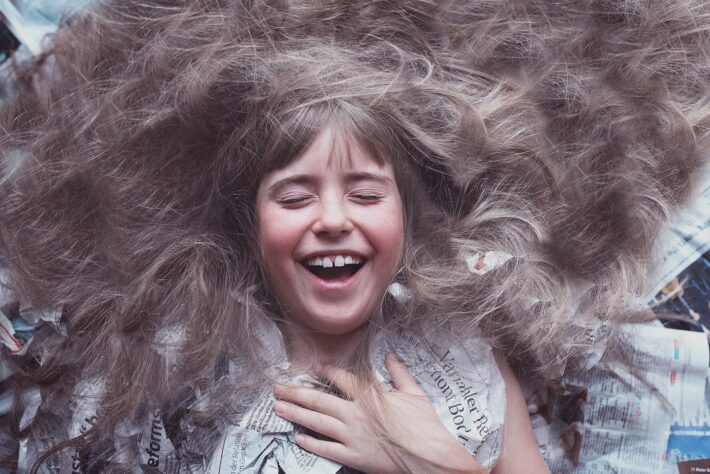 This celebration has its origins in an event narrated by the Bible concerning King Herod's plan to slaughter all babies under two years old, hoping the infant Jesus would be among them.
Over the centuries, the commemoration of this event has evolved to become a boisterous day in which even the media usually reports on some outrageous and completely invented news story.
One of the most widespread jokes on this day is to stick a figure cut out of white paper on someone's back (without them realizing it). The word in Spanish for this practical joke is "inocentada".
In the numerous Christmas markets (usually located in the large squares in the cities) you can find a whole range of joke articles (wigs, itching powder, false ink…) to celebrate this day.
7. New Years' Eve Spanish Tradition: Eating 12 Good Luck Grapes
As in most places in the world, New Year's Eve in Spain is either about family or friends and partying. But in Andalusia, the family has a more central role.
If you are visiting Andalusia and want to have your dinner out that day, be quick and book! Most bars and restaurants in Andalusia will be closed on New Year's Eve between 6.00 pm and midnight, so that staff can spend the evening at home with their own families.
After a nice dinner, the most important moment of the night approaches: the final countdown! And in Spain we make this countdown by eating the 12 grapes of luck! Strange tradition, isn't it?
In order to have good luck in the coming year, you must eat a grape at every chime of the midnight bells. This means one grape every 2 seconds, twelve grapes in total. It sounds a lot easier than it is! To make things less complicated, you can buy a little tin of twelve seeded and peeled grapes.
8. Roscón de Reyes: The Most Delicious Christmas Sweet in Andalusia (only on the 6th Jan)!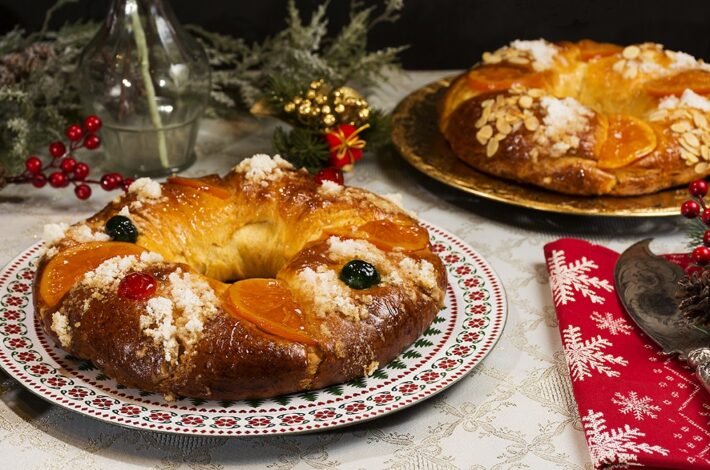 Another Christmas traditional sweet in Spain that is very relevant in Andalusia is the "Roscon de Reyes". This large doughnut-shaped cake is decorated with candied fruits and filled with cream or chocolate.
Inside this sweet, you can find two hidden surprises: a little present and also a dry bean. The little present is normally a ceramic statue of one of the Three Magic Kings, as this sweet is eaten just on Epiphany Day, the 6th of January.
Whoever finds the little ceramic statue is the "king" for the day; whoever finds the bean has to pay for next year's roscón!
9. Presents? We don't have Santa Claus but the Three Wise Men!
The end of the Christmas season in Andalusia is the day of the Epiphany (January 6), the so-called Day of the Wizard Kings or the Three Wise Men.
They are the same three kings who brought gifts for the baby Jesus so they also bring presents for our children now! While good kids receive presents, the naughty ones are supposed to receive coal. most ci
On the evening of January 5th, every town has a big procession in which the Three Wise Men and their assistants throw sweets to the crowd. After that, the children would get their presents the next day. It's the biggest event of the year for them!
10. Skiing at Sierra Nevada: White Christmas in Andalusia with Snow!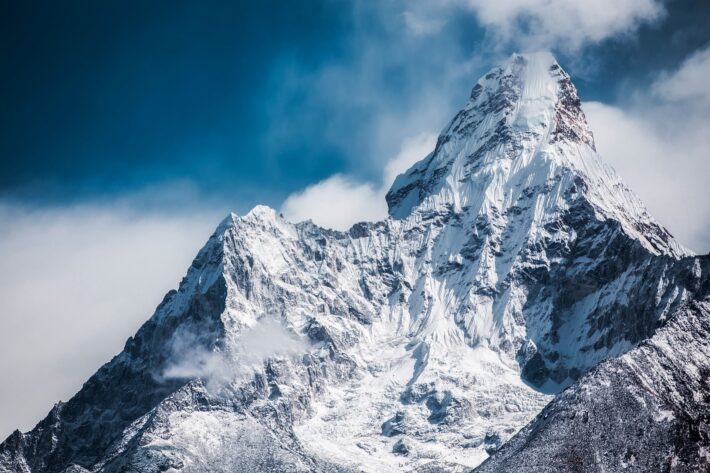 If you can't spend your Christmas without seeing some snow there is also a solution! Sierra Nevada, in Granada, is the most popular skiing destination in southern Spain.
Sierra Nevada has the highest peak in continental Spain, Mulhacén at 3,478 meters (11,411 ft) above sea level.
If you want to see the Three Wise Kings coming to town by skiing, you need to go there! Sierra Nevada is a very popular winter season holiday destination. So if you are traveling in Andalucia, or willing to visit in this winter season, come down rolling to sunny Spain and book yourself a holiday!
---
Those were the 10 Christmas Traditions you can't miss in Andalusia. We are all getting excited and feeling the joy of the forthcoming arrival of… Christmas, so if you are coming to Spain this season, book ahead of time! Have a look at these tips to prepare for your Spanish Christmas holiday:
DISCOUNTS AND RECOMMENDATIONS FOR YOUR TRIP

✈️ Find the cheapest flights, train or bus tickets here.

🛏️ Get up to 15% discount on your hotel by booking here.

🏛️ Book the best tours and activities here.

🚗 Compare and rent a car at the best price here or hire your transfer here.

📖 Get your Spain travel guide here.

💚 Book your travel insurance here.
All in all, visiting Andalusia at Christmas is an unforgettable experience. Don't forget that at Oh My Good Guide we have many different tours and experiences to make you enjoy your trip to Malaga, Seville or Granada, available also during Christmas time!