Balearic Islands vs Canary Islands: Which one to choose? Both Spanish islands receive every year millions of visitors because of their amazing beaches and their warm, perfect weather.
However, when planning your holiday in Spain, you might find it hard to choose between Balearic or Canary Islands. If you are one of those, keep reading this ultimate guide to the Spanish Islands by Oh My Good Guide.
Here you'll discover which is the best one for you, based on weather, beaches, highlights, typical food, flight connections, or best time to visit among others.
So..Let the battle begin! Canary Islands vs Balearic Islands – Round 1!
Canary and Balearic Islands: Which is the best Spanish island to visit?
1. What are the islands of Spain called?
Spain's islands are primarily in two areas: The Balearic Islands are in the Mediterranean Sea, and the main islands include the well-known Ibiza and Mallorca (also called Majorca), as well as Menorca and Formentera. The Canary Islands are out in the Atlantic Ocean, closest to the African coast of Morocco. There are 7 Canary islands but most tourists limit themselves to 4 of these: Lanzarote, Fuerteventura, Gran Canaria and Tenerife (the three least touristic are: La Gomera, El Hierro, La Palma).
2. Balearic and Canary islands map: Where are they in Spain?
Majorca is about 170 kilometers away from the Spanish mainland, located in the Mediterranean Sea, whereas Gran Canaria is about 2,000 kilometers further south-westerly in the middle of the Atlantic Ocean. The distance to the African west coast is just 180 kilometers. Geologically Gran Canaria is allocated to the African continent.
– Canary and Balearic Islands Location Map
– Canary Islands Map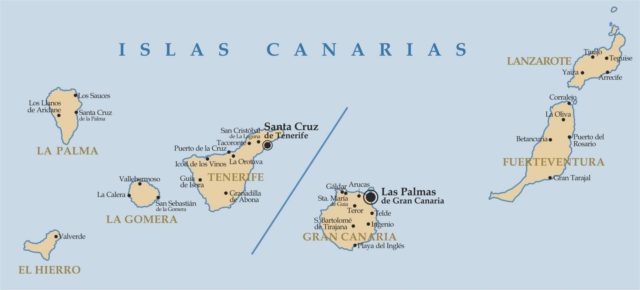 – Balearic Islands Map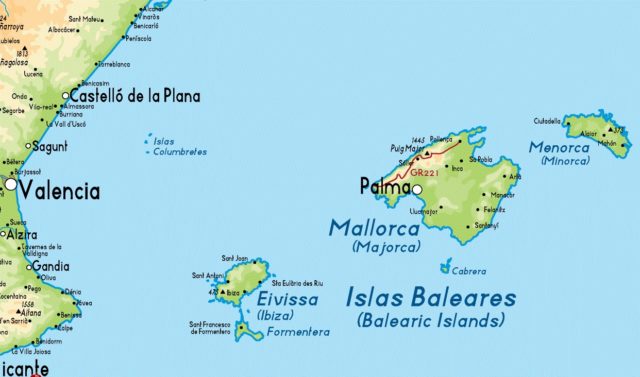 3. Balearic vs Canary Islands: What is the best island to visit in Spain?
Spain alone has many fantastic destinations to explore, including its two groups of islands: The Canaries and the Balearic Islands. Both sets of islands are gorgeous sunny getaways that fall within the price range of many holidaymakers. And both have miles of beaches and scores of flights spoiling you for choice.
We've shortlisted 10 incredible Spanish Islands that you should definitely take a trip to:
– Best Island to visit in the Balearic Islands
– Best Island to visit in the Canary Islands
4. Which one has better beaches: Canaries or Balearics?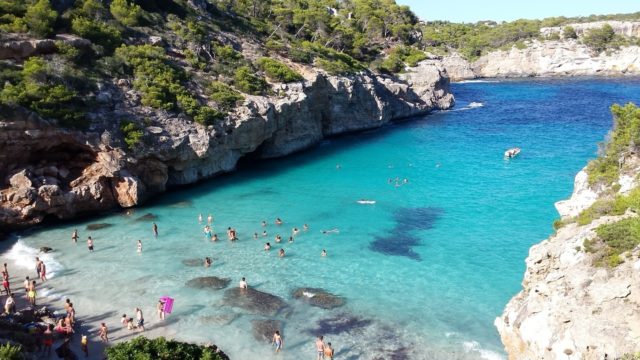 The beaches in the Balearics are mostly white sandy beaches, while the Canaries have lots of beaches with black volcanic sand, due to their volcanic nature. Nonetheless, both the Canaries and the Balearics have some great beaches, some of them man-made, created due to the growing tourism on the islands.
One thing you can be sure of in each island group is that you'll find both full-on resort-backed beaches all the way through to small undiscovered coves where you can escape the crowds and have the beach pretty much to yourself. So whether you're a family, a group, or just a couple looking for some time out, there's somewhere for you.
– Which Balearic Island has the best beaches?
Here you go, the best beaches in each one of the Balearic Islands so that you can see and choose for yourself!
Formentera: Ses Illetes, Cala Saona, Playa De S'alga and Es Cavall d'en Borras
Menorca: Cala Turqueta, Cala Escorxada, Cala Macarelleta, Calas Mitjana and Mitjaneta
Mallorca: Formentor, Cala Deià and Playa de Alcúdia
Ibiza: Cala Benirrás, Cala Llentrisca and Ses Salinas
– Which Canary Island has the best beaches?
Same for the Canary Islands, here you have the list of the best beaches in each one of the Canary Islands. Have a look and choose the best Canary Island for you according to the top beaches in Fuerteventura, Lanzarote, Tenerife or Gran Canaria:
Fuerteventura: Corralejo Grandes Playas, Cotillo Lagoons, Cofete and La Pared and Sotavento Beach
Lanzarote: Papagayo Beach, Famara Beach, Playa Mujeres and Playa Grande in Puerto del Carmen
Tenerife:

Las Teresitas Beach, La Tejita and Playa La Arena

Gran Canaria: Maspalomas Beach, Amadores and Playa Las Canteras
5. Which is hotter Canaries or Balearics?
The summer months in the Balearics are just as hot as the Canaries, but as winter draws in it does get much milder. If you're looking for a winter break, we recommend heading to one of the Canary Islands
6. Top Things to do in the Canary Islands vs Balearic Islands?
Canary Islands: Watersports fans rejoice! The wild waters of the Atlantic Ocean surrounding the islands play host to some of the best settings for practicing your skills and topping up on some adrenaline. Windsurf or surf around Fuerteventura or go on a full-on diving expedition during your holidays in Tenerife, it's all up to you!
Balearic Islands: Same rules apply for the Balearic Islands but with a bit less wind and more history. Visit the castles and historical sights of Majorca or go on a holiday to Ibiza and fly like a spaceman over water on a flyboard. Other more traditional water activities like banana boats, kayaking, and pedalos are also up for a ride so what you choose to do depends on your preference and pocket.
7. Canaries or Balearics: Day trips, excursions & adventures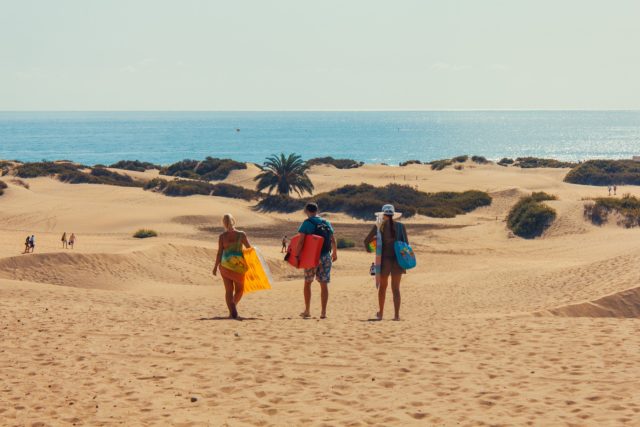 Both island groups have plenty of things to occupy you on days out, from water parks to boat trips, shopping centers to, of course, those beaches. But there's much more on offer:
– Top things to do on a day trip in the Canary Islands
In Tenerife, you can go up a volcano, Mount Teide, or visit Siam Park – one of the biggest water parks in the world.
In Gran Canaria, you can learn to Padi dive or go hiking to the Roque Nublo for a stunning day of mountain scenery.
Spend a day exploring the sand dunes at Corralejo on Fuerteventura or the moon-like landscapes of the interior of the island.
– Top things to do on a day trip in the Balearic Islands
In Majorca, take the tourist train from Palma to Soller through the mountain scenery and onwards to Puerto Soller by an old San Franciscan tram, before heading to the village of Valldemossa for the monastery tour.
Take the boat from Ibiza to Formentera and spend a day on the beach, coupled with having fun bathing in the free sulfur mud baths on S'Espalmador Island close to the main beach strip.
Head out in Menorca to Monte Toro for wonderful views across the island, or a tour of Ciutadella, the historic harbor town on the west of the island with its windy streets, waterfront and old churches.
8. Canary and Balearic Islands: Flights
The average flying time from the UK to the Canaries is around 4 hours each way. There are direct services to five of the islands from the UK and many other European destinations with many of them operating year-round – after all, the Canaries are known just as much for their winter sun as they are as a summer holiday destination.
Getting to the Balearics is somewhat quicker, with flights taking 2 to 2.5 hours from airports all over the UK and Western Europe countries. Flights to these islands are concentrated in the summer months from around the end of March to the end of October. You'll also find direct flights to Majorca through the winter and connect to the remaining islands by air or ferry on arrival.
9. Canary Islands or Balearic Islands: Best prices?
The prices for resorts, hotels and activities are similar in the Canary Islands and the Balearic Islands. However, you might see a little difference in the prices if you go out for dinner or go shopping, as in the Canary Islands all prices are VAT exempt.
There are always good deals and offers on accommodation, you just need to find them! As a reference: An all-inclusive deal to the Balearics in July starts from as little as 260 € in a three-star hotel on Majorca. The best price for a similar quality holiday in the Canaries starts from 300 € in Fuerteventura. Have a look at our recommendations and compare different companies to always get the best price:
DISCOUNTS AND RECOMMENDATIONS FOR YOUR TRIP

✈️ Find the cheapest flights, train or bus tickets here.

🛏️ Get up to 15% discount on your hotel by booking here.

🏛️ Book the best tours and activities here.

🚗 Compare and rent a car at the best price here or hire your transfer here.

📖 Get your Spain travel guide here.

💚 Book your travel insurance here.
10. What is the typical food and drink? Balearics vs Canaries!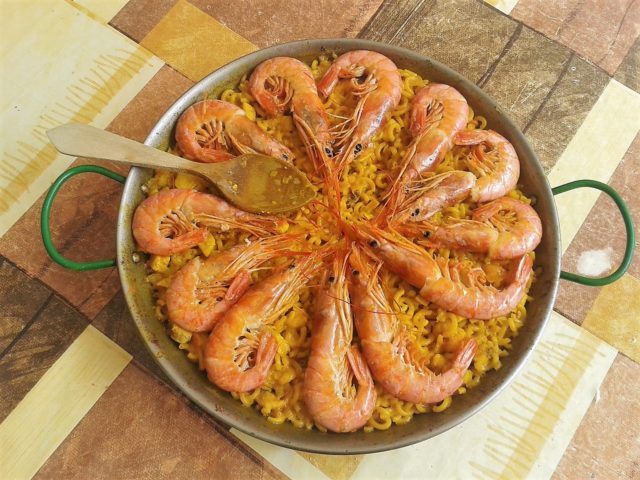 Apart from the typical Spanish food you can find throughout Spain, the Canary and Balearic Islands have their own delicacies:
– Balearic Islands typical food and drink:
Pa'amb oli: snack – tomato, oil, and garlic-smothered bread
Fideuà: main meal – Balearic version of paella made with noodles instead of rice
Ensaimada: cake – spiral-shaped bun, topped with icing sugar
Frigola and Hierbas ibicencas: drinks – made from a mix of herbs and drunk over ice
– Canary Islands typical food and drink:
Green or Red Mojo picón with Papas arrugás: snack – small local potatoes boiled and served with mojo, a sauce made with garlic, paprika and chili!
Ropa vieja: main meal – chickpeas, beef, chicken and potatoes stew
Ron Miel: drink – local honey rum.
Best Time To Visit the Canary Islands Or Balearic Islands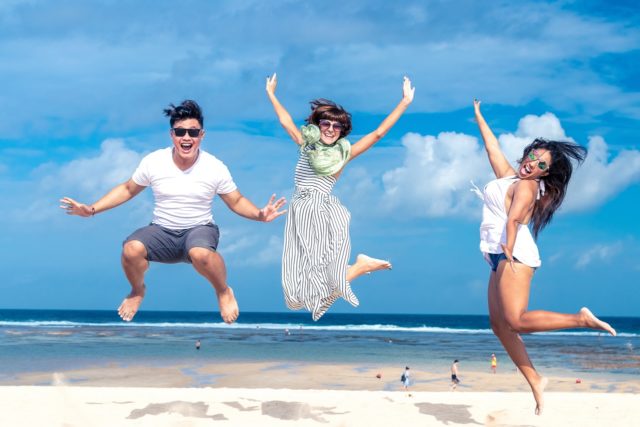 What is the best time to travel to Balearic Islands?
The end of June, the beginning of July, and September (in these months the islands are less packed).
The most chaotic and congested period: The end of July and August.
What is the best time to travel to Canary Islands?
All year long, due to the mild and stable climate without much thermal fluctuation. In winter it doesn't cool down too much (temperatures average around 20°C) and in summer you won't suffer from the heat due to the dry climate.
High season: from Christmas to Easter (more expensive accommodation prices).
During May and June traveling will be less congested and cheaper.
The final decision: Choose the Balearic or Canary Islands if…
A. Choose the Balearic Islands for your holiday in Spain if: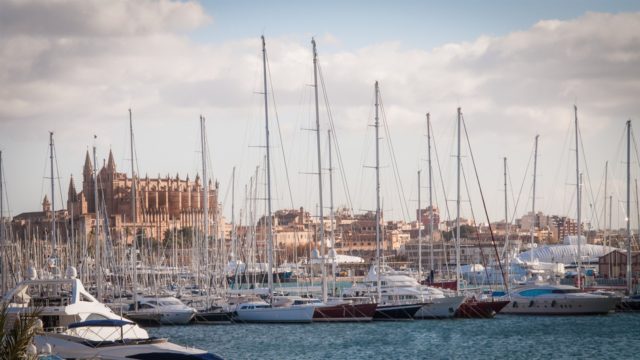 You like the nightlife, lively after-hours and the dance club (Ibiza and Majorca are the top choices).
If you prefer short flights 
You love discovering small coves
If you're traveling with friends and want to meet new people.
– Which Balearic Island is the best one for you?
Majorca. Best for Beach-lovers, city-dwellers, fancy wines, and cyclists.
Menorca. Best for: Peace and quiet, authenticity, snorkelers, families with young kids.
Ibiza. Sunset-hunters, party-goers, hippy markets.
Formentera. Best for: Untouched beaches, nature, diving.
B. Choose the Canary Islands for your holiday in Spain if: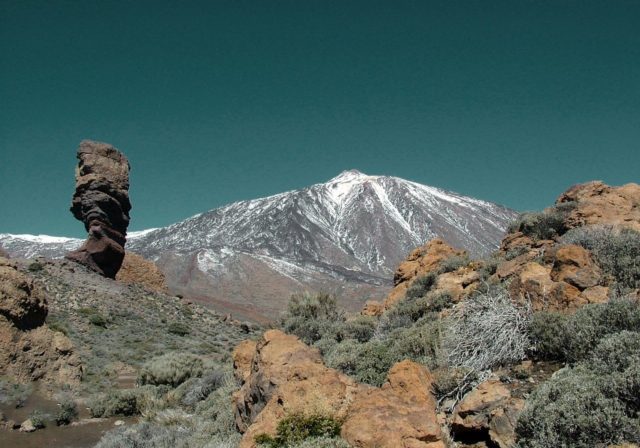 You want to vacation during the winter or in a period when temperatures in the Balearics will be cold,
You're not seeking a happening nightlife,
You have an adventurous spirit (you are looking for sun, sea, and adventure.)
Wind doesn't bother you (aside from a few sheltered zones, the Canaries are windy).
You like walking on long beaches.
– Which Canary Island is the best one for you?
Tenerife – Best Canary Island for nightlife.
Gran Canaria – Best Canary Island for hiking.
Lanzarote – Best Canary Island for families.
Fuerteventura – Best Canary Island for beaches.
La Gomera – Best Canary Island for authenticity.
La Palma – Best Canary Island for snorkeling.
El Hierro –  Best unspoiled Canary Island for nature
---
We hope to have helped you clarify your ideas about which Spanish Island to visit with this comparative overview of the Canary and Balearic Islands. So, now it's your turn! Choose your favorite one and tell us in the comment section below! Also, don't forget to subscribe to our newsletter if you want to discover more about Spain from a local point of view.
Have a wonderful vacation in the Spanish Islands! 😎