Are you an expat living in Spain thinking about sending some original Spanish Christmas gifts to those back home? Do your friends or family love Spain and you would like to impress them with an original Xmas present? We have the right thing for you 🎁
The ultimate Spanish Christmas Gifts ideas list is here: 20 different suggestions for all kind of people so you just need to choose the most suitable for your beloved ones. Have a look!
1. The TOP Spanish Christmas Gift: Iberian Ham!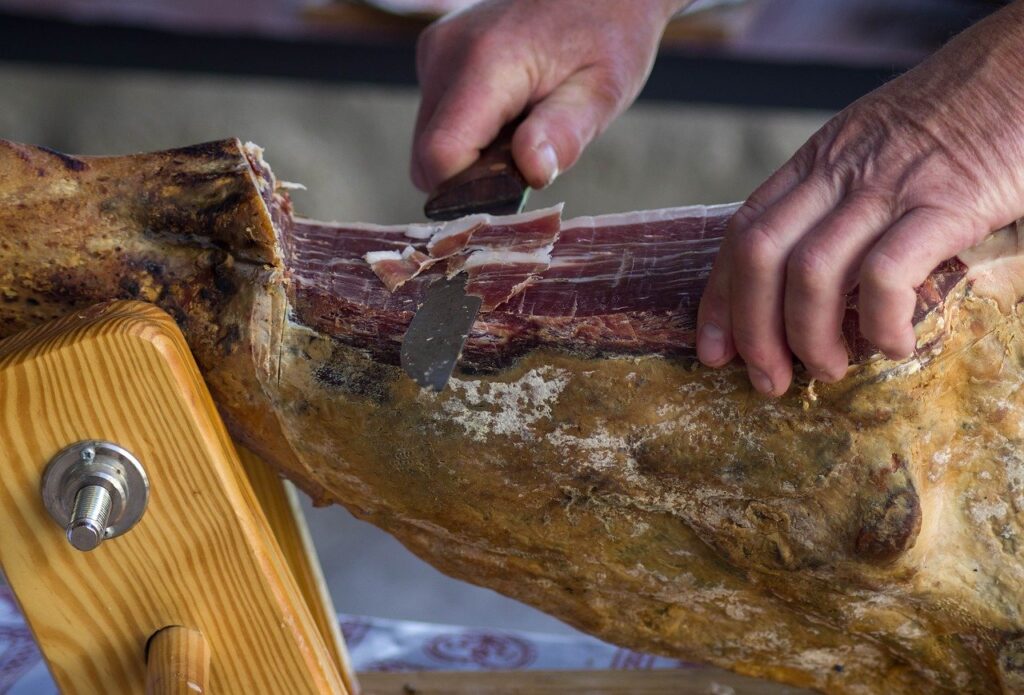 Probably, the most famous Spanish food and the food that Spanish people love the most: Jamon Iberico. Iberian Ham is just amazing. Everybody likes it! There are many different varieties and you can find it in different formats, like in slices or even better, you can purchase a whole ham, which preserves much better! If you need to carry it with you consider a paleta, the front leg of the pig – smaller and easier to pack than a hind leg. Get your Iberian Ham piece now!
2. Spanish leather: handbags, purses, belts or shoes!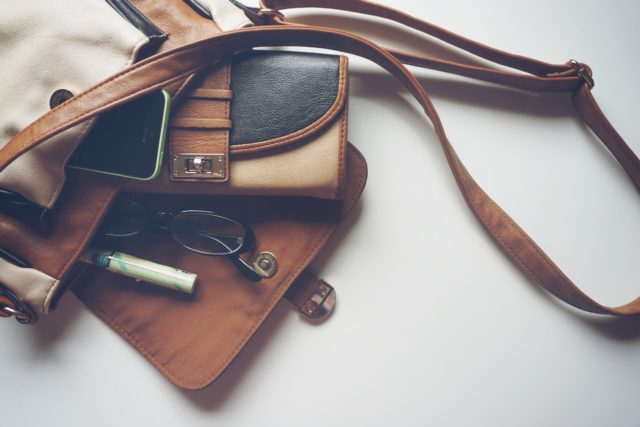 Spanish leather products are generally of excellent quality and great value for money too. With everything from belts and purses to handbags on offer, you're bound to find something for the man or woman who has it all. Have a look at Spanish leather goods' brands like El Potro, Unisa, Pikolinos or Yokono.
3. Spanish Ceramics
Spanish ceramics have a long history, particularly in Andalusia region. They are handmade, hand-painted and affordable. You will find a vast variety of Spanish ceramics out there.
Little tapas bowls or spoon rests are a really good Spanish Christmas gift because you can easily get it personalized with some writing, like the place you bought it or the name of the person you will give it to.
4. Espadrilles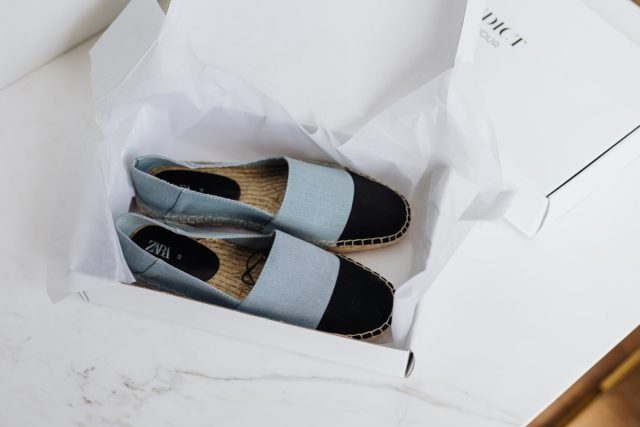 The traditional shoes that everyone likes are up there on the top Spanish gifts for Christmas. Espadrilles have been made in the Pyrenees since the fourteenth century.
Recently espadrilles have exploded onto the fashion scene so: why not buy the fashionista in your family the real thing: a pair of Spanish espadrilles that will be much cheaper and more authentic than the designer option. Definitely, this is one of my favourite Spanish gifts for Christmas!
Choose your favourite Espadrilles here!
5. A Spain Food Tour or Gastro Experience
A gift voucher for foodies but not only! If you are thinking about visiting Spain sometime soon, at Oh My Good Guide we offer Food Tours in Granada, Seville & Malaga. There is even an option to enjoy a Food tour and Flamenco performance too and many other tours and activities.
This experience would be also a good idea for friends and family who live in Spain. Purchase the gift voucher now, it's valid for 2 years from the purchase date and offering maximum flexibility!
6. Spanish Olive oil as a Christmas present
A really good gift that anyone will appreciate is, without any doubt, our traditional Spanish olive oil. The best place to get it is Andalusia region and, especially, my parents' hometown olive oil, Loxa, where we still go every year to help in the harvest. Now you can even order it online, available at Amazon!
I can assure you this olive oil is made following the traditional method and with the best olives in the surroundings. You won't regret choosing Extra Virgin olive oil as a present: this will be one of the most special and appreciated gifts for a Spanish-themed Christmas.
7. Olive wood plates and chopping boards
Spain is the biggest olive oil producer in the whole world. That means that there are tons of products made from olive trees. Combined with the long history Spain has on ceramics, you know that olive wood plates and olive wood cutting boards will be insane quality.
You can find them literally anywhere around Spain or even order a personalized one online. This is an extremely useful Spanish Christmas present that you or your beloved ones will use almost every day.
8. Bottle of Spanish Wine: Much more than Rioja
Spain is one of the largest three wine producers in the world, along with France and Italy, and has the most land dedicated to winemaking of any country. Our top picks from famous wine-producing areas include La Rioja, Ribera del Duero and Jerez, home to sherry wine.
Spaniards also love to crack open some cava to celebrate special occasions, so you'll be spoiled for choice when it comes to choosing which bottle to take home or get as a Christmas present for your beloved ones.
9. Wall art for Spain-themed Christmas gifts
Sometimes the simplest gifts are the best ones. If they're beautifully designed or illustrated, maps and posters can be the perfect gift idea. I know I would love to get wall art that flaunts my love for my favourite destination: Spain!
It's cheap and easy to customize your Spain poster with any city you like. Have a look here!
10. A good Spanish Cookbook
For those people who love to try new recipes, you can buy a Spanish Cookbook as a Christmas gift. People who cook (and also in general) use a lot of time searching for new recipes, they will be amazed by it and they will love it. Traditional Spanish dishes are always bringing positive reactions!
There's plenty of them and for any type of Spanish foods: breakfasts, tapas, dinners, traditional sweets… So here you go, our top picks for a Spanish-themed Christmas meal:
11. A Paella pan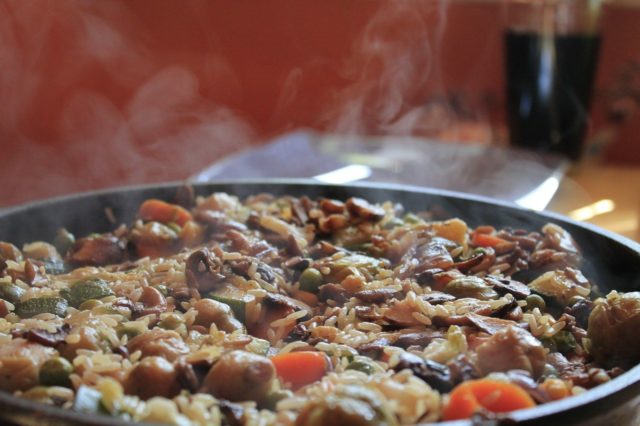 The most iconic dish of Spain is Paella. Everyone knows it. The secret that not everyone knows though is that a really good paella needs a really good paella pan to cook it. It is necessary to cook a great Paella to have a great Paella pan.
So a paella pan is a really good Christmas gift for people who love cooking because they can use it anytime they wanna cook paella and have amazing results with it. Order yours now!
12. Spanish online experiences, workshops or virtual tours for Christmas
For those who cannot travel to Spain this Christmas, why not try virtual travelling? Share a fun online experience, workshops or virtual tour around Spain with your beloved ones. Have a look here, there are plenty of things you can do to get a taste of Spain from the comfort of your home!
13. Spanish Cheese like Manchego
What Spanish people love most after the Jamon is Cheese, probably because we can combine them perfectly together. You can find good Spanish cheese everywhere in Spain. There are tons of different varieties you can choose from.
What is for sure is that is one of the best choices among the typical Christmas presents for foodies in love with Spanish gastronomy.
14. Surprising Spanish Christmas Gifts: A fan or "Abanico"
Ranging from highly elegant to very kitsch indeed, fans (abanicos) are an essential feature of summer in Spain, and while Christmas might not seem like the ideal moment to give someone a Spanish fan, there's bound to be someone who could do with some cooling off after a family meal, not least the cook after slaving over a hot stove.Get your abanico here!
15. Barcelona or Madrid Football Club T-Shirt
Spain considered having the best football teams as a country in the whole world. There is also a lot of football fans that never travelled in Spain or in general that they never had a T-shirt of their favourite Spanish team.
Bringing to a person who loves football and supports Spanish football club a T-shirt of their favourite team, will blow their mind and will make them insanely happy especially on the period of Christmas since its the period that most teams have important matches. There are many Spanish football clubs, so have a look here and choose your favourite T-shirt!
16. Spain Travel Guide as Christmas Gift
There's nothing better to ignite one's wanderlust than a travel book. Seriously, if I could, I would buy every single Spain travel guide. 
Check the best Spain Travel Guides out here!
17. Spanish Nougat (Turron)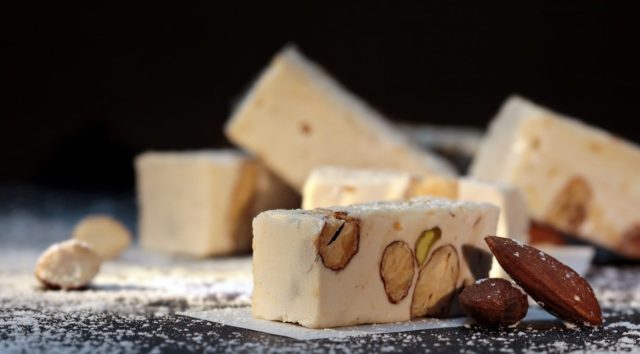 Turron is a sweet treat generally enjoyed during Christmas time and it's made with nuts, mostly almonds. This sweet treat is out of the nougat family. It can be found all around Spain, especially during Christmas time.
It can have a lot of different tastes so you can choose which one you would like more to take. Turron is one of the best Spanish Christmas gifts you can get because it fits the Christmas atmosphere perfectly!
18. Saffron: one of the most luxurious Spanish Christmas presents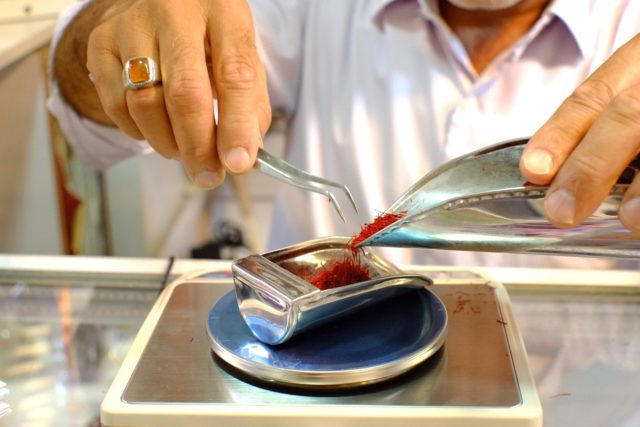 If you are considering to get some original Spanish spice and bring back home to impress your family and friends, then Saffron is the best option for it.
It's probably one of the most luxurious spices and one of the tastiest ones with a strong flavour. That's why you never add too much to your foods. If you have a chef as a friend or in your family, they will get really happy to get that as a Christmas gift.
19. A Spanish Phrasebook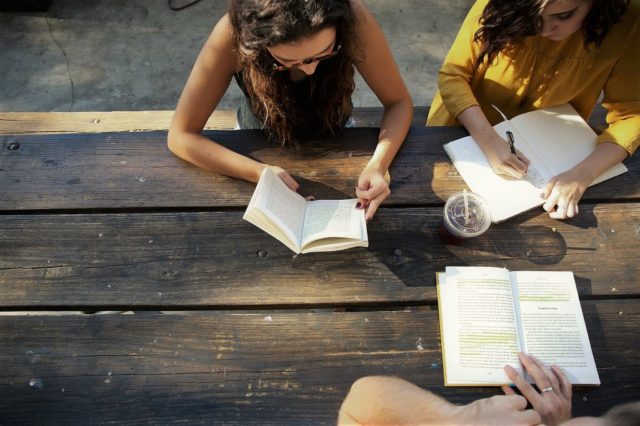 Learning Spanish is fun (ok, super fun) and essential, but the language differences between all Spanish-speaking countries can be pretty major, and that includes the accent, words, and phrases.
That's why a Spain-oriented Spanish phrasebook can be very useful for people who are always planning their next trip to Spain and want to show off their Spanish without making any funny "mistakes".
20. More Spanish spices!
Another really good gift you can make to someone during Christmas time is a bag with different Spanish spices. You can find spices shops all around Spain or even buy them online and send them over to your friends.
Try getting some traditional Spanish spices like paella spices or sweet paprika, and surprise your beloved ones with a unique and original present from Spain!
21. EXTRA: A trip to Spain – The best Spanish Christmas gift ever!
Finally, we would like to add an extra gift, and probably the best on the list. If you can afford it, offer a trip to Spain as a present! A quick getaway to really enjoy the essence of this beautiful country. Book it now with our tips to make it more convenient!
DISCOUNTS AND RECOMMENDATIONS FOR YOUR TRIP

✈️ Find the cheapest flights, train or bus tickets here.

🛏️ Get up to 15% discount on your hotel by booking here.

🏛️ Book the best tours and activities here.

🚗 Compare and rent a car at the best price here or hire your transfer here.

📖 Get your Spain travel guide here.

💚 Book your travel insurance here.
---
So… What are your favorite Christmas gifts from Spain? Are we missing anything?! And if you could get only one item on the list, what would it be? Let me know in the comments section below and don't forget to subscribe to our newsletter if you want to stay tuned!
Happy Xmas!