Spain vs Portugal: difficult decision! If you are thinking about visiting or living in Spain or Portugal and you still don't know which one to choose, then you are in the right place.
Both countries share many things: they are located in the Iberian Peninsula, have a similar cultural and historical background, their cuisines are well-regarded around the world, and their climate is indeed unbeatable.
You may be wondering which country better suits your needs, but the truth is, it depends on what you are looking for. Keep reading our article to discover which country is the right one for you!
1. Spain vs Portugal: Which one should you visit?
If we talk about whether to visit Spain or Portugal, there are many factors to consider. While we suggest that both countries are worth a visit, Spain's size is almost five times Portugal's size; meaning that, Spain can offer more diverse possibilities to its tourists.
Visiting Spain or Portugal: Food and wine culture
Also, Spain might be culturally richer than Portugal, if we consider that almost every region of Spain has its own dialect, cuisine, architecture, and landscape. Moreover, Spain has a unique tapas and pinxtos tradition that people from all over the world love.
On the other hand, Portugal offers exquisite cuisine, including some of the best seafood in the Mediterranean, and restaurants are fairly more affordable than those of other southern European countries. Indeed, if you are vegetarian or pescatarian, Portugal will suit your dietary habits best.
In addition, if you are a wine lover, you should know that Portugal is the birthplace of port wine: you will be able to find any type of port, from the ruby to the white one. Vinho Verde is also very good, particularly the one produced in the Douro and Alentejo regions.
Spain, meanwhile, is mostly known for its red wines, like Rioja or Ribera, or sparkling wines like cava. So, depending on your wine preferences, you might want to visit one country instead of the other; usually, red wine drinkers prefer Spain while white wine drinkers are more into Portugal.
– Visiting Spain or Portugal? Climate and weather differences
Spain and Portugal present similar weather both on the mainland and on the islands. Because of its size, Spain has four climatic zones and presents regional differences in the weather.
Spain's inland features a Mediterranean hot summer temperature, whereas the temperature goes down once you rise in altitude. Winter weather in Spain is usually milder than the one in Portugal, where it is limited to Lisbon and in the Algarve region.
On the other hand, the southeast coast and the eastern islands of Spain can be extremely hot and cold, depending on the season; the Canary Islands in particular are one of the driest places in the EU.
Portugal has a more consistent climate throughout the year, with cold and pleasant sea breezes in the summer and humid winters. The Atlantic sea is obviously much colder than Spain's Mediterranean sea; however, Portugal gets 2500-3200 hours of sunlight on average every year. So, if you want to enjoy the European climate, Portugal is the right place for you.
– Common History
As we said before, Spain and Portugal share some common history: they were once occupied by the Romans, the Visigoths, and finally the Moors until the catholic monarchies re-conquered those territories. Spain and Portugal also have strong ties to the sea and the coastline, as they experienced imperialistic overseas expansion and became maritime powers in the 16th century.
– Beaches and Coastline
Whereas Spain has many more inland areas compared to Portugal, the latter has an abundance of beaches. Portugal's pristine coastline can be either rocky or flat and sandy, while Spain offers many options for beach and island enthusiasts, especially in the southern part where the Costa del Sol stretches.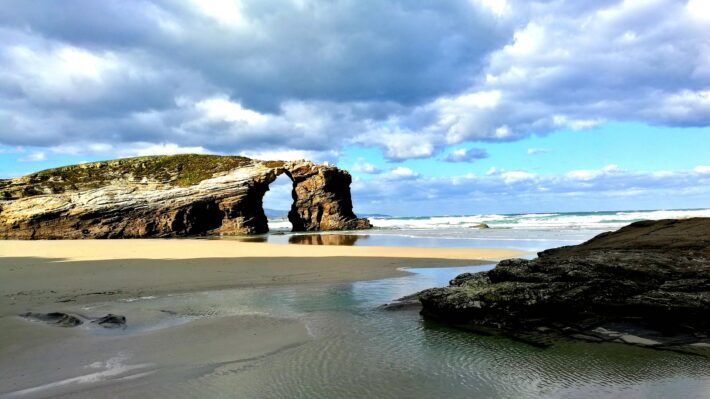 – Is it easier to arrive in Portugal or in Spain? International flights
In more practical terms, finding a direct cheap flight to Portugal might be more difficult than to Spain. Unfortunately, some charming cities Lisbon and Porto are not well connected to the rest of the world.
Depending on where you live, it is often much easier to find a cheaper, closer, international flight to major touristic cities like Madrid, Seville, Malaga, Valencia, Bilbao, or Barcelona in Spain.
If you don't have many free days, you don't like crowds, and are up for a short holiday exploring a small area, then Portugal might suit your needs better. On the contrary, if you have several days off and feel like taking advantage of it to go around, Spain it's probably the best solution.
– Which one to choose for traveling, Portugal or Spain? Conclusions:
In conclusion, even though Spain is a bit more expensive than Portugal, it is easier to reach it by plane, and it offers more diverse places to visit than Portugal. Traveling around Spain is also very easy since the cities are well connected, and transportation networks are quite efficient.
PS: If you already decided and are finally visiting Spain or Portugal, have a look at the following travel tips and discounts for your holiday!
DISCOUNTS AND RECOMMENDATIONS FOR YOUR TRIP

✈️ Find the cheapest flights, train or bus tickets here.

🛏️ Get up to 15% discount on your hotel by booking here.

🏛️ Book the best tours and activities here.

🚗 Compare and rent a car at the best price here or hire your transfer here.

📖 Get your Spain travel guide here.

💚 Book your travel insurance here.
2. Is it better to live in Spain or Portugal?
Expatriates from around the world dream about moving to southern Europe at some point in their lives. If you are planning to move to either Spain or Portugal, you will have many chances to visit both countries since they are located so close to each other.
Regardless, visiting a country is one thing and choosing the country where you're gonna move to is another one. You'll surely have to take many things into consideration in order to understand which country better suits you; since both Spain and Portugal have their pros and cons for living, let's explore both options in detail.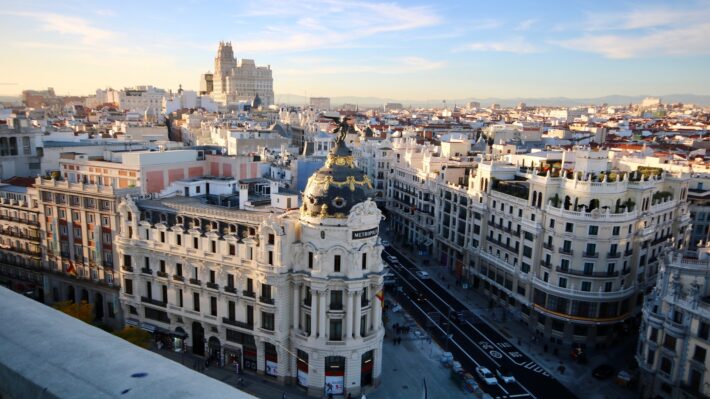 Living in a foreign nation can be challenging and thrilling at the same time; however, it can also be a cultural shock for those who are not familiar with the new place.
– Cost of Living
Let us consider some vital differences for people who are considering settling either in Spain or Portugal. As we said before, the cost of living in Portugal is fairly cheaper, except if you plan to live in a big city. In fact, Portuguese cities Lisbon and Porto are as expensive as Spanish cities Madrid and Barcelona. However, if you are ok with living in a small town, Portugal offers cheaper options in terms of food and residency compared to Spain.
– Jobs and salaries in Portugal and Spain
As the job market is concerned, Portugal's salaries are lower than Spain's salaries, and generally speaking, Spain has a stronger economy than Portugal. However, for those of you lucky enough to work in the IT sector, both countries are a good choice since the market is highly competitive and on the rise.
Additionally, digital workers can easily find a co-working environment in both countries. Both are home to many digital nomads, so even in smaller cities, you will find cheap co-working spaces, coffee shops, and similar locations to work.
– Transportation
Spain's transport system is also better than Portugal's one since the fuel prices are relatively lower, the infrastructures are better, and you rarely need to pay tolls.
– Are Spain or Portugal safe?
In terms of security, both Spain and Portugal are safe to live in. Of course, people can experience street crimes, pickpocketing, and other incidents that can happen anywhere in the European Union; on the contrary to Spain though, Portugal has never experienced terrorist attacks ever. The Global Peace Index 2021 estimated that Portugal is the 4th safest country where to live in (Spain occupies the 31st position).
– Portugal or Spain: Visas and residence permits
Both Portugal and Spain are members of the EU and the Schengen Area. If you do not belong to any of these two zones, you will need to get a residency visa to live there. In any case, make sure to double-check all the requirements with your consulate before moving to either Spain or Portugal.
In addition, Portugal and Spain have a Golden Visa program that provides housing in return for a monetary commitment. If you want to enjoy your stay in Europe without dealing with the difficulties of bureaucracy, then a Golden Visa might be the best option for you.
Portugal is more advantageous than Spain if you wish to become a citizen of Europe. After five years, you can be qualified for Portuguese citizenship if you stay in Portugal for an average of seven days per year. The Spanish passport has a ten-year expiration date.
– Living in Spain vs Portugal: Taxes
As taxation is concerned, data suggests that Portugal is worse than Spain. However, this does not take into account the Non-Habitual Residency (NHR) program, but only the "normal" rates of income tax. If a newcomer to Portugal uses NHR, it can lessen the impact of Portuguese taxes.
A similar program is available for visitors to Spain if they intend to remain there for less than 183 days. Under this agreement, you pay a 24 percent tax on your income in Spain. If foreign income comes from nations that have signed a DTA (Double Taxation Agreement) with Portugal, it is free from taxation in Portugal under NHR for a set length of time.
– Citizenship
You can apply for citizenship in both Spain and Portugal after a certain amount of time residing there. This process will take five years if you are in Portugal and ten years if you are in Spain. Both countries offer citizenship through marriage, and Portugal also allows dual citizenship.
– The Spanish vs The Portuguese: People and Culture
Finally, from a cultural point of view, both Spain and Portugal are very chill and family oriented. Spaniards are usually louder and more joyful and bright than Portuguese people, who are shier and quieter.
Both countries can be patriotic; the Portuguese in particular take pride in their colonial past. Spaniards instead are significantly more fond of their region than their nation as a whole. In Portugal, such a conflict of interest does not exist.
---
CONCLUSION: Spain vs Portugal living or visiting – Which one is better?
In conclusion, Portugal and Spain seem similar on the surface but present many differences once you get to know them better.
Both countries have advantages and disadvantages depending on your taste, needs, and assets. Portugal is a good option for expatriates that enjoy a relaxed, calm environment away from the bustling, busy cities. It is more affordable than Spain; however, it offers fewer diverse possibilities from many points of view.
Spain, on the other hand, offers many more lively, vibrant, colorful big cities and social events. The country has good infrastructure and is well-connected to the rest of the world.
So, which one do you prefer between Spain and Portugal? Which country would you choose for your next travel? And for a living? Have you already visited them both? Let us know in the comments section below, check out our tours and creative experiences in Spain and remember to subscribe to our newsletter if you want to stay tuned!