Note: currently there are no more mobility restrictions regarding COVID-19 in Spain. Wearing face mask is still mandatory in public transportation, hospitals, and pharmacies in 2022
Spain New Normal phase after COVID-19 outbreak is here and we are ready for the real reopening! On June 9th 2020, the Spanish Government released the 'New Normality' Decree, with all the rules to follow once the State of Alarm or official Lockdown ends on the 21st of June.
Some of the measures taken to fight Coronavirus spread includes 1.5 metres social distancing to be kept in outdoor and indoor spaces and face masks mandatory when it is not possible to maintain this distance. If you don't comply with the "new normal" rules in Spain, you can get a 100 euro fine.
As the new normal phase in Spain will probably last for a few months, it's better to understand which are the rules, limitations and activities allowed. So here you go, once again, Oh My Good Guide answers your most frequently asked questions about Spain New Normal phase here:
1. Spain New Normal phase after COVID-19: General CAN's & CAN'Ts
Is there freedom of movement during Spain New Normal phase?
There are no specific measures to restrict general mobility. Thus, on June 21, the sixth and last extension of the Spanish "State of Alarm" or official Coronavirus lockdown ends, removing any restriction on movement between regions. 
Are face masks mandatory during "New Normal" phase in Spain?
Face masks must be used in means of transport, such as the subway, bus, plane or train, as well as in public or private places – closed and open – where a physical distance of 1.5 metres cannot be kept. 
Children under 6 and people with an illness or disability that prevents them from face masks use are exempt from it. In addition, masks might not be used for a force majeure reason or while practising outdoor individual sports.   
Remember: if you don't comply with this obligation, you might get a fine of up to 100 euros! So don't forget your face mask home and avoid a 100 euro fine!
Are there capacity restrictions in bars, shops or entertainment in the "New Normal"?  
Every region has set different limits, so there might be different capacity limits in different regions of Spain during the New Normality period. For example, bars in Granada or Malaga will have the same capacity limitations, as both provinces belong to the same region (Andalusia), but their restrictions can be different from other regions' ones, like Madrid or Catalonia.
As a general rule, most regions have set a 75% capacity limit in this kind of establishments.
How is public transport like in Spain's "New Normality" after COVID-19?
Any public transport operator will have to adjust the supply levels to the evolution of the demand's recovery. Interprovincial air and land transport operators must sell their tickets with a preassigned seat number.
If you are taking a train, bus or plane to another region during the "New Normality" phase, you will get a preassigned seat and the company will keep your contact info up to a minimum of 4 weeks after the trip. This is to ensure that, in case it is necessary, they can contact you and perform a traceability of contacts study to control any possible Coronavirus outbreak.   
How is working like during the "New Normal" in Spain?
Companies have to adopt measures for the progressive reinstatement of face-to-face jobs and "promote remote work" when possible. In addition, the "New Normal" decree orders companies to rearrange their workspace so that the safety distance of 1.5 meters can be maintained. If this is not possible, they need to provide protection material adapted to the level of risk. 
The spaces must be cleaned and ventilated, in addition to having soap and water or hydroalcoholic gels at the workers' disposal. The company must organize the starting and ending work times to prevent the concentrations of workers or clients that may favour contagion. No worker quarantined for symptoms should go to work. 
How long will Spain's "New Normal" measures last?
The Government proposes that these new rules to deal with the pandemic continue to be in force until Coronavirus is controlled with a highly effective vaccine or treatment. 
In order to officially end with the State Emergency, the Spanish Government must have a good report from the Health Alerts and Emergencies Coordination Center. The feedback of every Spanish region will be taken into account in the Interterritorial Council of the National Health System. 
Where can I find the official Spain New Normal Phase document?
The Spain "New Normal" Decree containing all these measures can be found in the following link, in the Official State Gazette: BOE June 10th
2. Interactive map: New Normal Phase in Spain Visual Guide
If you are travelling to Spain or going to another Spanish region now that there is freedom of movement, you should know the limitations and regulations applying in your destination. As there are many things that can change, we have decided to make a summary below, region to region, with the main rules in every community.
However, if you are a more visual person, you might find it easier to look for Spain New Normal regulations in each region in this interactive map. You just need to click on each community and you will get all the official info that applies during these post-COVID-19 times.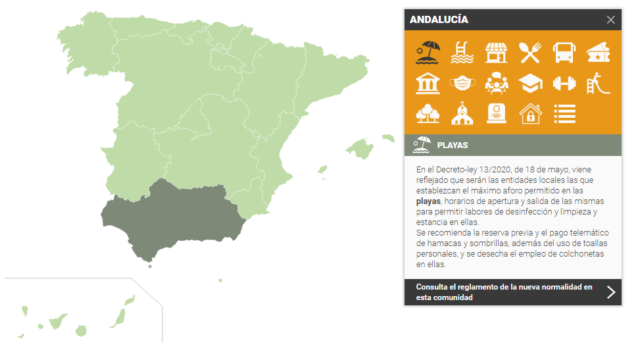 3. New Normality in Spain: Region to Region rules, restrictions and activities allowed
What can be done in the New Normal Phase in each community from Sunday 21st June?
Most of Spain leaves behind more than three months of official lockdown or "State of Alarm" and enters a New Normal phase in which the norm in public spaces will be the safety distance of 1.5 meters, the use of masks when this is not can be respected and regular hand hygiene using hydrogels. 
The end of the "State of Alarm" also means that the central Spanish Government will give all the authority back to the regions. Also, it is the end of travel restrictions between autonomous regions and countries in the Schengen area. 
The New Normal phase main regulations, limits and activities allowed in each community changes from region to region, so it's important to know well what's allowed in your own community or the one you are travelling to. Check all of them below:

Andalusia New Normal rules: 400 measures planned until next Spring
Among the measures, the capacity of establishments and shops stands out, which rises to 75% of the authorized capacity inside and 100% on the terraces. This percentage ranges from 50% in hotel and tourist accommodation pools, 65% in cinemas, museums, theaters and auditoriums, and 75% in private pools. 
Outdoor concerts will have a maximum capacity of 1,500 people outdoors, while funerals can hold 60 people outdoors and 30 indoors. 
Regular bus transport services between towns will have a minimum offer of 50% and in the metro services, the percentage will rise to 80%. 
Fairs, festivals or pilgrimages are not recommended, but attractions can occupy up to 50% of their capacity
Balearic Islands New Normal rules: Establishments with a maximum of 300 people
The Balearic Government will not allow the opening of premises and establishments with more than 300 people and will limit the rest to 75% of their capacity. On the beaches, each person must occupy 4 square meters of sand and activities cannot gather groups of more than 30 people.
Canary Islands New Normal phase: Four square meters of beach per person
The general rule will be the absence of capacity limits in bars, restaurants and facilities, something that allows the low incidence of coronavirus in the Canary community. As a precaution, however, businesses will maintain a 75% turnout. 
The activities can be carried out in groups of a maximum of 30 people (25 indoors) and on the beaches, each person will have a reserved space of four square meters. The popular festivals are suspended for now.
Catalonia New Normal phase rules: Individual responsibility replaces the limits of capacity
The Generalitat entrusts itself to individual responsibility to avoid contagions in the return to normality. The limited capacity will continue until June 25 (50% for premises with only closed spaces and 70% for those with a terrace). After that date, the important thing is not the percentage, but that people identify that there is a safe distance in the premises. 
In outdoor events, the safety distance of 1.5 meters must be respected, although it can be lowered if a mask is used. There is a registry of attendees and sectorized spaces of a maximum of 2,000 people (1,000 in closed rooms). The decree lays down very generic bases that will be completed with sector plans.
Madrid after COVID-19 outbreak: Return to normal in two stages
The decree of the Community of Madrid establishes two stages towards the return to normality. Between June 21 and July 5, all businesses will have their internal capacity limited to 60% (80% in terraces of bars and restaurants, which may reuse their bars). From July 6, that percentage will reach 75% (100% in terraces). 
The use of a mask will continue to be mandatory when you cannot keep 1.5 meters away from other people. These guidelines are applicable to the vast majority of businesses and equipment, with some exceptions. 
Recreational pools will have until a maximum capacity of 50%. Discos will remain closed at least until July 5, as will the social service centres, except nursing homes. These will have a more relaxed visitation regime, that will continue to be by appointment. 
Playgrounds are reopened, and leisure activity camps are allowed, with 300 outdoor attendees and 75 indoors. In the gyms, there may not be more than 20 people (25 from July 6) and users may not share any material.
Valencian Community New Normality: Open-air festivals up to 800 people
The Valencian Community will maintain in the new stage most of the measures of phase 3 of the de-escalation, such as the obligation to limit the capacity to 75% or even 60% in the case of shopping centres. The mask will remain mandatory when it is impossible to maintain a distance of 1.5 meters. 
Open-air shows, such as the concerts that proliferate in summer in various coastal towns, will not be able to gather more than 800 people (the Arenal Sound, in Burriana, Castellón, had last year, on average during the festival, 50,000 attendees a day). The wakes will have a limit of 50 people in open spaces and 25 in closed places. 
The Generalitat does not advance the regulation of the return to school, but anticipates measures of the new university course: "Whenever sanitary conditions allow it", students may be within the classrooms of the faculties within 1.5 meters, and in such cases, they must wear a mask. The maximum capacity of the classroom will be in any case of "one person for every 2.5 square meters of surface"
Cantabria New Normal regulations: Weddings with up to 150 attendees
Cantabria has set a general limit of 75% for the New Normal stage in hospitality, commerce and cultural facilities (in this case with maximum groups of 25 people), a percentage that drops to 50% in hostels, tourist facilities and nightlife venues. 
The activities of active tourism and in nature will not be able to gather more than 30 people. Weddings may have 150 attendees (half in closed spaces) and funerals, 50. Places of worship will function at 75% of their capacity and the mask will be mandatory. 
Concerts and open-air shows can gather up to 1,000 people if the capacity does not exceed 75%, there are controls at the entrances, the public remains seated and safety distances are respected. Sports events may not gather more than 300 people indoors and a thousand outdoors. Showers on the beaches may be used by only one person at a time.
Aragon New Normal rules: Fairs suspended until September
The so-called new normality will come to Aragon with an expansion of the capacity to 75% of recreational facilities, except for nightlife. In this case, the capacity will be 50% and the dance floors must be occupied by chairs and tables. 
The children's play areas recover this activity with hygiene measures, and the work camps (archaeological excavations, forest cleaning …) and children summer camps will have limited capacity to 20 and 50 participants, respectively. In any case, the groups must be divided to carry out activities. 
Fairs are suspended until September 30.
Asturias New Normal rules: Limited length of stay on beaches
The Asturias Principality leaves it up to the City Councils to determine the maximum length of stay on the beaches. Hospitality services may operate at full capacity.
Nightclubs may open with half the capacity, although you will not be able to dance. Parties and festivals have been divided into three categories: those considered high risk are prohibited, those with medium risk are allowed with a capacity of 50% to 75% and low risk are unlimited, although in all cases distances must be respected and wear a mask. 
Playgrounds will reopen under these same conditions and hydrogel use is recommended for all children. Shopping centres will have common and recreational areas limited to half of the capacity in this new normal phase in Spain after Coronavirus outbreak.
Castilla la Mancha New Normality CAN's & CANT's:  75% capacity as standard
The limit of capacity to 75% in practically all premises and establishments is a way to standardize and facilitate the application of a single measure in all situations. 
Patronal festivals are not recommended before July 15 and senior centres may reopen as long as they are not attached to nursing homes where people from vulnerable groups live.
Castilla y León New Normal phase rules: Pools may open 75%
The community leaves behind the state of alarm and starts a summer without festivities. As a general rule, any event that generates crowds in which it is not possible to maintain the safety distance is prohibited. 
Concerts and outdoor activities may be held in which attendees can do so, while in the hospitality sector the bars are reopened although the capacity is limited to 75%. The clubs must place tables on the dance floors and will have attendance limited to one-third of their capacity. 
Pools will be able to open to 75% and sports competitions are allowed without physical contact, with 1,000 assistants outdoors and 500 indoors. Limits are also imposed, depending on the space, to religious celebrations and wakes in this new normal phase in Spain after Coronavirus outbreak.
Estremadura New Normal phase: Return to confinement in case of new COVID-19 outbreaks
There are two deadlines for the return to normality. In the first stage, which lasts until July 31, the capacity limitations are 50% as a general rule, a percentage that rises to 75% from that date. In the case there are new general outbreaks, they will return to confinement until the situation is under control.
Galicia: The first region to enter the New Normal phase in Spain
Most places of public participation have increased the capacity to 75%, except for the terraces (80%) and the common areas of the shopping centres (50%). Children have been able to return to the outdoor parks after three months sealed and the limitations on the number of people who can gather at home have disappeared. Outdoor events will have a maximum of 1,000 people seated and 300 if they are held indoors.
La Rioja New Normality regulations: Previous appointment at all events
The regional government has adopted a policy of not limiting the capacity in those spaces where it is possible to maintain security distances. It will limit 75% in large events (with a maximum of 1,000 attendees) and all events will have to be by appointment to allow, if necessary, the tracking of attendees. 
The patron saint festivals may be held, but no mass events can be scheduled like large fairground attractions or bull-running. For bullrings, the limit of 1,000 attendees also applies. 75% capacity will be the general rule for spaces such as swimming pools in this new normal phase in Spain after Coronavirus outbreak.
Murcia New Normality rules: Hotels at full capacity
Hotels will be able to operate with all rooms open, although in common spaces the capacity will be limited to 75%, the same percentage as in practically all businesses and recreational facilities. 
Weddings may have 500 attendees outdoors (200 indoors and up to 800 with specific plans) and funerals with 50 (30 indoors). Summer camps can host up to 150 participants and official sports activities cannot be scheduled until at least September 15.
Navarre New Normal regulations: A summer without Sanfermines
Parties are very important, but not essential. This is the position that has led the provincial government to suspend this year the most popular festivals in the community: San Fermin. 
The capacity limits are 75% in the hospitality industry, maximum groups of 25 people in equipment and the holding of large events with up to 1,000 attendees outdoors and 500 inside. Nurseries from 0 to 3 years old also return to activity with strict regulations.
Basque Country New Normal phase: 4 square meters per person in sports areas
Basque Country has reopened playgrounds and outdoor sports spaces. In all cases, a space of 4 square meters must be guaranteed for each person. In public transport 100% of the capacity is recovered, always with a mask. 
The capacity for public events is expanded, although with differences. In open-air cultural shows, pilgrimages, dance or music exhibitions and parades, the maximum capacity will be 1,000 attendees, the same as in sports events in open spaces, such as cycling, rowing or athletics. 
In closed spaces, this figure is reduced to 300 people. Discos and nightlife venues resume their activity with 60% of their capacity, but without dance floors, where tables separated by 1.5 meters will be placed,
---
What do you think of the Spanish plan to go back to "normal life"? We hope to have made the Spain New Normality phase after Coronavirus a bit easier to understand.
Don't forget Oh My Good Guide team is here to help you solve any possible doubt you may have. Just leave a comment below and share your opinion and insights!
Stay safe 💚