If you are planning to visit Spain or even move here, you might have heard a bit about the differences between the North and the South of Spain. But… are the differences between North and South of Spain so big? Is Northern or Southern Spain better? Which one to choose for an adventure trip? What about a foodie holiday or a wine retreat in Spain? Or a cultural getaway?
Spain is both a stereotype come to life and a country more diverse than you ever imagined. That is why we have prepared this comprehensive guide to South vs North Spain. We are a country of contrasts and Northern or Southern Spain offer really different things so keep reading until the end to discover what is the best choice for you! Let's start:
1. North or South of Spain: WEATHER
North of Spain: If you are more of a cold-weather person, you will rather plan a road trip exploring the north of Spain better (especially during Summer). If we compare northern Spain vs. southern Spain in terms of weather, the temperatures in the north are definitely lower than in the South.
South of Spain: If you love sunny days and sunbathing by the sea, you will probably adore the warmer weather in the South of Spain. Definitely a lot warmer than the North. 
2. North vs South Spain – LANDSCAPE, BEACHES AND NATURE
Landscape
Different weather creates different landscapes.
Northern Spain is quite similar to France's western coast, with verdant, lush forests, rolling hills, and a thousand small rivers crisscrossing its land.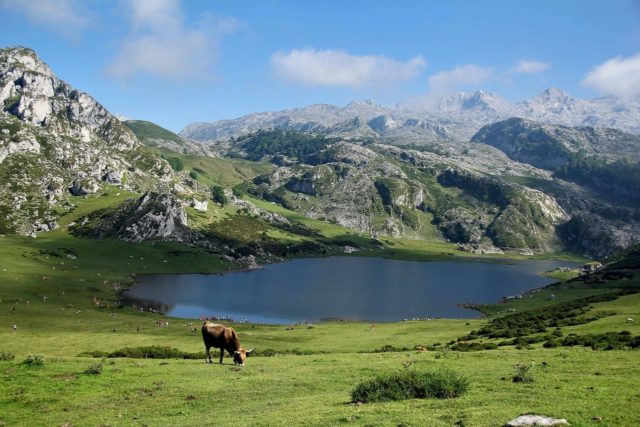 Southern Spain has arid plains combined with actual deserts, some really tall snowy mountains, and a few big rivers such as Guadalquivir creating a myriad of very fertile valleys among the dry landscape.
Both places have incredible beaches and outstanding natural parks. Let's have a look!
Beaches
North: Those who love surfing will find the most genuine spots to practice this sport in the North. We highly recommend some wild spots to go and catch some waves, like playa Sopelana, Mundaka, or Zarautz. We would say, in general, beaches in the north are more savage than in the south, beautiful spots surrounded by wild nature.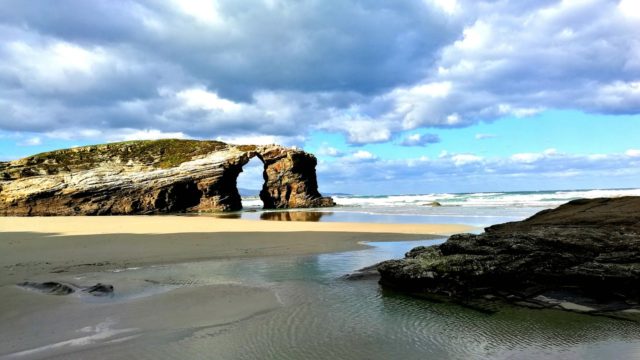 South: Probably due to its drier weather, the landscape looks pretty different if we compare North vs. South Spain: in the South, we find warmer beaches surrounded by "chiringuitos", an outdoor bar in the middle of the beach. Beaches are flatter, and in general not surrounded by those wild mountains that you would find in Northern Spain.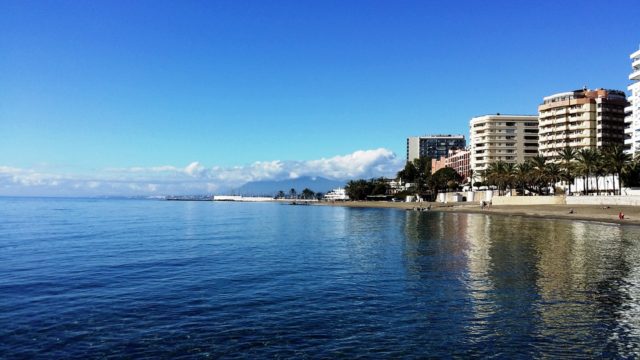 Nature
North: If you love to unplug for a while surrounded by green sceneries and wild nature, you will probably love the mountain villages in Cantabria and Asturias. Green sceneries, beautiful valleys in which you might enjoy the company of cows. Besides, if you are a fan of nature sports you can be sure you won't get bored here!
South: A warmer weather in the South makes it a pretty different scenery in terms of nature if we compare. You won't find that green in the South due to its drier weather. Even so, there are numerous natural parks that represent big green oases in the middle of drylands. Also, you will be able to enjoy some snow in the Winter at the highest peak in the Iberian Peninsula, the mountain of Sierra Nevada in Granada.
3. Spain North vs South: ARCHITECTURE & HERITAGE
Northern Spain was able to better preserve some of its original local Iberian cultures. Being the starting point of the Reconquista also left a strong Visigothic and Celtic influence on it. And by the virtue of being some of the first places to industrialize in the entire country, you can also see lots of modernist houses and industrial buildings. Regarding traditional architecture, you will find little towns with stone houses lost in the middle of the mountains.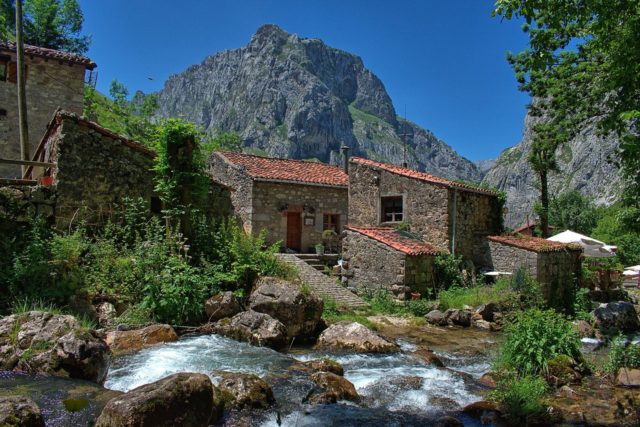 Southern Spain, however, was influenced by the Arab occupation, and its cultural and artistic legacy became its main sign of identity. While our South wasn't as heavily industrialized as the North, Southern Spain has a great trove of Roman ruins, and lived its golden age during the Age of Discovery, and thus, is filled to the brim with the Baroque architecture of that time as well.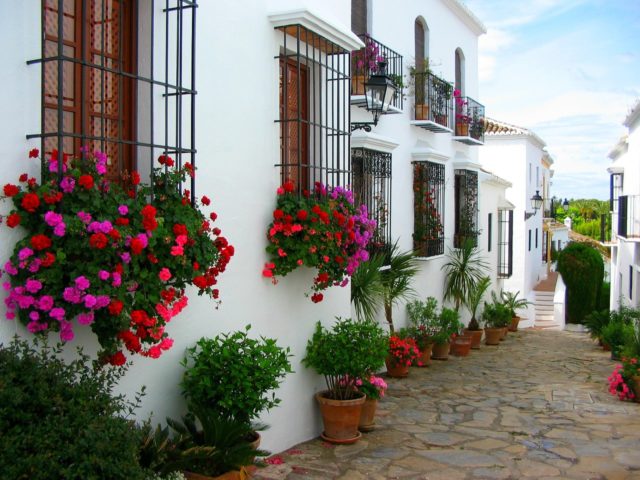 4. Northern vs Southern Spain: FOOD
Both North and Southern Spain have incredible gastronomical treasures and tons of regional dishes and unique recipes full of localisms, and undying love for seafood. Still, there are general patterns here.
North of Spain: Food in the North tends to be heavier, and ratios are bigger too (no tapas) with greater emphasis on stews, fatty meats, and legumes but we can also find amazing seafood, like the famous "mariscadas" in Galicia. Don't forget about Basque Country, famous for its artful cuisine and the finest Spanish chefs.
South of Spain: Food in the South tends to skew more towards lighter food: Vegetables, fish, produce, and fried-whatever. Southern Spain is the tapas land: normally, when you order something to drink it is automatically served accompanied by a "tapa" which might be "tortilla de patatas", "ensaladilla rusa", or any other small portion of traditional food. You will taste delicious tapas at a cheaper price, especially in Andalusia. Also, make sure you try gazpacho or salmorejo anywhere in Andalucía and especially "espetos" in Málaga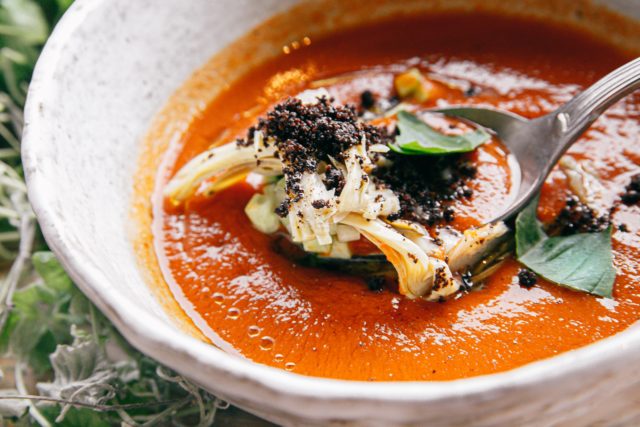 5. Northern vs Southern Spain WINES
Spain is a country of contrasts not only for its cuisine but also for its wide range of wines. Wine culture in Spain is a big part of gastronomic traditions. This country, along with France and Italy, is one of the world's largest wine producers. In Spain, there are 39 wine-growing zones with their own special soils and climatic conditions. Let's have a look at the differences between North and South of Spain regarding wines:
Northern Spain's Wines: The wines from the North of Spain are probably more famous than those made in the Southern part of the Iberian Peninsula. We can highlight the best-known Rioja wines that stand out by their special aroma, taste, and texture as well as the Ribera del Duero wines. In Catalonia and Valencia regions, we can also find Cava sparkling wine!
Southern Spain's Wines: In the South of Spain we mainly find good sweet wines like the Sherry wine or Malaga wine and some sweet reds made from Garnacha grapes. These wines pair well with savory foods like cheese, as well as making an excellent dessert wine.
6. Southern vs Northern Spaniards' WAY OF BEING
Almost every country has its own South and its own North regarding the behavior and mentality of its inhabitants. In Spain, the general stereotype is that Southerners are warmer, more passionate, and more friendly than people from the North of Spain, who will keep a colder, more distant demeanor, but there's more to that: if they see that you're good-natured and you earn their trust, you will be friends for life.
Southerners are quick and easy to socialize with, they are a blast, but you might need to work harder if you want to know them beyond a superficial level. Either case, I love them both and we can't really make general statements: each person is unique!
7. South versus North of Spain: ECONOMY AND COST OF LIVING
Economy
The Southern part of Spain is the agricultural powerhouse of our country, not to mention that it is also one of our most touristic regions. In addition to that, there's a quite hefty aeronautic cluster too, with many Airbus suppliers. Despite that, some of the poorest parts of the country are located there as well, since de-industrialization made a number on many of its shipyards.
North of Spain is a bit more industrial but it is aging and depopulating way faster than the South since the only northern region that managed to retain its heavy industry was the Basque Country. The other Northern regions are currently dominated by Fisheries and internal tourism.
Cost of living
North: The cost of living in the North of Spain is, in general, more expensive than in the South of the country. For instance, rents are more expensive, and going out to dinner will cost you around five euros more than in the South. However, this is a general statement that has some exceptions. For example, if you decide to settle down in a rural village far away from the main cities, rent and cost of living, in general, might be cheaper.
South: In general terms, living in the South is cheaper than in Northern Spain. You will notice that quickly when you go out to eat some tapas. It only takes ordering a beer to realize how different it feels, when you see your drink comes automatically accompanied by a free "tapa". Rent is also cheaper, except for really touristic cities, and day-to-day expenses are less expensive too when compared with the cost of living in the North.  
CONCLUSION: is Northern or Southern spain better? What to choose?
Choose Northern Spain for your next holiday if:
If you're into nature sports, mountain life, wild nature, and beaches or trying new flavors, Northern Spain is for you. Txakoli sparkling wine in the Basque lands and cider across the north are both popular drinks you'll want to try alongside your pintxos (small, shared portions of food). Visit the wine region of Rioja and discover a solid list of Michelin-starred restaurants featuring world-famous chefs. If you are a sportsperson, don't forget to enjoy surfing in the Cantabrian Sea and hiking in the Pyrenees or Picos de Europa.
Choose Southern Spain for your next trip if:
You are a traveler interested in ancient traditions, you want to experience flamenco, you like the Mediterranean slow pace of life, you are an architecture lover or a history freak, you will be enthralled by the stories that built the south. Founded by Romans and then ruled by Islamic Moors over 800 years, Andalusia is a living tribute to Moorish heritage with its Alcazars, Mosques, and whitewashed hilltop towns, threaded by winding, cobblestone streets. Combine your visits to Granada, Cordoba, Seville, Malaga, or Cadiz with a quick afternoon nap and long evening strolls that end up in a bar eating tapas (try our TRADITIONAL TAPAS AND WINE TOUR!) and enjoying the natural southern Spain joy.
---
DISCOUNTS AND RECOMMENDATIONS FOR YOUR TRIP

✈️ Find the cheapest flights, train or bus tickets here.

🛏️ Get up to 15% discount on your hotel by booking here.

🏛️ Book the best tours and activities here.

🚗 Compare and rent a car at the best price here or hire your transfer here.

📖 Get your Spain travel guide here.

💚 Book your travel insurance here.
So, now it's your turn! Which one is better for you between Northern or Southern Spain? Which part would you choose for your first trip to Spain? And for a living? Have you visited both parts? Let us know in the comments section below, check our tours and creative experiences and remember to subscribe to our newsletter if you want to stay tuned!