In Spain, Easter holidays or festivities begin on Palm Sunday and last until Easter Sunday. The Holy Week ( Semana Santa) in Granada is well-known for the simplicity and beauty of its "pasos" (floats of thrones with religious icons), but also for the unique surroundings of the processions. 
Easter week is one of the most heartfelt and deep-rooted fiestas celebrated in Spain. This commemoration has centuries of history and tradition, remembering the passion and death of Jesus Christ. The streets of Granada become the stage for religious devotion, combining grief and meditation in memory of Christ's death which music, art, and color come together in magical processions.
When is Holy Week in Granada in 2023?
As you already know the dates of Holy Week change every year and usually coincide with the first full moon of the spring equinox.
In 2023, Holy Week in Granada is celebrated from April 2 to 9.
Why is Granada Holy or Easter Week so famous?
People from Granada take their Holy Week very seriously, and the processions are quite spectacular. Each brotherhood has its own procession and is extremely proud of its own figures of Christ and the Virgin Mary.
Most of the processions include two images or figures, one of Christ and the other is the Virgin Mary. Each float is decorated with fresh flowers, silver, and golden metalwork, wooden sculptures, and religious imagery. Depending on the size and preparation of the float the weight varies.
If you've never seen a Holy Week procession before, it can be quite breathtaking, so get ready for a unique experience!
---
---
If you are interested in coming to Granada during this period, or in any other, don't miss the chance to experience one of our tours; discover the historical center of this beautiful city, its food, its traditions, its culture and, of course, all about Holy Week in Granada.
For more info click here👇👇👇
Also, have a look at our tips for your travel to Spain on Easter:
DISCOUNTS AND RECOMMENDATIONS FOR YOUR TRIP

✈️ Find the cheapest flights, train or bus tickets here.

🛏️ Get up to 15% discount on your hotel by booking here.

🏛️ Book the best tours and activities here.

🚗 Compare and rent a car at the best price here or hire your transfer here.

📖 Get your Spain travel guide here.

💚 Book your travel insurance here.
Holy Week in Granada: Processions and Dates
If you are planning to come to Spain for your Easter Holidays and don't want to miss a thing about the Granada Holy Week, bookmark this post and take note of the following events and processions:
Palm Sunday in Granada: The little donkey!
Palm Sunday is the commemoration of Jesus' entrance into Jerusalem. According to the Gospel, the entrance was triumphant on the back of a donkey. The donkey is an animal that represents the humble spirit of Jesus Christ.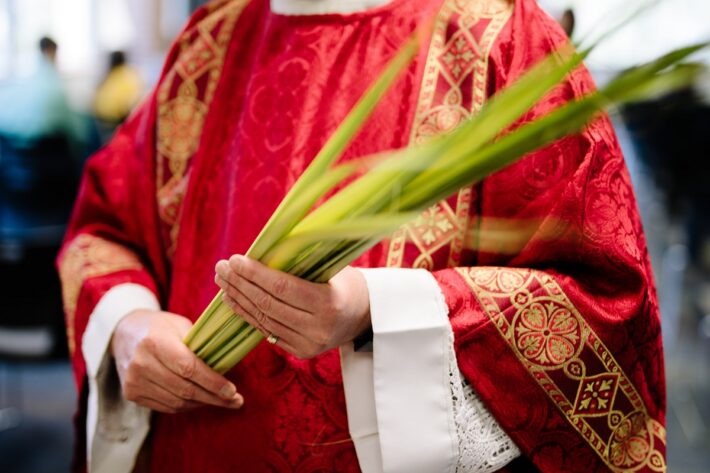 The most traditional procession during Holly week in Granada is La Borriquilla (little donkey) this leaves from the church of Perpetuo Socorro and goes along Calle Elvira. There are lots of children participating in this procession, they hold palm branches which have been treated and sculpted to form decorative shapes.
The procession takes place around 4 pm till 10:30 pm in Calle San Jeronimo.
Holy Monday in Granada: Sorrows
The Bible passages celebrate the Unction of Lazarus' sisters to Jesus.
At 18.00 starts Los Dolores procession from San Pedro y San Pablo Church, in the Carrera del Darro. The departure is the most interesting moment of Los Dolores's (Sorrows) procession.
Holy Tuesday: Granada Via Crucis
Holy Tuesday is the day when Jesus revealed to his disciples that one of them would have betrayed him.
One of the most interesting processions to visit on Holy Tuesday is the Via Crucis (Stations of the Cross). This procession is the homage to Jesus' path with the Cross. The most interesting moment of the procession is the closure, at 23.30 pm in San Juan de Los Reyes Church, in the Albaicín.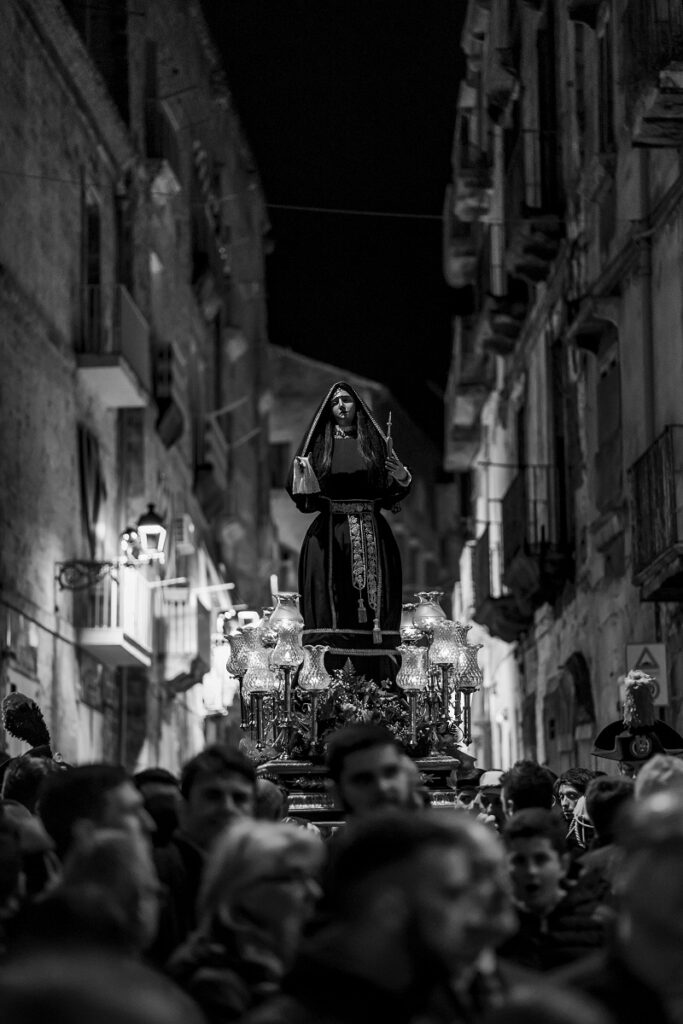 Holy Wednesday: Cristo de Los Gitanos
The day of Judas Iscariot's betrayal. It is one of the most interesting processions of Granada. Cristo de Los Gitanos at 16:30 pm in the Church of the Sagrado Corazón de Jesús, in Gran Vía. 
Maundy Thursday: The Albaicin big night!
The night of Maundy Thursday also is a magical night in the Albaycin In what is almost the same space you can find the popular flavor of the neighborhood's three Virgins: the Virgen de la Concha, Estrella and Aurora.
Holy or Good Friday in Granada: Soledad or "Loneliness"
At nightfall on Good Friday the oldest Confraternity or Brotherhood (cofradía) of all, the Soledad de San Jerónimo procession takes to the streets in a thrilling procession in which real people represent historical figures from the Bible.
Holy Saturday: Alhambra surroundings
It is the day after Jesus' death and before the Resurrection.
On Saturday only the Santa Maria de la Alhambra leaves the church and it has one float that the inspiration comes from the Lions Courtyard of the Alhambra Palace. 
Easter Sunday: Facundillos or "Lanterns"
Finally, Easter week in Granada culminates on Easter Sunday with the procession of the Los Facundillos in which children carry ceramic lanterns (Facundillos) that jingle as they walk along.
---
Holy Week in Granada: practicalities
How can I get to and around Granada at Easter time?
Holy Week processions disrupt the traffic and many roads are cut off temporarily while the processions pass, so bringing your car to Granada city center can be a nightmare. Use public transport wherever possible.
Easter makes Granada Old Town a crowded place and making your way around the streets can be difficult, so be patient and enjoy the show!
What happens if it rains during Holy Week in Granada?
If heavy rain is forecast or it starts to rain hard during a procession then the procession is usually called off. Showers of rain will delay a procession, sometimes for a few hours.

---
To sum up, Holy week in Granada is a celebration you should watch and enjoy at least once in your life. Obviously, Granada has so much to offer every season! So, come and see yourself! Also, if you want to know much more about Andalusia, don't forget to take a look at my blog!
You can also check here some of our last posts. Have fun!