Christmas holidays are approaching! Still, looking for the perfect winter holiday destination? Stop thinking! We have the answer: choose Malaga for this year's Christmas getaway.
I'm sure you are wondering… what is Malaga at Christmas like? What is there to do in Malaga in December? Is Malaga worth visiting in winter? Is Malaga warm at Christmas? OF COURSE! No snow in Malaga but you don't actually need freezing temperatures to feel the Christmas spirit.
Enjoy Malaga's warm December weather with our best tips on what to do in Malaga at Christmas Time: the ultimate guide to Christmas in Malaga 2021!!
1. Malaga Christmas Light Show 2021: when and where to watch it
This is THE highlight in Malaga at Christmas! Did you know that Malaga is number one in the ranking of the best cities to see the Christmas lights in Spain according to a study by the Holidayguru travel website?
Most streets in Malaga City Center are decorated with beautiful Christmas lights but Calle Larios, the main shopping street in the Old Town, is the most astonishing of them all. Every year, Calle Larios is decorated with hundreds of thousands of led lights that create a magical feeling. And every year with a different theme. So…
What is Malaga Christmas Light Show about in 2021? A magical forest!
In 2021, Larios Street Christmas Lights will recreate a magical Christmas forest with angels, suns, and autumn leave with 730,000 bulbs LED. Malaga Christmas Light Show in 2021 will gather thousands of people to enjoy the changing lights dancing to the rhythm of popular Christmas music.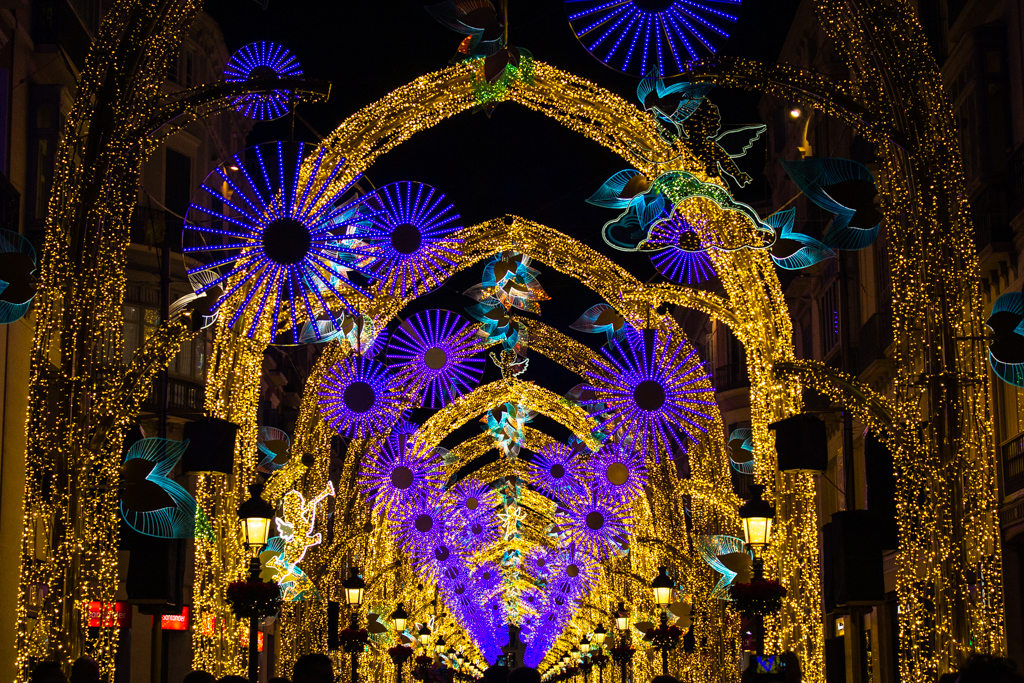 Curious fact: the company that creates Christmas decorations in Malaga also provides the Christmas LED lightings for Fifth Avenue in New York and Hong Kong!
When will be Malaga Christmas lights be switched on in 2021?
The most important event that marks the opening of the Christmas season in Malaga is, of course, the switching on of the lights. In 2021, the lights will be switched on on Friday 26th of November at 7 pm.
Come much earlier: it gets quite crowded, everyone wants to get the best spot to see the new Christmas light show!
What time does the Malaga Christmas Light Show start in 2021?
If you miss the switching on of Calle Larios Christmas lights, don't worry! The Christmas light show will take place every day at 7 pm, 8 pm, and 9:30 pm, from 26th November until January 6th.
2. Discover the video mapping on the Alcazaba wall: a new feature of Malaga Christmas in 2021!
Christmas in Malaga will feature a new image, light, and sound show in 2021: an animated video projected on the Alcazaba wall. 'Christmas Tale' is the title of the video mapping created specifically for the city and focused, especially, on the little ones. A video mapping consists of using video and light projections on any surface, usually building facades, to convert common objects into animated scenarios.
In this case, it will be screened in Alcazabilla street, on the Alcazaba wall, between November 29 and January 5 (the same period in which the Larios street light show will be), with three daily passes at 6:30 p.m., 8:00 p.m., and 9:30 p.m.
It will tell a seven-minute Christmas-themed story that will highlight the values ​​of sharing, solidarity, companionship, generosity, or gratitude.
Another cool technique of 3D imagery this year is in Malaga Cathedral. You can see scenes from the Nativity Story on the south tower of the Cathedral and the show will project images of what the unfinished tower would look like. The display will take place sometime between 7 and 10 pm (no fixed time to avoid large crowds) from 28 November to 6 January.
3. Christmas lights in the Botanical Gardens – Las Luces de Botánico
The lovely Concepción Botanical Gardens will twinkle with millions of little lights this Christmas from 6.30 to 11 pm, 27 November to 9 January. The light trail runs for 2.2km around the gardens where you'll also find Christmas bells and a "laser garden".
All the information and links to ticket booking are here. 
Tickets cost €12 per person and there are discounts for families, senior citizens, and students.
4. Is there a Christmas market in Malaga in 2021? YES! – The Best Sunny Christmas Market in Europe!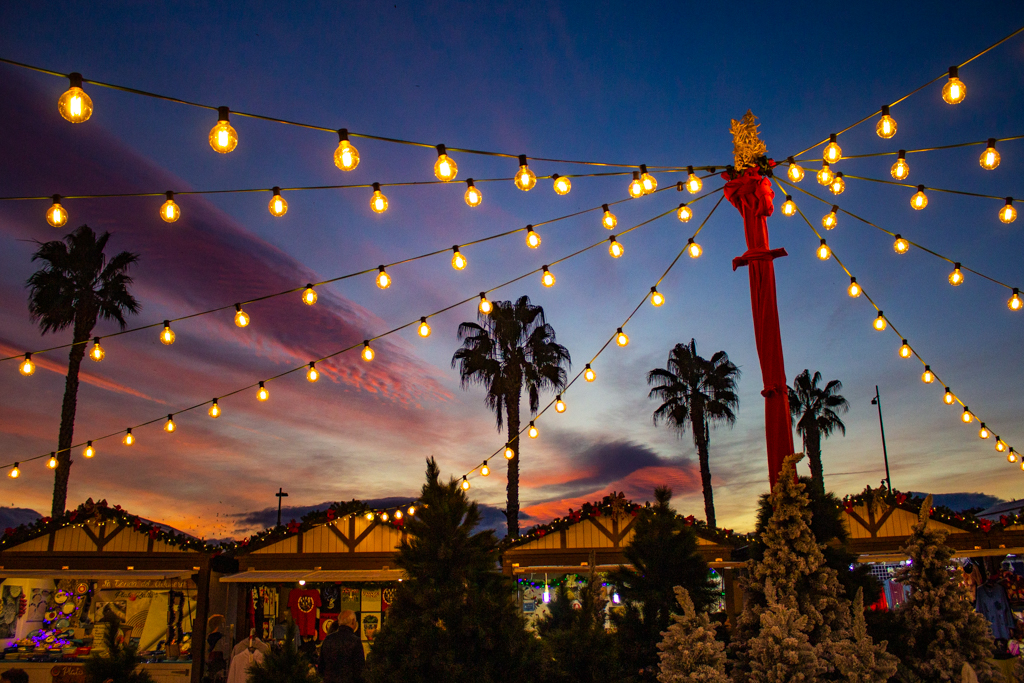 Another must-do in Malaga at Christmas in 2021 is going to a Christmas market.
Last winter, the capital won first place in the ranking 'Best sunny Christmas markets in Europe' of the European Best Destinations (EDB) organization. Malaga showed to be the ideal urban destination to celebrate a Sunny Christmas, with amazing warm weather in December, a wide cultural offer, and plenty of Christmas markets.
What to buy in Malaga Christmas markets?
If you need to buy some last-minute Christmas presents or want to take home a nice memory from your winter holiday in Costa del Sol, Christmas markets are your place!
Buy traditional Andalusian crafts, pottery, and Christmas decorations made by local artisans. Try some typical Spanish Christmas sweets: polvorones (shortbread with nuts), mantecados (crumbly biscuits), turron (nougat), marzipan, or even borrachuelos (wine-flavored fried pastries).
Where are Malaga Christmas markets located this year?
There are many interesting Christmas Markets in Malaga province, but if you don't have enough time to explore them, stick to Malaga Downtown Christmas Markets, It's located at Passeo del Parque, on both sides of the street.
Park of Malaga Christmas Market
a traditional market in Malaga's most famous tropical public garden, where you'll find various Christmas decorations and accessories. But not only! Here you can taste delicacies from all regions of Spain: a great opportunity to discover more about our rich gastronomy!
Muelle Uno
a Christmas market by the sea in the new Port of Malaga! In this small market, you can find many typical Andalusian crafts and clothes made by local artisans.
Garage Market in Soho Art District
– a market in an old London-style garage that has a wide variety of antiquities, art, and many other items.
5. And… Where to find the Christmas trees in Malaga in 2021?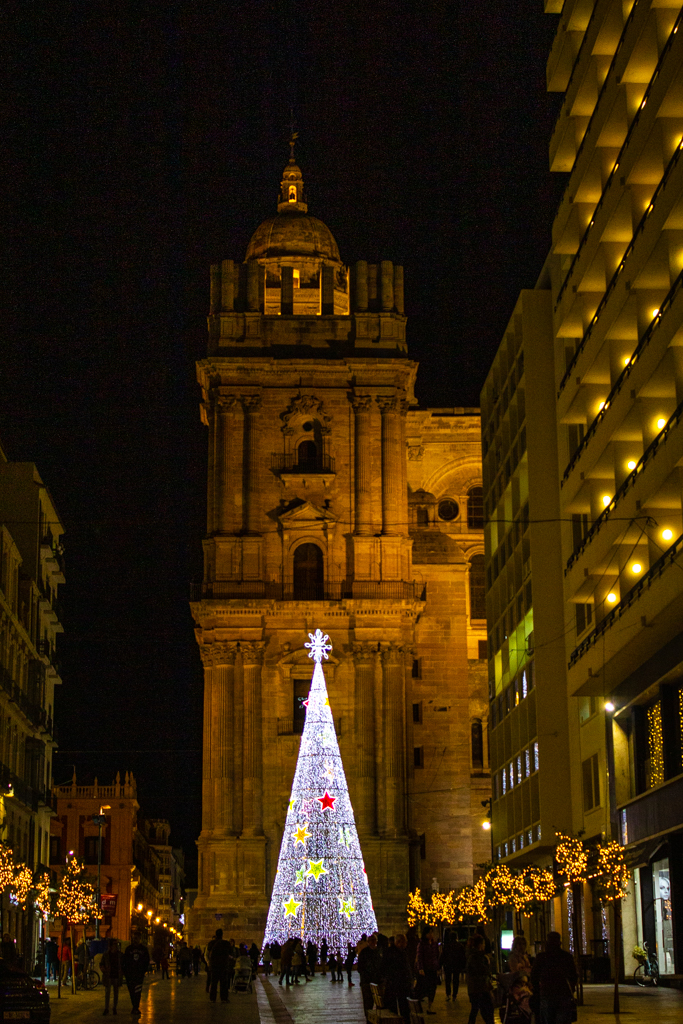 The Christmas tree is the most popular symbol of this lovely holidays period. Every city tries to impress its citizens with the most creative ways to make or decorate a Christmas tree. Malaga is no exception! There are several Christmas trees in Malaga, especially in the Old Town.
In 2021, there will be 4 huge Christmas trees! The main artificial Christmas tree in Malaga is located in the main square, Plaza de la Constitución, and this year you can also enter inside the tree structure! Check also the tree at Plaza de Obispo at night, it will look spectacular next to the illuminated facade of the Cathedral. Another gorgeous tree will be on Calle Alcazabilla, in front of the Roman Theatre. The fourth one will be found in Plaza de la Marina: its lights will change colors all the time!
6. Christmas Music? Check the best Christmas concert in Malaga in 2021
What is the best way to feel the Christmas spirit, even in a warm Christmas destination like Malaga? The answer is clear: nothing better than listening to traditional Christmas songs!
Apart from the Malaga Daily Sound and Light Show in Calle Larios, where you can dance to the rhythm of lights and international Christmas music, I highly recommend you go to the Christmas concert in Malaga Cathedral on 23rd December, at 8 pm. Listen to the Philharmonic Orchestra of Malaga playing classical music by Vivaldi, Haendel, and Bach. The acoustics in the Cathedral is awesome, so come early and enjoy the best Christmas time music.
7. Visiting Nativity scenes: one of the most traditional things to do and see in Malaga at Christmas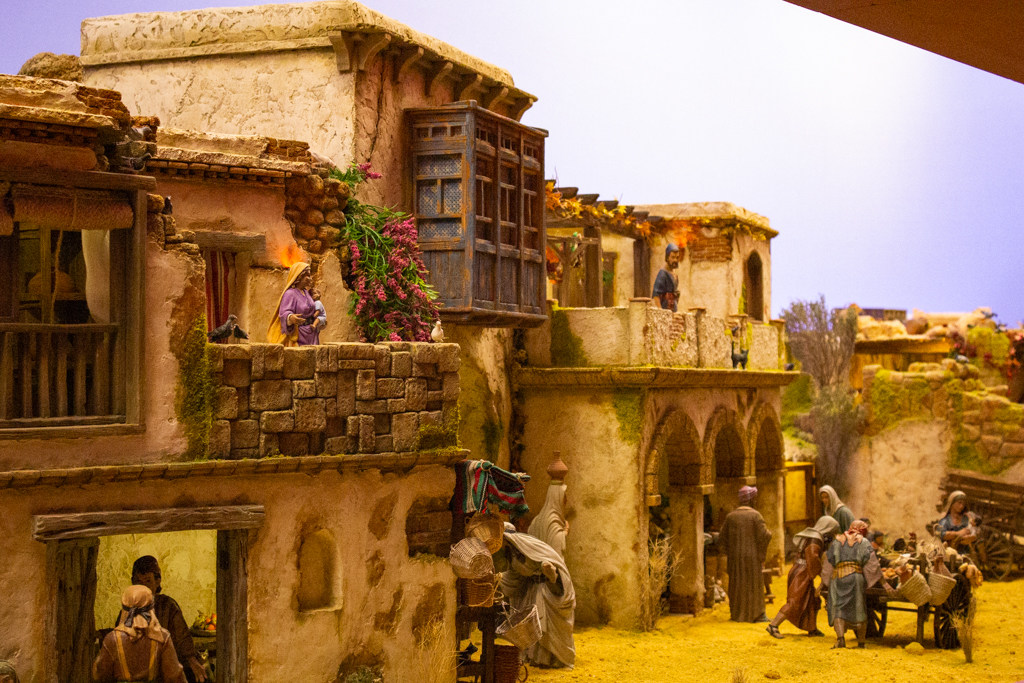 Another interesting activity at Christmas in Malaga in 2021 is to visit Nativity scenes or "Belenes". This may sound strange but it is a typical Spanish way to start Christmas time among locals: there are 60 of them around the city!
We actually make what we call "Ruta de Los Belenes" which consists in choosing some of the Nativity scenes in Malaga and visiting them with our family and friends. A good "Belenes" route in Malaga, will always include the visit to the Nativity scenes inside the Cathedral and the City Hall.
The Nativity scene in the Cathedral will be open from 10 am to 2 pm and from 5 pm to 8:30 pm, while the City Hall one will close at 9 pm. Check them out and remember about the origins of Christmas!
8. For your information during Christmas in Malaga
Public holidays in Malaga over Christmas 2021
Saturday 25 December (Christmas Day)
Saturday 1 January (New Year's Day)
Thursday 6 January (Epiphany/ Three Kings)
All shops, museums, and attractions in Malaga. Most bars and restaurants tend to close on Christmas Day and New Year's Day, but many open for Three Kings. Shops usually close early (e.g. between 3 and 5 pm) on Christmas Eve (24 December) and New Year's Eve (31 December)
Public transport over Christmas 2021 in Malaga
Trains, buses, and the metro will be running, although some lines will have a reduced service. If you're planning to travel outside Malaga, e.g. to visit Granada or Seville, check travel restrictions first and if provincial borders are open, book ahead.
There's a surcharge for taxi's services on public holidays
9. More things to do in Malaga, and not only in Christmas time!
Looking for some more ideas on what to do in Malaga? Don't worry, we have many more ideas that you can also enjoy in Malaga at Christmas time. From a visit to the Central Atarazanas Market, a nice walk on Pedregalejo beach, or finding out about the famous Malaga "espetos". So, here you go: 40 things to do in Málaga in 2021
Besides, if you are traveling to Malaga at Christmas, but you are on a budget, check our new post about Things to Do for Free in Malaga
Our final tip: if you really want to feel and eat like a local when visiting Málaga, check our amazing experiences!
Join our Traditional Wine and Tapas tour and taste the famous Malaga sweet wine, accompanied by delicious homemade tapas.
Visit the whole city as you like with a completely Customized Private Tour
Book our Professional Photoshoot if you want to go back home with the best memories from your Christmas holidays in the sunny Malaga
Get your tickets to the best Flamenco Show in town or even Learn Spanish with us
11. Still not sure if Malaga is warm at Christmas or worth visiting in winter? Average temperatures below!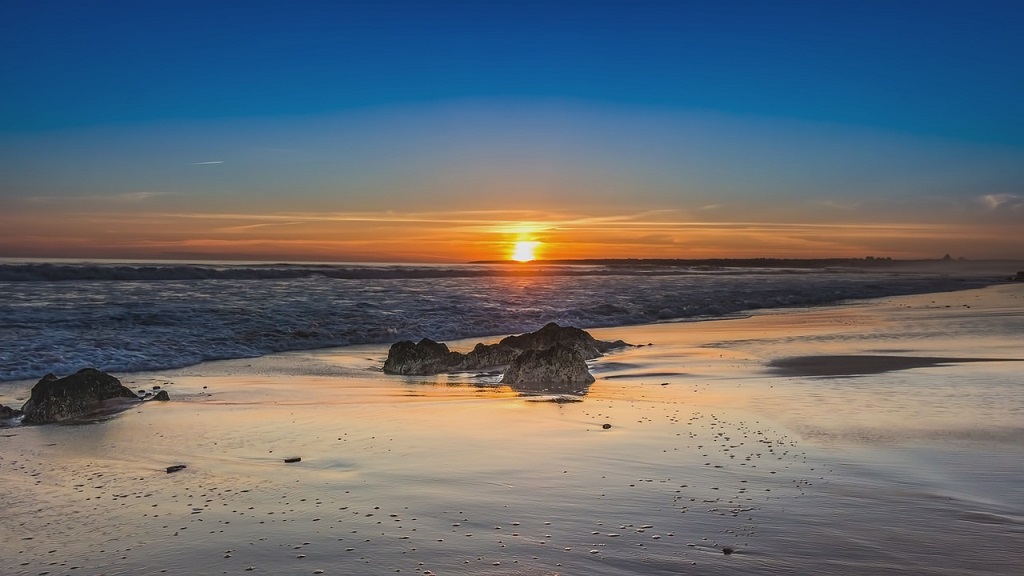 What about the weather in Malaga at Christmas? Really, you don't have to worry about it at all. You have to know that in Malaga there is a warm microclimate created by the mountains in the North of Malaga, that protect the city from cold winds. So, Malaga's average temperature in December drops to 8ºC at night and rises to 18ºC at midday.
You won't see locals swimming on the beach in December when the water temperature is around 16ºC. But of course, the temperature is still good for a lovely walk by the beach or even for sunbathing a bit. It might rain for 2 or 3 days, although the rain is more common in November. So, the weather in Malaga in December is just perfect for a sunny unforgettable Christmas holiday.
---
Come to Malaga this holiday season! It's a lovely place to spend Christmas in 2021. And, don't forget that we would be delighted to walk around Malaga with you, making you understand Malaga in depth. Check our experiences, tours, and activities in Malaga, available also during Christmas 2021 – 2022!