Do you have some trouble understanding Spanish food culture or eating times in Spain? What are tapas? And raciones? Are you going to a Spanish restaurant and want to know how to order your food in Spanish?
Nice that you are trying to find out how Spanish food culture works! Keep reading to discover all answers to your Spanish food questions and doubts.
In this post you will explore an average day of Spanish meals from breakfast to dinner, but you will also learn about Spanish mealtimes, what a typical menu looks like and how to order!
This post will definitely help you get ready for your trip to Spain or will help you feel like a Spaniard when preparing some Spanish recipes at home! So.. Let's start!
Spanish Breakfast (El Desayuno)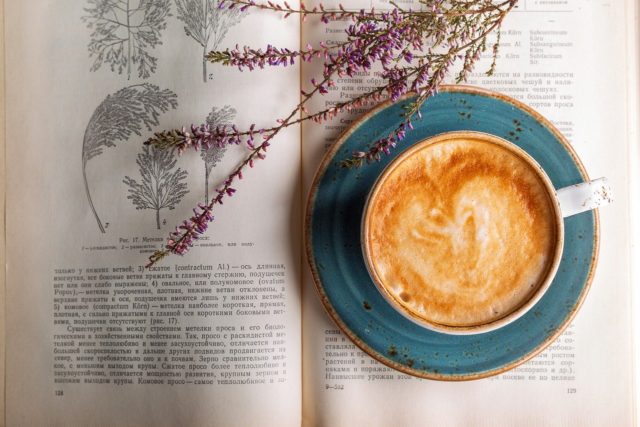 In Spain, breakfast (el desayuno) is the smallest meal of the day. Also, it is typically light and more like a continental breakfast than anything else. So, let's start with the first moment of the Spanish food culture!
– What is the typical Spanish breakfast like?
The typical Spanish breakfast generally includes café con leche (strong coffee with hot milk) or natural orange juice plus a good toast with olive oil, tomato slices and Iberian ham. Simply delicious!
Those who prefer a "sweet" breakfast normally have bollos (sweet rolls) with jam, toast with jam and butter, magdalenas (traditional Spanish cup cakes), or simply "Maria" cookies dunked in hot milk.
– What time is breakfast in Spain?
Generally, breakfast in Spain is eaten at home, before dashing off to work or school. However, you may see some workers duck into the closest cafeteria around 10 a.m. to enjoy a quick mid-morning coffee break. This is actually a really important thing in Spanish food culture and completely necessary if you are having lunch late.
– How to order for breakfast in Spanish?
Go to your closest bar and ask: "buenos días, ¿puedo pedir una tostada con jamón ibérico y un café con leche?"
Spanish Tapas: the perfect appetiser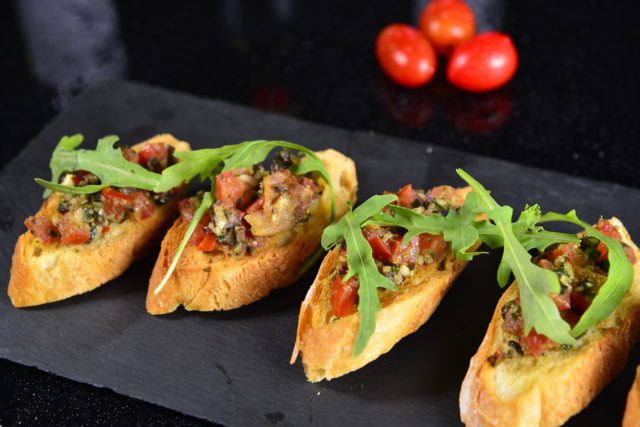 Tapas are normally eaten a bit before the big mid-afternoon lunch, but also for dinner. I am sure you have heard of them but… What exactly are tapas?
– What are Spanish Tapas about?
Spanish Tapas are small appetisers like canapés or finger food and may be warm or cold dishes. Although tapas vary greatly from region to region and season to season, there is one thing that remains the same: tapas time is about bar-hopping sharing food with friends!
It's common for friends to have a regular circuit by meeting up at their favorite bars. In fact, the Spanish love tapas so much that they made a verb out of it. So, the phrase "Vamos a tapear!" means "Let's go eat tapas!"
– What are the most popular Spanish Tapas?
There are literally hundreds of different tapas! Some of the most popular tapas include cold cuts, tortilla (Spanish omelette), patatas bravas (potatoes with spicy brava sauce), gambas al ajillo (shrimps with garlic), albóndigas (meatballs), croquetas (croquettes) and many more!
– How to order Tapas in Spanish?
Enjoy some traditional Spanish tapas by asking: "hola, ¿puedo pedir una copa de vino y algo para picar?"
Lunch (La Comida)
The midday meal or la comida, as it is called in Spain, is the largest meal of the day. It can include multiple courses and wine: the perfect moment to fully enjoy Spanish food culture!
Since Spanish lunches are always large, and courses come one at a time, it is important to pace yourself. Spaniards believe in taking their time and enjoying their meals. In fact, when having lunch in a restaurant, with family or friends, you can expect lunch to last an hour and a half or longer.
– What are the typical Spanish dishes for lunch?
Below, a sample meal that you might find on a menu at a restaurant, or if you happen to be invited to someone's home for lunch:
Typical Spanish lunch starters: Vegetable, bean, or seafood soup (often rice, potato, or pasta-based), green salad or vegetables
Typical Spanish lunch main courses: Fresh fish or seafood, roast chicken or lamb with fried potatoes, or even rabbit stew if you are lucky
Typical Spanish Desserts: Flan, a light pastry, fresh fruit, or ice cream. Since Spaniards love eggs and dairy foods, you will find that many desserts are made from fresh milk or cream.
Typical Spanish After lunch drinks: Coffee and orujo (herbs liqueur) or brandy. Do not forget an espresso shot: you will probably need it after the big lunch!
Remember that bread is always found on the Spanish table, plentiful, fresh and used to mop up sauces. 
– What time is Lunch served in Spain?
Lunchtime in Spain is from 2 p.m to 4 p.m. Before and after that time, you might not find a restaurant or bar with the kitchen open and ready to serve you a delicious Spanish lunch.
– Spanish lunch and nap: why Siesta tradition is disappearing
Traditionally, Spaniards have a two- to three-hour break from work or school in order to enjoy lunch. They, also, take a short nap or siesta. Essentially, the entire country closes up shop from about 1:30 to 4:30 p.m.
Indeed, the siesta is a tradition that goes back centuries from the days when most people worked in agriculture and air conditioning did not exist. So, it is easy to understand why folks needed fuel from a large meal as well as a rest from the hot Spanish sun before returning to work.
Until recently, everyone in Spain used to have this afternoon break, but life in Spain is changing. In fact, in larger cities like Madrid and Barcelona, many people spend over an hour commuting to and from work. This makes it impossible to go home for a meal and siesta.
Also, many large supermarket and retail chains in large cities do not close for lunch anymore, either. Indeed, most small shops still close to enjoy their meal and a break before re-opening in the late afternoon.
– How to order for Lunch in a Spanish restaurant?
Finally, here you have some useful phrases to order your Lunch in Spanish: ¿Hay menú del día? ¿Qué me puedes aconsejar? ¿La paella o el gazpacho?
Late-Afternoon Spanish Snack (La Merienda)
The late-afternoon snack in Spain is called la merienda and it is really necessary, especially for children, since there are typically five or six hours between lunch and dinner.
-What is the typical Spanish Snack for Merienda?
Merienda can be sweet or salty. It can be anything from a piece of French-style bread with a piece of chocolate on top or bread with chorizo sausage, ham, or salami. Also, Merienda drinks are normally juice or milk but don't forget about hot chocolate with some Spanish churros – a delicious way to keep you warm in winter!
– What time is Merienda eaten in Spain?
Merienda, the typical Spanish late-afternoon snack is eaten around 5 p.m to 6 p.m. As dinner isn't served for at least another three or four hours, nobody worries that this snack will ruin their appetite.
– How to order for Merienda in Spanish?
If you are visiting or living in Spain, you should know that cafes are the place to go for Merienda. Once there, try to order your snack this way: "buenas tardes, quieroa un bocadillo de jamón ​​y queso y un zumo de piña, por favor!"
Dinner (La Cena)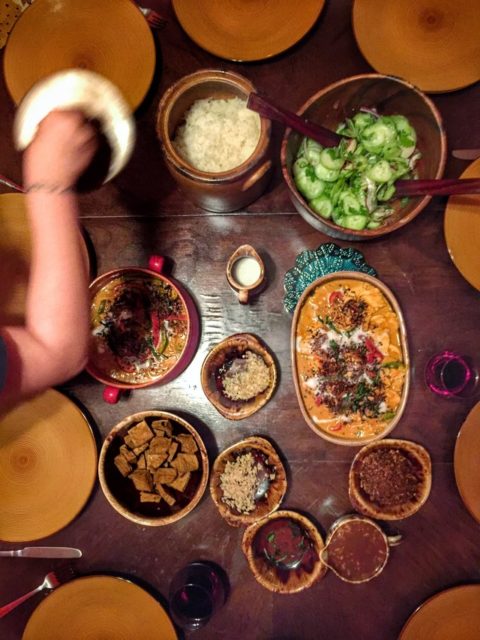 Dinner (la cena) is a significantly lighter meal than lunch, with smaller portions and much simpler recipes. So, let's get to know a very special moment of the Spanish food culture!
– What are the typical Spanish dishes for Dinner?
Dinner might include some tapas, omelet, fish or meat with green salad or even just some cold cuts like Iberian ham or salchichón. A lighter dessert of fresh fruit or yogurt is the most common thing.
Often, rather than sitting down to dinner at home or in a restaurant, friends "go for tapas" and visit their favorite tapas bars, having 2-3 tapas in each one, creating their own tapas tour.
– What is Dinner time in Spain?
If you are travelling to Spain and want to live the local way, you should get ready to eat late. Dinner in Spain is normally served between 9 p.m and 10 p.m.
– How to order Dinner in Spanish?
Finally, sit in a Spanish restaurant and ask: "Buenas noches, ¿qué tienes como entrantes? ¿Cómo es el pescado frito aqui?"
---
So… Now that you know the essentials about Spanish food culture, let us know in the comments section below which is your favourite Spain's eating custom. Mine is Merienda! Also, do you think you would be able to adapt to the late Spanish mealtimes? What about the siesta after lunch?
Now, if you want to learn more about Spanish food, don't forget to check our dedicated section to food. Or even better, if you are visiting Spain, join one of our foodie experiences, like our Traditional Malaga Tapas and Wine tour or the Atarazanas Food Market tour, and discover everything first-hand! You can also check these tips to plan your holidays in Spain:
DISCOUNTS AND RECOMMENDATIONS FOR YOUR TRIP

✈️ Find the cheapest flights, train or bus tickets here.

🛏️ Get up to 15% discount on your hotel by booking here.

🏛️ Book the best tours and activities here.

🚗 Compare and rent a car at the best price here or hire your transfer here.

📖 Get your Spain travel guide here.

💚 Book your travel insurance here.
Remember to subscribe to our newsletter to stay tuned!
Buen provecho!