Traveling the world with a motorhome is a unique experience. Not only because it allows you to discover cultures or landscapes that are far from the "other" house, but also because you can travel with all comforts along the amazing van routes or caravan itineraries that Spain offers.   
Motorhome tourism began to spread and gain popularity in the 1950s. After the Covid-19 pandemic, van traveling has become more popular as it's one of the best ways to travel to Spain by yourself. Thanks to Pedro Madera's book "Viajar por libre: 50 rutas en furgo por España", which means "Traveling on your own. 50 routes by van in Spain", we have now many different and alternative van itinerary ideas to discover Spain.
If you are thinking about renting a van or caravan to visit Spain during your holidays, have a look at these 5 routes to enjoy Spain with your motorhome:
1. Northern Catalonia van routes: Middle Ages magic
Charming towns, breathtaking landscapes, and a lot of Romanesque sites: this is what Pedro Madera's number 19 motorhome route offers. A road that still has the charm of the countryside and that runs quietly between Girona and Lleida, a land where people still preserve their traditions.
The adventure begins in Puigcerdà, the heart of the Cerdanya region, and reaches Banyoles, with the largest lake in Catalonia. On the way, the pleasant surprises of Besalú, Santa Pau, the Garrotxa National Park will make this van itinerary in Northern Spain unforgettable.
2. Tarragona and the Ebro Delta: Roman past and olive trees
Tarragona, one of the most important Roman settlements in the Iberian Peninsula, doesn't only have an outstanding Roman theatre by the beach, it is also a great point to start a trip to enjoy the landscape transition from the mountains to the Ebro River Delta.
Check out Tarragona's secondary roads – shown in number 21 van route – along the borders with Castellón. This is a journey that will captivate you with its kilometer-long beaches, olive trees fields, and rice paddies. Sant Carles de la Ràpita, Serra del Montsià, Les Cases d'Alcanar, or La Selleta are some of the places you cannot miss before arriving in Ulldecona, having previously tasted, of course, a good paella!    
3. South of Madrid: enchanting towns caravan itinerary
Madrid is not only a big city but a region where there are also enchanting towns. The south of Madrid province offers incredible van routes around the Tagus river that are a great option when you want to escape from the overwhelming city. On this caravan itinerary, shown in illustration 33 of Pedro Madera's book, we will find historical heritage, evocative landscapes, garlic, strawberries, and good wine.
This route begins in style at the Royal Site of Aranjuez, between the Tajo and Jarama Rivers, to continue to Colmenar de la Oreja and taste its cool potatoes. Then, we will discover the fascinating past of Chinchón and continue with the Tagus plain: Belmonte, Villaconejos, Villamanrique, Villarejo de Salvanés.
Finally, 70 kilometers later, you will get to Fuentidueña, an enclave worth visiting in September, when the great celebration of the Virgin of Alarilla takes place.
4. Jerte and Ambroz valleys (Extremadura): chestnuts and cherries van route
When you hear about cherry blossom, Japan comes to your mind. But we have something similar in Spain! In the Jerte Valley, you can enjoy the wonderful spectacle of cherry blossoms between the end of March and the beginning of April. But this route also tells us about magic chestnuts, Jewries, and Templars as you will be visiting the Ambroz valley.          
The starting point of this van route is Hervás, with its steep streets, to continue towards Baños de Montemayor for a relaxing moment in its famous spa, then go down through Tornavacas until you reach Cabezuela del Valle. 
Then, head to Navaconcejo, followed by Cabrero, Valdastillas and Casas de Castañar. End your van trip in Plasencia, where amazing palaces appear in unsuspected corners.     
5. Sierra de Aracena (Andalusia): ham paradise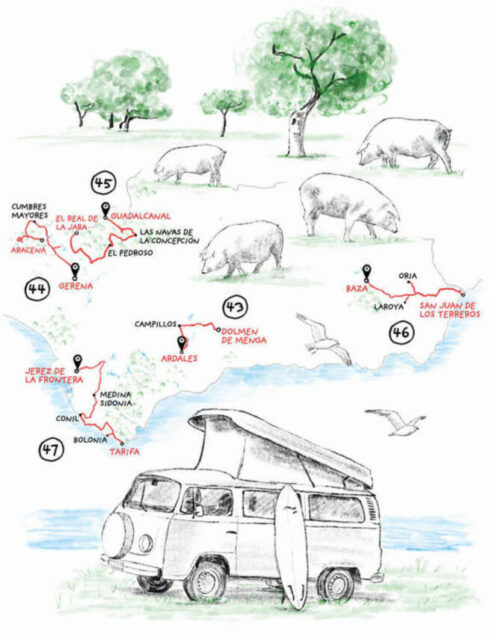 Just an hour away from Seville and Huelva, we find Sierra de Aracena, a mountain range that offers us the opportunity to discover charming towns and pastures as it appears in route 44 of Pedro Madera's book "Viajar por libre: 50 rutas en furgo por España".     
We will leave Seville passing by Gerena and El Garrobo, to reach the 'balcony of the mountains', Zufre. The road will invite us to look out at the Alto del Bujo viewpoint and visit another town a few meters away: Cañaveral de León. Very close to Badajoz, Hinojales, the paradise of the Iberian pig, awaits, and further on, the curves in this amazing van route will lead us to Tres Cumbres, Jabugo, Cortegana, Aroche, and Almonaster la Real.
Finally, you will end this "tasty" caravan itinerary in Aracena, with its spectacular Wonders Cave or "Gruta de las Maravillas", one of the most beautiful grottos in Europe.
TIP: If you want to focus your Spain road trip only on the Andalucia region, we suggest taking a look at our dedicated post: Andalusia road trip.
---
We hope to have helped you out with the planning of your Spanish road-tripping vacation. Tell us in the comments section below which was your favorite van route.
If there is any special Spain road trip itinerary you would like to share with us!
If you plan to visit Andalucia on your road trip, check our tours and creative experiences. To stay tuned, subscribe to our newsletter: We are always ready to give your more tips and answer your questions about Spain!