Only 2 weeks in Spain? No problem! Just follow our 15 days road trip itinerary and you will discover the main and most beautiful cities in Spain!
Spain is a country with an incredible heritage, food, different cultures and changing landscapes from North to South. And one of the best ways to discover it is by planning a 2 weeks road trip across Spain!
This is a brief overview of an ideal 15 days road trip in Spain. Don't worry if you have a bit less or more time: you can always adapt this road trip itinerary and cut some city out or stay a little longer in your favourite one if you have a bit more than 2 weeks.
So…ready for your Spanish ride? Let's start!
15 days in Spain: Planning the best route for a 2 weeks road trip!
There are so many options to choose from when organizing a road trip in Spain that you might be a bit overwhelmed at the beginning. Which is the best starting point? How many days to spend in each city? Is it worth renting a car or can I also go by bus or train?
We wanted to make it easy for you and give you some useful info for your road trip planning and a quick overview of what the best road trip itinerary in Spain could look like.
Note: We have selected Barcelona as a good starting point because it has the second-biggest international airport in Spain after Madrid. However, you could also consider starting this tour from Malaga, in Andalusia, which also has an important international airport and make this road trip itinerary in the reverse order! Once you arrive at the airport, you can use Welcome Pickups which will allow you to easily reach your accommodation in the city centre.
We also advise you to check out these tips to find the best hotels and car rentals in Spain for your road trip, comparing among lots of different companies:
DISCOUNTS AND RECOMMENDATIONS FOR YOUR TRIP

✈️ Find the cheapest flights, train or bus tickets here.

🛏️ Get up to 15% discount on your hotel by booking here.

🏛️ Book the best tours and activities here.

🚗 Compare and rent a car at the best price here or hire your transfer here.

📖 Get your Spain travel guide here.

💚 Book your travel insurance here.
Days 1 & 2: Barcelona – 1st stop of your Spanish road trip!
Our 15-day road trip itinerary in Spain starts in Barcelona, Catalonia. I am sure this city will charm you, especially if you happen to be there during the low season.
Barcelona Day 1: Food, beach, relax or party!
Spend your first day in Barcelona by getting lost in it. Starting from Plaza de Cataluña, you can easily visit the main city highlights. Immerse yourself in Catalan culture by having a walk along La Rambla, the main street of the city.
In this area, you can get a taste of Spanish typical food at the Jamon Museum and the Boqueria Market. At the end of the Rambla, you will find yourself on the Barceloneta beach, a true paradise where you can relax, have a drink, sunbathe and admire the panorama.
Also, for the nightlife lovers, in this area of Barcelona, you can enjoy the real Spanish "Movida" at nightclubs like Pacha and many other clubs overlooking the beach.
Barcelona Day 2: Art and History
Obviously, Barcelona is not just food and party. Catalonia is the birthplace of two of the greatest Spanish artists of all times: Dalí and Gaudí
For this, on the second day of your amazing 15 days road trip itinerary in Spain, you should definitely visit Gaudí's most important buildings like the magnificent unfinished Sagrada Familia Temple, which has become Barcelona's icon. You should also explore the original architecture of Casa Batllò or Casa Milà.
After that, head to the Gothic Quarter and get lost in its narrow and ancient streets. Here you can find Barcelona's Cathedral or "La Seu": a beautiful example of gothic architecture with soaring belltowers and detailed stonework.
End your day with a visit to Park Güell, also by Gaudí: an extravagant park full of colors and strange shapes with the best view of Barcelona.
Day 3: Girona
After these two intense days in Barcelona, you can go on with your 15 days road trip in Spain planning and visiting Girona. What makes Girona such a standout city to visit in Spain is that it absolutely transports you to medieval times as you cross the colossal city walls.
Girona is nearby Barcelona and makes a marvelous quick journey to get a taste of something different from Spain's tourist capital. Girona'smain attraction is the Girona cathedral, a gorgeous stone structure, with a square main sanctuary and a huge pointed tower just next door.
Days 4 & 5: Valencia
1st day in Valencia: City of Arts and Sciences
Continue with your 15 days road trip in Spain and reach Valencia, the home of paella and the city of Arts and Science.
On your first day in Valencia, you can visit the City of Arts and Sciences, a futuristic set of buildings designed by the famous Spanish architect Santiago Calatrava. Have a walk under the Umbracle pergola, visit the interactive Science Museum, or spend half a day at L'Oceanográfic, the largest oceanographic aquarium in Europe.
2nd day in Valencia: Old Town, Paella and Turia Gardens
On the second day in Valencia of this amazing 2 weeks Spain road trip itinerary you can get lost in the streets of Valencia's Old Town. Visit the central food market and start getting lunch!
Valencia is home to paella, one of the most famous Spanish dishes, so you need to try the original one here. After a nice meal, you can head to the river Turia Gardens, which sit where the Royal Palace once stood and have an amazing botanical diversity.
However, if you're looking for some peace by the beach, you can drive to Albufera National Park for La Devesa beach. Alternatively, head to Las Arenas beach if you prefer to stay close to the city.
Days 6 & 7: Madrid – A must in your Spain Roadtrip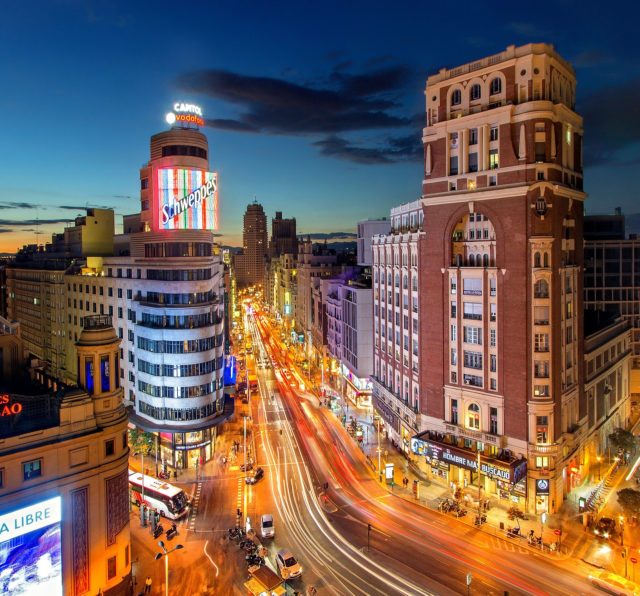 Reach Madrid, the capital of the country, near the end of the first week of your 15 days road trip in Spain.
1st day in Madrid: Main highlights and sunset at Debod Temple
Start your day by having breakfast with some churros in the city center and get ready for some sightseeing! Visit La Puerta del Sol, go for a walk in the Royal Palace and Sabatini Gardens. And don't forget to dive into the Gran Via area, considered to be Madrid's Broadway
If you are a food lover, you should stop for some appetizers at San Miguel Market and visit Sobrino de Botin restaurant: the oldest restaurant in the world according to the Guinness Book of World Records!
End your day by watching the sunset from Debod Temple, a second-century Egyptian temple donated to Spain during the construction of the great Aswan Dam!
2nd day in Madrid: Museums time!
Madrid is a bustling capital, with several must-see attractions and the best art collections in Spain. You should definitely visit El Prado Museum, the main Spanish national art museum. It is widely considered to have one of the world's finest collections of European art, dating from the 12th century to the early 20th century
Another museum you need to put on your Madrid things to do list is the Reina Sofía Museum, mainly dedicated to Spanish modern art. Highlights of the museum include excellent collections of Spain's two greatest 20th-century masters, Pablo Picasso and Salvador Dalí. The most famous masterpiece in the museum is Picasso's painting Guernica.
Remember, if you are a museums fan, you can also visit the Museo Thyssen! You won't regret it!
Day 8: Toledo
Just one hour South of Madrid, Toledo is a perfect stop in your 2-weeks road trip itinerary in Spain before heading South. Once you arrive in Toledo, start exploring the old neighborhoods and immersing yourself in the former Spanish capital. While Madrid holds the culture, Toledo is the place to come for the history.
There's no shortage of monuments, small streets, and interesting things to see at this UNESCO World Heritage Site. Known as the Town of Three Cultures, Toledo was once home to thriving populations of Jewish people, Catholics, and Muslims all living together in harmony during the Middle Ages. Get the Toledo city card that will allow you to see the top monuments and have 3 guided tours!
Days 9 & 10: Seville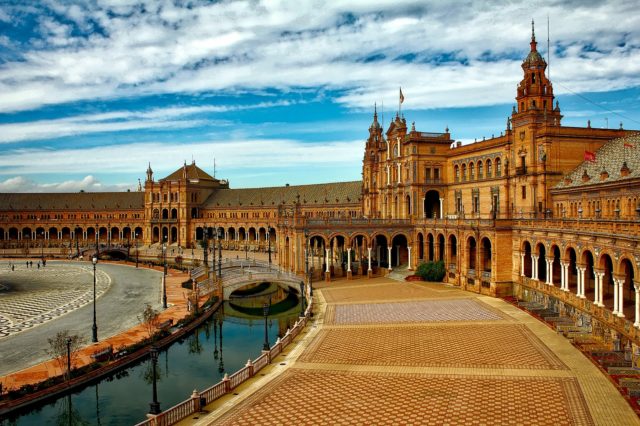 Make some space for the beautiful Andalucia region in your 15-day Spain road trip planning. Start your visit in Seville, the capital of the Southernmost region in Spain..
First Day in Sevilla: Meet Columbus and get lost in the Alcazar palace
You can spend the first day in Seville visiting the majestic monuments of this city. Start with the cathedral — Christopher Columbus buried here — and the Alcazar. Make sure to get your ticket for both, Cathedral and Alcazar, as they are UNESCO World Heritage Sites and their beauty will spoil your senses. Other places you should visit in Seville include the dazzling Plaza España and the Palace of the Countess de Lebrija.
2nd Day in Seville: A stop for Tapas and Flamenco in your 2 weeks road trip around Spain
On the second day in Sevilla, you can immerse yourself in the fantastic alleys of this city full of tapas bars, and Flamenco shows. UNESCO declared flamenco a Masterpiece of the Oral and Intangible Heritage of Humanity.
Sevilla is deeply linked to the origins of flamenco and you will see many streets full of flamenco dancers, but you shouldn't miss the opportunity of attending a real Flamenco show in some of the best-known tablaos in Andalucia, located just here!
Days 11 & 12: Malaga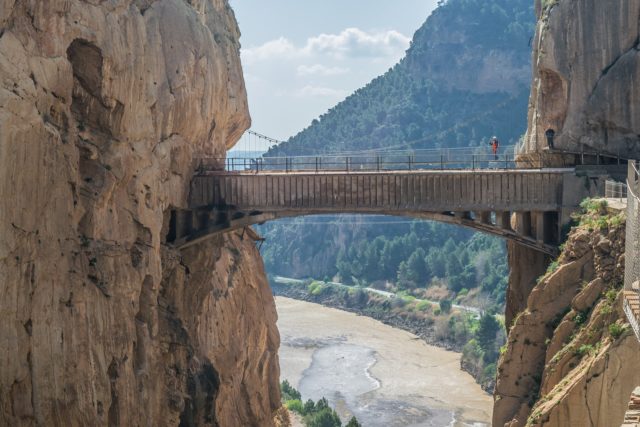 Day 11 and 12 of our 15 days road trip in Spain, obviously in Malaga!
First Day in Malaga: Hike at Caminito del Rey
You have to do El Caminito del Rey. A walkway, pinned along the steep walls of a narrow gorge in El Chorro, near Ardales.
The name derives from the original name of Camino del Rey (King's Pathway), abbreviated locally to el Caminito. Known in the past as the "world's most dangerous walkway" following five deaths in 1999 and 2000. Until recently, this almost 8-kilometer path was considered to be one of the most dangerous in the world.
Today the entire route has been carefully restored. It even earned the Europa Nostra Award for heritage conservation. The unique experience of strolling along walkways hanging over 100 meters up on a sheer cliff face.
Make sure to get your tickets to El Caminito at least 2 months in advance, otherwise, they might be sold out!
2nd day in Malaga: Picasso, Beach and Sweet wine
Spend your second day in Malaga relaxing on some of its great urban beaches, like la Malagueta beach, the closest one to the old town.
On your way to the beach, you can do some sightseeing or make a 1h stop to visit Picasso Museum and spice your day up with some art!
End your day with one of our amazing experiences and tours in Malaga, like our Traditional Malaga Tapas and Wine tour, in which you can taste the famous Malaga sweet wine among many others.
As Malaga is a city we know veeery well, we have written so much about it. Check the rest of our Malaga posts or have a quick look at our Malaga Travel Guide: everything you should know before visiting.
Day 13: Ronda and Pueblos Blancos road trip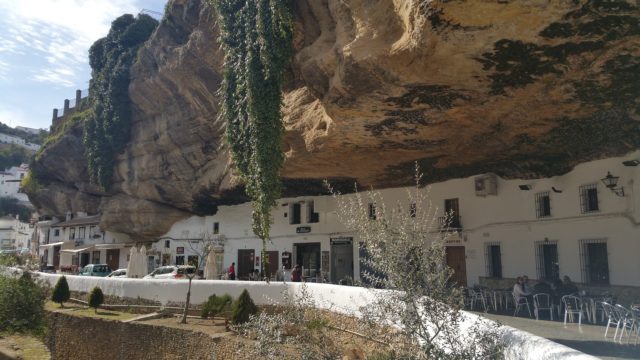 Almost at the end of our 15-day road trip in Spain, it is finally time to see some of the traditional Andalusia "White Villages" around Ronda.
Ronda is located in the heart of the Serranía de Ronda. Surrounded by lush river valleys and sitting on a deep ravine, Ronda is a paradise worth visiting.
Enjoy long walks around the city and visit the Puente Nuevo: a "Parador" located next to the bridge and from there you can enjoy incredible views of the Tagus; and Plaza de Toros de Ronda because Ronda is also known as the cradle of bullfighting.
In any of the Pueblos Blancos of Andalucía, at each step, we can discover something new, among spectacular landscapes, streets with a clear Arab tradition, patios of extraordinary color, and the ecological white of their houses.
After visiting Ronda, head to one of the most impressive white villages in the surroundings: Setenil de las Bodegas.
Located in the Trejo river canyon, Setenil de las Bodegas' houses have been "built" under a rock ledge that makes Setenil one of the most original and most beautiful towns in Spain.
Ronda and Setenil day trip is cheap to do, even when booking a guided tour from Malaga. If you want to go a bit more off the beaten path, check here the top places to visit near Málaga
Day 14: Cordoba
Spend your 14th day of this amazing 2 weeks Spain road trip itinerary in Cordoba
Cordoba is a gorgeous city with a small old town that you can visit in just one day. You don't really need to dedicate it more than that when visiting Spain in 2 weeks.
Start with the Mezquita, one of the most beautiful examples of Moorish architecture in Spain. Built on the site of a Visigoth church and a Roman temple before that, the Great Mosque was converted into a Catholic church during the Reconquista. The 856 candy cane striped double columns have made this place become a UNESCO World Heritage Site.
Next off, take your time to wander the gorgeous streets of the old quarter and its amazing patios (courtyards), full of charming blue flower pots that contrast with the white walls.
Day 15: Granada
Our 15 days road trip itinerary throughout Spain ends in Granada, the icing on the cake!
Granada is another Andalusian city that will sweep you off your feet with its medieval atmosphere and mountainous surroundings.
The centerpiece of Granada is the Alhambra Palace, one of the most visited monuments in Spain together with La Sagrada Familia. This giant fortress built more than 700 years ago became the shining star of Arab architecture in Spain and it's now a Unesco World Heritage site.
While wandering around the Alhambra fortress, make sure not to miss The Alcazaba, The Nasrid Palaces, and Generalife. Make sure to buy your tickets ahead of time, at least 2 months in advance.
After that, get lost in the small streets of the white Albaicin neighborhood and don't miss the chance to go to a Flamenco show in a traditional Sacromonte cave.
Spain Road Trip Itinerary: Advice & Top tips!
Moving around Spain
There are several options for reaching all the amazing places suggested in this ultimate 2 weeks road trip in Spain:
Bus & Train: Best options if you are a solo traveler with a busy agenda. Buy your tickets in advance here: Omio
Shared car: Cheapest option and perfect if you want to meet some locals. Check it out at Blablacar
Car rental: The perfect choice for a 15 days road trip throughout Spain. Book it with Rentalcars
If you can get a rental car, go for it! That is my favorite option as you don't depend on timetables and can explore more hidden gems on the way. Here you have some of the most frequently asked questions about renting a car in Spain answered!
Is it expensive to rent a car in Spain? On average a rental car in Spain costs around 25€ per day. You can have a look here!
Is it easy to rent a car in Spain? To rent a car in Spain, you need to be over the age of 21 and have a valid driver's license, a passport and a major credit card. Spanish law requires non-EU driver's license holders to possess an International Driver's Permit.
Is it easy to drive around Spain? The main highways in Spain are very good and driving is easy. Drive on the right lane because Spanish drivers can be aggressive sometimes.
---
If you want to focus your 2-week Spain road trip only on the Andalucia region, we suggest you take a look at our dedicated post: Andalusia road trip.
We hope to have helped you out with the planning of your 2-weeks Spanish road tripping vacation. Tell us in the comments section below which are your favourite stops and if there is any city you would add or change in this Spain road trip planning.
We are always ready to give your more tips and answer your questions about Spain! Remember, if you visit Andalucia on your road trip check our tours and, if you want to stay tuned, subscribe to our newsletter 🙂